Posts Tagged 'Silver Proof £2 Set'
Prepare to be transported into the world of artistic ingenuity as we present a captivating interview with Steve Wyse, an esteemed Honorary Member of the Guild of Railway Artists. Join us in exploring the creative process, inspiration, and meticulous attention to detail that culminated in the exquisite designs gracing the freshly minted History of British Railways £2 Sets, creating a bridge between history and numismatic art.
Tracing Tracks: Unveiling the History of British Railways BU and Silver £2 Coin Sets
In the annals of British history, the year 1923 marks a pivotal moment that reshaped the nation's railway landscape forever. A convergence of 120 regional railway companies gave rise to four prominent entities, as a result of the Railway Act of 1921.
Now, in a splendid tribute to this transformative event, special Brilliant Uncirculated and Silver Proof £2 Coin sets have been issued.
This extraordinary coin collection stands as a tribute to an era when steam and steel connected cities, fuelled the Industrial Revolution, and united the kingdom.
Click the circles below to find out more about the design and the sets:
Each gleaming £2 coin encapsulates the essence of a bygone era, immortalising five of the most iconic locomotives that once traversed the British countryside. Encased in special presentation packs, these coins are elevated by the artistic brilliance of Steve Wyse, an Honorary Member of the Guild of Railway Artists. Through his skillful renderings, the spirit of each locomotive comes alive, inviting you to relive the golden age of rail travel.
But for those who seek the pinnacle of numismatic excellence, we invite you to take a step further. Behold the History of British Railways Silver Proof £2 Coin Set—a masterpiece that merges history, artistry, and exclusivity.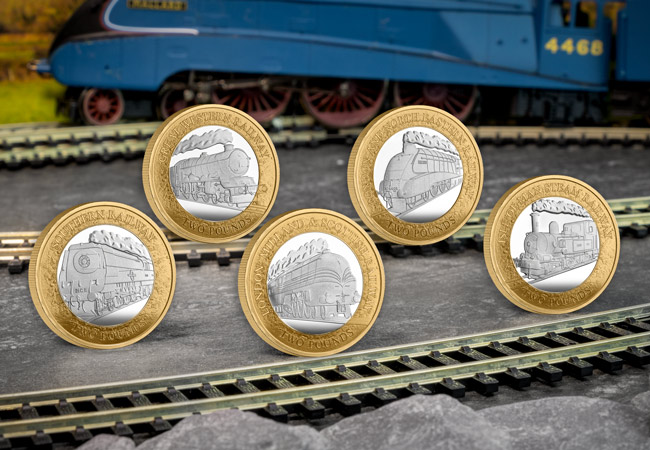 Limited to just 295 sets worldwide and meticulously struck from Sterling Silver, each coin has been crafted with precision and minted to perfection. These sterling silver coins are a stunning homage to the railway heritage.
Each coin is a portal to the past, an ode to innovation, and a salute to the journeys that shaped a nation. Choose your piece of history and become a guardian of the tracks that connect the past to the present.
Charles Dickens is widely regarded as the greatest novelist and social critic of the Victorian era. He created some of today's best-known 'classic' characters including Oliver Twist, Ebenezer Scrooge and Nicholas Nickleby, to name just a few.
And now, to mark 150 years since his passing, a brand new set of £2 coins has been issued for release by Jersey Treasury and fully authorised by Her Majesty the Queen.
The FIVE new British Isles coins, celebrate some of Dickens most famous works, of which a vast majority were based on events from his life. For example, after working in a blacking factory, both 'David Copperfield' and 'Great Expectations' were fictionalised.
Throughout his life, Dickens was a vocal critic against poverty and the Victorian social hierarchy. His novels gained unprecedented popularity during his lifetime, and by the 20th century, critics and scholars had recognised him as a literary genius.
Find out more about these BRAND NEW £2 coins below…
The COMPLETE Charles Dickens BU £2 Coin Collection
This remarkable collection features FIVE £2 coins, each struck to a Brilliant Uncirculated quality and depicting some of Dickens' most famous works, along with iconic lines from each book. The set includes:
Great Expectations "Ask no questions, and you'll be told no lies".
Oliver Twist "Please Sir, I want some more".
David Copperfield "Never do to-morrow what you can do today".
A Christmas Carol "God Bless Us, Every one!"
Charles Dickens himself "1812 Charles Dickens 1870".
What's more, the coins will come protectively housed in bespoke Charles Dickens packaging. This set is one of the only ways you can own all FIVE coins and demand is expected to be high. If you'd like to secure one for your collection for JUST £49.95 (+p&p) then click here >>>
The STRICTLY LIMITED Charles Dickens Silver Proof £2
The Silver Proof version of this stunning £2 coin features a specially commission illustration of literary legend himself, Charles Dickens, adorning the reverse. The coin has been struck to a flawless Proof finish out of .925 Sterling Silver with selective 24ct Gold-plating.
The Silver Proof editions are without a doubt the collector's favourite and almost always acquire fast sell-outs. With an edition limit of JUST 2,020 coins, time is short to secure one for your collection… Click here to guarantee yours >>>
The ULTIMATE Charles Dickens Silver Proof £2 Collection
This Silver proof set is by far the most limited way to own these coins. Not only are they strictly limited to JUST 995, but four of the coin designs, by illustrator Andy Walker, also feature full colour. This truly is the ultimate Charles Dickens £2 Coin Collection.
Sterling Silver, 24ct Gold-plating, full colour illustrations and only 995 available worldwide – Don't miss out on yours… Click here >>>
The Charles Dickens Stamp & Coin Set
If you're looking for something special, this Coin and Stamp Presentation is for you. This set features the Charles Dickens Brilliant Uncirculated £2 alongside the new 'Oliver Twist' stamp issued by Jersey.
Beautifully presented in a box, and carefully encased in protectively sealed numismatic capsules, only 500 collectors will be able to secure one… Click here to secure yours today >>>
---
If you're interested…
Charles Dickens remains not only one of the greatest novelists of the Victorian Era, but in the whole of British history, and these coins are already proving phenomenally popular.
To view the full range of coins and secure yours, please click here >>