Posts Tagged 'interactive'
Welcome to a behind-the-scenes encounter with a true artistic genius. Join us as we delve into an exclusive interview with renowned artist, Mike Guilfoyle. In this captivating interview, we'll uncover the intricacies and insights behind his latest masterpiece– the King Charles III 75th Birthday Coin. Prepare to be enchanted by the inspiration, craftsmanship, and intricate details that make these coins a work of art, all revealed by the visionary behind the design.
You can explore the key features of the King Charles III 75th Birthday Coins, by clicking on the white dots on the interactive image below:
Click here to explore the whole King Charles III 75th Birthday Coin Range>>>
Prepare to be transported into the world of artistic ingenuity as we present a captivating interview with Steve Wyse, an esteemed Honorary Member of the Guild of Railway Artists. Join us in exploring the creative process, inspiration, and meticulous attention to detail that culminated in the exquisite designs gracing the freshly minted History of British Railways £2 Sets, creating a bridge between history and numismatic art.
Tracing Tracks: Unveiling the History of British Railways BU and Silver £2 Coin Sets
In the annals of British history, the year 1923 marks a pivotal moment that reshaped the nation's railway landscape forever. A convergence of 120 regional railway companies gave rise to four prominent entities, as a result of the Railway Act of 1921.
Now, in a splendid tribute to this transformative event, special Brilliant Uncirculated and Silver Proof £2 Coin sets have been issued.
This extraordinary coin collection stands as a tribute to an era when steam and steel connected cities, fuelled the Industrial Revolution, and united the kingdom.
Click the circles below to find out more about the design and the sets:
Each gleaming £2 coin encapsulates the essence of a bygone era, immortalising five of the most iconic locomotives that once traversed the British countryside. Encased in special presentation packs, these coins are elevated by the artistic brilliance of Steve Wyse, an Honorary Member of the Guild of Railway Artists. Through his skillful renderings, the spirit of each locomotive comes alive, inviting you to relive the golden age of rail travel.
But for those who seek the pinnacle of numismatic excellence, we invite you to take a step further. Behold the History of British Railways Silver Proof £2 Coin Set—a masterpiece that merges history, artistry, and exclusivity.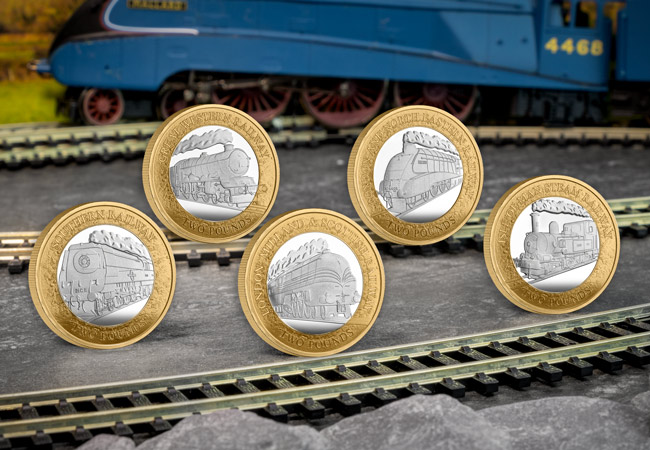 Limited to just 295 sets worldwide and meticulously struck from Sterling Silver, each coin has been crafted with precision and minted to perfection. These sterling silver coins are a stunning homage to the railway heritage.
Each coin is a portal to the past, an ode to innovation, and a salute to the journeys that shaped a nation. Choose your piece of history and become a guardian of the tracks that connect the past to the present.