Posts Tagged 'queen elizabeth II stamps'
Queen Elizabeth II has graced UK stamps for 70 years, but now we're coming to the end of an era; Royal Mail have released their final commemorative stamp issue with the Queen's silhouette, celebrating the centenary of the world's most famous locomotive – Flying Scotsman.
So, before we steam ahead towards the BRAND-NEW Flying Scotsman editions, let's take a look back at Queen Elizabeth II's iconic 70-year reign in UK postage…
The beginning of Queen Elizabeth II stamps
1953 marked the beginning of Her Majesty's Reign and the introduction of the Wildings – a series of definitive postage and revenue stamps featuring Dorothy Wilding's portrait of Queen Elizabeth II, which were used up until 1967.
The first four stamps to be issued within this series were for Her Majesty's 1953 Coronation, presented in the colours of Carmine-Red, Ultramarine, Deep Yellow-Green and Deep Grey-Blue.
Commemorative stamps were then introduced during the 1950s and early 1960s. However, the Postmaster General, Tony Benn, proposed a new criteria outlining what could appear on them. From 1965, it was decided that all GB stamps had to include a small silhouette of the Queen based on the coinage head of Mary Gillick, which then became the standard.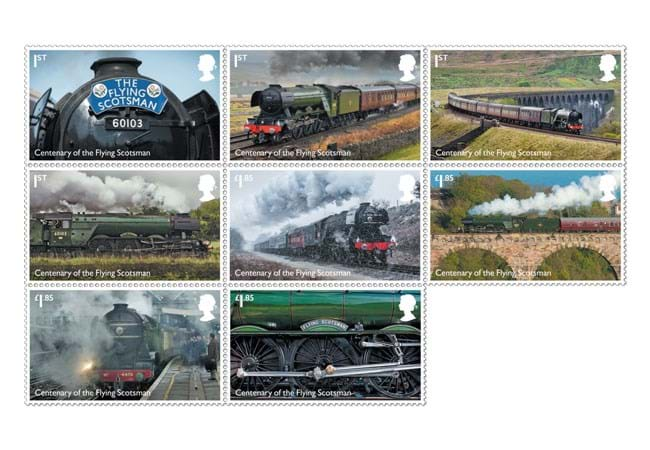 Two once-in-a-lifetime tributes
And now, Royal Mail have issued twelve commemorative editions featuring Flying Scotsman.
Not only are they the official UK stamps to mark the centenary of the world's most famous locomotive, but they will also be the last to show the Queen's silhouette after 70 years – marking two incredible moments in British history!
These nostalgic editions portray the steam locomotive travelling through North Yorkshire, Northumberland, Berwick-on-Tweed and London's Victoria Station. Inspired by poster artwork from the 1920s and 1930s, Royal Mail's spokesman David Gold intends for them to evoke "the golden age of steam travel".
Your chance to celebrate both!
To pay tribute to such monumental moments in history, a limited-edition coin and stamp cover has been released, comprised of The Royal Mint's Official UK 2023 Flying Scotsman £2 in Brilliant Uncirculated Quality along with Royal Mail's BRAND-NEW Flying Scotsman stamps.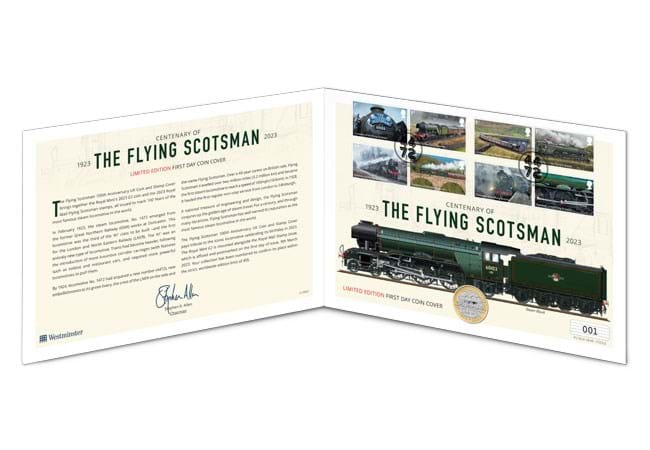 But considering these are the last UK stamps to feature Queen Elizabeth II, we are predicting insatiable demand – and we have already seen sell-outs at The Royal Mint for the Flying Scotsman coin range.
All steams ahead! Click here to secure one for your collection now >>
To honour the life and achievements of Queen Elizabeth II, The Royal Mail has issued four commemorative stamps, featuring portraits of Her Late Majesty.
They feature beautiful black & white images of the Queen throughout her life, taken between 1952 and 1996.
The Queen Elizabeth II stamps are also the first to be approved by King Charles III, which is sure to increase collector demand.
The Westminster Collection have issued a limited set of these stamps, postmarked on their first day of issue – 10th November 2022.
New Royal Mail Stamps: Queen Elizabeth II Memorial Cover
Featured alongside the stamps is one of the most sought-after coins of recent years, the UK Platinum Jubilee £5 coin.
Just 2,022 of these covers are available to mark this important moment in history. And remember, the one-day-only postmark means no more can ever be produced.
Pay tribute to the incredible life of Queen Elizabeth II. Pre-order this special cover today for just £39.99 (+p&p) by clicking here >>
Queen Elizabeth II Stamp & Coin Memorial Set
As well as the Queen Elizabeth II Memorial Cover, The Westminster Collection has an extremely limited collection of coins from the 1953 Coronation year, issued alongside these brand new stamps.
This memorial collection includes a complete collection of eight coins, each one struck by The Royal Mint in the year of Queen Elizabeth II's Coronation in 1953.
At nearly 70 years old, these coins are difficult to find and incredibly sought-after on the secondary market.
JUST 495 issued
With brand new Royal Mail stamps, postmarked on their issue date, and alongside the 1953 circulating coinage, the edition limit of 495 isn't likely to be enough.
Click here to secure your Queen Elizabeth II Stamp & Coin Memorial Set >>
---
Let us know in the comments below what you think of these brand new Queen Elizabeth II Royal Mail stamps.
---