Posts Tagged 'Silver Britannia'
On Saturday 17th June 2023, the UK will witness King Charles III's FIRST Trooping the Colour ceremony as our monarch.

Whether you're tuning in on the television or travelling to see the spectacle in person, we can all expect to see a stunning display of military precision and horsemanship as the procession makes it way from Buckingham Palace to Horse Guards Parade.

But what exactly is Trooping the Colour, and why do we celebrate it? Continue reading to find out more…
The origins of the ceremony
Trooping the Colour is an annual ceremony held in June to celebrate the official birthday of the British Sovereign, originating as far back as 260 years ago.

The service was first believed to have been performed during King Charles II's reign, however it wasn't until 1760 that it became an annual event to commemorate the British Monarch's official birthday under the reign of King George III.

This historical parade was named in tribute to the British Army's regiment flags, which are referred to as 'Colours' due to the different coloured insignia displayed on each one. Young officers would then march the Colours between the line of troops, giving us the 'Trooping the Colour' title, and the colourful celebration we still see to this day.
The British Sovereign's Official Birthday
But why does the British Sovereign have an official birthday?

The answer to having two birthdays is simply down to British weather being better for the parade in the month of June.

Unless the Monarch already has a summer birthday, their second 'official' one will always be in June to line up with when Trooping the Colour takes place and to maximise the chances of good weather conditions.

So, although King Charles III's actual day of birth is 14th November, he will be celebrating his very first King's Birthday Parade on 17th June this year.
What to expect on the day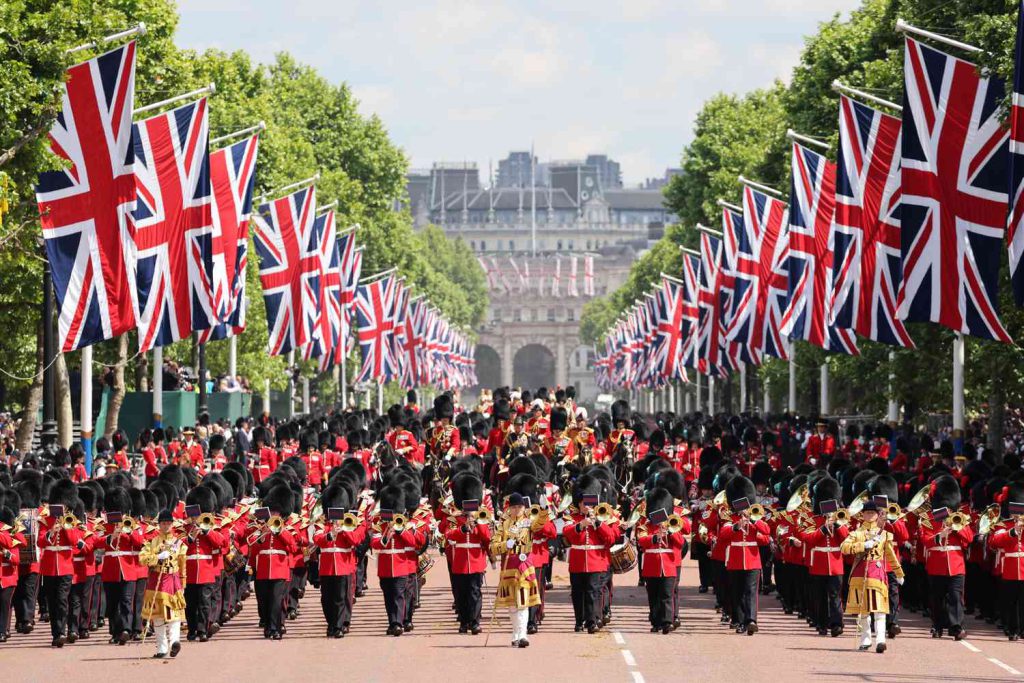 On the day, you can expect to see an impressive display of pageantry as His Majesty's personal troops march down The Mall from Buckingham Palace to Horse Guards Parade, where the ceremony will begin.

There will be over 1400 parading soldiers, 400 musicians and 200 horses, alongside members of the Royal Family on horseback or in carriages – and of course, with King Charles III himself taking the salute.

As the procession takes place, mass crowds with waving flags are expected to line the streets, with many more around the world viewing the spectacle on television.

And with this year's Trooping the Colour ceremony being King Charles III's FIRST as Sovereign, it will certainly be a historical event to remember.
The Trooping the Colour 2023 Silver Coin Cover
To commemorate this special occasion, we have released the Trooping the Colour 2023 Silver Coin Cover in ode to Charles III's King's Birthday Parade.
Featuring His Majesty's first Silver Britannia coin alongside his first Royal Mail definitive stamps, this Cover will have a one-day-only postmark of 17th June 2023 – a fitting tribute to the first Trooping the Colour of King Charles' reign.

But with only 200 available worldwide, make sure to secure yours now by clicking here >>
As you may know, this year we're celebrating a numismatic milestone: the 50th anniversary of the 50p!
And as the collector's favourite 7-sided coin turns 50 years old we've seen many commemoratives marking the occasion, which have proved immensely popular with collectors.
And a brand new UK 50p has been released today by The Royal Mint to mark the actual anniversary of the 50p – 14th October 2019.
This new coin is sure to see an overwhelming response from collectors. That's because the new coin has THREE unique features that alone make this commemorative this year's must have 50p release…
TWO special privy marks and a minting first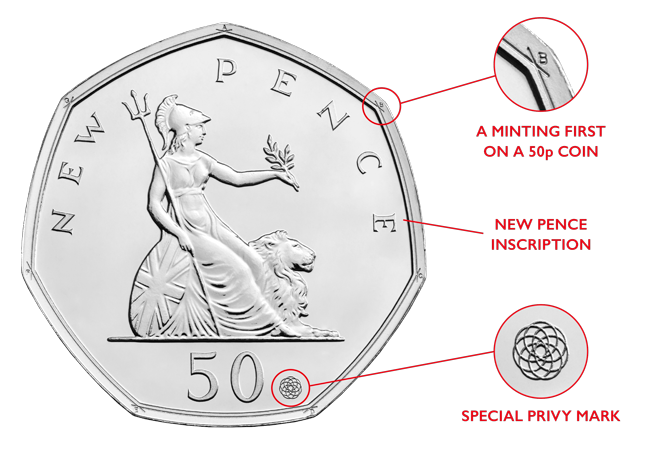 The reverse features Christopher Ironside's iconic Britannia design, inscribed with 'New Pence'. This was the first design to ever feature on the 7-sided 50p, released in 1969.
But what truly sets this issue apart from all other 50years of the 50p commemoratives is the inclusion of THREE special hidden features:
Exclusive never-before-seen privy mark, designed especially for the occasion. A Spirograph-type design drawn from an extension of lines forming the 50p shape creates this unique mark. If you look in the centre you'll see the 7-sided 50p shape we're used to today.
Innovative privy mark around the reverse rim of the coin. The letters A to G are inscribed on each point and are joined by arced crossing lines. It shows the science behind how the iconic 50p shape was created. Importantly, this is a minting first on a 50p coin.
The denomination in 'NEW PENCE' – not seen since 1981.
These three features make this issue highly collectable and will surely be sought-after by collectors in years to come.
50th Anniversary of the 50p Commemorative 50p BU Pack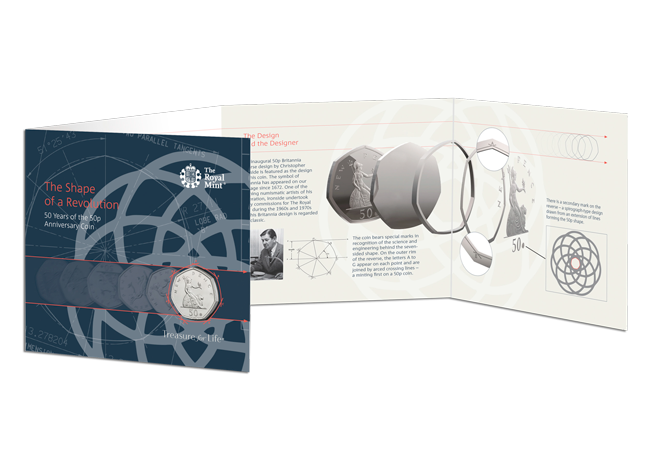 To give as many collectors as possible the chance to own this coin, The Royal Mint has issued it in Brilliant Uncirculated quality, which is coveted by collectors as it means each coin is free from any marks you would find on circulated coins.
Each one is protectively encapsulated in its attractive original Royal Mint packaging to preserve its quality for generations to come. What's more, you can secure this BU Pack at the Royal Mint issue price of just £10 (+p&p). Click here to find out more >>>
50th Anniversary of the 50p Commemorative 50p Silver Proof Coin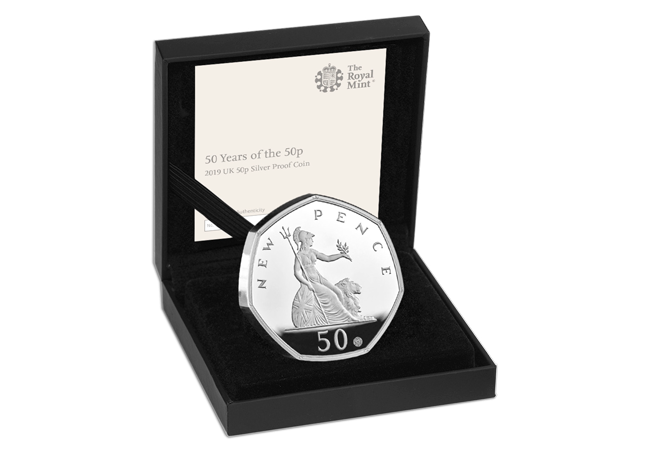 However, you can own the special commemorative 50p in an even more exclusive way – so exclusive just 3,500 collectors worldwide can own it.
This version is sure to sell incredibly quickly. Remember when The Royal Mint re-issued for 2019 some of the most iconic 50ps, to celebrate the anniversary, in Silver Proof quality the popularity was unprecedented. In fact the full allocation of 3,500 COMPLETELY SOLD OUT within two hours.
That's the same edition limit as this single coin.
The coin has the same design, but comes presented in a bespoke Royal Mint presentation box and is struck in superior .925 Sterling Silver to a perfect proof finish. Given how popular commemorative 50ps are, this exclusive precious metal version is sure to be an even bigger hit.
You can secure this limited edition coin for your collection now for just £55 (+p&p) – that's the Royal Mint issue price. Click here to find out more >>>
50th Anniversary of the 50p Commemorative 50p Silver Piedfort Coin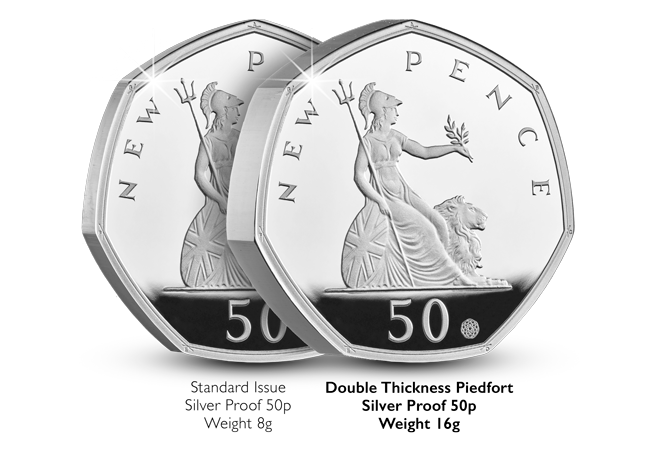 But, there is an even more limited way to own this coin – as a Silver Proof Piedfort. Limited to just 1,969 collectors across the globe, this coin is nearly twice as rare as the regular Silver Proof version.
Piedforts are the pinnacle of Royal Mint craftsmanship. They are highly-sought after amongst collectors and stand out for many reasons:
Twice the weight and thickness of a regular Silver Proof coin
Double the amount of Silver
Low edition limits
Fast sell-out rates
What's more, 50p Piedforts are extremely rare. To my knowledge only about 20 or so have ever been minted and as such are always highly sought-after.
In fact, they are so in demand that the 2019 UK Stephen Hawking 50p Silver Proof Piedfort, with a higher edition limit of 2,500, COMPLETELY SOLD OUT at The Royal Mint within two hours.
You can secure this limited edition coin for your collection now for just £19 (+p&p), followed by 4 further equal interest-free instalments. Click here to find out more >>>
If you own the 2014 Year of the Horse Lunar Silver Coin or the 2014 Britannia coin, I suggest you go and dig them out before you read any more. That's because it's just possible that you are sitting on something rather unusual – a Royal Mint "mule".
A "mule" is a coin where the one of the sides has been struck with the wrong die. And that's what happened with some of the Royal Mint's 2014 Year of the Horse and Britannia coins.
Officially confirmed by the Royal Mint
It seems attention was first drawn to the matter when a US dealer noticed that some of their Britannia coins had a different obverse (heads) side to the rest of the stock, lacking the denticle design around the edge, normally seen with Britannia coins.
The Royal Mint has now acknowledged the error, which has resulted in approximately 17,000 Britannia coins being struck with the non-denticled Year of the Horse obverse and 38,000 Year of the Horse coins having the denticled Britannia version as their obverse.
Selling for 250 times its original value
Perhaps the best recent example of a UK mule in recent years was the undated 20p coin, which was uncovered in 2008. Approximately 250,000 20p coins were struck using an old obverse design, which left them undated. The news was followed by a media frenzy with many millions of people searching their change in the hope finding what was to prove to be a valuable error. Indeed an undated 20p currently changes hands on ebay for around £50 – 250 times its original value.
So what of these latest Royal Mint errors? Unlike the 20p these are not general circulation coins but as bullion coin they will have been sold around the world to coin dealers and investors. That means that they will be much harder for the British general public to track down. Plus, of course, in terms of pure numbers struck, they are considerably scarcer than the undated 20p.
Early listings on ebay have been as high as £500 and above, so if you are lucky enough to own either the 2014 Britannia or Year of the Horse coins, I would definitely dig them out and take a look – it might be your lucky day.