The new 2020 Gold Proof Sovereign was released yesterday, but you may only have days to own one. Let me tell you why…
We're in the golden age of the Proof Sovereign. As you may know, the Proof Sovereign has become the UK's flagship annual release that's highly sought-after worldwide.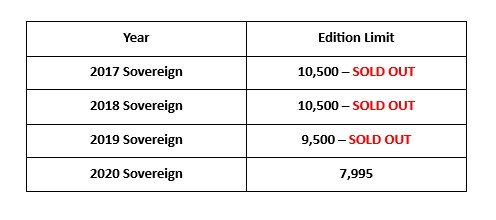 As you can see, recent UK Gold Proof Sovereigns have an undisputed track record of completely selling out. Many with a matter of weeks.
Special one-year-only mint mark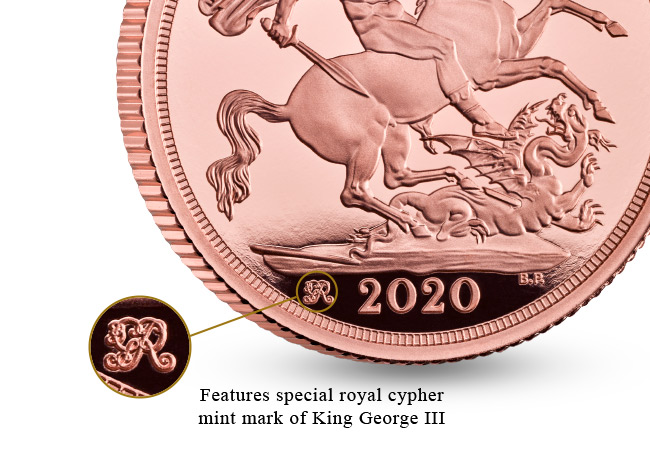 In 2020 we mark the 200th anniversary of King George III's death – the first monarch to appear on the modern Sovereign. To commemorate this, the Proof Sovereign features a special one-year-only royal cypher mint mark.
George III's reign is one of the most important in the history of UK gold coins. That's because it was in his reign that the iconic Sovereign was re-introduced, making him the first monarch to feature on the modern day sovereign, and one of the most famous gold coins in British numismatic history.
One-year-only mint marks are only applied to coins for the most significant events and anniversaries and this is certainly an important one. In fact, it's unlikely we'll ever see a combined Royal and numismatic anniversary as significant as this in our lifetimes.
'22 Carat Gold Pedigree'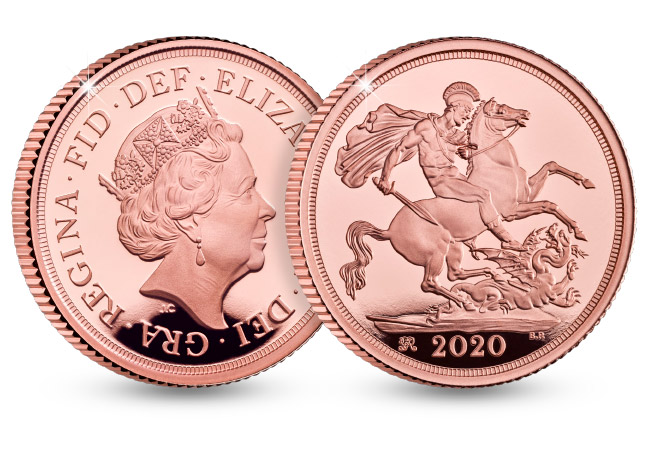 The 2020 Sovereign is minted from 22 Carat Gold and it is this historical pedigree that makes the coin so admired and sought-after around the world.
It is also one of the finest examples of British craftsmanship. The exceptional 'proof' finish is the result of the coin being struck up to 4 times using specially polished dies.
The time and effort required to produce the frosted relief and mirrored background of the coin is why a proof finish is considered the pinnacle of the mint-masters art – and the most sought-after by collectors.
And with an edition limit of JUST 7,995 worldwide – a lower edition limit than the 2018 Sovereign that also featured a special mint mark and COMPLETELY SOLD OUT in a matter of weeks – this year's Proof Sovereign has all the elements to be the most collectable gold coin of the year.
If you're interested…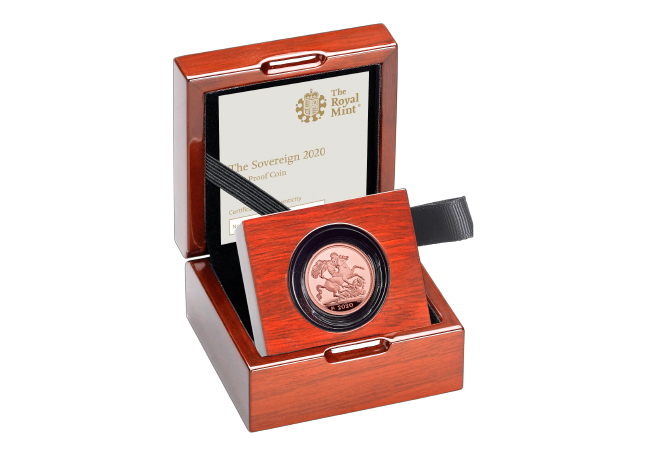 You can secure the 2020 Gold Proof Sovereign now, but you'll have to act quickly. You can secure yours today for a down payment of JUST £59.50 followed by nine further interest-free instalments – the most affordable way to own the new coin.
As you may know, this year we're celebrating a numismatic milestone: the 50th anniversary of the 50p!
And as the collector's favourite 7-sided coin turns 50 years old we've seen many commemoratives marking the occasion, which have proved immensely popular with collectors.
And a brand new UK 50p has been released today by The Royal Mint to mark the actual anniversary of the 50p – 14th October 2019.
This new coin is sure to see an overwhelming response from collectors. That's because the new coin has THREE unique features that alone make this commemorative this year's must have 50p release…
TWO special privy marks and a minting first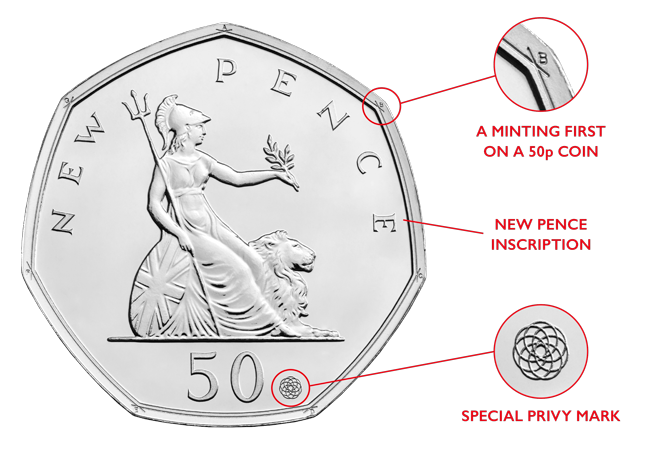 The reverse features Christopher Ironside's iconic Britannia design, inscribed with 'New Pence'. This was the first design to ever feature on the 7-sided 50p, released in 1969.
But what truly sets this issue apart from all other 50years of the 50p commemoratives is the inclusion of THREE special hidden features:
Exclusive never-before-seen privy mark, designed especially for the occasion. A Spirograph-type design drawn from an extension of lines forming the 50p shape creates this unique mark. If you look in the centre you'll see the 7-sided 50p shape we're used to today.
Innovative privy mark around the reverse rim of the coin. The letters A to G are inscribed on each point and are joined by arced crossing lines. It shows the science behind how the iconic 50p shape was created. Importantly, this is a minting first on a 50p coin.
The denomination in 'NEW PENCE' – not seen since 1981.
These three features make this issue highly collectable and will surely be sought-after by collectors in years to come.
50th Anniversary of the 50p Commemorative 50p BU Pack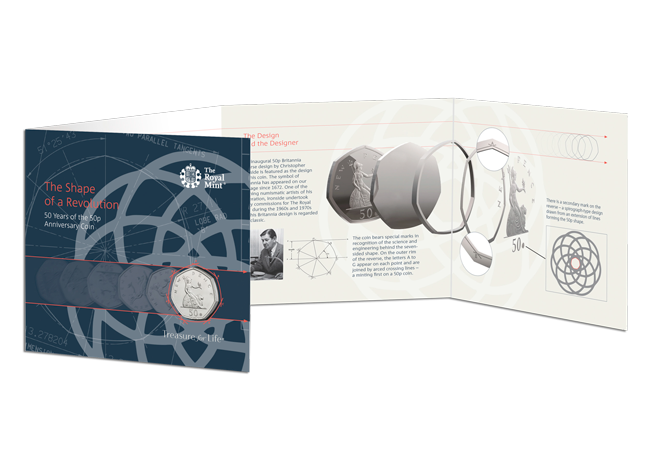 To give as many collectors as possible the chance to own this coin, The Royal Mint has issued it in Brilliant Uncirculated quality, which is coveted by collectors as it means each coin is free from any marks you would find on circulated coins.
Each one is protectively encapsulated in its attractive original Royal Mint packaging to preserve its quality for generations to come. What's more, you can secure this BU Pack at the Royal Mint issue price of just £10 (+p&p). Click here to find out more >>>
50th Anniversary of the 50p Commemorative 50p Silver Proof Coin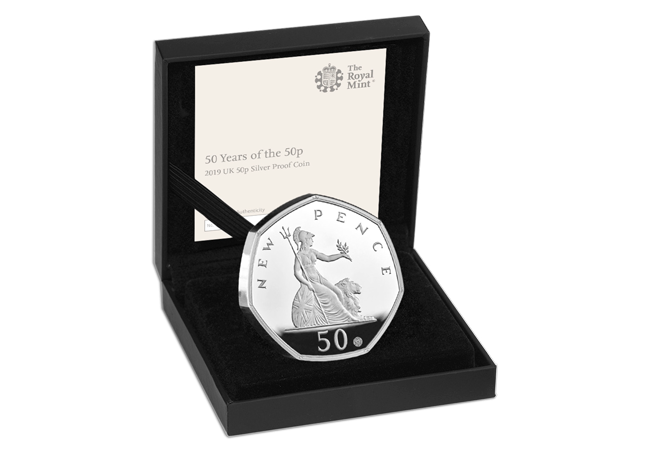 However, you can own the special commemorative 50p in an even more exclusive way – so exclusive just 3,500 collectors worldwide can own it.
This version is sure to sell incredibly quickly. Remember when The Royal Mint re-issued for 2019 some of the most iconic 50ps, to celebrate the anniversary, in Silver Proof quality the popularity was unprecedented. In fact the full allocation of 3,500 COMPLETELY SOLD OUT within two hours.
That's the same edition limit as this single coin.
The coin has the same design, but comes presented in a bespoke Royal Mint presentation box and is struck in superior .925 Sterling Silver to a perfect proof finish. Given how popular commemorative 50ps are, this exclusive precious metal version is sure to be an even bigger hit.
You can secure this limited edition coin for your collection now for just £55 (+p&p) – that's the Royal Mint issue price. Click here to find out more >>>
50th Anniversary of the 50p Commemorative 50p Silver Piedfort Coin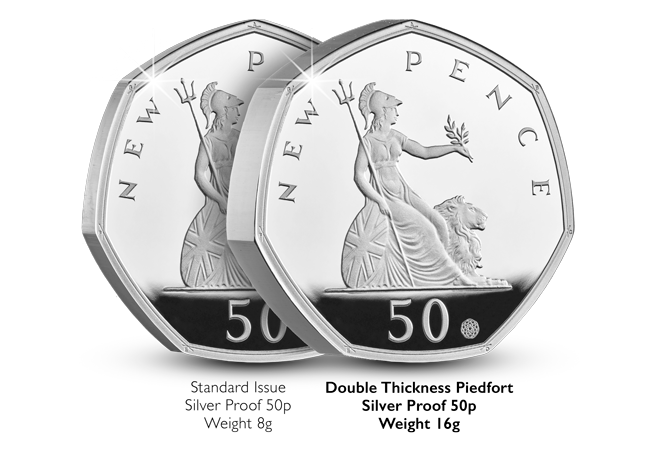 But, there is an even more limited way to own this coin – as a Silver Proof Piedfort. Limited to just 1,969 collectors across the globe, this coin is nearly twice as rare as the regular Silver Proof version.
Piedforts are the pinnacle of Royal Mint craftsmanship. They are highly-sought after amongst collectors and stand out for many reasons:
Twice the weight and thickness of a regular Silver Proof coin
Double the amount of Silver
Low edition limits
Fast sell-out rates
What's more, 50p Piedforts are extremely rare. To my knowledge only about 20 or so have ever been minted and as such are always highly sought-after.
In fact, they are so in demand that the 2019 UK Stephen Hawking 50p Silver Proof Piedfort, with a higher edition limit of 2,500, COMPLETELY SOLD OUT at The Royal Mint within two hours.
You can secure this limited edition coin for your collection now for just £19 (+p&p), followed by 4 further equal interest-free instalments. Click here to find out more >>>
The New Zealand Mint were amazed when a Limited Edition Doctor Who Silver Coin, issued in collaboration with BBC Worldwide to celebrate the 50th Anniversary of the legendary TV show, created a bidding frenzy!
The Mint had put the coin on eBay as part of a charity auction and when the auction ended the winning bid was an incredible 15 times more than its face value! It just shows how popular Doctor Who memorabilia, particularly coins, is with collectors all over the world.
However, it's not just on eBay where collectors have been fighting to add a Dr Who Commemorative coin to their collection. Within just four weeks of general release the Mint had sold more than half of the Doctor Who Silver Coin's 10,000 edition limit. And now, just three weeks after the fantastic 'Day of the Doctor' 50th Anniversary episode was aired it is unlikely that the Mint have any left at all.
A Doctor Who 50th Anniversary Gold coin follows the success of the Silver coin, and with a mintage of just 250 worldwide this one will not be available for long either.
________________________________________________________________
The Doctor Who 50th Anniversary Silver coin.
Features the TARDIS in engraved relief on the reverse with coloured element. Comes in a special TARDIS presentation box complete with sound effects. Now sold out.
The Doctor Who 50th Anniversary 1oz Gold Coin
Features the TARDIS depicted in engraved relief on the reverse and presented in a deluxe wooden box. Now sold out.