Posts Tagged '50 years of the 50p'
2019 really was a BIG year for coin collectors, but there's one coin that took the spotlight, the 50p.
And in today's video Adam takes a look back at the top 5 Silver Proof 50ps of 2019 based on sell-out time compared to edition limit.
Does your favourite make an appearance? Watch our latest video to find out!
Remember you can find out all the latest coin news and information here: https://www.westminstercollection.com…
The 10 Shilling Note, or 'ten bob', was a goodly sum in the old days – in the 1960's it could buy 6 pints of beer, 10 loaves of bread, or 17 pints of milk.
It's hard to imagine its decimal equivalent, the 50p, buying so much these days!
This old banknote has a fascinating history, from being issued by the Government in a wartime emergency, changing colour to avoid forgery from the Nazis and eventually being replaced by the world's most popular coin.
The Emergency Banknote
In August 1914, the British economy was in turmoil because of the instability brought on by the oncoming war on the continent. Bankers and politicians were desperately looking for ways to secure Britain's finances and prevent the banks from collapsing.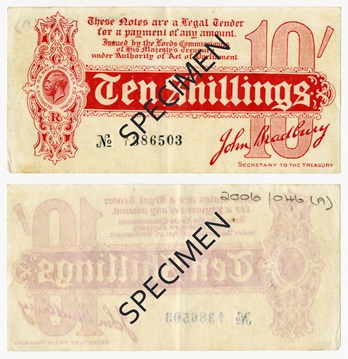 The Government decided that a large supply of banknotes had to be made available for the value of 10 shillings, making it easy for the public to make small transactions. However, The Bank of England was not able to prepare and print the required number of notes quickly enough, so the Government took the unprecedented step of deciding to issue the notes itself.
These banknotes became known as the Treasury banknotes and were unlike anything the British public had ever seen. Until this point the lowest denomination banknote was £5, and in those days this was such a large sum that many people would never have seen or used a banknote before.
That means that these Treasury notes now stand out as the first widely circulated banknotes in England.
The Wartime colour change
In 1928, the responsibility for printing Ten Shilling Notes was transferred to the Bank of England.
However, not long afterwards Britain once again found itself at war, and again found its currency under threat.
During World War II, Nazi Germany hatched a plan to undermine British currency. Through Operation Bernhard they believed that they had discovered a method to manufacture counterfeit 'White Fivers' and planned to distribute these in huge numbers to destabilise the British currency.
The Bank of England decided to take preventative action and, as a result, the 10 Shilling note was changed for duration of the war to a distinctive pink and blue in an attempt to prevent counterfeiting. It was also revolutionary in the progression of banknote technology by incorporating a metal security thread.
The Nazis could not compete with this high level anti-forgery technology and hence the British 10 Shilling Note stayed strong and supported the British wartime economy as it had done since its conception.
The 50p revolution
After undergoing a colour change during the Second World War, the 'ten bob' note reverted to the familiar red-brown until 1961, when a new design featuring a portrait of Queen Elizabeth II was introduced.
Despite a new design for the 10 Shilling Note featuring Sir Walter Raleigh on the reverse being approved in 1964, as part of the process of decimalisation it was dropped in favour of the new fifty pence coin introduced in 1969.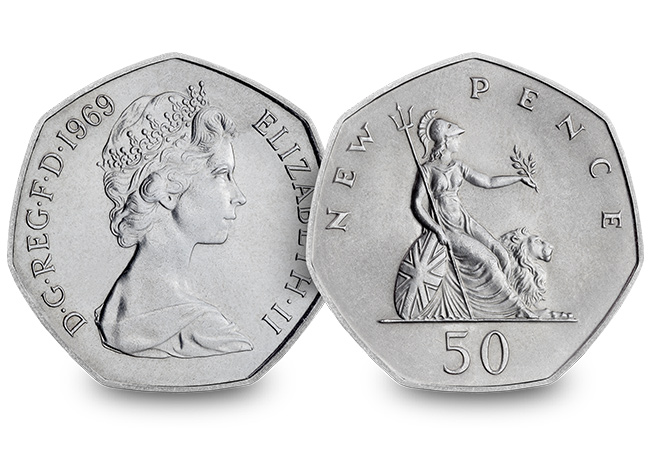 The principle reason for the change was to save the treasury money, the notes had an average lifetime of around five months, whereas a coin could last for fifty years. The 50p has since gone on to become the world's most popular and collected coin, but nowadays few realise the fascinating history of its predecessor, the 10 Shilling Banknote!
---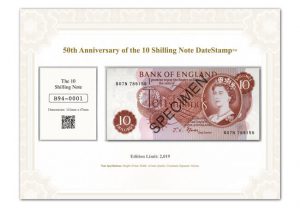 If you're interested…
It's now been 50 years since the last 10 Shilling Banknote was issued – which is why you now have the chance to pay tribute to this famous old note with a LIMITED EDITION DateStamp™. But only a very limited number of 10 Shilling Notes will be released in this way, so you'll need to be quick if you want to secure one for your collection! Click here to order one today >>
As you may know, this year we're celebrating a numismatic milestone: the 50th anniversary of the 50p!
And as the collector's favourite 7-sided coin turns 50 years old we've seen many commemoratives marking the occasion, which have proved immensely popular with collectors.
And a brand new UK 50p has been released today by The Royal Mint to mark the actual anniversary of the 50p – 14th October 2019.
This new coin is sure to see an overwhelming response from collectors. That's because the new coin has THREE unique features that alone make this commemorative this year's must have 50p release…
TWO special privy marks and a minting first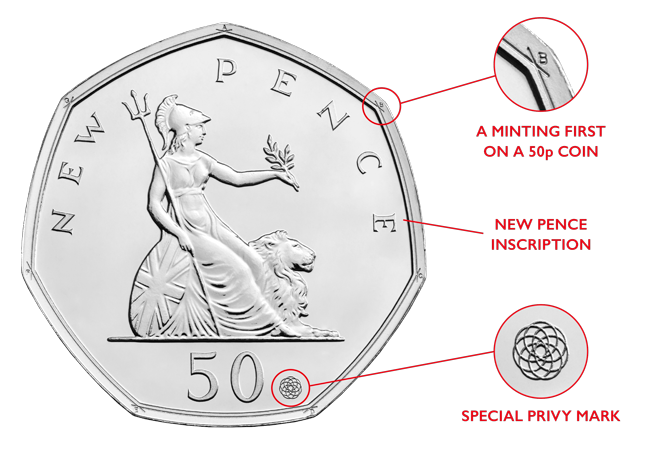 The reverse features Christopher Ironside's iconic Britannia design, inscribed with 'New Pence'. This was the first design to ever feature on the 7-sided 50p, released in 1969.
But what truly sets this issue apart from all other 50years of the 50p commemoratives is the inclusion of THREE special hidden features:
Exclusive never-before-seen privy mark, designed especially for the occasion. A Spirograph-type design drawn from an extension of lines forming the 50p shape creates this unique mark. If you look in the centre you'll see the 7-sided 50p shape we're used to today.
Innovative privy mark around the reverse rim of the coin. The letters A to G are inscribed on each point and are joined by arced crossing lines. It shows the science behind how the iconic 50p shape was created. Importantly, this is a minting first on a 50p coin.
The denomination in 'NEW PENCE' – not seen since 1981.
These three features make this issue highly collectable and will surely be sought-after by collectors in years to come.
50th Anniversary of the 50p Commemorative 50p BU Pack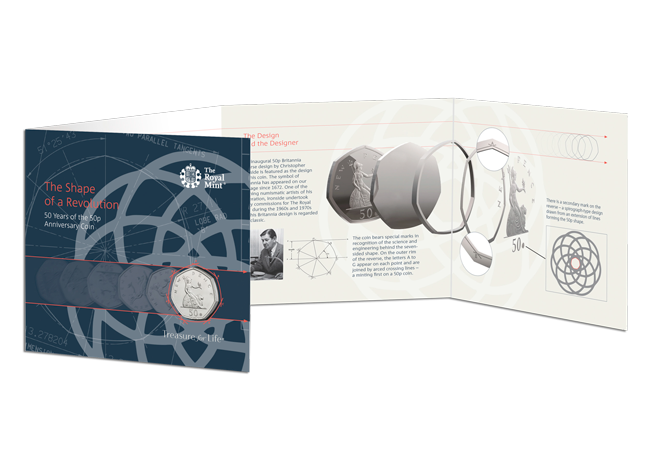 To give as many collectors as possible the chance to own this coin, The Royal Mint has issued it in Brilliant Uncirculated quality, which is coveted by collectors as it means each coin is free from any marks you would find on circulated coins.
Each one is protectively encapsulated in its attractive original Royal Mint packaging to preserve its quality for generations to come. What's more, you can secure this BU Pack at the Royal Mint issue price of just £10 (+p&p). Click here to find out more >>>
50th Anniversary of the 50p Commemorative 50p Silver Proof Coin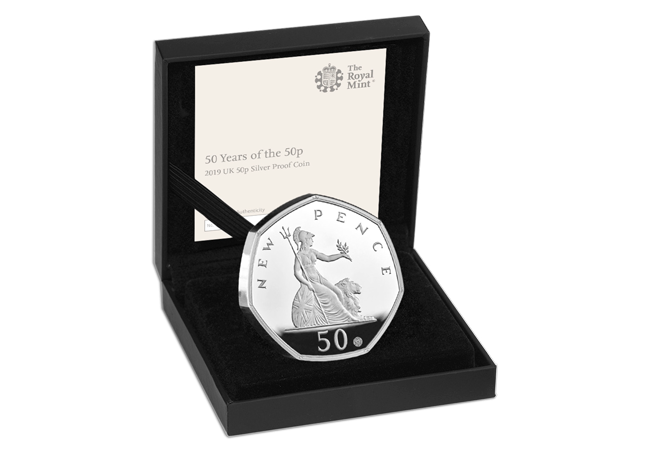 However, you can own the special commemorative 50p in an even more exclusive way – so exclusive just 3,500 collectors worldwide can own it.
This version is sure to sell incredibly quickly. Remember when The Royal Mint re-issued for 2019 some of the most iconic 50ps, to celebrate the anniversary, in Silver Proof quality the popularity was unprecedented. In fact the full allocation of 3,500 COMPLETELY SOLD OUT within two hours.
That's the same edition limit as this single coin.
The coin has the same design, but comes presented in a bespoke Royal Mint presentation box and is struck in superior .925 Sterling Silver to a perfect proof finish. Given how popular commemorative 50ps are, this exclusive precious metal version is sure to be an even bigger hit.
You can secure this limited edition coin for your collection now for just £55 (+p&p) – that's the Royal Mint issue price. Click here to find out more >>>
50th Anniversary of the 50p Commemorative 50p Silver Piedfort Coin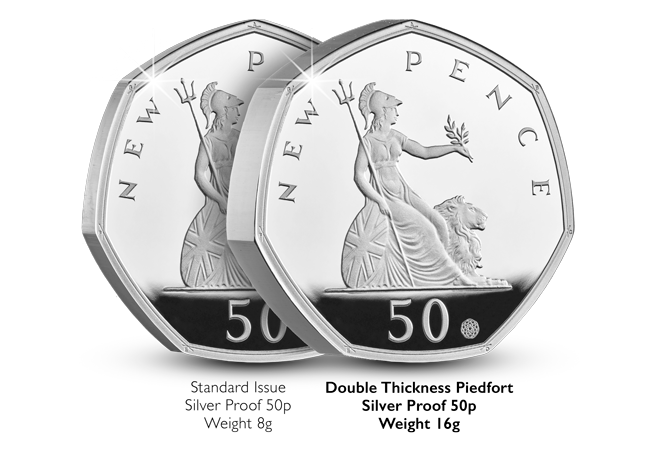 But, there is an even more limited way to own this coin – as a Silver Proof Piedfort. Limited to just 1,969 collectors across the globe, this coin is nearly twice as rare as the regular Silver Proof version.
Piedforts are the pinnacle of Royal Mint craftsmanship. They are highly-sought after amongst collectors and stand out for many reasons:
Twice the weight and thickness of a regular Silver Proof coin
Double the amount of Silver
Low edition limits
Fast sell-out rates
What's more, 50p Piedforts are extremely rare. To my knowledge only about 20 or so have ever been minted and as such are always highly sought-after.
In fact, they are so in demand that the 2019 UK Stephen Hawking 50p Silver Proof Piedfort, with a higher edition limit of 2,500, COMPLETELY SOLD OUT at The Royal Mint within two hours.
You can secure this limited edition coin for your collection now for just £19 (+p&p), followed by 4 further equal interest-free instalments. Click here to find out more >>>