Posts Tagged 'World War One'
100 years ago this year, at 11 o'clock on 11th of November, the guns of war finally fell silent. The First World War was over.
While many fathers, sons, uncles and brothers came home, millions lay where they fell, on the Battlefields of Europe. Those who were lucky enough to be identified were placed in makeshift graves, often only identified by a rifle placed in the earth with his steel helmet placed on top as a final memorial.
To commemorate the Armistice Centenary, The Royal Canadian Mint have issued a remarkable new coin that honours each and every fallen soldier.
Struck in the shape of a WWI Brodie Helmet, it is more deeply curved surface than any other concave or convex-shaped coin I've seen before. The design is so unique in fact, that the Mint have kept the minting technique a closely guarded secret.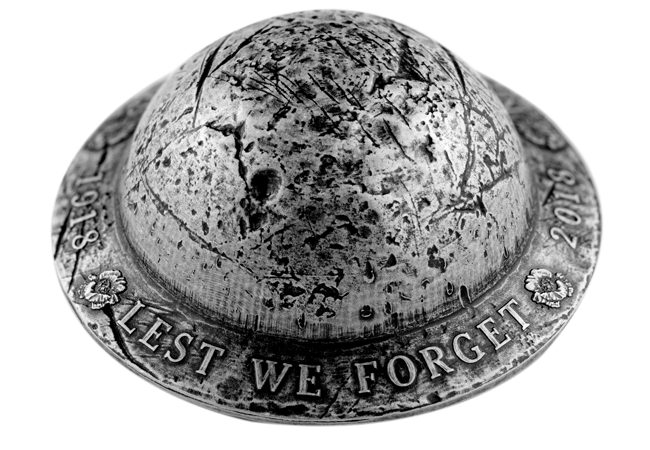 Although the original helmet would have been cast from Steel, this coin has been struck in the very finest .9999 or "four nines" silver, this is the purest grade of silver available. The Royal Canadian Mint is one of the very few Mints in the world with enough minting expertise able to strike coins with this incredible high relief finish. It's an exceptional feat of craftsmanship.
What's more the attention to detail is outstanding, each coin has been given a final antique finish and there are even engraved cracks and markings which complete the helmet's battle-worn appearance. A reminder of the hardships endured by those who fought.
The amount of 2018 Silver 'Helmet-Shaped' coins available is very low. A worldwide edition limit of just 6,500 has been set by the Mint, but of course many of these won't even make it out of Canada. Without any doubt, this has to be one of the most collectable issues ever struck.
The First World War will always be known as one of Man Kind's darkest hours but poignant issues like this one allow us to remember those who have made the ultimate sacrifice.
---
If you're interested…
We have just 500 WWI Lest We Forget Silver 'Helmet-Shaped' coins available for UK collectors, but to get one you'll have to act quickly.
Click here for more details >>
On Friday 10th October the new '100 Poppies' coin was released, and the distinctive design has been turning heads.
Commemorative coins have been issued in support of the Royal British Legion since 2008, some of them even struck in the famous poppy shape. But this year's coin is a little different.
100 Poppies for 100 years
As 2014 marks the centenary of the outbreak of the First World War, digital artist Chris Lloyd wanted to subtly allude to the poignancy of the occasion. He came up with countless designs, but nothing quite captured the moment in the way he wanted.
I asked Chris what gave him the inspiration to produce such a memorable coin after struggling for so long:
"It was only when I thought back to that moving part of the Royal British Legion's Festival of Remembrance, when hundreds of poppies fall from the ceiling, that inspiration struck. I decided that the best way to represent the centenary anniversary would be with 100 poppies, one for each year. I even counted them by hand, marking each one, to make sure the right number are there!"
The only text on the obverse of the coin – 'Lest we forget' – taken from Laurence Binyon's For the Fallen – serves as a starkly poignant reminder.
A coin for everyone, proof, silver and gold
The new coins are being made available in a range of metals, to suit any collection. From a Proof condition £5 coin, right up an impressive 22 Carat Gold edition, all of the limited edition coins are available now.
A donation is made from the sale of each coin to the Royal British Legion. So those who secure their coins will know they own an important piece of history, and they're helping the Legion provide financial, social and emotional support to all who have served and are currently serving in the British Armed Forces and their families.
---
Get your coin in time for Remembrance Day
The 2014 '100 Poppies' £5 Proof Coin is available to order now.
Proud supporters of The Royal British Legion.
NOW SOLD OUT – Click here for the full range of British Legion commemoratives available.