Posts Tagged 'Remembrance'
Earlier this year, we hit a company milestone. A milestone that will be hard to ever beat…
On 30th January 2019, news quickly filled the office that through the sales of commemorative Remembrance and Poppy-themed coins, that The Westminster Collection had raised an incredible £1 Million for The Royal British Legion!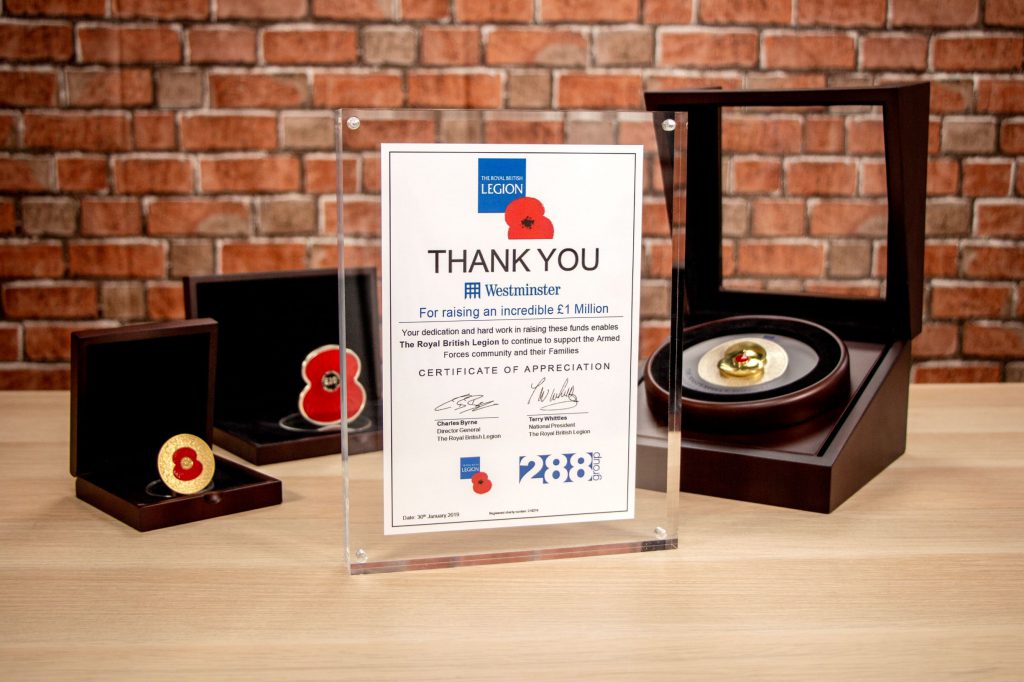 This is an achievement that everyone is immensely proud of, and we are delighted to see that our 15 years partnership with The Royal British Legion has raised such an amazing amount to support the Armed Forces community and their families.
To celebrate this important occasion, company Chairman, Stephen Allen, and our Product Development Team were invited along to The Legion's Southampton Pop-In Centre where they got the chance to meet volunteers and staff that help the Armed Forces Community. And, perhaps most importantly, presented The Royal British Legion with the £1,007,239.36 cheque!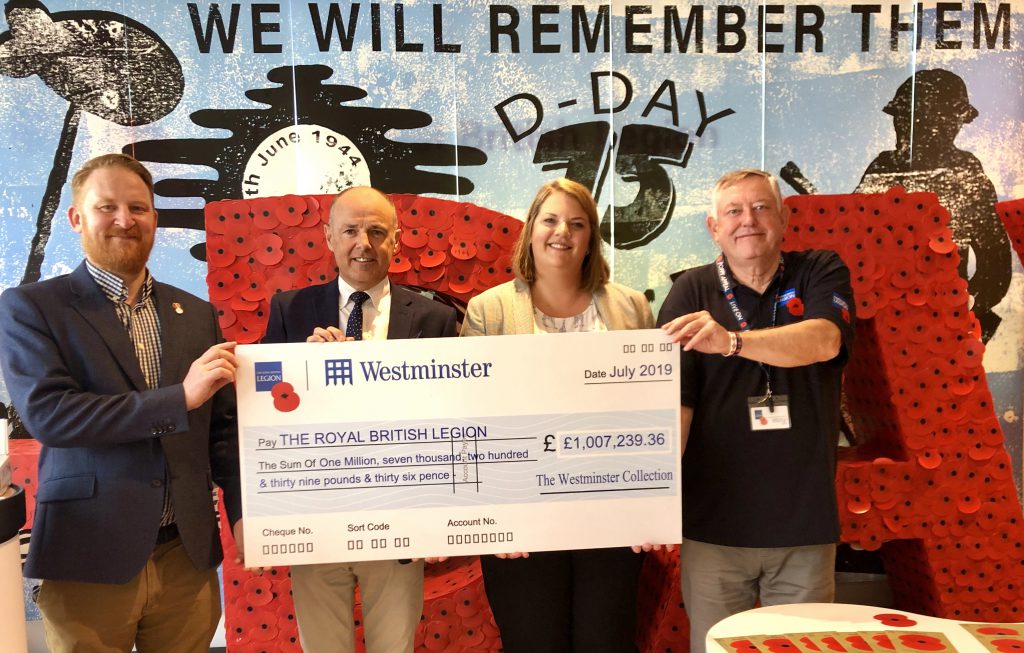 "We are delighted to have raised such a significant amount for The Legion. The donations raised will be able to go towards helping the Armed Forces community, which we feel incredibly passionate about as a company."

Stephen Allen, Chairman of The Westminster Collection
"I am extremely proud that we have the continued support of The Westminster Collection as our partner, supporting us since 2004, which is wonderful, just think of all the lives they have touched and enhanced. We are thrilled that the partnership has reached an incredible milestone of raising £1 Million in donations, donations raised from each and every coin sold from the iconic Poppy Collection and Commemoratives."

Claire Rowcliffe, Director of Fundraising at The Royal British Legion
We are all excited to see our longstanding partnership continue this year when we launch our brand new range of Poppy commemorative coins in September. If you're interested in finding out about when they go on sale then make sure you like us on Facebook or follow us on Instagram, where we announce all of our latest release news!
If you'd like to find out more about the fantastic work that The Royal British Legion do and why we are so proud of this milestone £1 Million that has been raised for the charity, then read on…
---
The Royal British Legion provides lifelong support to serving and ex-serving personnel and their families. People need help for many different reasons. They may be facing employment issues or financial difficulties, or may need help related to housing, homelessness or living independently. They may face mental and physical health challenges, need care in later life or need help building local community connections. Whatever issues people face, the Legion's staff and volunteers are trained so they can direct enquiries to the most appropriate service. And, if there is ever a reason that they can't help, the Legion's vast network of partner charities and organisations means that they will know someone who can.
To find out more about The Royal British Legion, please click here.
100 years ago this year, at 11 o'clock on 11th of November, the guns of war finally fell silent. The First World War was over.
While many fathers, sons, uncles and brothers came home, millions lay where they fell, on the Battlefields of Europe. Those who were lucky enough to be identified were placed in makeshift graves, often only identified by a rifle placed in the earth with his steel helmet placed on top as a final memorial.
To commemorate the Armistice Centenary, The Royal Canadian Mint have issued a remarkable new coin that honours each and every fallen soldier.
Struck in the shape of a WWI Brodie Helmet, it is more deeply curved surface than any other concave or convex-shaped coin I've seen before. The design is so unique in fact, that the Mint have kept the minting technique a closely guarded secret.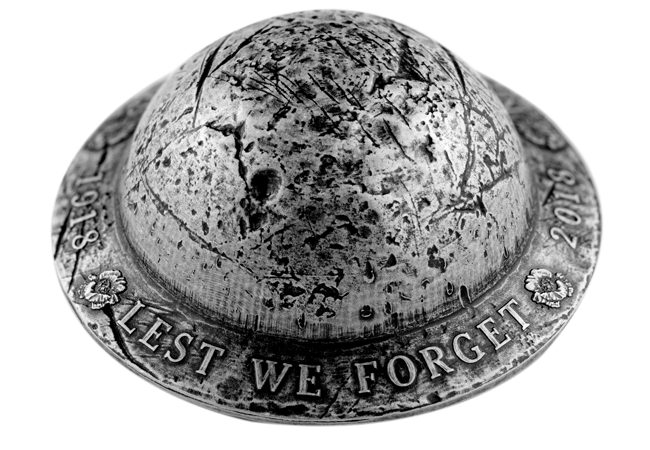 Although the original helmet would have been cast from Steel, this coin has been struck in the very finest .9999 or "four nines" silver, this is the purest grade of silver available. The Royal Canadian Mint is one of the very few Mints in the world with enough minting expertise able to strike coins with this incredible high relief finish. It's an exceptional feat of craftsmanship.
What's more the attention to detail is outstanding, each coin has been given a final antique finish and there are even engraved cracks and markings which complete the helmet's battle-worn appearance. A reminder of the hardships endured by those who fought.
The amount of 2018 Silver 'Helmet-Shaped' coins available is very low. A worldwide edition limit of just 6,500 has been set by the Mint, but of course many of these won't even make it out of Canada. Without any doubt, this has to be one of the most collectable issues ever struck.
The First World War will always be known as one of Man Kind's darkest hours but poignant issues like this one allow us to remember those who have made the ultimate sacrifice.
---
If you're interested…
We have just 500 WWI Lest We Forget Silver 'Helmet-Shaped' coins available for UK collectors, but to get one you'll have to act quickly.
Click here for more details >>