Posts Tagged 'Canadian Silver Coin'
When I think of Canada several things spring to mind: the iconic maple leaf, the caribou and beaver, ice hockey and Celine Dion, just to name a few. But at the top of my list is without a doubt the Royal Canadian Mint.
As one of the three 'Royal' Mints in the world – alongside The Royal Mint here in the UK and the Royal Australian Mint – they are known for their innovation and impressive minting techniques, resulting in some of the most magnificent issues I've ever seen.
So to celebrate Canada Day, I've rounded-up my top five favorite Canadian releases, each demonstrating why they are one of the most prestigious mints in the world. Believe me, some of these issues are truly incredible!
Take a look for yourself…
The R&D Security Test Token Set
It will come as no surprise to know that the Royal Canadian Mint is the market leader in numismatic security.
The R&D Test Token set offers us a glimpse at never-before-seen minting techniques which will shape our future coins, and are sure to impress even the most seasoned coin collectors.
Included are six specimen tokens with high-tech design elements showcasing fascinating examples of tri-metal technology and micro-text. What's more, each token included in the set is a real life trial piece which has been used in laboratory testing. So each set is completely unique – no two will be the same! Click here to find out more >>
Lest We Forget Silver Helmet-Shaped Coin
This issue truly is one of a kind. The minting expertise required to strike such an impressive coin is astounding – I've never seen a coin like it.
Not only is it struck from the Mint's signature .9999 Pure Silver, but it's an incredible miniature replica of the steel Brodie helmets worn by British and Commonwealth forces during the First World War.
How the Mint achieved this result I will never know – it remains a closely guarded secret. There are even engraved cracks and markings you would find on an original helmet. The final antique finish gives an authentic distressed look, the fine detail is incredible. Click here to find out more >>
Pure Silver D-Day Coin
The first step in to battle takes incredible courage, and this year to mark the landmark 75th anniversary of D-Day the Royal Canadian Mint issued perhaps the most poignant D-Day commemorative yet.
This stunning issue perfectly captures the moment Canadian soldiers set foot on Juno Beach. It is expertly struck from a quarter ounce of .9999 Pure Silver – or "four nines Silver", the purest grade available for which the Mint is known – and has an innovative reverse proof finish which replicates the texture of the sand. Click here to find out more >>
3D Monarch Caterpillar Coin
Some of nature's most beautiful things come in small packages. And this remarkable issue is no different.
The Monarch Caterpillar Pure 1oz Silver Coin is a perfect combination of Italian craftsmanship and Canadian design. It features a stunning 3D Monarch Caterpillar handcrafted from Murano glass, poised upon the selectively coloured design of a swamp milkweed plant leaf.
The combined traditional engraving, colour and Murano glass creates a truly unforgettable piece. Click here to find out more >>
John Lennon Silver 1oz Coin
It's hard to believe that just 50 years ago, John Lennon and Yoko Ono conducted their "Bed-in for Peace" protest against the Vietnam War and debuted the most famous anti-war anthem of all time – Give Peace a Chance.
It was a moment that has forever cemented a bond between John Lennon and Canada. A bond that is marked by the release of this limited edition John Lennon commemorative.
Using bespoke printing technology the coin features a photographic image of John and Yoko during their protest and is struck from 1oz Pure Silver to a mirror-like proof finish.
Considering the worldwide popularity of John Lennon and the legacy of Give Peace a Chance, it comes as no surprise that this coin has been incredibly popular. Click here to find out more >>
---
But that's not all! There's plenty of other fantastic coins that have been issued by the Royal Canadian Mint. You can take a look at the full range by clicking here >>
100 years ago this year, at 11 o'clock on 11th of November, the guns of war finally fell silent. The First World War was over.
While many fathers, sons, uncles and brothers came home, millions lay where they fell, on the Battlefields of Europe. Those who were lucky enough to be identified were placed in makeshift graves, often only identified by a rifle placed in the earth with his steel helmet placed on top as a final memorial.
To commemorate the Armistice Centenary, The Royal Canadian Mint have issued a remarkable new coin that honours each and every fallen soldier.
Struck in the shape of a WWI Brodie Helmet, it is more deeply curved surface than any other concave or convex-shaped coin I've seen before. The design is so unique in fact, that the Mint have kept the minting technique a closely guarded secret.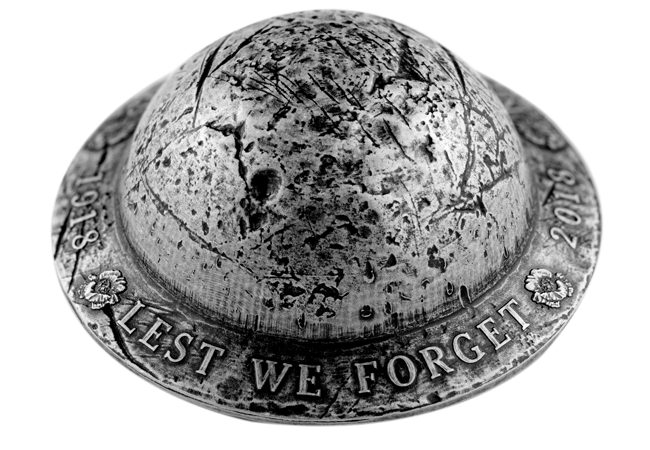 Although the original helmet would have been cast from Steel, this coin has been struck in the very finest .9999 or "four nines" silver, this is the purest grade of silver available. The Royal Canadian Mint is one of the very few Mints in the world with enough minting expertise able to strike coins with this incredible high relief finish. It's an exceptional feat of craftsmanship.
What's more the attention to detail is outstanding, each coin has been given a final antique finish and there are even engraved cracks and markings which complete the helmet's battle-worn appearance. A reminder of the hardships endured by those who fought.
The amount of 2018 Silver 'Helmet-Shaped' coins available is very low. A worldwide edition limit of just 6,500 has been set by the Mint, but of course many of these won't even make it out of Canada. Without any doubt, this has to be one of the most collectable issues ever struck.
The First World War will always be known as one of Man Kind's darkest hours but poignant issues like this one allow us to remember those who have made the ultimate sacrifice.
---
If you're interested…
We have just 500 WWI Lest We Forget Silver 'Helmet-Shaped' coins available for UK collectors, but to get one you'll have to act quickly.
Click here for more details >>