Innovation is nothing new to The Royal Canadian Mint. Whether it be a shape, size or never before-seen technology, the Mint are always looking for ways to push the limits on what can be achieved next in the minting world.
And, over the last few years, the results have been some of the world's most stunning, technologically advanced coins, with sell-outs almost guaranteed.
So, you can imagine the excitement of collectors from all over the world when the latest interactive coin from Royal Canadian Mint was released earlier this month…
The Hummingbird and Bloom 5oz Pure Silver Coin
This stunning BRAND NEW release features something that has been highly revered by collectors since it was first seen back in 2018…
But when is a coin not just coin? When it's also an interactive Bloom with a moving Hummingbird – miniaturised of course!
The cutting edge gyroscopic technology used to bring this coin to life truly is outstanding as it has allowed the coin to become interactive. Whilst the coin is encapsulated inside its protective case, the Hummingbird elegantly hovers around a gorgeous Zinnia Bloom, much like it does in the wild.
Unfortunately, images can only go some way towards showing the glory of this coin, so I ask you, in fact I implore you, to please take some time to look at the below video to truly appreciate its beauty:
It is so visually impressive that words will never be able to do it justice. Nothing can compare to holding the coin struck from a full 5oz of Fine Silver in your hand and feeling the groundbreaking gyroscopic technology elegantly move a 24ct Gold-plated Hummingbird around a Rose-gold Zinnia.
It is this bloom that is even more impressive than the Royal Canadian Mints predecessors – utilizing 24ct Rose-Gold to show off the Zinnia's tear-drop petals and contrast the Proof Silver base that features even more blooms.
In 2018, the first coin to use this technology was released, and to say it was popular would be an understatement. Featuring a Bumblebee [Link to Bumble Bee blog 'Coin of 2018'] hovering around a flower, it was voted Collector's Gallery favourite coin of 2018. The coin was a world FIRST and completely SOLD-OUT within a matter of weeks at the Mint. And the same can be said for the second coin in the series, the Christmas Tree and Train,[Link to blog] which featured a classic train running the circumference of a Christmas Tree but completely SOLD-OUT before the official release date..
Not only are these sell-outs attributed to the quality, craftsmanship and uniqueness of these coins, but also to the extremely low edition limits. The BRAND NEW Hummingbird and Bloom interactive coins are strictly limited to just 1,250 collectors worldwide. When you consider the sell-out successes of the previous coins and the collectors who will want to be at the forefront in owning this enchanting new coin, demand has already proven to exceed availability.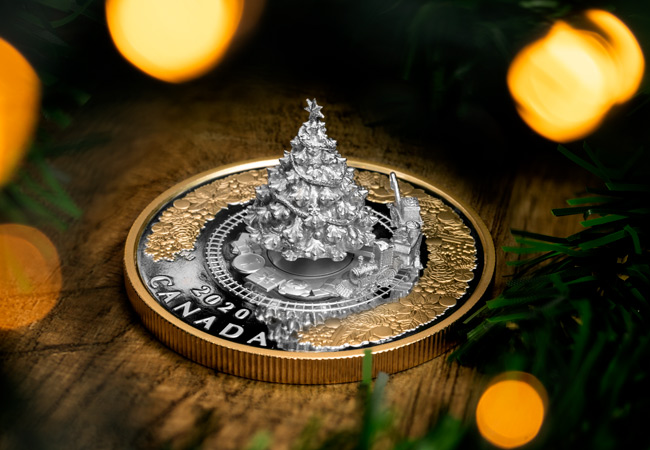 This Brand New Hummingbird and Bloom Silver 5oz Coin magnificently merges art and technology; engraving and casting; silver and gold. You really do need to see it first hand to fully appreciate all the stand-out features. It's an outstanding work of art that is visually spectacular, words will never be able to do it justice.
It is safe to say, we don't expect these coins to be around for much longer. The coins completely SOLD OUT at the mint within hours of release and we have JUST 5 coins remaining.
---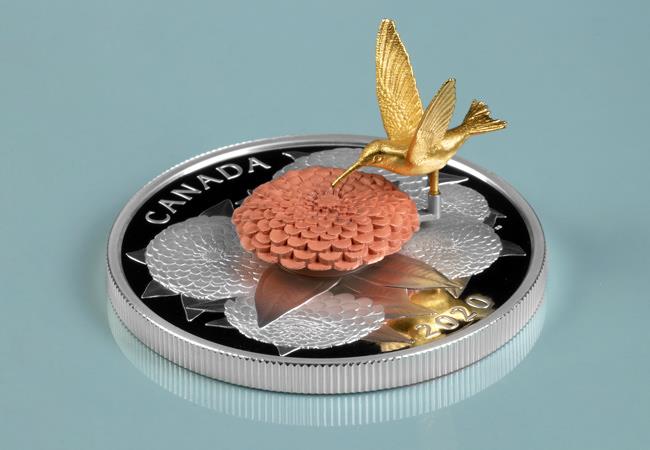 If you're interested…
If you wish to secure The Hummingbird and Bloom Interactive Silver Proof 5oz coin, please click here >>
Did you know today is Canada day? 148 years ago Canada became a country in its own right. Whilst the anniversary may be a bit of a stretch for us to celebrate, we can certainly appreciate the work of the Royal Canadian Mint over the last few years. Here are just 5 of my favourite coins, each of which demonstrates why Canada is now a world leader in numismatics…
A first for the Royal Canadian Mint…

The beautiful detail of this coin makes it one of my favourites and is without a doubt a numismatic masterpiece. The 2015 5oz silver Maple Leaf is the first ever 5oz coin struck by the Royal Canadian Mint to feature a hologram. The maple leaf is the quintessential national symbol of Canada and this coin is the latest to be released as part of their popular annual 5oz Maple Leaf release. Each coins hologram has been individually struck directly onto the coin resulting in an extremely precise and detailed finish. 90% of the worldwide 1,500 edition limit has been sold already – which isn't all that surprising considering it is 1,000 coins less than last years sell-out 5oz issue!
The start of a remarkable collecting story…

Canada's early history is one of exploration and discovery. This 'Voyageur' 3 coin set tells a truly fascinating story about Canada's heritage and to me there is nothing better than owning a coin that depicts a significant part in the history of a country. The 'Voyageur' is the design that depicts Canada's humble beginnings which was shaped by explorers and native aboriginals. This set pays special tribute to the iconic Canadian 'Voyageur' Dollar. An original 1935 dollar, the 75th anniversary issue, and the $20 for $20 canoe tribute are included in this 3 coin set. The edition limit for this special numismatic set is just 495 worldwide. This is testament to just how hard it is to acquire these three coins together.
The coin with a hidden message…

Just 495 limited edition sets were issued to mark the 70th Anniversary of VE Day. The set includes an original Victory nickel coin and the new 2015 5-Cent victory coin. The new 2015 5-cent coin is almost twice the size of the original and struck in pure silver with selective gold-plating. I consider these coins to feature one of the most interesting and carefully thought out designs. If you look closely you can see The Morse code has been carefully engraved around the edge of the reverse of the coins.
Cutting edge in coin security…

Limited to 2,500, this coin is another example of the craftsmanship and design expertise of the Royal Canadian Mint. The Silver Maple Leaf coin is issued annually but not only does it radiate elegance, it sports an advanced micro engraved design that is only visible under magnification. The design is textured which enables the coin to achieve a light-diffracting effect, in my opinion this intensifies user experience. The illuminating effect this coin portrays makes it a stunning creation and offers the perfect mix of collectible beauty and investment appeal.
Already set to be the best selling coin of 2015…

This year marks the 50th anniversary of Canada's Flag, so to celebrate the Royal Canadian Mint has increased the face value of their usual $20 coins to $25 and issued the design in full colour. The red and white Maple Leaf flag beautifully captures such an important anniversary for Canada and guarantees to increase interest for collectors of Canadian coins. The Fine Silver Canadian Flag Coin coin is already set to be the best selling coin of 2015 for the Royal Canadian Mint and limited to just 1,500 pieces, it is almost certain to be a sell-out.
These are just a handful of the fascinating coins issued by The Royal Canadian Mint, all of which differ in size, colour and age. It is a day like today that makes me appreciate the creativity and effort put into the coins issued by the Royal Canadian Mint since they were founded in 1908.
---
If you're interested….
The Westminster Collection has limited stock of these issues available to order today.