Posts Tagged 'The Canadian Mint'
Innovation is nothing new to The Royal Canadian Mint. Whether it be a shape, size or never before-seen technology, the Mint are always looking for ways to push the limits on what can be achieved next in the minting world.
And, over the last few years, the results have been some of the world's most stunning, technologically advanced coins, with sell-outs almost guaranteed.
So, you can imagine the excitement of collectors from all over the world when the latest interactive coin from Royal Canadian Mint was released earlier this month…
The Hummingbird and Bloom 5oz Pure Silver Coin
This stunning BRAND NEW release features something that has been highly revered by collectors since it was first seen back in 2018…
But when is a coin not just coin? When it's also an interactive Bloom with a moving Hummingbird – miniaturised of course!
The cutting edge gyroscopic technology used to bring this coin to life truly is outstanding as it has allowed the coin to become interactive. Whilst the coin is encapsulated inside its protective case, the Hummingbird elegantly hovers around a gorgeous Zinnia Bloom, much like it does in the wild.
Unfortunately, images can only go some way towards showing the glory of this coin, so I ask you, in fact I implore you, to please take some time to look at the below video to truly appreciate its beauty:
It is so visually impressive that words will never be able to do it justice. Nothing can compare to holding the coin struck from a full 5oz of Fine Silver in your hand and feeling the groundbreaking gyroscopic technology elegantly move a 24ct Gold-plated Hummingbird around a Rose-gold Zinnia.
It is this bloom that is even more impressive than the Royal Canadian Mints predecessors – utilizing 24ct Rose-Gold to show off the Zinnia's tear-drop petals and contrast the Proof Silver base that features even more blooms.
In 2018, the first coin to use this technology was released, and to say it was popular would be an understatement. Featuring a Bumblebee [Link to Bumble Bee blog 'Coin of 2018'] hovering around a flower, it was voted Collector's Gallery favourite coin of 2018. The coin was a world FIRST and completely SOLD-OUT within a matter of weeks at the Mint. And the same can be said for the second coin in the series, the Christmas Tree and Train,[Link to blog] which featured a classic train running the circumference of a Christmas Tree but completely SOLD-OUT before the official release date..
Not only are these sell-outs attributed to the quality, craftsmanship and uniqueness of these coins, but also to the extremely low edition limits. The BRAND NEW Hummingbird and Bloom interactive coins are strictly limited to just 1,250 collectors worldwide. When you consider the sell-out successes of the previous coins and the collectors who will want to be at the forefront in owning this enchanting new coin, demand has already proven to exceed availability.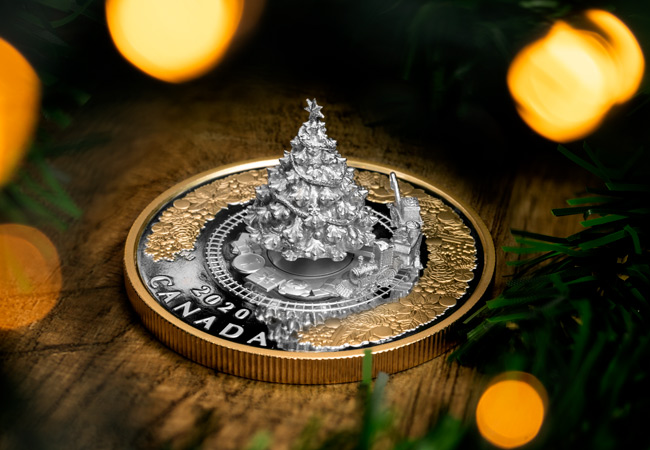 This Brand New Hummingbird and Bloom Silver 5oz Coin magnificently merges art and technology; engraving and casting; silver and gold. You really do need to see it first hand to fully appreciate all the stand-out features. It's an outstanding work of art that is visually spectacular, words will never be able to do it justice.
It is safe to say, we don't expect these coins to be around for much longer. The coins completely SOLD OUT at the mint within hours of release and we have JUST 5 coins remaining.
---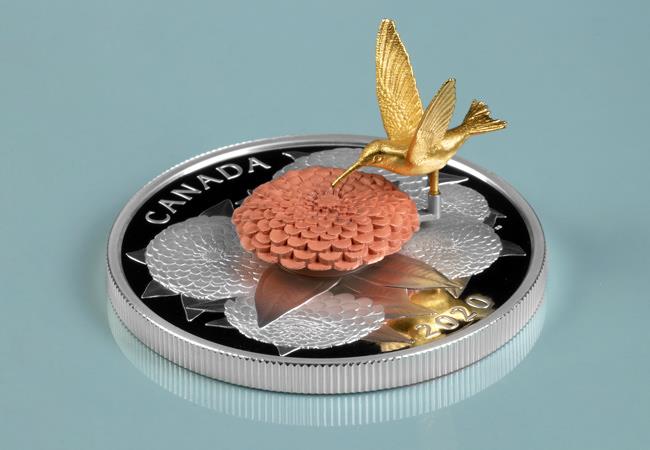 If you're interested…
If you wish to secure The Hummingbird and Bloom Interactive Silver Proof 5oz coin, please click here >>
In the 1800's, when aeroplanes were a mere twinkle in the eye of ambitious engineers, the idea of transatlantic flight came about with the advent of the hot air balloon. But one crash-landing, and one postponement due to the American Civil War meant this dream had to go back to the drawing board.
On the other side of the pond, in April of 1913 The Daily Mail newspaper offered a cash prize of £10,000 to "the aviator who shall first cross the Atlantic in an aeroplane in flight from any point in the United States of America, Canada or Newfoundland and any point in Great Britain or Ireland in 72 continuous hours".
But it wasn't until after the end of WWII that transatlantic flight by aircraft became truly viable, thanks to the significant advancements in aerial capabilities and technology.
Then the competition really heated up…
Nail-biting four-way competition
What came was a nail-biting four-way contest against the clock as well as each other. Four different 'teams' formed and went to work to try and prepare their chosen aircraft the fastest, for fear of being pipped to the post by another team making their attempt sooner. To make it a fair contest, each team had to ship their aircraft to Newfoundland for the take-off.
First to try was Australian pilot Harry Hawker and navigator Kenneth Mackenzie Grieve, piloting a Sopwith Atlantic – an experimental British long-range aircraft. In flight the aircraft suffered from engine failure and, when coupled with poor weather conditions, the decision was made to abort the mission.
The aircraft was abandoned in the Atlantic Ocean, 750 miles from Ireland, and the pair were rescued by a Danish steamer SS Mary. Due to the SS Mary not having any radio contact, the pair were presumed dead and King George V sent a telegram of condolence, but luckily this wasn't the case as the pair arrived back on land nearly a week later.
The next attempt wasn't nearly as exciting, as the aircraft never left the take-off zone. Frederick Raynham and C. W. F. Morgan made the attempt in a Martinsyde but crashed on take-off due to the heavy fuel load.
Then came the turn of aviator duo, John Alcock and Arthur Brown, who flew straight into the history books on June 15th 1919…
Flying in to the unknown across the Atlantic
The Vickers engineering and aviation firm, which had considered entering its Vickers Vimy IV twin-engine bomber in the competition, appointed Alcock as the team's pilot along with Brown who was adept at long-distance navigation.
In preparation for the transatlantic flight, The Vimy, powered by two Rolls-Royce Eagle 360 hp engines, was successfully converted, including replacing its bomb racks with extra petrol tanks.
The pair took off from St. John's, Newfoundland, in their modified bomber around 1:45pm on 14th June 1919. To say it wasn't an easy flight would be an understatement. They encountered both mechanical and natural challenges. The wind-powered generator failed, depriving them of radio contact and much needed heating in their open-top cockpit. Fog and a snowstorm prevented navigation, almost resulting in a crash-landing at sea, not to mention the snow and freezing conditions meant the engines were in danger of icing up.
Whilst they were set a 72-hour target by The Daily Mail, the duo made landfall in Clifden, County Galway, in Ireland at 8:40am on 15th June 1919 – after just 16 hours of flight!
Incredibly, they landed not far from their intended landing zone in Ireland. However, the aircraft was damaged upon arrival because what looked like a field from their aerial view turned out to be a bog, causing the aircraft to nose-over. Thankfully neither were hurt, and Brown claimed that if the weather had been good, they'd have been able to continue to London.
A hero's return to a £10,000 reward
Alcock and Brown's successful attempt meant that the fourth team, Handley Page Limited, who were yet to take-off, were no longer eligible to compete. The two airmen returned home as aviation heroes and pioneers of the sky.
As promised, Alcock and Brown were rewarded for their ground-breaking achievement – the £10,000 prize money offered by The Daily Mail, for the first crossing of the Atlantic in less than 72 consecutive hours.
The Secretary of State for Air at the time, Winston Churchill, presented the pair with their cash reward. Then one week later, at Windsor Castle, they were awarded the honour of Knight Commander of the Most Excellent Order of the British Empire by King George V.
---
If you're interested…
The Royal Canadian Mint marked the milestone 100th anniversary of this remarkable achievement and feat of engineering with a limited edition 1oz Silver Proof coin. The coin features a faithful colour reproduction of the commemorative stamp that was issued to mark the 50th anniversary.
Unsurprisingly the coin proved so popular that it is no longer available at the Mint! We have a limited number remaining, click here for more information >>
When I think of Canada several things spring to mind: the iconic maple leaf, the caribou and beaver, ice hockey and Celine Dion, just to name a few. But at the top of my list is without a doubt the Royal Canadian Mint.
As one of the three 'Royal' Mints in the world – alongside The Royal Mint here in the UK and the Royal Australian Mint – they are known for their innovation and impressive minting techniques, resulting in some of the most magnificent issues I've ever seen.
So to celebrate Canada Day, I've rounded-up my top five favorite Canadian releases, each demonstrating why they are one of the most prestigious mints in the world. Believe me, some of these issues are truly incredible!
Take a look for yourself…
The R&D Security Test Token Set
It will come as no surprise to know that the Royal Canadian Mint is the market leader in numismatic security.
The R&D Test Token set offers us a glimpse at never-before-seen minting techniques which will shape our future coins, and are sure to impress even the most seasoned coin collectors.
Included are six specimen tokens with high-tech design elements showcasing fascinating examples of tri-metal technology and micro-text. What's more, each token included in the set is a real life trial piece which has been used in laboratory testing. So each set is completely unique – no two will be the same! Click here to find out more >>
Lest We Forget Silver Helmet-Shaped Coin
This issue truly is one of a kind. The minting expertise required to strike such an impressive coin is astounding – I've never seen a coin like it.
Not only is it struck from the Mint's signature .9999 Pure Silver, but it's an incredible miniature replica of the steel Brodie helmets worn by British and Commonwealth forces during the First World War.
How the Mint achieved this result I will never know – it remains a closely guarded secret. There are even engraved cracks and markings you would find on an original helmet. The final antique finish gives an authentic distressed look, the fine detail is incredible. Click here to find out more >>
Pure Silver D-Day Coin
The first step in to battle takes incredible courage, and this year to mark the landmark 75th anniversary of D-Day the Royal Canadian Mint issued perhaps the most poignant D-Day commemorative yet.
This stunning issue perfectly captures the moment Canadian soldiers set foot on Juno Beach. It is expertly struck from a quarter ounce of .9999 Pure Silver – or "four nines Silver", the purest grade available for which the Mint is known – and has an innovative reverse proof finish which replicates the texture of the sand. Click here to find out more >>
3D Monarch Caterpillar Coin
Some of nature's most beautiful things come in small packages. And this remarkable issue is no different.
The Monarch Caterpillar Pure 1oz Silver Coin is a perfect combination of Italian craftsmanship and Canadian design. It features a stunning 3D Monarch Caterpillar handcrafted from Murano glass, poised upon the selectively coloured design of a swamp milkweed plant leaf.
The combined traditional engraving, colour and Murano glass creates a truly unforgettable piece. Click here to find out more >>
John Lennon Silver 1oz Coin
It's hard to believe that just 50 years ago, John Lennon and Yoko Ono conducted their "Bed-in for Peace" protest against the Vietnam War and debuted the most famous anti-war anthem of all time – Give Peace a Chance.
It was a moment that has forever cemented a bond between John Lennon and Canada. A bond that is marked by the release of this limited edition John Lennon commemorative.
Using bespoke printing technology the coin features a photographic image of John and Yoko during their protest and is struck from 1oz Pure Silver to a mirror-like proof finish.
Considering the worldwide popularity of John Lennon and the legacy of Give Peace a Chance, it comes as no surprise that this coin has been incredibly popular. Click here to find out more >>
---
But that's not all! There's plenty of other fantastic coins that have been issued by the Royal Canadian Mint. You can take a look at the full range by clicking here >>