Posts Tagged 'The Canadian Mint'
It is always exciting to see new, innovative products coming out of the numismatic industry, and there is nothing quite like the test token set issued by the Royal Canadian Mint's Research and Development lab. When you see this set it's no surprise that the Royal Canadian Mint is a market leader in security. Looking to be at the forefront of new minting technologies this latest collection showcases some never before seen minting techniques which are guaranteed to impress both seasoned and budding collectors alike.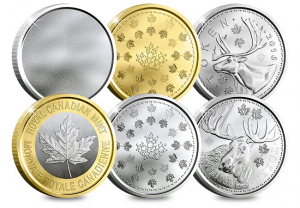 So what exactly is a 'test token' I hear you ask? A test token is a prototype of next generation currency, and is created purely to test new technologies and minting techniques before giving the green light to produce future coins with the technology. Since the tokens are test pieces their designs and technologies will not necessarily be replicated in future currency, perhaps only some of the techniques or designs will be taken forward,so the test pieces are one of a kind.
Chief Technology Officer at the Royal Canadian Mint, Dr Xianyao Li, says "the products in our R&D Lab Collection are tried,tested and true examples of forward-thinking technology that could re-define the future of domestic and foreign coins."
Now we're suitably intrigued about the new technologies featured in the set, let's take a closer look at the tokens…


Pie-Chart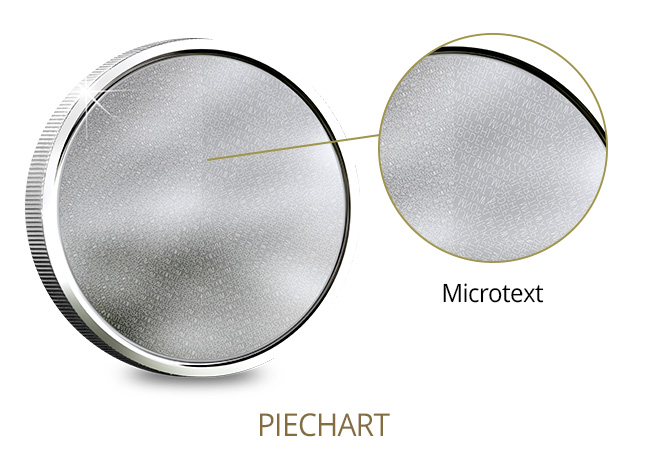 At first glance this perhaps looks to be the most unassuming token of the set, but looks can be deceiving as this token is an example of the advances currently being made in coin production to prevent counterfeiting. If you inspect the surface of the coin closely you will notice it resembles a pie-chart, with the surface subtly split up in to segments which are only just distinguishable. The slices are differentiated by the orientation and size of micro text which varies between segments. Micro text is one of the advancements in minting technology which has emerged in the last few years with the aim of preventing counterfeit coins, as the tiny text is difficult to replicate. Not only is the text extremely difficult to reproduce, it is also virtually indiscernible to the naked eye!


Caribou and Moose
The Caribou and the Moose instantly spring to mind when contemplating iconic Canadian imagery, so it would seem only natural they make an appearance in this set. Each token is crafted from multi-ply plated steel and includes both raised and incused maple leaf designs, instantly creating a noticeably three-dimensional textured surface. The depictions of the creatures on each coin have micro text hidden in their fur as an added security feature, and the maple leaf above the shoulder of each creature is also composed of micro text.


Leaf
The maple leaf is synonymous with Canada and is instantly recognisable as one of its national symbols dating back to the 18th century. Considering this it is unsurprising then that The Royal Canadian Mint also uses this iconic leaf as its logo, creating a strong identity link between country and coinage. Two pieces in the set celebrate the maple leaf with both sides of the tokens featuring raised and incused leaves in a circular pattern with the Royal Canadian Mint's logo at the centre. The combination of raised and stamped elements create a unique texture on the token which adds an extra layer of security because forgers will struggle to perfectly mimic it in counterfeits.


Tri-metal
The clue is in the title with this one, as it has been produced from a Canadian patented tri-metal compound, consisting of a carefully balanced combination of multi-ply plated steel, brass plated steel, nickel plated steel and copper plated steel. Complex multi-metal compound technology is a security feature to prevent counterfeiting as the exact compound composition is patented and unknown so cannot be easily recreated in a replica.


Own a piece of history in the making
What makes this test token set truly remarkable is the fact that pieces included in the set are the real trial pieces which have been used in calibration and laboratory testing, so each one has been tried and tested making the collection truly unique – no two will be the same!
---
If you're interested…
You can now own a piece of numismatic history in the making as we have secured 149 of these unique sets from the Royal Canadian Mint. Be ahead of the curve and add this sneak peek at the next generation of coinage to your collection today!
Click here to order this fantastic set >>>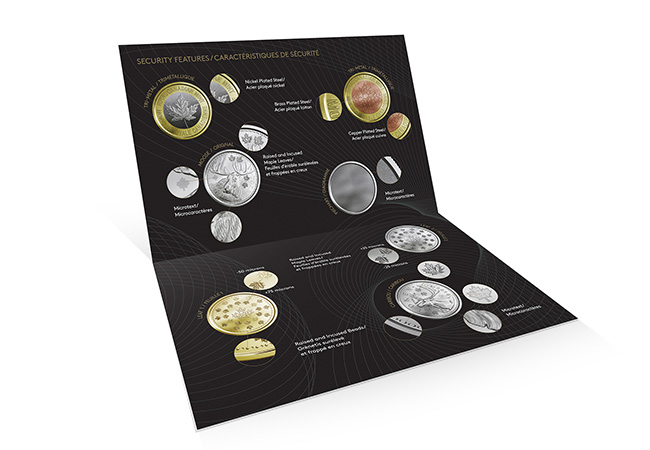 At this year's American Numismatic Association World Money Fair in Chicago there is one coin everyone is talking about – the world's first maple leaf-shaped coin.
Struck by The Royal Canadian Mint for Modern Numismatics International, this impressive Fine Silver $20 Coin is shaped like Canada's iconic maple leaf and has such intricate engraving you can even see the veins in the leaf itself.
The Canadian Mint are known for their innovation and this is new release is no exception.
But it doesn't stop there. They have even created a bespoke red maple leaf-shaped box complete with viewing window to add to the coins appeal.
Perhaps unsurprisingly this coin is set to be one of the fastest selling issues of 2015, with the Mint selling out of their allocation in 2 days.
The show ends on Saturday but this is certainly a coin that will be sought-after by collectors for many months to come.
---
The Westminster Collection has secured a limited stock of these stunning coins and you can add one to your collection today.
But you'll have to be quick, it's unlikely this opportunity will come up again.