Posts Tagged '1oz Silver Proof coin'
I don't know about you, but one of my guilty pleasures is reading my daily horoscope in the hope it will reveal what my future holds. Today's was scarily accurate, as it claimed I would excel with some personal writing and here I am penning this blog – I hope you enjoy reading!
But regardless of whether you're a staunch zodiac reader, or a firm believer in taking fate into your own hands, I don't doubt that we're all familiar with it and could probably rattle off our star sign when asked.
But perhaps lesser known in Western culture is the Chinese Lunar Calendar and the 12 legendary animals that represent it.
The Chinese Lunar Calendar
More commonly known as the Chinese Zodiac, it is believed the Chinese Lunar Calendar begun around 2600 B.C. and is related to the worship of animals in Chinese culture. Legend has it before departing to the next life, Buddha asked every animal on the planet to comfort him and the twelve animals (including the rabbit, tiger and ox) that responded are now honoured in the lunar calendar that spans 12 years – one animal for every year.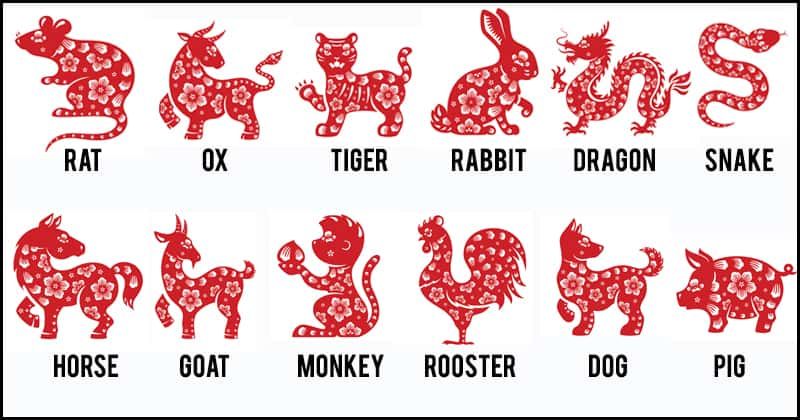 Much like the Western Zodiac, your lunar animal sign depends when you're born. And people born in specific lunar years are believed to have certain personality traits and characteristics related to their animal.
Turns out I was born in the Year of the Sheep – so I'm creative, compassionate, and friendly. I'd say that's fairly accurate!
The incredible popularity of Lunar Coins
For over 40 years Mints from around the world have celebrated Chinese New Year with Lunar Coins. These issues have turned in to something of an international phenomenon, to the point where the lunar theme is the largest ongoing coin programme on the planet.
Most prestigious mints have a lunar series, including Australia, Canada, and of course our own Royal Mint here in the UK. With each selling millions of ounces of gold and silver coins each year inscribed with the year's relevant lunar animal.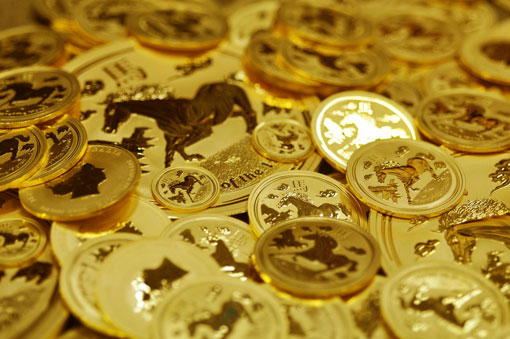 Collectors will snap these coins up for a variety of reasons. Some collect their own lunar animal, because they like the personal connection, others will collect a particular specification because it's especially limited. Personally, I find they also make great birthday gifts for obvious reasons – my friends love them.
The Year of the Ox
The 12th February 2021 will mark the Chinese New Year, and with it the next lunar animal will be celebrated – the Ox.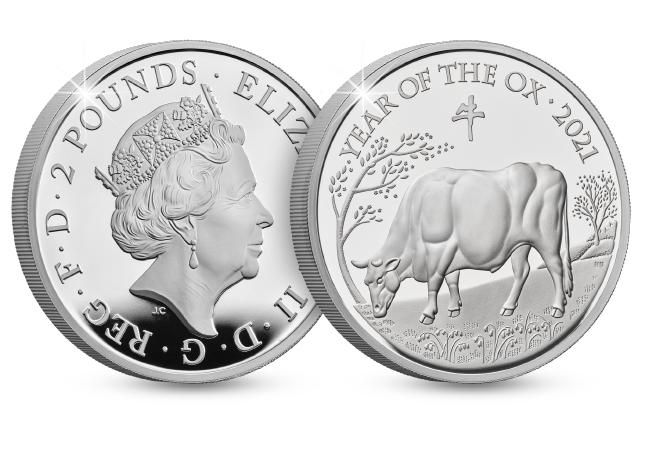 The Ox is the second animal in the Chinese Zodiac, and people who are born under the sign of the Ox are thought to be dependable, strong, and determined. Oxen are also notoriously hard-working and live long, fulfilled lives.
If this sounds like you the odds are that you're born under the sign of the Ox. And this year your lunar animal will be celebrated on lunar coins all around the world.
What's more, The Royal Mint has just released their brand new Year of the Ox range, including what's perhaps the most sought-after specification of all – the 1oz Silver Proof Coin.
---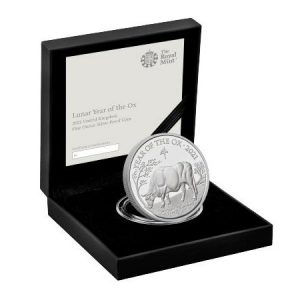 If you're interested…
You can own the BRAND NEW Royal Mint Lunar Coin TODAY – the 1oz Silver Proof Year of the Ox coin.
This coin is sure to be the most sought-after yet because not only is the 1oz Silver Proof a key specification for collectors, but last year's coin completely SOLD OUT! In fact, previous issues in the series with far higher edition limits have also sold out, so we don't expect to be able to offer this latest edition for long.
Click here to find out more and secure one for your collection today >>
From Tiny Dancer, to Rocket Man, there's no denying that Elton John has produced some of the most recognisable and popular hits the world has ever seen. His impressive resumé includes over 4,000 performances in over 80 countries, and in excess of 300 million record sales worldwide.
Now there's a new addition to his CV: first ever appearance on a UK coin. This makes him the second British act to feature in The Royal Mint's Music Legends series.
We're delighted to provide you with all the details you need to know about this latest edition to the Music Legends family…
Design fit for a British icon
Importantly, this is the very first time that Elton John has featured on a UK coin. What's more, the design has been approved by Elton John himself.
The design, by Bradley Morgan Johnson, features imagery that is synonymous with the star of the coin – Elton's boater hat, bow tie and glasses. The design exudes a sense of fun and is an authentic tribute to the singer and his incredible career.
BU Pack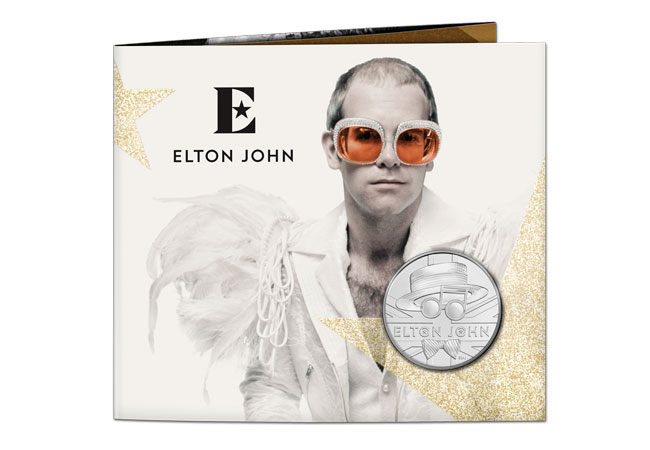 To give as many collectors as possible the chance to own the first ever UK coin to feature Elton John, The Royal Mint has issued it in Brilliant Uncirculated quality, which is coveted by collectors as it means each coin is free from any marks you would find on circulated coins.
Each one is protectively encapsulated in its attractive original Royal Mint packaging to preserve its quality for generations to come. What's more, you can secure this BU Pack at The Royal Mint issue price of just £13 (+p&p). Click here to find out more >>
---
Half Ounce Silver Proof £1 Coin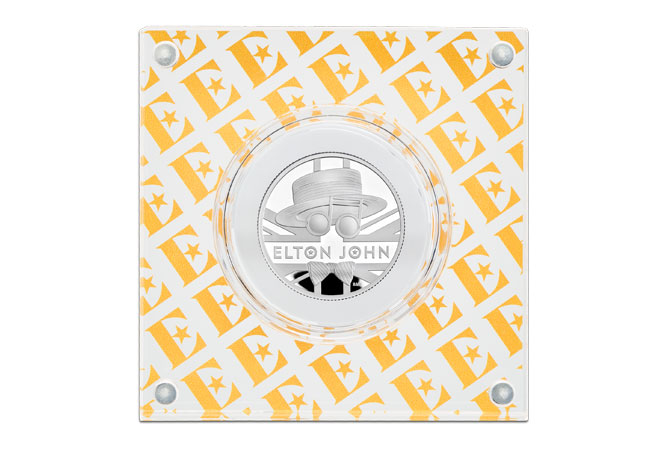 The design has been issued expertly struck from half an ounce of .999 pure silver to a pristine proof finish. What's most significant about this coin though, is its specification. That's because the Half Ounce Silver Proof specification is very rare and tends to be reserved only for flagship Britannia issues. And even then, it is often reserved as part of a fractional set, not available as a single issue.
JUST 14,000 Half Ounce Silver Proof Coins have been released worldwide – certainly not enough for British collectors, let alone the worldwide interest guaranteed for this issue. It comes ready to display in an eye-catching bespoke Perspex presentation box and is available for The Royal Mint issue price of £60. Click here to find out more >>
---
1oz Silver Proof £2 Coin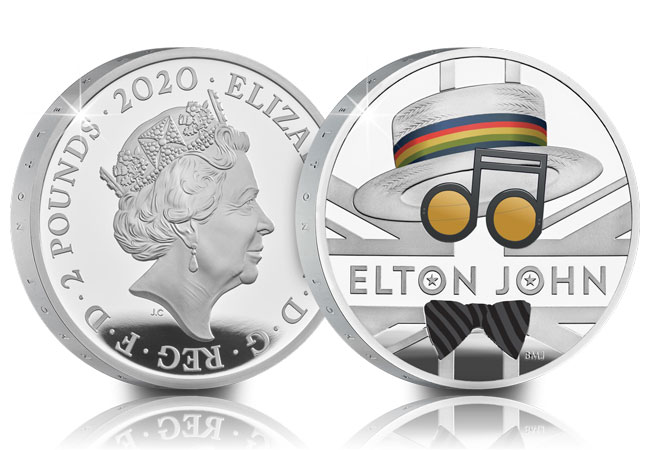 There is one coin in the range that stands out above all others – it's the 1oz Silver Proof £2 Coin. It is the ONLY coin in the range to have two special features:
Colour printing – colour printing technology accents details within the design to make it stand out.
Special edge inscription – a decorative star pattern and in incuse letters the inscription "ELTON JOHN".
These two features make this coin unique, and easily makes it the most desirable coin in the range. It will be sought-after by knowledgeable collectors in years to come.
JUST 7,500 coins have been impeccably struck from one full ounce of .999 pure silver to a proof finish and issued worldwide. This is the same number as the Queen 1oz Silver coin that completely sold out earlier this year, so high demand and another sell-out is expected. It's available today for £125. Click here to find out more >>
In the 1800's, when aeroplanes were a mere twinkle in the eye of ambitious engineers, the idea of transatlantic flight came about with the advent of the hot air balloon. But one crash-landing, and one postponement due to the American Civil War meant this dream had to go back to the drawing board.
On the other side of the pond, in April of 1913 The Daily Mail newspaper offered a cash prize of £10,000 to "the aviator who shall first cross the Atlantic in an aeroplane in flight from any point in the United States of America, Canada or Newfoundland and any point in Great Britain or Ireland in 72 continuous hours".
But it wasn't until after the end of WWII that transatlantic flight by aircraft became truly viable, thanks to the significant advancements in aerial capabilities and technology.
Then the competition really heated up…
Nail-biting four-way competition
What came was a nail-biting four-way contest against the clock as well as each other. Four different 'teams' formed and went to work to try and prepare their chosen aircraft the fastest, for fear of being pipped to the post by another team making their attempt sooner. To make it a fair contest, each team had to ship their aircraft to Newfoundland for the take-off.
First to try was Australian pilot Harry Hawker and navigator Kenneth Mackenzie Grieve, piloting a Sopwith Atlantic – an experimental British long-range aircraft. In flight the aircraft suffered from engine failure and, when coupled with poor weather conditions, the decision was made to abort the mission.
The aircraft was abandoned in the Atlantic Ocean, 750 miles from Ireland, and the pair were rescued by a Danish steamer SS Mary. Due to the SS Mary not having any radio contact, the pair were presumed dead and King George V sent a telegram of condolence, but luckily this wasn't the case as the pair arrived back on land nearly a week later.
The next attempt wasn't nearly as exciting, as the aircraft never left the take-off zone. Frederick Raynham and C. W. F. Morgan made the attempt in a Martinsyde but crashed on take-off due to the heavy fuel load.
Then came the turn of aviator duo, John Alcock and Arthur Brown, who flew straight into the history books on June 15th 1919…
Flying in to the unknown across the Atlantic
The Vickers engineering and aviation firm, which had considered entering its Vickers Vimy IV twin-engine bomber in the competition, appointed Alcock as the team's pilot along with Brown who was adept at long-distance navigation.
In preparation for the transatlantic flight, The Vimy, powered by two Rolls-Royce Eagle 360 hp engines, was successfully converted, including replacing its bomb racks with extra petrol tanks.
The pair took off from St. John's, Newfoundland, in their modified bomber around 1:45pm on 14th June 1919. To say it wasn't an easy flight would be an understatement. They encountered both mechanical and natural challenges. The wind-powered generator failed, depriving them of radio contact and much needed heating in their open-top cockpit. Fog and a snowstorm prevented navigation, almost resulting in a crash-landing at sea, not to mention the snow and freezing conditions meant the engines were in danger of icing up.
Whilst they were set a 72-hour target by The Daily Mail, the duo made landfall in Clifden, County Galway, in Ireland at 8:40am on 15th June 1919 – after just 16 hours of flight!
Incredibly, they landed not far from their intended landing zone in Ireland. However, the aircraft was damaged upon arrival because what looked like a field from their aerial view turned out to be a bog, causing the aircraft to nose-over. Thankfully neither were hurt, and Brown claimed that if the weather had been good, they'd have been able to continue to London.
A hero's return to a £10,000 reward
Alcock and Brown's successful attempt meant that the fourth team, Handley Page Limited, who were yet to take-off, were no longer eligible to compete. The two airmen returned home as aviation heroes and pioneers of the sky.
As promised, Alcock and Brown were rewarded for their ground-breaking achievement – the £10,000 prize money offered by The Daily Mail, for the first crossing of the Atlantic in less than 72 consecutive hours.
The Secretary of State for Air at the time, Winston Churchill, presented the pair with their cash reward. Then one week later, at Windsor Castle, they were awarded the honour of Knight Commander of the Most Excellent Order of the British Empire by King George V.
---
If you're interested…
The Royal Canadian Mint marked the milestone 100th anniversary of this remarkable achievement and feat of engineering with a limited edition 1oz Silver Proof coin. The coin features a faithful colour reproduction of the commemorative stamp that was issued to mark the 50th anniversary.
Unsurprisingly the coin proved so popular that it is no longer available at the Mint! We have a limited number remaining, click here for more information >>