From Tiny Dancer, to Rocket Man, there's no denying that Elton John has produced some of the most recognisable and popular hits the world has ever seen. His impressive resumé includes over 4,000 performances in over 80 countries, and in excess of 300 million record sales worldwide.
Now there's a new addition to his CV: first ever appearance on a UK coin. This makes him the second British act to feature in The Royal Mint's Music Legends series.
We're delighted to provide you with all the details you need to know about this latest edition to the Music Legends family…
Design fit for a British icon
Importantly, this is the very first time that Elton John has featured on a UK coin. What's more, the design has been approved by Elton John himself.
The design, by Bradley Morgan Johnson, features imagery that is synonymous with the star of the coin – Elton's boater hat, bow tie and glasses. The design exudes a sense of fun and is an authentic tribute to the singer and his incredible career.
BU Pack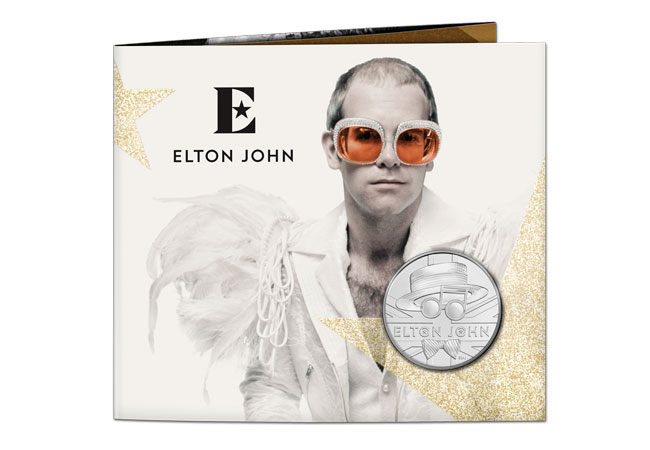 To give as many collectors as possible the chance to own the first ever UK coin to feature Elton John, The Royal Mint has issued it in Brilliant Uncirculated quality, which is coveted by collectors as it means each coin is free from any marks you would find on circulated coins.
Each one is protectively encapsulated in its attractive original Royal Mint packaging to preserve its quality for generations to come. What's more, you can secure this BU Pack at The Royal Mint issue price of just £13 (+p&p). Click here to find out more >>
---
Half Ounce Silver Proof £1 Coin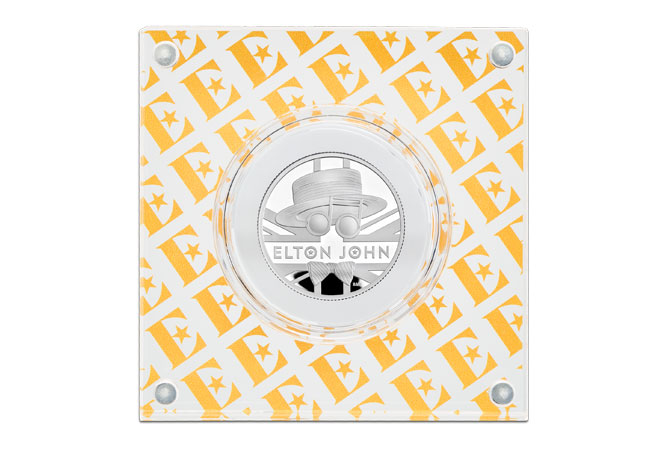 The design has been issued expertly struck from half an ounce of .999 pure silver to a pristine proof finish. What's most significant about this coin though, is its specification. That's because the Half Ounce Silver Proof specification is very rare and tends to be reserved only for flagship Britannia issues. And even then, it is often reserved as part of a fractional set, not available as a single issue.
JUST 14,000 Half Ounce Silver Proof Coins have been released worldwide – certainly not enough for British collectors, let alone the worldwide interest guaranteed for this issue. It comes ready to display in an eye-catching bespoke Perspex presentation box and is available for The Royal Mint issue price of £60. Click here to find out more >>
---
1oz Silver Proof £2 Coin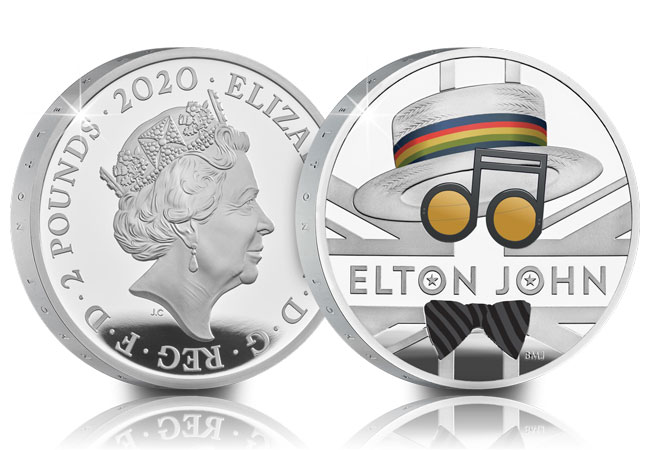 There is one coin in the range that stands out above all others – it's the 1oz Silver Proof £2 Coin. It is the ONLY coin in the range to have two special features:
Colour printing – colour printing technology accents details within the design to make it stand out.
Special edge inscription – a decorative star pattern and in incuse letters the inscription "ELTON JOHN".
These two features make this coin unique, and easily makes it the most desirable coin in the range. It will be sought-after by knowledgeable collectors in years to come.
JUST 7,500 coins have been impeccably struck from one full ounce of .999 pure silver to a proof finish and issued worldwide. This is the same number as the Queen 1oz Silver coin that completely sold out earlier this year, so high demand and another sell-out is expected. It's available today for £125. Click here to find out more >>
From Tiny Dancer, to Rocket Man, there's no denying Sir Elton John has produced some of the most recognisable and popular hits the world has ever seen. His music catapulted him to global stardom in the 60s and 70s, and he is now one of the world's best-selling artists of all time.
And now, the Royal Proclamation issued on the 14th of February 2020 confirms that a range of Elton John coins will be released this year. I can't think of a better way to celebrate his legacy and contribution to British music than with a UK coin!
Not many details have been released yet by The Royal Mint, but if you want to be the first to know when they're released simply register your interest below.
In the meantime, let's take a closer look at the Royal Proclamation to see what's in store for this exciting new coin range…
Next Music Legend?
This news comes following the exciting release of the first coin in The Royal Mint's Music Legends coin series – the Queen £5 – earlier this year.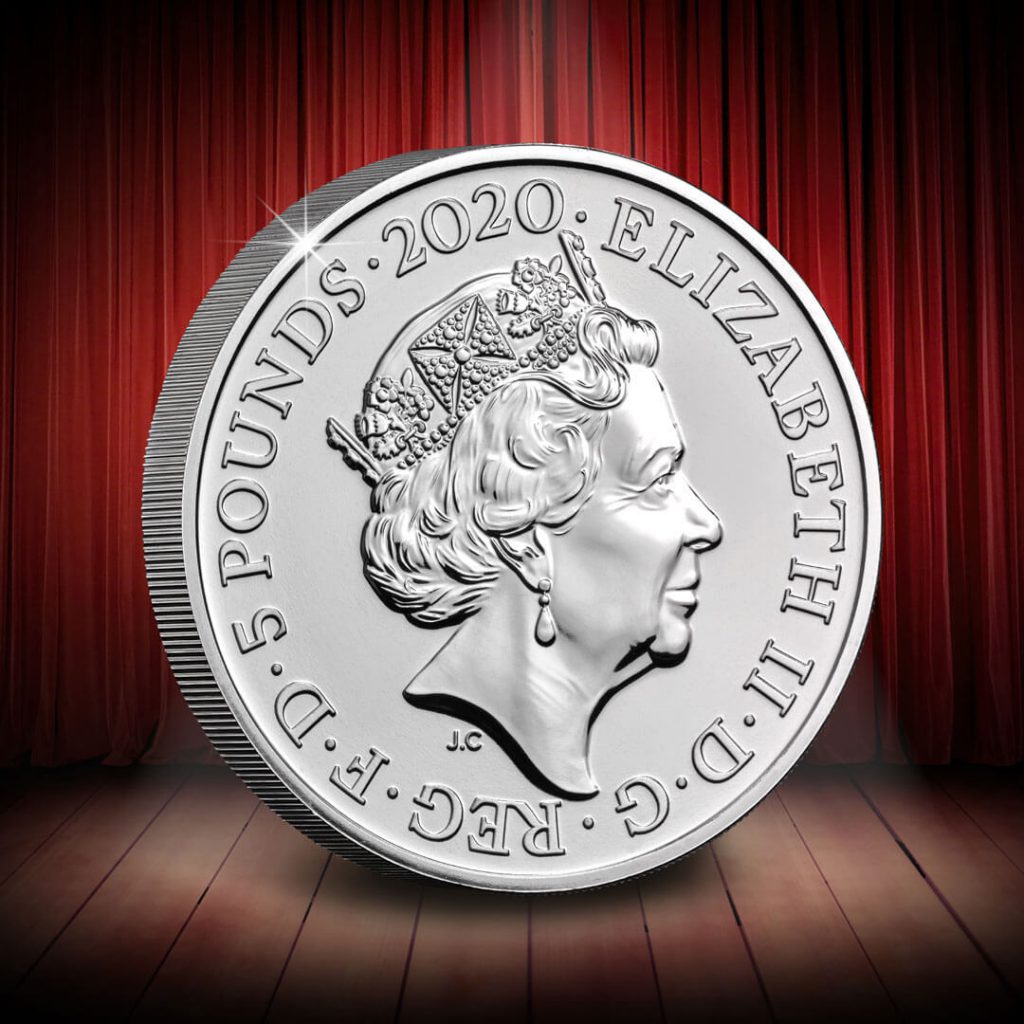 I think we can safely assume that Elton John will be part of this series and we're sure that collectors and Elton fans alike will be feeling the love for this new coin.
At the moment, the designs are still top secret but the reverse is said to feature Elton John's boater hat, glasses and bow tie set against a union flag and the inscription "ELTON JOHN".
It also looks like this commemorative Elton John coin will be issued in a variety of base and limited edition precious metal specifications and denominations. This includes a Brilliant Uncirculated £5 coin and a 1oz Silver £2 coin that will be the only coin in the range to feature a special edge inscription – "a decorative star pattern and in incuse letters the inscription "ELTON JOHN"."
Register your interest
It goes without saying that Elton John has leagues of fans worldwide, so I expect these new commemorative issues to be amongst the most anticipated new issues in 2020, and as such will be in high demand. That means when the coins are released you'll have to act quickly to secure yours!
If you want to be kept up to date and be the first to know when these coins are available then simply register your interest below and we'll email you as soon as we have more information.
Royal Mail have today announced the release of BRAND NEW Elton John stamps, which will mark a tribute to one of the UK's greatest music legends on the 50th anniversary of his first album, Empty Sky.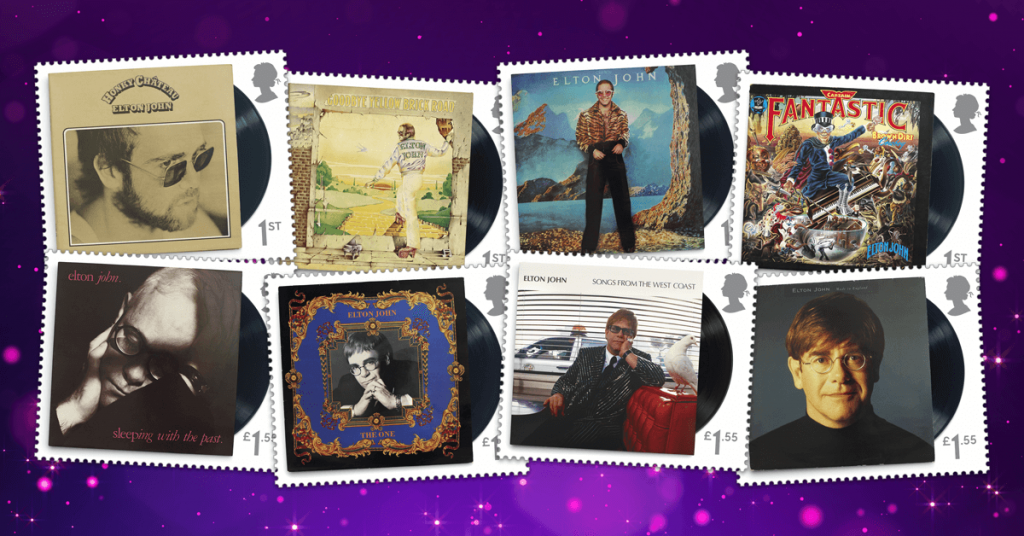 The 'Music Giants III Elton John' stamps are Royal Mail's third dedicated music artist stamp issue, following from their very successful Pink Floyd and David Bowie releases in 2016 and 2017.
Officially released today, 3 September 2019, the stamps will feature the iconic album covers and live performances from 1972 through to his final tour – Farewell Yellow Brick Road – at Madison Square Garden.
This is the first time Elton John has ever featured on UK stamps, and as such these are guaranteed to prove a hit with collectors!
Take a first look at the NEW Royal Mail Elton John Stamps and find out more about each of them below…
---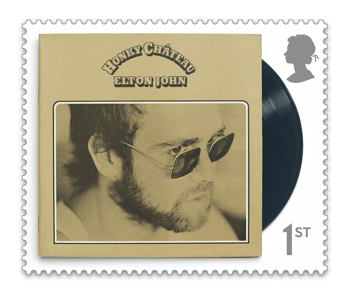 1st – Honky Château: Recorded in the Château d'Hérouville near Paris, Honky Château was Elton John's breakthrough pop album, home to 'Rocket Man' – one of three songs he composed on the morning of the first day of recording.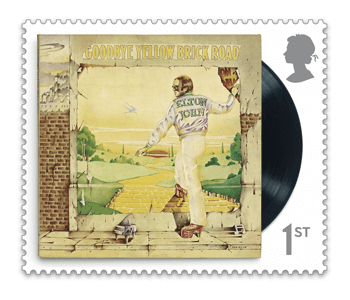 1st – Goodbye Yellow Brick Road: A double album that perhaps represents the artistic pinnacle of Elton's 1970s' career, a teeming, eclectic songwriting masterclass that features 'Candle in The Wind', 'Saturday Night's Alright for Fighting' and 'Bennie and the Jets'.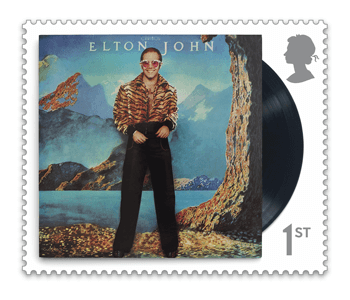 1st – Caribou: His fourth consecutive US number one album, Caribou, is best-known for 'The Bitch Is Back' and the epic 'Don't Let the Sun Go Down on Me', but its most striking moment might be 'Ticking', the eerie saga of an armed siege in a bar.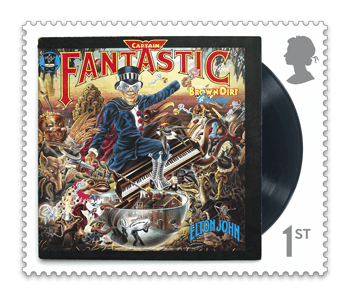 1st – Captain Fantastic and The Brown Dirt Cowboy: A concept album on which lyricist Bernie Taupin recounts the early days of his and Elton's career, complete with a vivid depiction of Elton's 1968 suicide attempt, 'Someone Saved My Life Tonight'.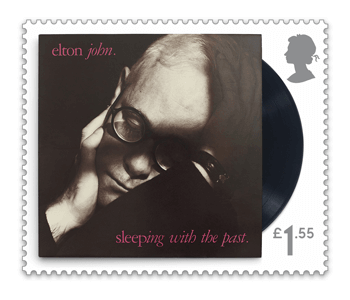 £1.55 – Sleeping with The Past: The last album Elton John made before going into rehab was intended as a homage to the soul and R 'n' B music that had inspired him in the 1960s: in 'Sacrifice', it produced his first UK solo number one single.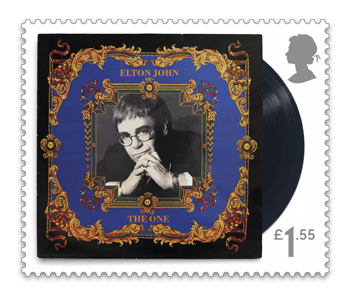 £1.55 – The One: The cover designed by Gianni Versace, its lyrics haunted by the unfolding AIDS crisis and Elton's battle with drug addiction, The One re-established the now clean and sober Elton John.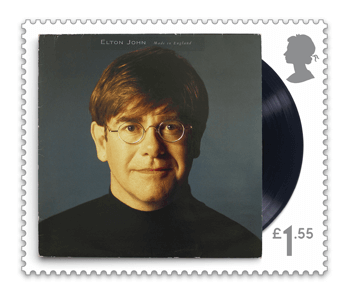 £1.55 – Made in England: Largely recorded live in the studio, Made in England's upbeat title track – a hit single in 1995 – masks the rest of the album's mature mood, which features reflections on ageing both positive and negative.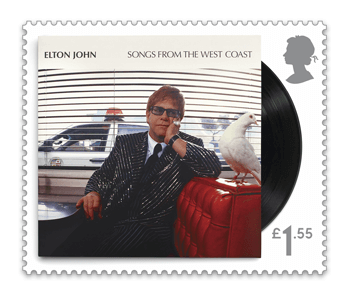 £1.55 – Songs from The West Coast: "Going backwards to go forwards", as Elton put it, Songs from The West Coast returned to the warm sound of his early 1970s' albums and offered his and Taupin's strongest collection of songs in years. A latter-day triumph.
---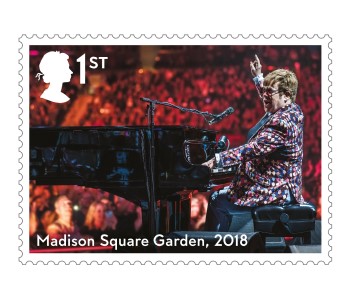 1st – Madison Square Garden, 2018: Farewell Yellow Brick Road is an ongoing tour that began in Allentown, Pennsylvania on 8 September 2018. It is intended to be John's final tour and will consist of more than 300 concerts worldwide, over three years.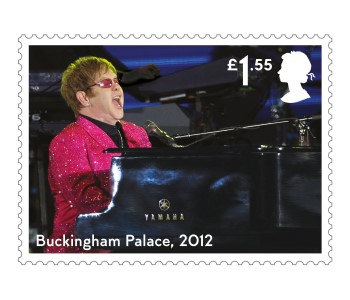 1st – Buckingham Palace, 2012: On 4 June 2012 Elton John performed at the Queen Elizabeth II Diamond Jubilee Concert at Buckingham Palace. His setlist included "Your Song", "Crocodile Rock" and "I'm Still Standing"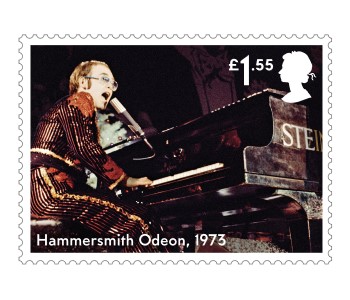 £1.55 – Hammersmith Odeon, 1973: Live in concert at West London's Hammersmith Odeon in December 1973, Elton's "Christmas Party" received national coverage on BBC radio in the UK.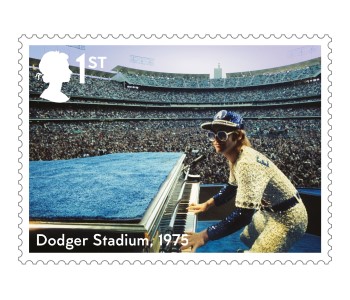 £1.55 – Dodger Stadium, 1975: The "West of the Rockies Tour" was a North American concert tour in support of his 10th studio album "Rock of the Westies". The tour included a total of 17 shows across the United States and Canada.
---
If you're interested…
You can now own the complete set of eight new Elton John stamps and official Miniature Sheet together on an exclusive limited edition FRAMED presentation. Professionally mounted and ready-to-hang, just 995 will EVER be issued. Click here for more information >>>