Posts Tagged 'Music Coin'
This year celebrates 60 years since the moment one of Britain's most iconic bands, The Rolling Stones, first stepped onto the music scene. And what better way to honour this Rock 'n' Roll royalty than by appearing on the latest UK £5 coins!
For the past six decades, The Rolling Stones have achieved legendary status as they pioneered their way to the definition of hard rock. So, what's more fitting than them being chosen as the latest addition to The Royal Mint's Music Legends family, appearing alongside the likes of Elton John, David Bowie, Queen and The Who.
From 'I Can't Get No Satisfaction' to 'Paint It Black', there is no denying that The Rolling Stones are one of the most influential British artists to have ever graced our stages. And now, you can celebrate their contribution to the music industry with the new UK £5 coins released in both Brilliant Uncirculated and Silver Proof quality.
Read on below to find out how you can honour this iconic 60th anniversary yourself…
UK £5 Brilliant Uncirculated Pack
With over 200 million records sold, not only are they one of the best-selling artists of all time, but The Rolling Stones now also have a UK coin dedicated to them for the first time ever!
The BU Pack's coin design depicts the band playing live in concert, and is struck to a superior Brilliant Uncirculated quality that ensures it's free from any scratches or marks that you would find on circulated coins.
Importantly, your coin will arrive protectively sealed in its official Royal Mint packaging to preserve its quality for generations of music fans to come.
What's more, the £5 coin also includes the portrait of Her Majesty Queen Elizabeth II on the obverse.
And you can secure yours today for just £14.50 (+p&p)! Click here to find out more >>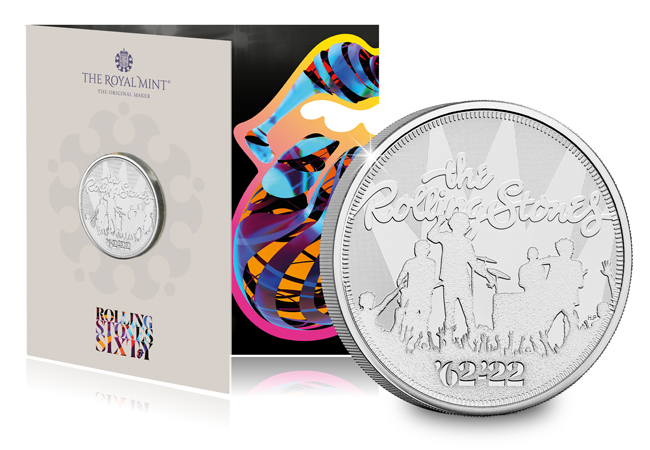 UK 1oz Silver Coin
You can also celebrate the 60th anniversary of The Rolling Stones with the new UK Silver Proof 1oz coin!
Expertly struck from 1oz of 99.9% pure silver to a proof finish, the coin depicts the band playing live in concert with the addition of vivid colour to bring the design to life.
Fully approved by The Rolling Stones, this is the fifth coin released in the SELL-OUT Royal Mint Music Legends series!
However, there's JUST 8,000 issued – and with ALL previous 1oz Silver coins in the Music Legends series having completely SOLD OUT at the Mint, we're likely to see a quick sell-out happen again.
As an Official Distributor for The Royal Mint, we have a limited number available for Westminster customers. Secure yours today for a deposit of just £21.00 by clicking here >>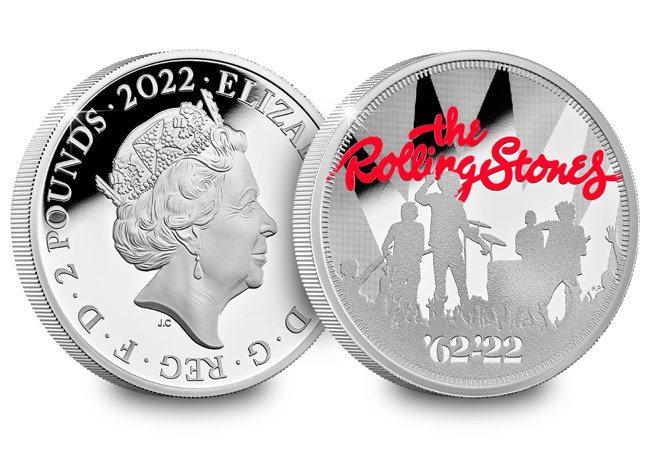 Or click here to check out the full The Rolling Stones £5 coin range for a chance of securing yours before it's too late >>
From Tiny Dancer, to Rocket Man, there's no denying Sir Elton John has produced some of the most recognisable and popular hits the world has ever seen. His music catapulted him to global stardom in the 60s and 70s, and he is now one of the world's best-selling artists of all time.
And now, the Royal Proclamation issued on the 14th of February 2020 confirms that a range of Elton John coins will be released this year. I can't think of a better way to celebrate his legacy and contribution to British music than with a UK coin!
Not many details have been released yet by The Royal Mint, but if you want to be the first to know when they're released simply register your interest below.
In the meantime, let's take a closer look at the Royal Proclamation to see what's in store for this exciting new coin range…
Next Music Legend?
This news comes following the exciting release of the first coin in The Royal Mint's Music Legends coin series – the Queen £5 – earlier this year.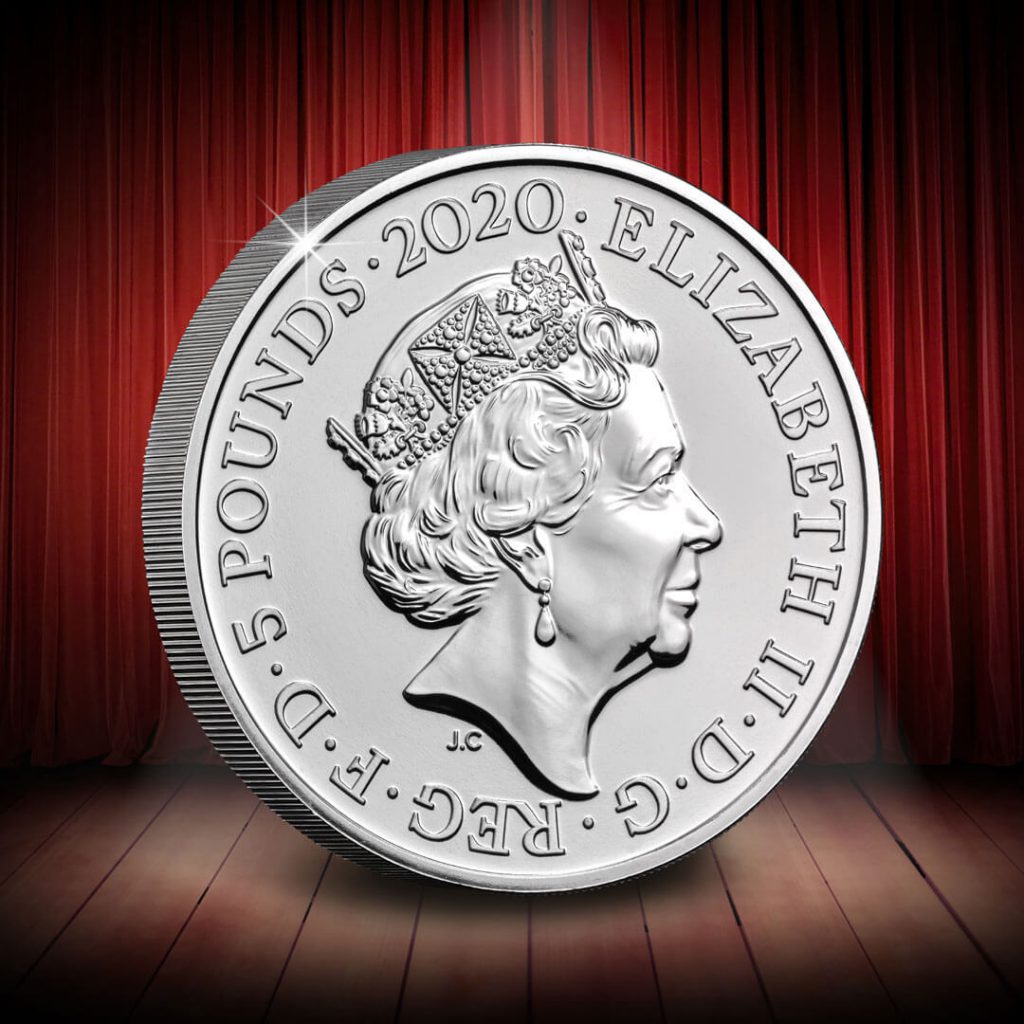 I think we can safely assume that Elton John will be part of this series and we're sure that collectors and Elton fans alike will be feeling the love for this new coin.
At the moment, the designs are still top secret but the reverse is said to feature Elton John's boater hat, glasses and bow tie set against a union flag and the inscription "ELTON JOHN".
It also looks like this commemorative Elton John coin will be issued in a variety of base and limited edition precious metal specifications and denominations. This includes a Brilliant Uncirculated £5 coin and a 1oz Silver £2 coin that will be the only coin in the range to feature a special edge inscription – "a decorative star pattern and in incuse letters the inscription "ELTON JOHN"."
Register your interest
It goes without saying that Elton John has leagues of fans worldwide, so I expect these new commemorative issues to be amongst the most anticipated new issues in 2020, and as such will be in high demand. That means when the coins are released you'll have to act quickly to secure yours!
If you want to be kept up to date and be the first to know when these coins are available then simply register your interest below and we'll email you as soon as we have more information.

On this day 43 years ago High Voltage, the first internationally released studio album by Australian hard rock band AC/DC, was released.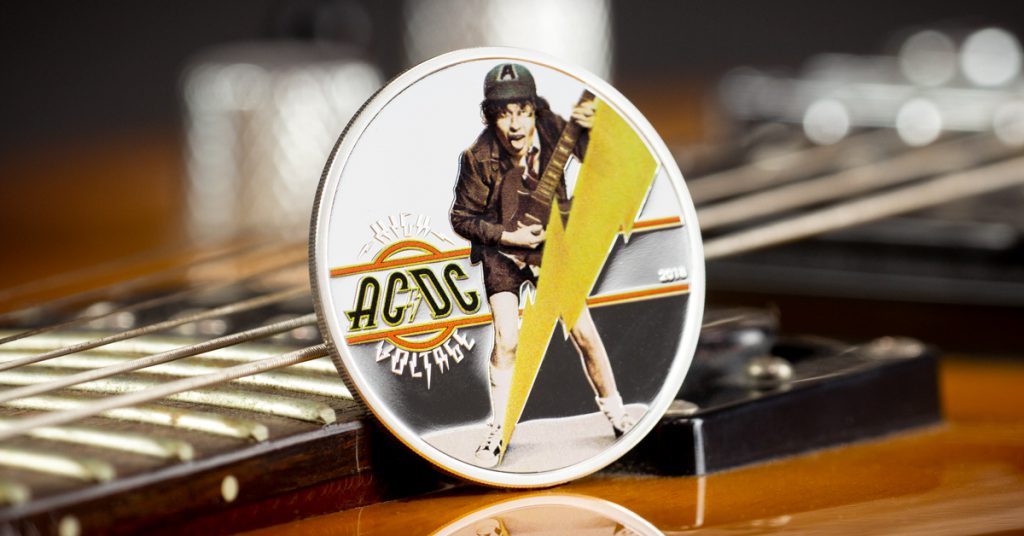 The legendary band, formed by Scottish-born brothers Malcolm and Angus Young, have sold more than 200 million records worldwide, including 71.5 million albums in the United States, making them the tenth highest-selling artist in the United States and the 14th best-selling artist worldwide.
Record sell-outs
To celebrate "the greatest rock and roll band of all time", a range of AC/DC coins were released across the world.
The officially licensed 2oz silver 'Black Ice' coin was issued and the worldwide edition limit of just 999 was completely sold out before the coin had even been released.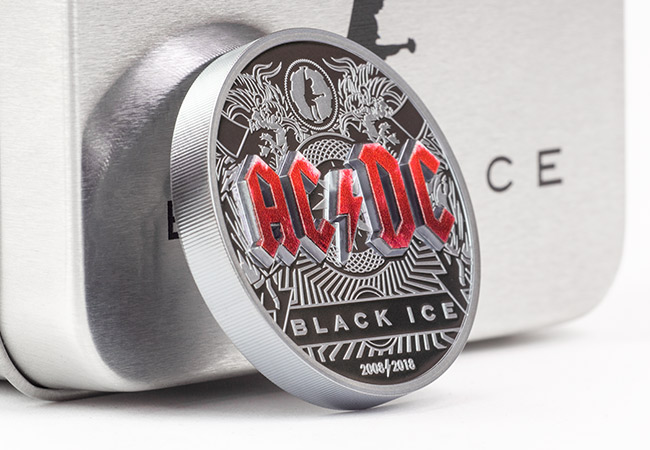 Remarkably, another AC/DC coin, recently Issued by The Royal Australian Mint, sold out in less than 24 hours – that had an edition limit of 30,000! I cannot remember anything from this mint ever selling out so fast and amazingly this was only available to collectors in Australia and New Zealand.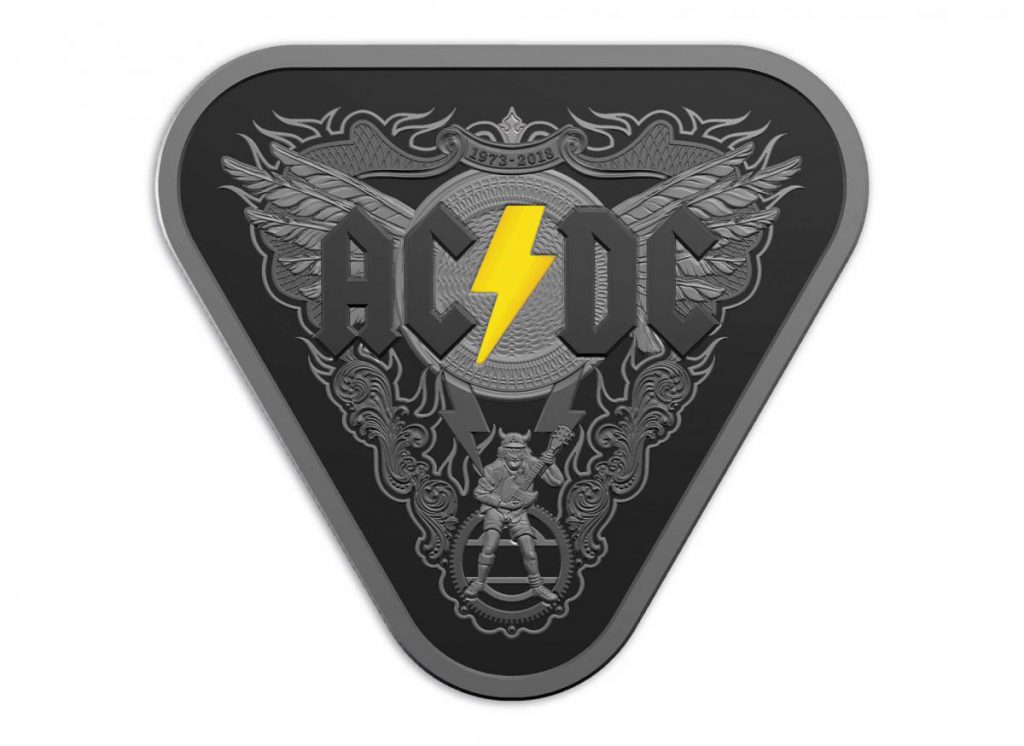 However, perhaps the most iconic of all the coins is the High Voltage Silver Proof, featuring the cover of AC/DC's first album 'High Voltage' with Angus Young in his iconic schoolboy outfit alongside the band's infamous logo and a yellow lightning bolt.
This coin has a worldwide edition limit of just 5,000 and we managed to secure just 250 for our collectors. Unsurprisingly, interest has been incredibly high and it looks like this coin will follow suit with another full sell-out expected.
AC/DC coins are hugely popular but around the world but more importantly, remarkably scarce. In years to come, this coin series will be spoken of as perhaps the most collectable music coins of all time.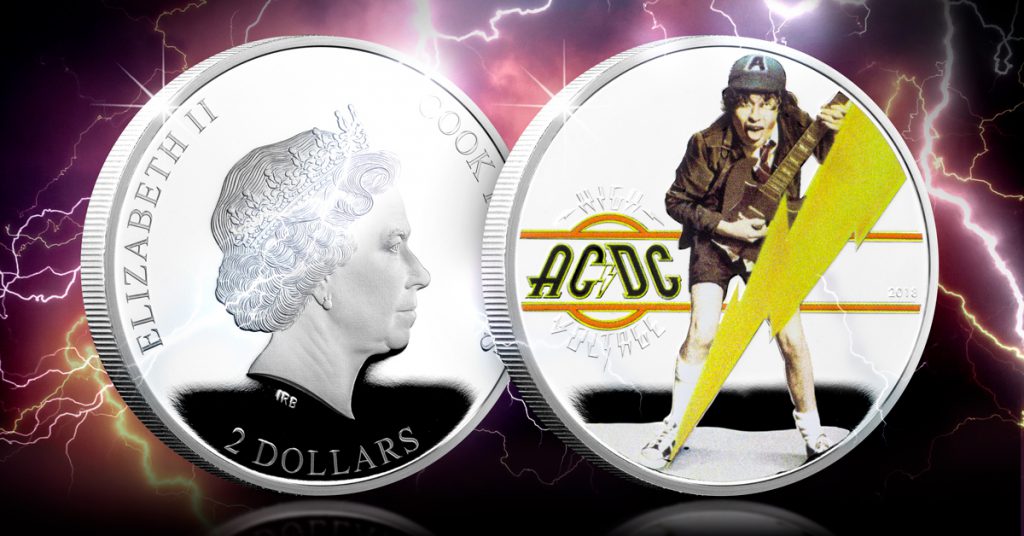 ---
If you're interested…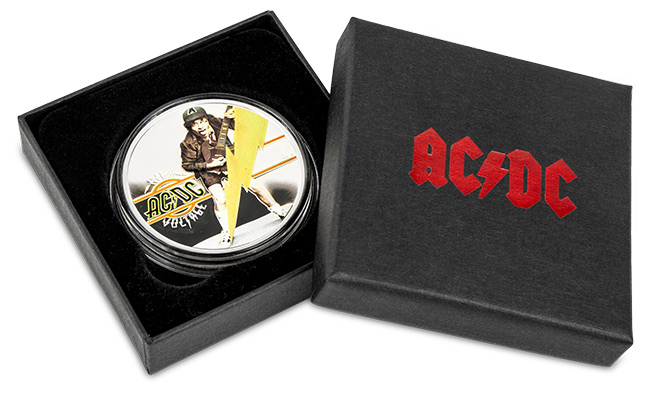 To commemorate the anniversary of the launch their legendary High Voltage album, this hugely sought after coin is available today for just £75 (+p&p) – a £15 SAVING!
You'll have to act fast. Click here to secure yours today >>