Posts Tagged 'tree and train'
Innovation is nothing new to The Royal Canadian Mint. Whether it be a shape, size or never before-seen technology, the Mint are always looking for ways to push the limits on what can be achieved next in the minting world.
And, over the last few years, the results have been some of the world's most stunning, technologically advanced coins, with sell-outs almost guaranteed.
So, you can imagine the excitement of collectors from all over the world when the latest interactive coin from Royal Canadian Mint was released earlier this month…
The Hummingbird and Bloom 5oz Pure Silver Coin
This stunning BRAND NEW release features something that has been highly revered by collectors since it was first seen back in 2018…
But when is a coin not just coin? When it's also an interactive Bloom with a moving Hummingbird – miniaturised of course!
The cutting edge gyroscopic technology used to bring this coin to life truly is outstanding as it has allowed the coin to become interactive. Whilst the coin is encapsulated inside its protective case, the Hummingbird elegantly hovers around a gorgeous Zinnia Bloom, much like it does in the wild.
Unfortunately, images can only go some way towards showing the glory of this coin, so I ask you, in fact I implore you, to please take some time to look at the below video to truly appreciate its beauty:
It is so visually impressive that words will never be able to do it justice. Nothing can compare to holding the coin struck from a full 5oz of Fine Silver in your hand and feeling the groundbreaking gyroscopic technology elegantly move a 24ct Gold-plated Hummingbird around a Rose-gold Zinnia.
It is this bloom that is even more impressive than the Royal Canadian Mints predecessors – utilizing 24ct Rose-Gold to show off the Zinnia's tear-drop petals and contrast the Proof Silver base that features even more blooms.
In 2018, the first coin to use this technology was released, and to say it was popular would be an understatement. Featuring a Bumblebee [Link to Bumble Bee blog 'Coin of 2018'] hovering around a flower, it was voted Collector's Gallery favourite coin of 2018. The coin was a world FIRST and completely SOLD-OUT within a matter of weeks at the Mint. And the same can be said for the second coin in the series, the Christmas Tree and Train,[Link to blog] which featured a classic train running the circumference of a Christmas Tree but completely SOLD-OUT before the official release date..
Not only are these sell-outs attributed to the quality, craftsmanship and uniqueness of these coins, but also to the extremely low edition limits. The BRAND NEW Hummingbird and Bloom interactive coins are strictly limited to just 1,250 collectors worldwide. When you consider the sell-out successes of the previous coins and the collectors who will want to be at the forefront in owning this enchanting new coin, demand has already proven to exceed availability.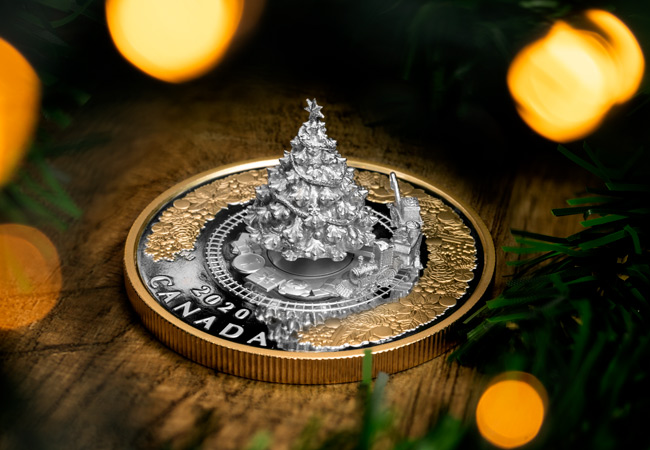 This Brand New Hummingbird and Bloom Silver 5oz Coin magnificently merges art and technology; engraving and casting; silver and gold. You really do need to see it first hand to fully appreciate all the stand-out features. It's an outstanding work of art that is visually spectacular, words will never be able to do it justice.
It is safe to say, we don't expect these coins to be around for much longer. The coins completely SOLD OUT at the mint within hours of release and we have JUST 5 coins remaining.
---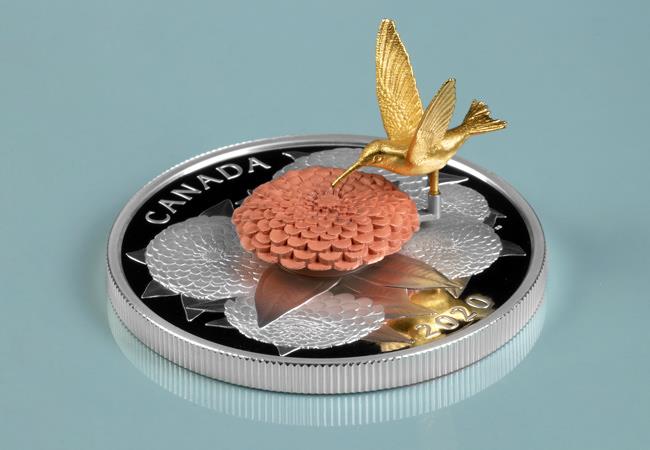 If you're interested…
If you wish to secure The Hummingbird and Bloom Interactive Silver Proof 5oz coin, please click here >>


As 2019 draws to a close, and a new decade nears, here at Collector's Gallery we thought it would be the perfect opportunity to look back at some of the incredible coins that have been released by renowned Mints in the last twelve months.
From innovative new minting techniques to absolutely stunning designs, 2019 has been quite a year for coin collectors!
We've chosen some of the most popular coins from the past 12 months, which you can see below. But we NEED YOUR HELP in deciding what coin is to be crowned the collector's favourite of 2019.
Please decide from the following coins and vote for your favourite in our poll at the bottom of the blog.
---
The Christmas Tree and Train Silver Coin
Innovative design is nothing new to The Royal Canadian Mint, and that was proven in this spectacular Christmas Tree and Train Coin.
Before I say anything else, you should know that this coin proved so popular that it's already SOLD OUT – both here at Collector's Gallery and at the Mint!
This coin truly is a piece of excellence and pushes the limits on what can be achieved through minting.
State of the art innovative gyroscopic technology allows the coin to actually move (see for yourself in the video above!) and a sophisticated design magnificently merges everything we love in a coin; engraving, casting, silver and gold.
---
The innovative Coca-Cola bottle-top shaped coins and Vending Machine!
As one of the most recognisable logos of all time and with over 1.9 billion drinks consumed per day, the Coca-Cola Company has once again been honoured in coin form.
But, this time Diet Coke, Fanta and Sprite have accompanied it – all inside this vintage style vending machine presentation!
Specially moulded using Smartminting© Technology to replicate the crimps and curves of bottle caps, this is a finish that has only been attempted a few times due to its difficulty in minting!
Do you think this impressive piece of minting should be the 2019 winner…?
---
Golden Treasures of Ancient Egypt 2oz Silver
Ancient Egyptians revered gold and considered it to be 'the skin of deities'. It embellished Royalty, was used on the most renowned monuments and famously decorated the death mask of Tutankhamun.
And it's safe to say that the minting techniques used in this coin really does glorify this decorated culture. At the middle of a PURE Silver base sits a domed insert featuring particles of 24 carat gold suspended in purified mineral oil!
This is a spectacle to be admired and something that has contributed to the coins SELL-OUT success worldwide!
---
The ULTRA high-relief 1st King of Man 3oz Antique Silver Coin
Manannán, the first king and defender of the Isle of Man, was a revered figure in Isle folklore and cultural identity. And this breathtaking ornamental design has been dedicated to him using some of the most intricate details Collector's Gallery has ever seen!
Thanks to Smartminting technology and processes that can only be achieved by a small number of mints across the world, it's impossible to see this coin as anything other than a three-dimensional piece of art.
Even now, you would expect a piece like this to be cast, not struck. But using the most advanced modern minting techniques, this coin has actually been minted. To strike a coin like this is nothing short of revolutionary.
With a worldwide edition limit of JUST 999 – this coin completely SOLD OUT at the Mint!
** VOTE NOW CLOSED **

With 52% of the vote, it was of course The Christmas Tree and Train Silver Coin!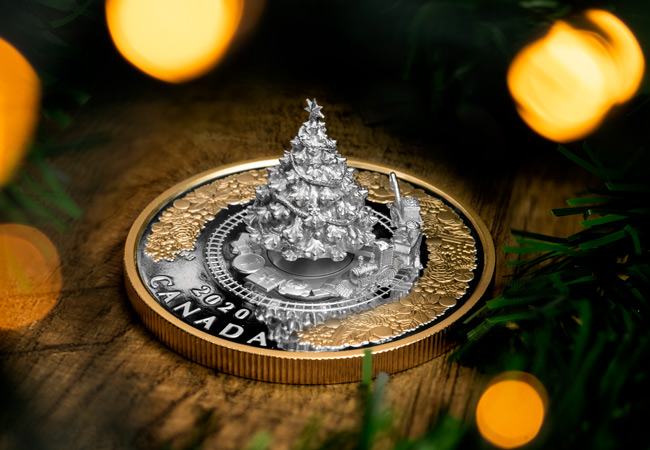 I can't help but get a little bit excited at this time of year, the cold nights, the bright lights and of course the count down to the big day!
But what's most exciting for me, is to see the wonderfully festive coins being issued all over the world in time for Christmas.
And in the last few weeks, we've seen renowned Mints issue beautiful Christmas coins that would take pride of place in any collection and be treasured forever!
So if the dark dreary winter months are getting you down, these stunning festive coins are sure to perk you up.
I've put together a list of some of my favourite 2019 Christmas coins from around the world that I'd like to share with you, starting of course with a truly spectacular festive release…
---
The coin so sought-after it SOLD OUT before the official release date!
Before anything else, you should know that this coin proved so popular that it's already SOLD OUT.
This coin truly is a piece of excellence from The Royal Canadian Mint and pushes the limits on what can be achieved through minting.
State of the art innovative gyroscopic technology allows the coin to actually move (see for yourself in the video below!) and a sophisticated design magnificently merges engraving and casting and silver and gold.
This outstanding work of art has to be seen to be believed and will add a dose of Christmas cheer to any family occasion – or mantelpiece!
But remember, unfortunately it's now SOLD OUT and it's easy to see why!
---
Merry Sithmas!
Darth Vader Silver Note
Did you know that the most recent Star Wars films have been released around Christmas? For many, it is a family tradition and this year is set to be no different with the release of The Rise of Skywalker on 19th December.
Officially licensed by Lucasfilm Ltd, just 10,000 of these PURE Silver 'Seasons Greeting' Notes featuring a 'thrilled' Sith Lord, Darth Vader, have been issued worldwide.
When you consider that of Star Wars is the 2nd highest grossing film franchise of all time, it certainly won't be enough to meet fan demands.
Click here to get your hands on one now – I have a sith sense they won't be around for long >>
---
Wish upon a star…
A three-dimensional 1oz Antique Silver Twinkling Star
Produced using Smartminting technology©, this magnificent three-dimensional coin has an incredibly intricate level of detail – making it appear sculpted rather than struck!
A coin like this is nothing short of revolutionary and earns its place as one of Collectors Gallery's favourite Christmas finds.
Click here to get yours 'lunar rather than later'!
---
Cook Islands 2019 Winter Wonderland Globe
Festive coins are popular in themselves, but when put inside of a REAL snow globe – it really brings the magic of the coin to life.
Struck from FINE .999 Silver, the coin has been placed inside a globe which has been produced in Vienna by the Perzy family who invented them in the 19th century.
Every single globe is handcrafted, made of the highest quality glass and filled with pure alpine water to create the perfect illusion when the coin is shaken over the family scene.
All previous coins within the snow globe collections have SOLD OUT and – as easily the most traditional of them all – this is expected to be no different.
This coin is limited to just 2,019 worldwide – so if you want to get your hands on one in time for the festive season you'll have to be fast!
Snow much fun, I'm sure you'll agree! Click here to find out more >>
---
Own your personal
Guardian Angel Coin
Often struck in unusual shapes and smaller than a five pence piece, the intricate detail achieved really is outstanding!
This re-issued coin features a Guardian Angel in the form of Saint Michael, slaying the devil in the form of a dragon – Raphael Maklouf's renowned artistry. For many of us, the thought of a Guardian Angel watching over us and protecting us is a comforting one – and this coin means you'll have one looking over you this Christmas.
The design is framed by an elaborate border with variations of the Isle of Man's coat of arms, the triskele, which appears at the top above the angel's halo – and all of this on just a 14mm coin!
Click here to own your very own protector in PURE gold >>>
---
If you're interested…

But that's not all the festive fun! There's plenty of other incredible commemoratives available in our complete Christmas Collection. To view the full range click here >>