Posts Tagged 'egyptian coin'
If like me, you're fascinated by Ancient Egypt, this is a video you can't afford to miss!
As in my latest video I unbox an Ancient Egyptian masterpiece that's unlike anything you've ever seen before! But before I tell you anymore, you should know this…
It's SOLD OUT at the Mint.
And I have ONLY 50 available.
So I wanted to show you just why this exceptional coin is proving to be such a hit with collectors…
---
If you're interested…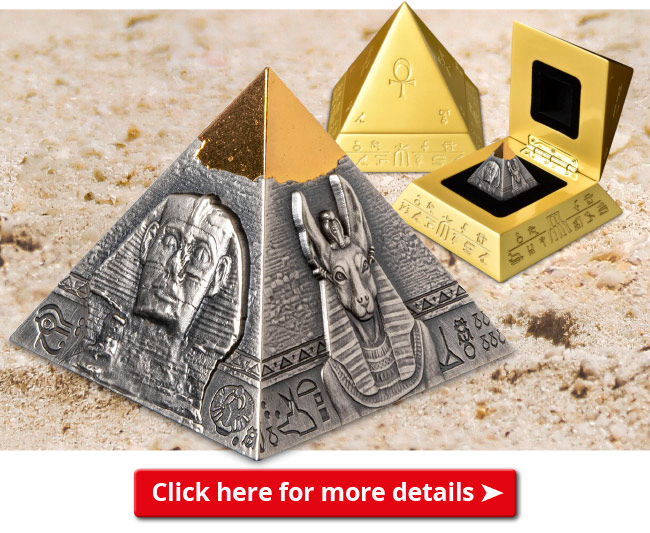 As 2019 draws to a close, and a new decade nears, here at Collector's Gallery we thought it would be the perfect opportunity to look back at some of the incredible coins that have been released by renowned Mints in the last twelve months.
From innovative new minting techniques to absolutely stunning designs, 2019 has been quite a year for coin collectors!
We've chosen some of the most popular coins from the past 12 months, which you can see below. But we NEED YOUR HELP in deciding what coin is to be crowned the collector's favourite of 2019.
Please decide from the following coins and vote for your favourite in our poll at the bottom of the blog.
---
The Christmas Tree and Train Silver Coin
Innovative design is nothing new to The Royal Canadian Mint, and that was proven in this spectacular Christmas Tree and Train Coin.
Before I say anything else, you should know that this coin proved so popular that it's already SOLD OUT – both here at Collector's Gallery and at the Mint!
This coin truly is a piece of excellence and pushes the limits on what can be achieved through minting.
State of the art innovative gyroscopic technology allows the coin to actually move (see for yourself in the video above!) and a sophisticated design magnificently merges everything we love in a coin; engraving, casting, silver and gold.
---
The innovative Coca-Cola bottle-top shaped coins and Vending Machine!
As one of the most recognisable logos of all time and with over 1.9 billion drinks consumed per day, the Coca-Cola Company has once again been honoured in coin form.
But, this time Diet Coke, Fanta and Sprite have accompanied it – all inside this vintage style vending machine presentation!
Specially moulded using Smartminting© Technology to replicate the crimps and curves of bottle caps, this is a finish that has only been attempted a few times due to its difficulty in minting!
Do you think this impressive piece of minting should be the 2019 winner…?
---
Golden Treasures of Ancient Egypt 2oz Silver
Ancient Egyptians revered gold and considered it to be 'the skin of deities'. It embellished Royalty, was used on the most renowned monuments and famously decorated the death mask of Tutankhamun.
And it's safe to say that the minting techniques used in this coin really does glorify this decorated culture. At the middle of a PURE Silver base sits a domed insert featuring particles of 24 carat gold suspended in purified mineral oil!
This is a spectacle to be admired and something that has contributed to the coins SELL-OUT success worldwide!
---
The ULTRA high-relief 1st King of Man 3oz Antique Silver Coin
Manannán, the first king and defender of the Isle of Man, was a revered figure in Isle folklore and cultural identity. And this breathtaking ornamental design has been dedicated to him using some of the most intricate details Collector's Gallery has ever seen!
Thanks to Smartminting technology and processes that can only be achieved by a small number of mints across the world, it's impossible to see this coin as anything other than a three-dimensional piece of art.
Even now, you would expect a piece like this to be cast, not struck. But using the most advanced modern minting techniques, this coin has actually been minted. To strike a coin like this is nothing short of revolutionary.
With a worldwide edition limit of JUST 999 – this coin completely SOLD OUT at the Mint!
** VOTE NOW CLOSED **

With 52% of the vote, it was of course The Christmas Tree and Train Silver Coin!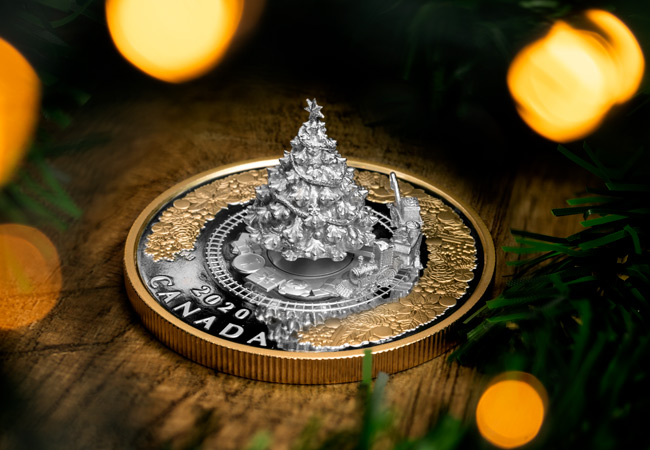 Ninety years since Howard Carter discovered Tutankhumun's tomb in the Valley of the Kings, a unique 5oz Silver Coin uncovers its very own hidden treasures of Ancient Egypt.
Struck from pure Sterling Silver to the finest proof finish, this incredible coin is richly evocative of Ancient Egypt.
Notice the beautiful 24 Carat Gold centrepiece – Pyramid-shaped, naturally – beautifully engraved with symbols and hieroglyphics from Tutankhamun's sarcophagus in which the teenage king's body lay undisturbed for nearly three thousand years.
Triangular it may be but it's still a coin. To prove it, Ian Rank-Broadley's portrait of the Queen appears on the obverse – alongside the Egyptian gods Hathor and Anubis.
Remove the Pyramid altogether and you'll uncover another numismatic gem – Tutankhamun's burial mask in glorious technicolour.
And I should of course mention the size of the Ancient Egypt 5oz Coin. With a 65mm diameter, this mesmerising coin fills the palm of your hand.
Just 450 Ancient Egypt 5oz Coins were struck worldwide to mark the 90th anniversary of the most exciting archaeological discovery of the last century.