Posts Tagged 'coin of 2019'


As 2019 draws to a close, and a new decade nears, here at Collector's Gallery we thought it would be the perfect opportunity to look back at some of the incredible coins that have been released by renowned Mints in the last twelve months.
From innovative new minting techniques to absolutely stunning designs, 2019 has been quite a year for coin collectors!
We've chosen some of the most popular coins from the past 12 months, which you can see below. But we NEED YOUR HELP in deciding what coin is to be crowned the collector's favourite of 2019.
Please decide from the following coins and vote for your favourite in our poll at the bottom of the blog.
---
The Christmas Tree and Train Silver Coin
Innovative design is nothing new to The Royal Canadian Mint, and that was proven in this spectacular Christmas Tree and Train Coin.
Before I say anything else, you should know that this coin proved so popular that it's already SOLD OUT – both here at Collector's Gallery and at the Mint!
This coin truly is a piece of excellence and pushes the limits on what can be achieved through minting.
State of the art innovative gyroscopic technology allows the coin to actually move (see for yourself in the video above!) and a sophisticated design magnificently merges everything we love in a coin; engraving, casting, silver and gold.
---
The innovative Coca-Cola bottle-top shaped coins and Vending Machine!
As one of the most recognisable logos of all time and with over 1.9 billion drinks consumed per day, the Coca-Cola Company has once again been honoured in coin form.
But, this time Diet Coke, Fanta and Sprite have accompanied it – all inside this vintage style vending machine presentation!
Specially moulded using Smartminting© Technology to replicate the crimps and curves of bottle caps, this is a finish that has only been attempted a few times due to its difficulty in minting!
Do you think this impressive piece of minting should be the 2019 winner…?
---
Golden Treasures of Ancient Egypt 2oz Silver
Ancient Egyptians revered gold and considered it to be 'the skin of deities'. It embellished Royalty, was used on the most renowned monuments and famously decorated the death mask of Tutankhamun.
And it's safe to say that the minting techniques used in this coin really does glorify this decorated culture. At the middle of a PURE Silver base sits a domed insert featuring particles of 24 carat gold suspended in purified mineral oil!
This is a spectacle to be admired and something that has contributed to the coins SELL-OUT success worldwide!
---
The ULTRA high-relief 1st King of Man 3oz Antique Silver Coin
Manannán, the first king and defender of the Isle of Man, was a revered figure in Isle folklore and cultural identity. And this breathtaking ornamental design has been dedicated to him using some of the most intricate details Collector's Gallery has ever seen!
Thanks to Smartminting technology and processes that can only be achieved by a small number of mints across the world, it's impossible to see this coin as anything other than a three-dimensional piece of art.
Even now, you would expect a piece like this to be cast, not struck. But using the most advanced modern minting techniques, this coin has actually been minted. To strike a coin like this is nothing short of revolutionary.
With a worldwide edition limit of JUST 999 – this coin completely SOLD OUT at the Mint!
** VOTE NOW CLOSED **

With 52% of the vote, it was of course The Christmas Tree and Train Silver Coin!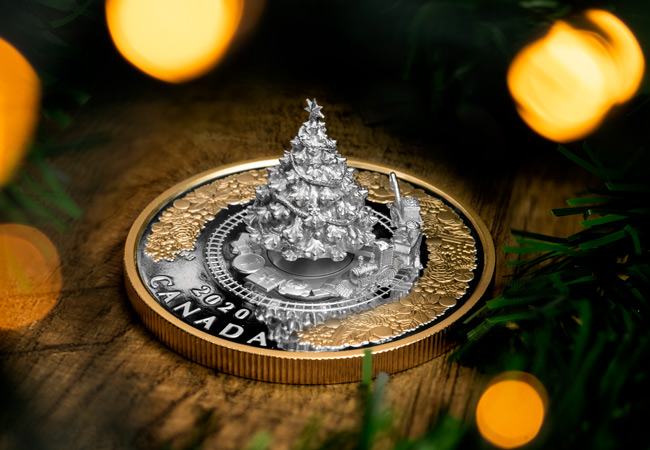 The Royal Proclamation confirming the new coin has been passed, and that means production can officially begin.
Plans to release special Brexit coins was first announced by former chancellor Philip Hammond in last year's Budget. But this is the first confirmation from The Royal Mint that the coin is indeed going ahead.
I don't know about you, but this coin story is one I've been watching for a while. And as such, I suspect it will be one of the most eagerly anticipated issues we've seen for a while!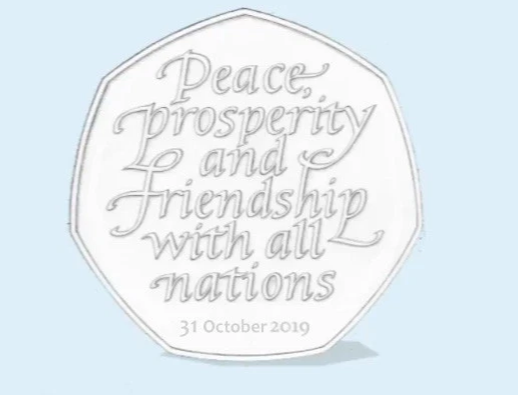 Few details are known about the design of the coin, but we do know that it will feature the inscription: "Peace, prosperity and friendship with all nations", as well as the historic date the UK is due to leave the EU – 31 October 2019.
A 50p coin was struck when the UK joined the European Economic Community in 1973 and when the UK held the presidency of the EU in 1998. So it only seems fitting one is released to also mark the UK's departure from the EU. And by marking such a pivotal event in our history, this coin will surely be sought-after by collectors in years to come.
Whilst not many details have been released by The Royal Mint, there are rumours that up to 10 million coins will be struck and put into circulation, 3 million of which will be ready for 31st October – news that will surely delight collectors, who could be finding these coins in their change as early as Halloween.
We do not yet know whether special collector versions of this coin will be available. Though we have our fingers crossed that there will be!
If you want to be kept up to date with news of the Brexit coin as we approach 31st October, then register your interest below. We'll then contact you as soon as we know more, and let you know how you can get your hands on one.
Last month we heard through the whispers of the forest that the UK's favourite orange-eyed and purple-prickled creature is returning!
And now the critters have informed us that he will be emerging from the deep dark wood on 17th October!
Our woodland sources also confirm he will be proudly featuring on a BRAND NEW 50p coin.
So if you want to be kept up to date, and be the first to know when the new Gruffalo 50p is available on 17th October, and what coins are available, just register your interest below.
Whilst we're counting down til' launch, let's have a look at what happened the last time The Gruffalo was spotted in the wild…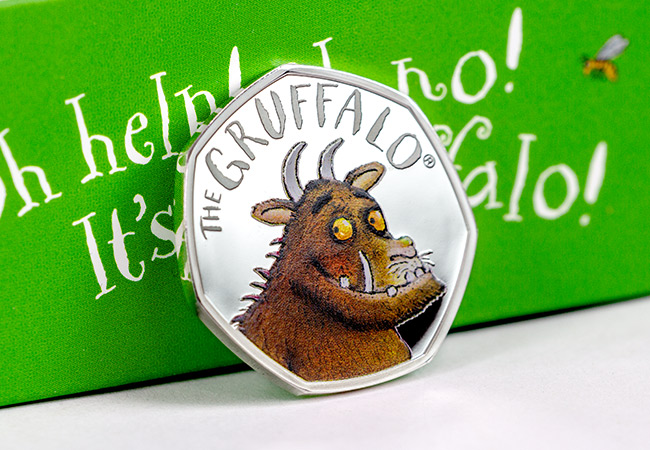 On the 23rd March The Gruffalo celebrated its 20th birthday, and to mark this landmark publication anniversary a brand new UK 50p was released. This was the first time ever the popular children's book character had appeared on UK coinage.
Since its first publication in 1999 Julia Donaldson's famous monster has become a firm family favourite. Alongside the charming illustrations by Axel Scheffler, the now iconic story has been translated into 76 languages, sold over 13 million copies and graced TV screens in 2009 as an animation, the same year it was voted the UK's favourite bedtime story.
To say the release was popular is an understatement, as fans and collectors alike were quick to snap up the coin. Collectors were so quick in fact that the silver and gold proof versions – with edition limits of 25,000 and 600 respectively – completely sold out at The Royal Mint within 12 hours of release.
This made it the fastest selling 50p to date!
No doubt the question on everyone's lips now is what will happen when The Gruffalo returns? Will we see history repeat itself?
There's only one way to find out – register your interest below!