Back in January, I attended the largest coin show in the world – the World Money Fair. Thousands of collectors and hundreds of dealers and Mints from all over the world attend the annual fair to showcase their new releases and the very latest in minting technology.
I'm always looking for new and unusual coins to offer collectors, whether that be a shape, size or technologically advanced coins that push the limits on what can be achieved in the minting world.
So, ever since I arrived back in the UK, there's been some incredibly exciting coin news I've been wanting to share with you.
But before you read anything else, you need to know that the majority of the range completely SOLD OUT before going on general release so you get the enormity of how big a deal this is!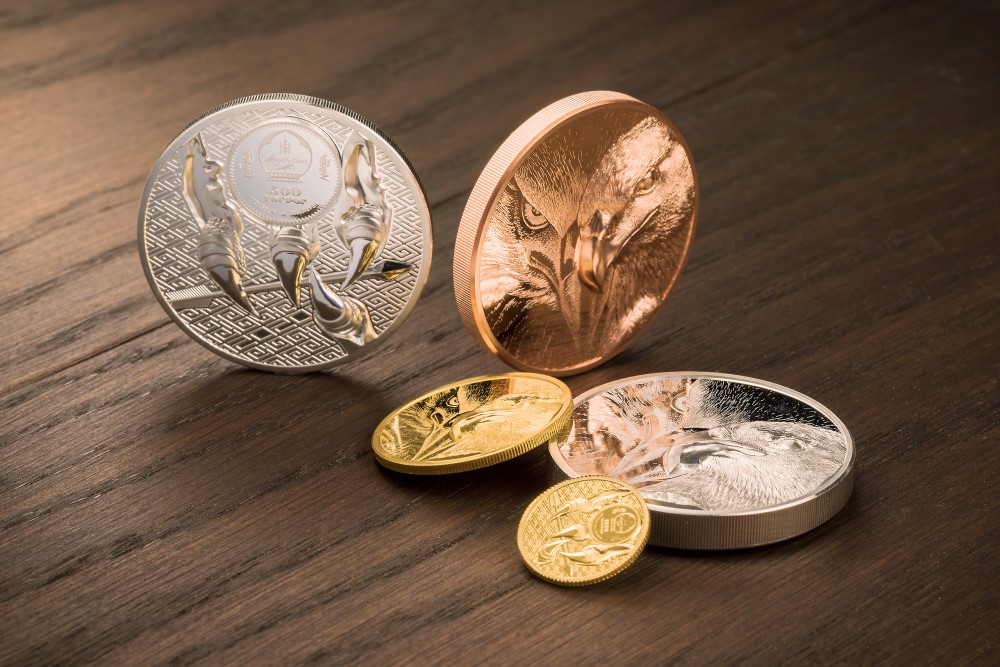 Introducing Smartminting 2.0
Most collectors are already familiar with Smartminting technology. Only achieved by a small number of mints across the world, the exact techniques used in Smartminting are a fiercely guarded secret, but essentially the state of the art technology allows unprecedented levels of intricate detail and extraordinary high relief while only very slightly increasing the weight.
So what more could Smartminting 2.0 possibly offer I hear you ask?
This new technology (or 'Smartminting Reloaded' as it's been coined in the collecting world) breaks many barriers that were previously considered impossible… Until now.
Take a look at the images I've included below, and you'll see BOTH sides of the coin can now be struck to an incredible high relief proof finish. But that's not all, the relief levels are 100% higher than what was previously possible!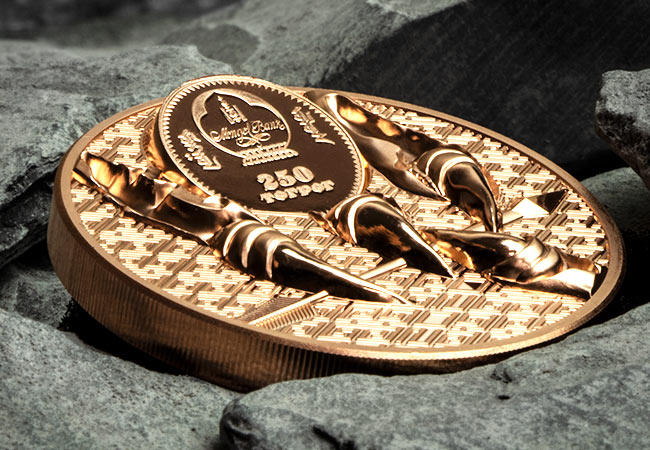 And if that's not enough, for the FIRST TIME EVER, Smartminting technology has been applied to a coin made from copper.
You'll notice the incredible relief of the Eagle's claws which make it look like they're literally ripping through the metal and right through the other side of the coin!
Featuring 'Incuse' Striking
It also features 'incuse' striking. An incuse strike is a relatively new minting process that allows a design to be struck into a coin creating a 'sunken' design, as opposed to the standard raised relief. Few mints in the world have attempted Incuse striking as the unique and unusual format makes them more challenging to strike and, therefore highly unusual to come by.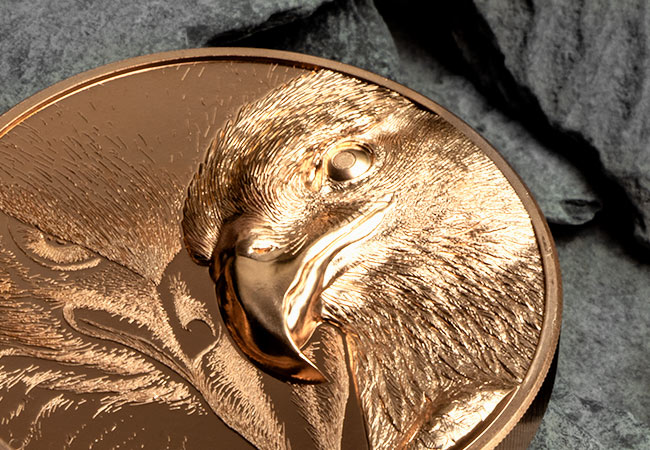 The 'Incuse' strike is visible where the depth of the claw marks are left in the surface of the coin.
Also notice how the high relief of the Eagle's head extends to the edges of the coin instead of just the centre, leveraging the whole surface area of the coin.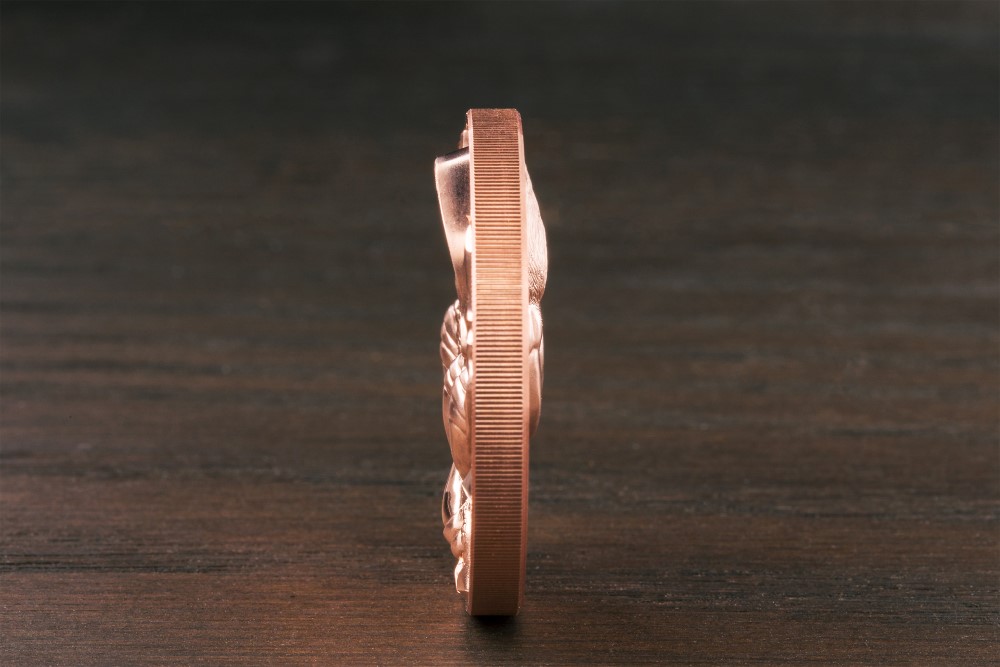 This ground-breaking technology has been deployed on a range of Majestic Eagle coins. The design featured was chosen to symbolise strength, leadership and vision and I'm sure you'll agree it beautifully showcases just what the new Smartminting enhancements are.
However, to fully appreciate this coin, I ask, that you to watch this video. This coin really is an outstanding work of art and this video is the only way to fully appreciate this coin without physically holding it.
---
If you're interested…
The Majestic Copper Eagle is strictly limited to JUST 5,000 collectors worldwide and I am delighted to have been able to get hold of an allocation to offer collectors. But they've been selling extremely quickly, so you'll need to pre-order one now to ensure you can add one to your collection. Priced at JUST £55 (+p&p), click here to secure the Majestic Copper Eagle for your collection NOW >>
The Gold Sovereign is undoubtedly one of the most famous gold coins in the world. It's a classic piece of coinage that is coveted the world over and is highly sought after every year by thousands of collectors.
But have you heard of a Piedfort Sovereign? They're incredibly rare and are some of the most highly sought-after issues I've ever seen – demand for the first UK Piedfort Sovereign was so high that it sold out within 24 hours!
Now, in its 165th year, the Perth Mint has created numismatic history by releasing the first ever Australian Piedfort Sovereign.
Crucially, there are three key reasons why this limited edition coin is set to be the most collectable and sought-after Sovereign ever issued…
1. It's a piece of numismatic history
The Australian Sovereign is as close to a well-kept coin secret as you're going to find. It's been struck every year since 1855 to the same exact specification as the UK Sovereign.
Importantly, this is the very first time the Australian Sovereign has been struck to a Piedfort specification. This makes it a significant piece of numismatic history, as it is the first-of-its-kind to ever be struck.
But it's not only the Piedfort specification that makes this coin historically significant. The classic Australian Sovereign design features a special one-year-only "165" privy mark, to mark the 165th anniversary of the first Australian Sovereign. The Sovereign is the 'King of Coins' so this superior issue couldn't be a more fitting tribute.
These two facts alone make this issue incredibly desirable and will make it a priority for collectors in the future.
2. Superior, highly collectable specification
In the 12th century Piedforts were considered prestige pieces and ownership was often used to signify a person's wealth and power. Today, Piedforts continue to be limited issues and striking of such pieces is reserved strictly for the most important events.
Struck on double thickness blanks, Piedforts are twice the weight and contain twice the amount of precious metal as their standard coin counterparts. They're some of the finest examples of coin craftsmanship you'll ever see.
What's more, they have tiny edition limits and consequently fast sell-out rates. This makes them some of the most collectable coins around.
3. Sell-out all but guaranteed
I saved the most significant point for last. You see, when the very first UK Piedfort Sovereign was released in 2017, with an edition limit of 3,500, it completely sold out within 24 hours at the Mint.
Compare this to the very first Australian Piedfort Sovereign, with a worldwide edition limit of 350 coins. Yes, you read that correctly, JUST 350 single Australian Piedfort Sovereigns have been issued – that's a mere TENTH of the number of UK Piedfort Sovereigns that sold out in 24 hours.
The high demand of Piedfort Sovereigns suggests that we are looking at a record-breaking sell-out.
---
If you're interested…
As official Perth Mint distributors we have been fortunate to secure a limited number of these limited edition Sovereigns for UK collectors. Just 350 have been issued worldwide, making it ten times rarer than the first ever UK Piedfort Sovereign that sold out within 24 hours of release.
Considering that this coin is a numismatic 'first' very few will make their way out of Australia, meaning your chances of owning one are very limited. Don't hesitate, click here for more information >>
Royal Mail have just announced the release of BRAND NEW Queen Stamps to commemorate 50 years since the iconic band was first formed in 1970.
The stamps will be officially released on 9th July 2020 – but are available to pre-order now, professionally mounted and framed, ready to display.
The stamps feature the most iconic album covers of the band, as well as stamps depicting each of the band members at live performances, from 1975 to their final live performance with Freddie Mercury in 1986.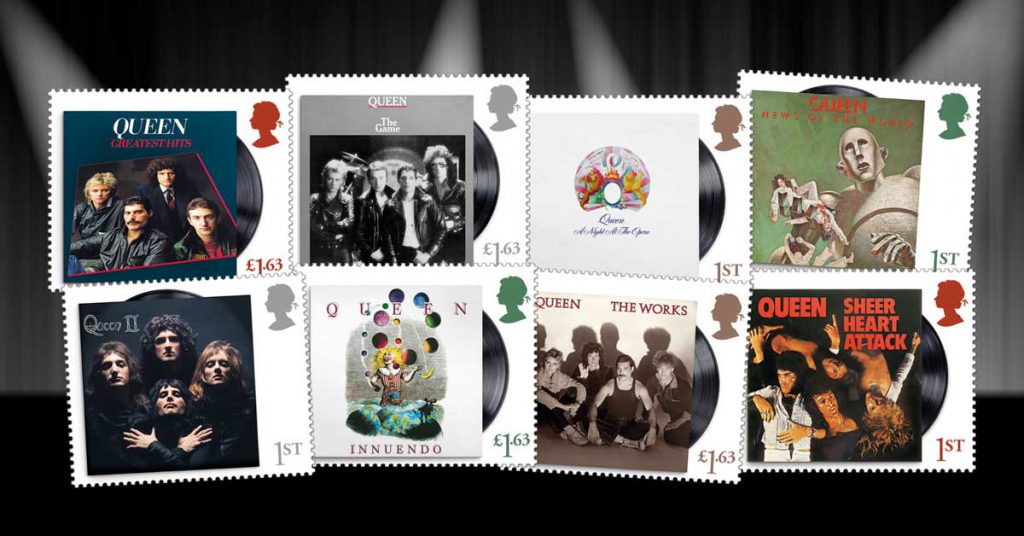 Importantly, only one stamp before now has ever featured Freddie Mercury alone – this is the first time Queen as a whole has ever featured on UK stamps – and as such these are guaranteed to prove a hit with collectors!
Here's your guide to the most collectable versions of the new Queen stamps…
---
The Framed Edition
The Framed Edition of the NEW Queen stamps features Royal Mail's official Collector Sheet, and is one of just 2,995 that will ever be issued.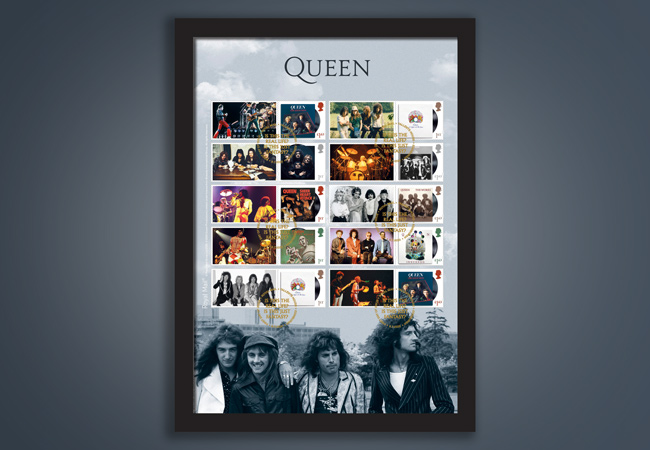 The Framed Edition includes all eight new album stamps, as well as ten EXCLUSIVE Philatelic Labels featuring different images of the band.
Click here to pre-order your Framed Edition now >>>
The Definitive Edition
What sets the Definitive Edition apart from all other issues, are the stamps. You see, this edition comprises EVERY official Royal Mail stamp released for Queen and its members, from the complete set of thirteen NEW Queen Stamps, to the extremely sought-after 1999 Freddie Mercury issue.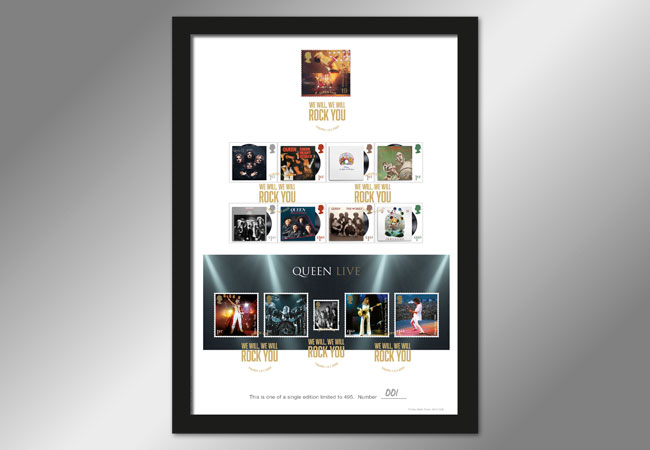 The Definitive Edition is strictly limited to JUST 495 and will come professionally mounted and framed, ready to display in your home or office.
Click here to pre-order your Definitive Edition now >>>
The Ultimate Edition
What makes the Ultimate Edition 'ultimate' is the fact that it comprises BOTH official Royal Mail First Day Covers alongside the stamps' official release notes – and has been professionally mounted and framed, ready for you display in your home or office.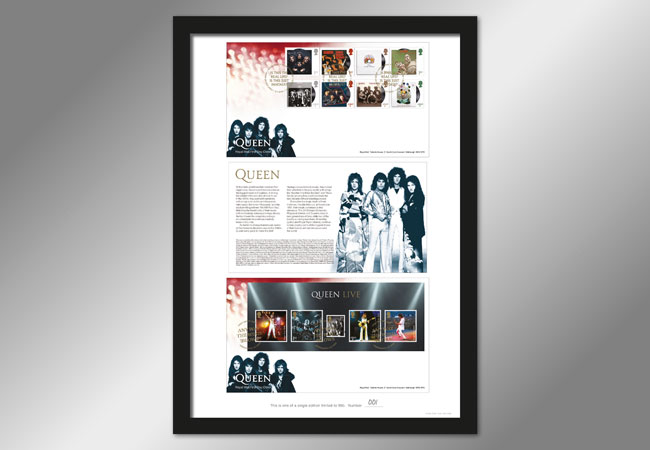 A MUST-HAVE piece of memorabilia for any fan of Queen, the Ultimate Edition is strictly limited to JUST 995 sets worldwide…
Click here to pre-order your Ultimate Edition now >>>
The Vinyl Edition
The Vinyl Edition is the defining tribute to Queen; featuring the official Royal Mail A Night at the Opera stamp alongside a pristine, unplayed vinyl edition of the actual album.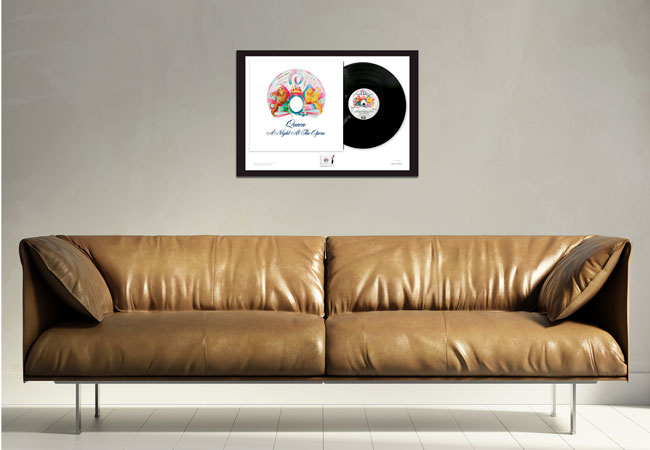 Paired together, the stamp and classic vinyl album make a genuinely superb wall display. They give that iconic cover artwork the place it deserves – displayed like the piece of art it is – not hidden away on a record shelf.
JUST 250 will ever be issued, so you will need act now to secure yours and take advantage of our no-interest monthly instalments.
Click here to pre-order your Vinyl Edition now >>>
---
With such low edition limits across the range, you'll need to be quick to secure your framed Queen stamps.
Click here to shop the full range and pre-order yours today.