Posts Tagged 'German coins'
Imagine the scene: Germany 1923 – the country is being forced to pay for the damage suffered during WWI. But they have missed a payment, and the country plummets into chaos…
France and Belgium invade Germany's main industrial area, confiscating goods as reparation payments.
The economy is on the brink of collapse. Insufficient goods are being produced. Prices are running out of control…
Labourers are being paid twice a day because their wages are virtually worthless by lunchtime.
A loaf of bread, once costing 250 marks, now costs 20 billion marks!
Queues of hungry, disheartened people line the streets of Germany with wheelbarrows and baskets of coins as they desperately try to feed their families.
Just imagine having to carry your money around in a wheelbarrow because it was worth so little.
Now, 100 years later, you can own a coin that has been taken straight from that wheelbarrow…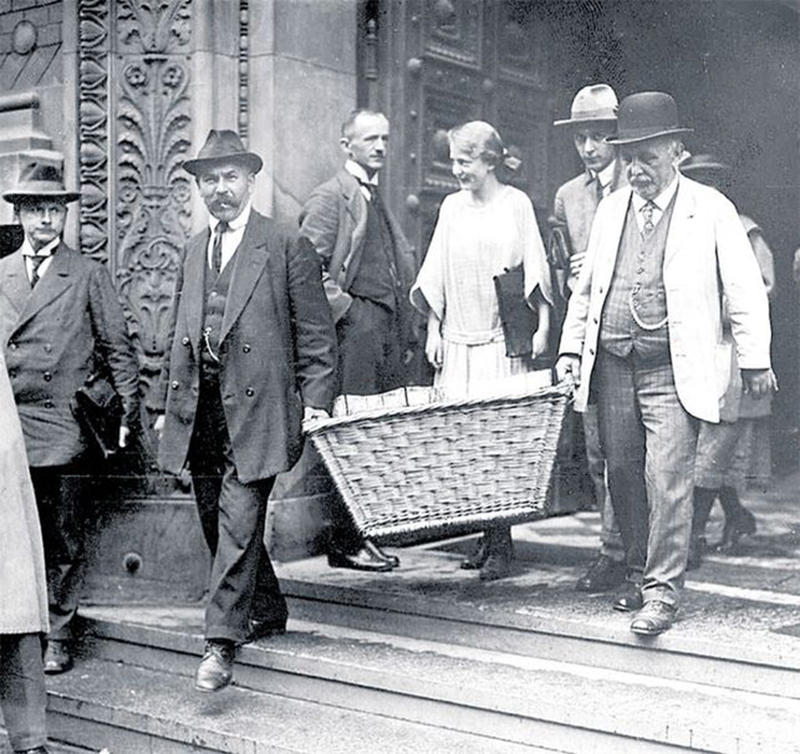 The 1923 German 200 Mark Coin
Recognised as practically worthless at the time, the 1923 German 200 Mark coin is now steeped in the rich history of Germany's most shocking period of hyperinflation. And as we mark its 100th year of issue, demand could well be hyperinflated…
The hands that this coin could've passed through are ingrained into its fascinating history. When you consider that it was this very coin that would have been buried amidst hundreds of others waiting to be exchanged for a loaf of bread, you realise that no other coin has such a unique story.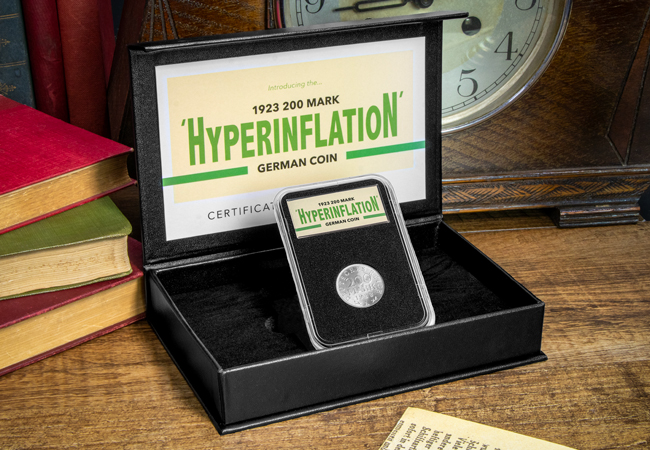 Limited Number Available for JUST £19.99
It has taken months of searching to source just a small number of this historical coin for Westminster collectors. And you must be warned, collectibles from the Weimar Republic aren't always the easiest to get your hands on, let alone ones from iconic years such as this – and with a price of less than £20.00!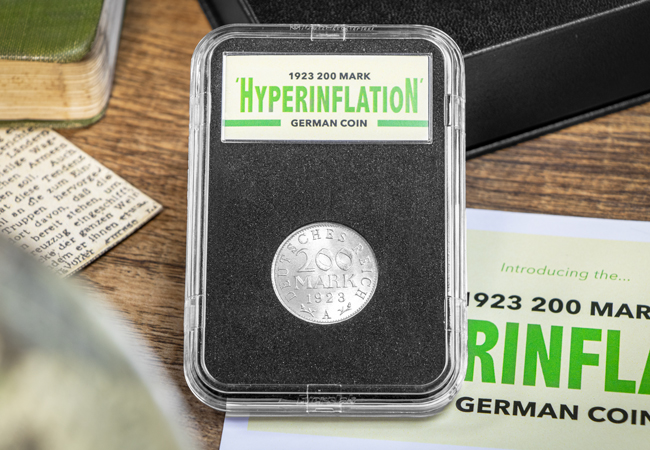 Considering its 100th anniversary, fractional cost and unmatched history, the 1923 German 200 Mark coin will be a staple piece for committed collectors.
So, don't miss your opportunity to secure one before it's too late!
In today's unboxing video I take a closer look at The reunification of Germany Collection, which features THREE commemorative coins set alongside an ORIGINAL piece of the Berlin Wall.
As you can imagine, one off historic sets like this are some of the most popular collector's items around, which is why I wanted to give you a closer look!
Be warned though, 70% of the tiny 200 worldwide edition limit has already SOLD!
---
If you're interested…
Click here to be one of only 200 collectors worldwide to own the reunification of Germany Collection >>
The Berlin Wall is perhaps the most iconic symbol of the Cold War. A tall concrete barricade that divided the citizens of Germany for almost three decades. Numerous people risked their lives to cross the wall, whether digging tunnels underneath, flying over in a hot air balloon, or even driving cars under checkpoint barriers! But in 1989 that all changed when the world watched a press conference that all went a bit wrong…
A press conference that went wrong
For many months throughout 1989, there was mounting pressure on the government to adjust the restrictions around the boarder wall in Berlin. On the evening of November 9th 1989, the East German Party leader held a press conference announcing some loosening of the restrictions. But he hadn't been briefed properly.
Gunter Schabowski broadcast the relaxing of some of the travel laws, but when asked when the freedom of movement would happen, he simply shrugged his shoulders, glanced at his notes, and said "right away."
And that was it. A single moment, the most iconic in recent history, caused by an accident.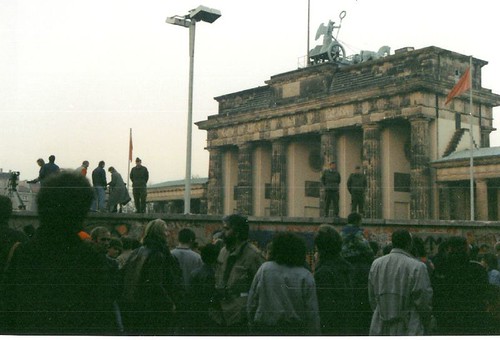 After almost 30 years of physical separation, crowds of people swarmed to the Berlin Wall checkpoints in anticipation of reuniting with loved ones and passing into the West freely.
Because of the confusion, the East German border guards had not been warned and were utterly overwhelmed by the crowds. At first they were told to stamp passports with symbols that effectively revoked East German citizenship, but as the crowds grew larger it became clear that unless lethal force was used, that the wall was no longer impassable. And no one was willing to give that order.
The Night the wall fell
That evening saw celebrations throughout Berlin, with people climbing the wall and taking pickaxes and hammers to break it apart and pull it down. Pieces and fragments of the wall were chipped away, with many pocketing pieces as souvenirs.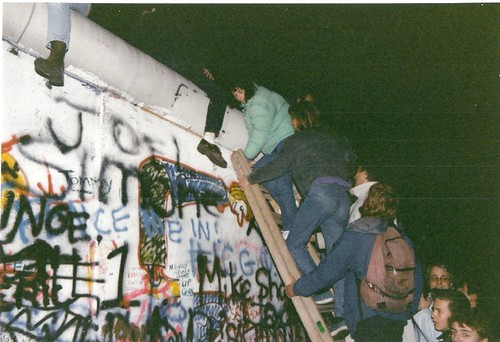 Families and loved ones reunited, as those from East Berlin were greeted with flowers and food. After years with limited contact, media censorship and restrictions, the people of Berlin were free to travel as and where they wanted.
The official reunification
Almost a year later, on 3rd October 1990, the German flag was raised over the Brandenburg Gate in Berlin. It symbolised the moment at which the two German countries were finally reunified as the unification treaty became official.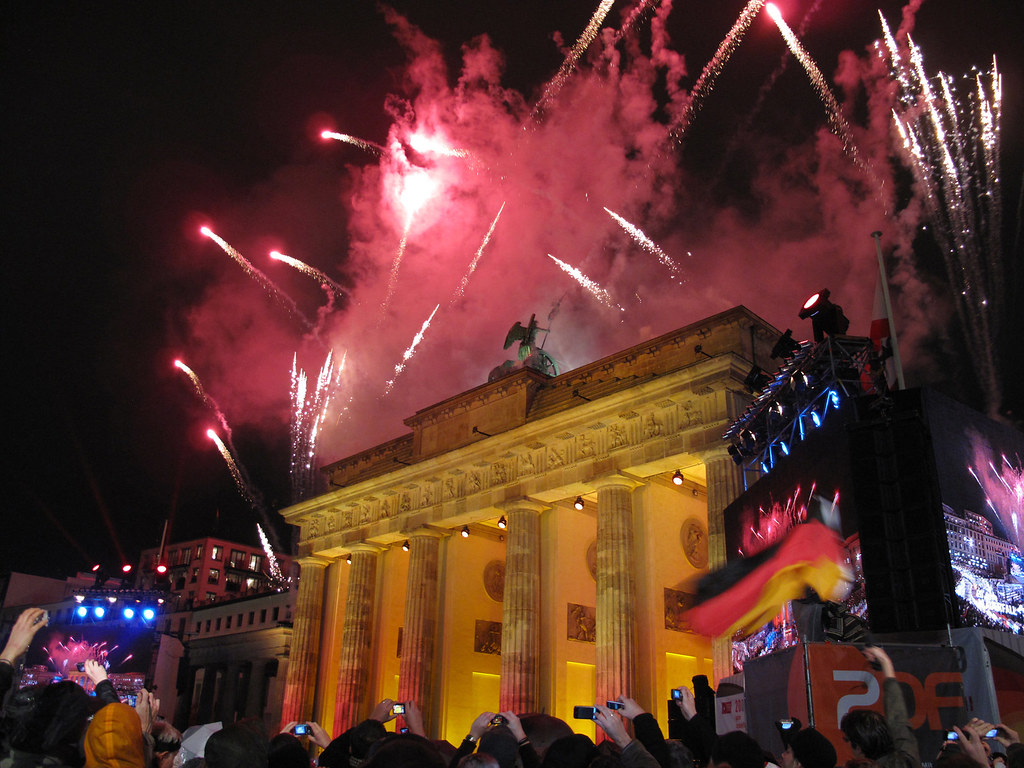 Every year the German Day of Unity is celebrated throughout the country, with fireworks, meals, concerts speeches, and of course commemoratives. This year marks the 30th anniversary, and despite the coronavirus restrictions around the world, the people of Germany will still be celebrating and remembering the moment the country was untied again.
---
If you're interested…
Today you can commemorate the historic moment in which Germany was brought together again by owning THREE commemorative coins alongside an original piece of the Berlin Wall in the Reunification of Germany Collection.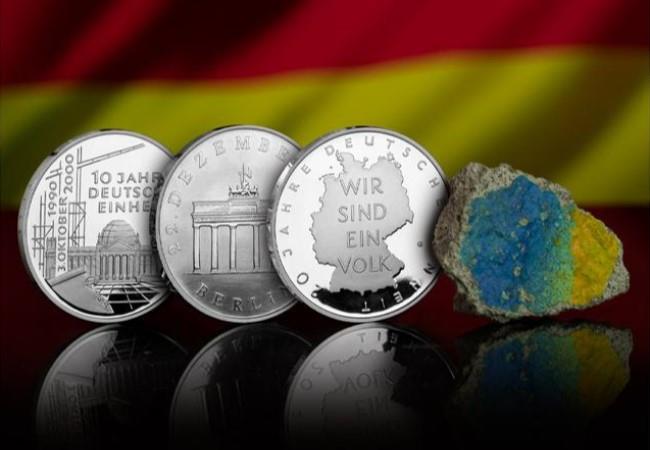 This collection has a tiny edition limit of JUST 200. Considering the anniversary this year, and the popularity of difficult to source one-off historic products like this, the edition limit is expected to sell out completely.