As any collector knows, coins tell the story of our history. But sometimes, they only give a small insight. That's why it's been so important for us to find a collection that shows the whole picture.
And today, we have something unlike anything ever offered to Westminster collectors.
A collection comprised not only of historic coins, but also a real bullet, a patriotic token and a 150-year-old newspaper…
It is the set that finally shows the whole picture – and that picture is of the American Civil War.
America, 1861
After decades of conflict between the modernised northern states and the rural southern states of America, Abraham Lincoln's accession to presidency hoped to end the slavery which fuelled the divide.
This ironically instigated the opposite effect, as eleven American nations formed an opposing government: the Confederate States of America.
So in April 1861, both 'Americas' went to war. This ended in 1865 and became the costliest and bloodiest war ever fought on American soil.
And here's how you can preserve its history…
The Ultimate American Civil War Commemorative Collection
After searching for a whole year, we have finally been able to source a collection of the most collectable artefacts from the American Civil War.
This set is your rare chance to secure a genuine piece of history, which includes:
1861-1865 Seated Liberty Quarter Dollar
1825-1869 Mexican 1 Reale
A REAL BULLET taken straight from the battlegrounds of the American Civil War
An original newspaper printed at the time of the American Civil War
An 'Army and Navy' Patriotic Token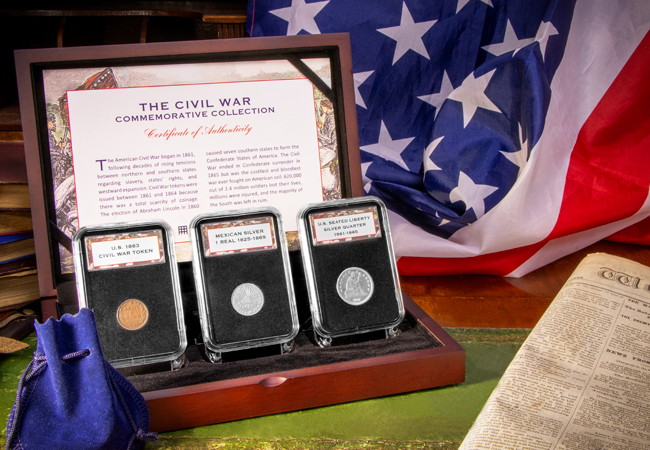 JUST 70 AVAILABLE
This is an opportunity that doesn't come around often, especially when you consider that we have only been able to build 70 sets…
And given the time it has taken us to source this small number, it will be even longer before we can get our hands on any more.
So, don't miss out on this incredibly rare opportunity! Click here to secure yours now >>
Picture the scene: it's October 1st, 1939; exactly one month since Hitler invaded Poland. Britain and France have just declared War against Germany. You gather your family in front of the television as Churchill prepares to deliver his first wartime broadcast…
In 1939 Britain, 83 years ago, this was the reality for more than half of the adult population. The onset of War provoked extreme economic, social and cultural demises which were navigated by the legendary British wartime Prime Minister, Sir Winston Churchill.
Sir Winston Churchill
Born on 30th November, 1874, Churchill became one of the greatest Britons our country has ever seen. After being elevated to Prime Minister in 1939 following Chamberlain's resignation, he was given the unmatched task of leading the country through the most challenging battle it had ever seen: World War Two.
Despite openly disliking the recently created BBC for its infrequent broadcasts and previous decisions to defy the government, Churchill sat before a BBC camera and microphone on October 1st 1939 for the first time to prepare the nation for a long conflict with Germany.
And not only are we marking this anniversary with a special product, but we are also preparing for Churchill artefacts to skyrocket as the year 2024 signposts 150 years since he was born…
The 1874 Victoria Young Head Sovereign
Sovereigns, the flagship of every coin collection, are the perfect way to mark an exceptional figure, anniversary, or cultural moment. So, what better way to beat the crowds and prepare for the 150th anniversary of his birth than with the 1874 Victoria Young Head Sovereign…? The pinnacle coin from the year Churchill was born!
The Sovereign not only originates from the birth year of Winston Churchill, but also from a time when these coins were used in circulation. This means your 1874 Victoria Young Head Sovereign could have been passed through the hands of many wartime heroes, including Churchill himself…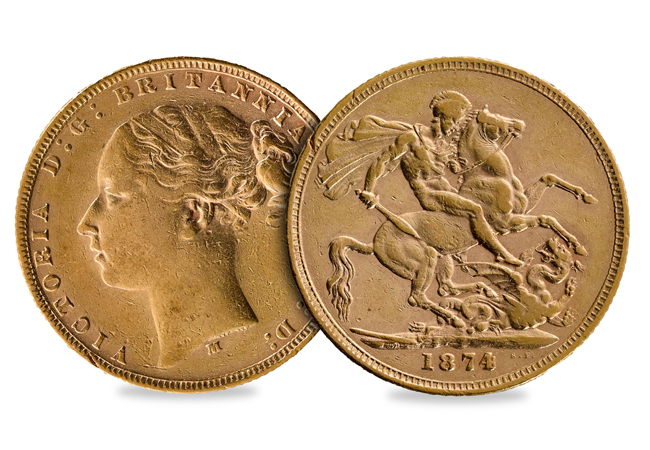 The Sovereign that Survived Two World Wars
You can preserve Churchill's inspiring legacy with the Sovereign that has transcended from the year of his birth through two world wars! Marked by an exclusive certificate of authenticity to preserve the event and his incredible legacy, this is arguably the most limited way to own the already scarce 1874 Sovereign.
In fact, there is one more thing to remember that makes them even more scarce…
In 1914, the government attempted to reclaim all Sovereigns and use the precious metals of Gold coins to pay off its international debt. This means that your coin will be one of the few remaining to exist nearly 150 years after it was produced.
Extremely Limited… Only 25 Available!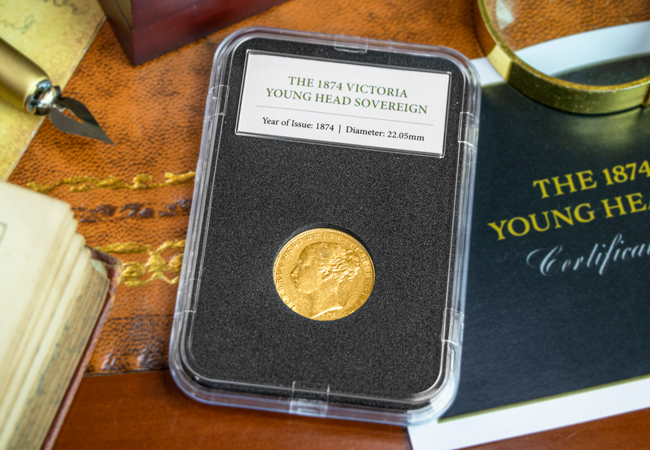 However, we have only been able to source 25 of the 1874 Victoria Young Head Sovereigns! And considering how difficult these Sovereigns are already to source, demand is expected to skyrocket as we fast approach the 150th anniversary of Churchill's birth.
So, with just 25 of these incredibly rare, historically rich Sovereigns available, you must act now if you want to mark a momentous piece of British history with your collection.
In today's unboxing video I take a closer look at The reunification of Germany Collection, which features THREE commemorative coins set alongside an ORIGINAL piece of the Berlin Wall.
As you can imagine, one off historic sets like this are some of the most popular collector's items around, which is why I wanted to give you a closer look!
Be warned though, 70% of the tiny 200 worldwide edition limit has already SOLD!
---
If you're interested…
Click here to be one of only 200 collectors worldwide to own the reunification of Germany Collection >>