Posts Tagged 'civil war bullet'
As any collector knows, coins tell the story of our history. But sometimes, they only give a small insight. That's why it's been so important for us to find a collection that shows the whole picture.
And today, we have something unlike anything ever offered to Westminster collectors.
A collection comprised not only of historic coins, but also a real bullet, a patriotic token and a 150-year-old newspaper…
It is the set that finally shows the whole picture – and that picture is of the American Civil War.
America, 1861
After decades of conflict between the modernised northern states and the rural southern states of America, Abraham Lincoln's accession to presidency hoped to end the slavery which fuelled the divide.
This ironically instigated the opposite effect, as eleven American nations formed an opposing government: the Confederate States of America.
So in April 1861, both 'Americas' went to war. This ended in 1865 and became the costliest and bloodiest war ever fought on American soil.
And here's how you can preserve its history…
The Ultimate American Civil War Commemorative Collection
After searching for a whole year, we have finally been able to source a collection of the most collectable artefacts from the American Civil War.
This set is your rare chance to secure a genuine piece of history, which includes:
1861-1865 Seated Liberty Quarter Dollar
1825-1869 Mexican 1 Reale
A REAL BULLET taken straight from the battlegrounds of the American Civil War
An original newspaper printed at the time of the American Civil War
An 'Army and Navy' Patriotic Token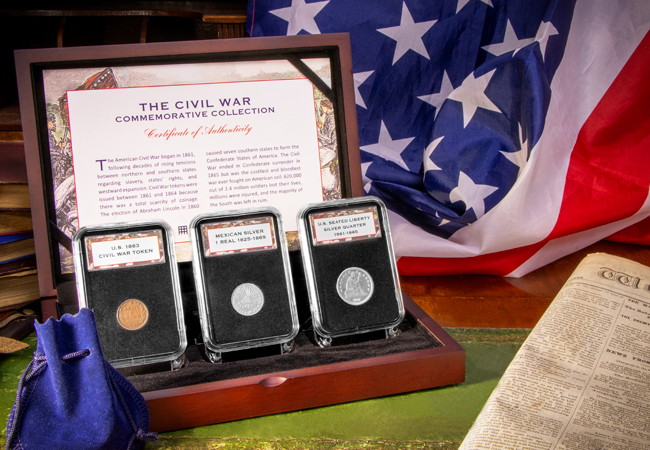 JUST 70 AVAILABLE
This is an opportunity that doesn't come around often, especially when you consider that we have only been able to build 70 sets…
And given the time it has taken us to source this small number, it will be even longer before we can get our hands on any more.
So, don't miss out on this incredibly rare opportunity! Click here to secure yours now >>