The RBL's specialist service: How collectors can make a difference
Since 2004 The Westminster Collection has been proud partners with the Royal British Legion, and throughout that time collectors like you have raised a remarkable £1.25 MILLION for the organisation!
This is an incredible amount that could enable the RBL's dedicated frontline advisors to help over 7,590 people in the Armed Forces community and their families get access to the help that they need.
To mark this milestone, earlier this year we had the pleasure of presenting the Royal British Legion with a cheque from collectors for the staggering amount.
We also had the pleasure of meeting Robert Benham, Regional Lead – Admiral Nursing – Hampshire, who told us all about the important work of the RBL Admiral Nurse Service.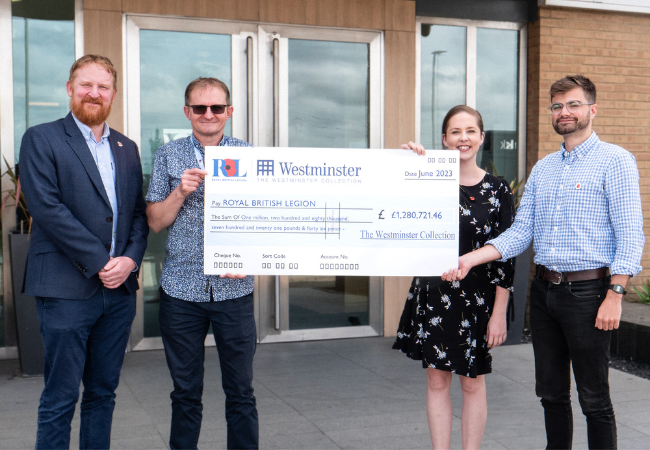 And in today's blog, we explain more about the specialist Admiral Nurse Service and share the story of Dorothy and Angus Weir…
---
What is the Admiral Nurses Service?
The Royal British Legion works in partnership with Dementia UK to provide Admiral Nurses – a specialist service helping the Armed Forces community and their families living with dementia.
RBL's Admiral Nurses Service has been supporting families living with dementia since 2012, giving personalised and holistic support to the whole family. RBL Admiral Nurses give one-to-one support, expert guidance, and practical solutions to help the family to live well with their diagnosis and face the future with more confidence.
RBL nurses work in the community, supporting families through home visits and through telephone and video contact. Each family we support is under the care of a dedicated Admiral Nurse, who will support them throughout their time with the service.
Each nurse provides a range of support, advice, advocacy, and education to families, including:
Identifying potential needs amongst carers (such as depression and anxiety) that are often pushed into the background and arrange for or provide appropriate support.
Working with carers to build their confidence in their caring role and improve their mental wellbeing (for example reducing their feelings of loneliness and isolation… We support them to re-establish their relationship as a spouse, as well as supporting their role as a carer.
Listening to families' concerns, helping to identify practical solutions to reduce the fear and stress faced by carers.
Explaining the reasoning behind advice given to the family by other professionals, helping to make complex information easily understandable during times of great difficulty.
Advocating for families, liaising with other bodies (such as GPs and community mental health teams) to make sure all the necessary support is in place.
Helping families prepare for end-of-life care or a move into a care home, and supporting them to transition and adjust to their new circumstances.
Each RBL Admiral Nurse supports approximately 45 families at any one time.
You can find out more about the RBL Admiral Nurses Service here.
---
Dorothy and Angus Weir
Dorothy lives in Swansea with her husband of 49 years, Angus. Dorothy's family is steeped in military history, going back five generations. She grew up with a father who served in the Second World War, and a grandfather who served too.
Angus served in the Army with the 15th 19th The Kings Road Hussars for around 10 years, with postings in Germany, France, Norway and Libya.
Sadly, Angus has several health problems including bipolar disorder, vascular dementia and Alzheimer's.
Dorothy is his sole carer.
"Caring for Angus impacts my life massively," says Dorothy. "His long-term memory is brilliant – he can talk about his time in the Army until the cows come home! But, he can't tell you what happened yesterday."
Last year, Dorothy was put in touch with the RBL's Admiral Nurse service and since then they have provided her with practical advice, and emotional and psychological support.
Dorothy says: "When you become a carer for someone, that's what identifies you. Even my children would describe me as 'Dad's carer', so you lose some of who you are. The mental health team treated me as a carer, not as a wife, but Helen my Admiral Nurse focuses on me as me, as my own person."
"She [Helen] talks to me about dementia, how it works, and has given me a lot of information I didn't know.
"That helps me cope because I can understand what Angus is doing.
"We don't just talk about Angus, we talk about crafting and our similar interests, which I don't normally get to talk to about with anybody.
"I also talk to her about feeling lonely," Dorothy adds. "I can have all the children here and still feel a bit lonely, and she understands that.
The funds raised by The Westminster Collection through sales of the Poppy Coins helps the Royal British Legion continue to provide its life-changing services like the Admiral Nurses.
---
Introducing the Official 2023 RBL Coin Range
For nearly 20 years, we've been proud to support the Royal British Legion, issuing coins and commemoratives in partnership of the organisation.
And we have just revealed this year's, fully approved, one-year-only design…
By ordering today, you'll be directly supporting the RBL, allowing the charity to continue its incredible work providing financial, social and life-long support for the Armed Forces community.
Prices start from JUST £25 (+p&p) – Click here to view the range >>