Just a few days ago Royal Mail announced four stamps dedicated to Prince Philip, honouring his life and 70 years of service to the nation.
The black and white images featured on these new stamps tell a story of the Prince's life, beautifully capturing him at different stages throughout, including visiting the Royal Windsor Horse Show and attending the passing out parade of Prince Andrew.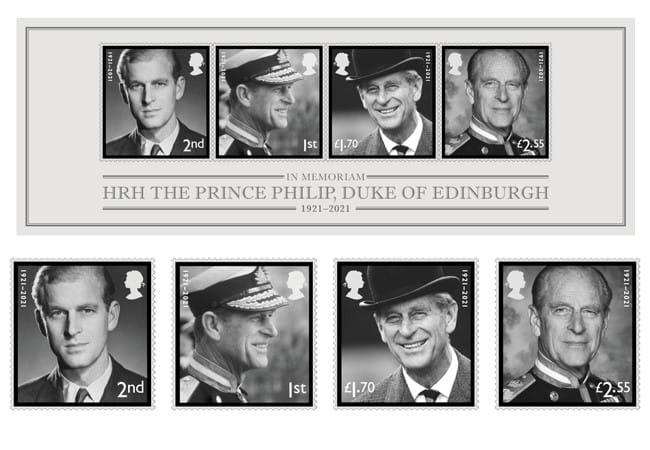 The stamps won't be released until next month, but when they are a limited number will be postmarked with the first day of issue, and many collectors will be eager to add these important commemoratives to their collection.
But this isn't the first time that stamps were issued to mark significant moments in Prince Philip's life. In 1972 a set of stamps featuring both the Queen and Prince Philip were issued to mark their Silver Wedding anniversary. Designed by Jeffery Matthews, they are still in popular demand with collectors today as it was the first time the Prince and the Queen featured on a stamp together.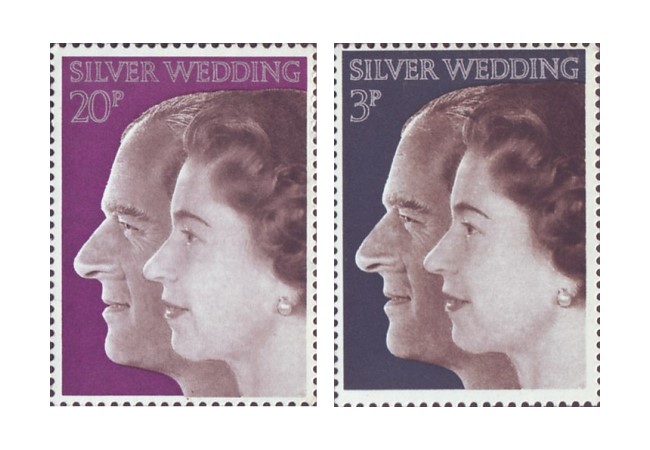 Of course, these stamps aren't the only memorial commemorative issued to mark the long life and achievements of His Royal Highness. In 2017, a special UK £5 Brilliant Uncirculated commemorative coin was issued by The Royal Mint to mark Prince Philip's retirement from public duty. It features a portrait of the young Prince by Humphrey Paget, and due to collector demand it's now unavailable at The Royal Mint.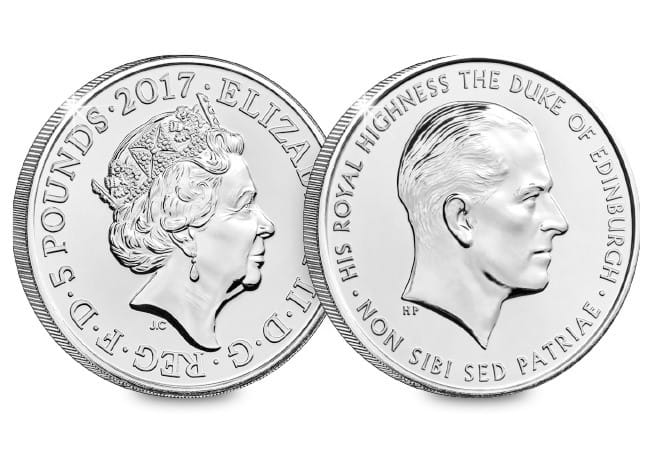 Collectors have also been sourcing historic coins to pay tribute to Prince Philip – specifically coins from 1921, the year in which His Royal Highness was born, which have increasingly been incredibly difficult to find. At over 100 years old, with precious metal content, and having been issued in a significant year, they have always been popular with collectors.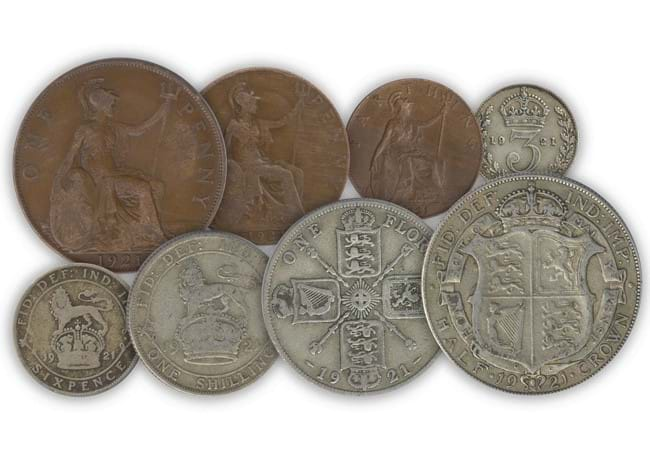 In the coming months, many more commemoratives are sure to be released to mark the life and achievements of His Royal Highness, Prince Philip. His Royal Navy career and contributions to charity, and his pioneering of the Duke of Edinburgh scheme made him one of the most accomplished and dedicated senior Royals in history. We will remember him for many things, and these new stamp releases are sure to play a part in that.
---
If you're interested:
Prince Philip Memorial Historic Coin and Stamp Collection: JUST 250 AUTHORISED.
You can pre-order the brand new Prince Philip stamps, postmarked on the first day of issue, the 2017 sold out £5 coin, and a collection of historic coins issued in the year of the Prince's birth – but only 250 will ever be issued. Click here to find out more.
With the arrival of a new season of Star Trek: Discovery this month, and the brand new series Picard which launched earlier this year, there's a lot for Star Trek fans to celebrate this year.
And now – in what you might say is the final frontier of stamp collecting – fans can get their hands on a brand new official Royal Mail stamp release comprising of some of the franchise's most famous faces.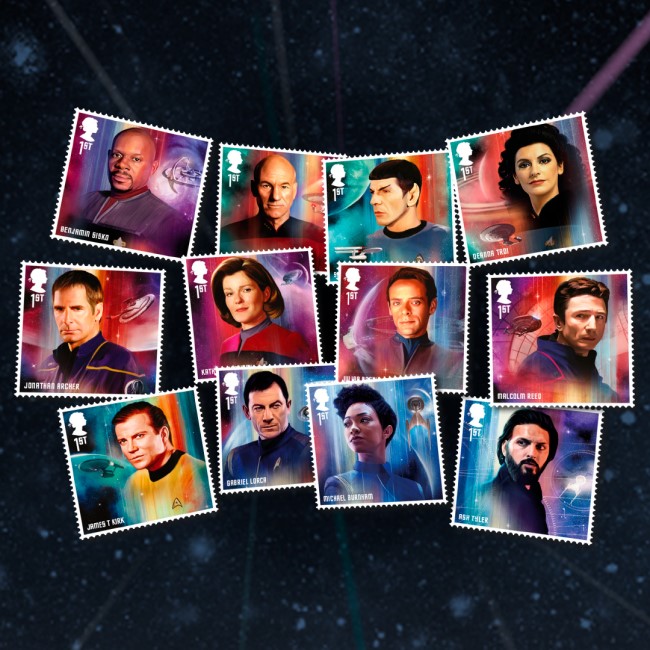 The stamps are officially released on November 13th, 2020, but you can shop our full range here and pre-order yours whilst stocks last. There are strict edition limits across our product range, so be quick if you'd like to secure yours.
Born from the mind of Gene Roddenberry, the Star Trek franchise began 54 years ago and has amassed a huge, global fanbase. It is a cultural phenomenon that's influence spans across many generations of devoted fans, creating a global community unlike any other.
Often praised for its impact on storytelling and its influence on modern-day technology, fans and scholars alike consider Star Trek to be highly progressive in its approach to social and political issues, offering the viewer a reflective view on historic and current affairs.
This culturally significant franchise has now been celebrated for the very first time on UK stamps.
"For more than 50 years Star Trek has enthralled and inspired generations of loyal fans with extraordinary adventures and an optimistic vision of humanity's future.

We celebrate the Star Trek Universe with stylish new stamps of its iconic characters."

Philip Parker, Royal Mail
There are several ways to own these new issue stamps, with each stamp presentation framed and ready to display, and will be officially postmarked by Royal Mail on the day of the stamps release.
Here's your guide to each of the products available and how you can be one of the limited number of collectors to own one of these limited edition pieces…
---
The Star Trek Collectors Frame
The Star Trek Collectors Frame features Royal Mail's Collector Sheet, and only 1,995 framed editions are available worldwide.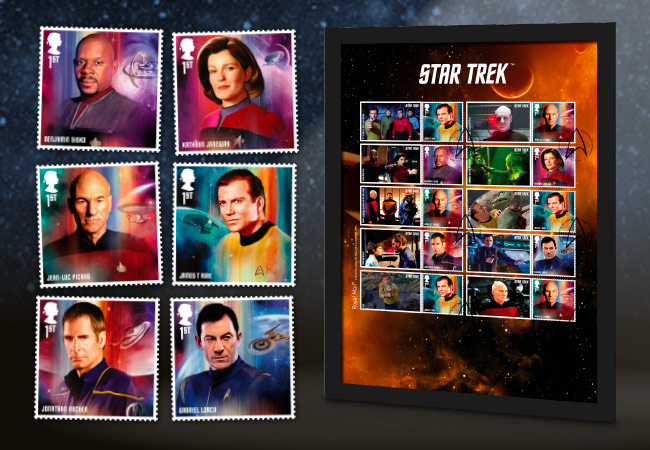 These stamps bring together captains from six Star Trek TV series, including Captains Kirk, Picard, and Archer. Each of the stamps featured is accompanied by an Officially Licenced Philatelic Label featuring scenes from the corresponding series.
Your Collector Sheet is A4 in size and is set against a dramatic space scene – perfect for displaying in your home!
Click here to pre-order one of the 1,995 Star Trek Collectors Frames now >>>
---
The Star Trek Definitive Frame
Collect every Royal Mail Star Trek Stamp issue with The Star Trek Definitive Frame! This framed presentation features 12 Star Trek First Class Stamps , alongside the Movie Stamp Miniature Sheet.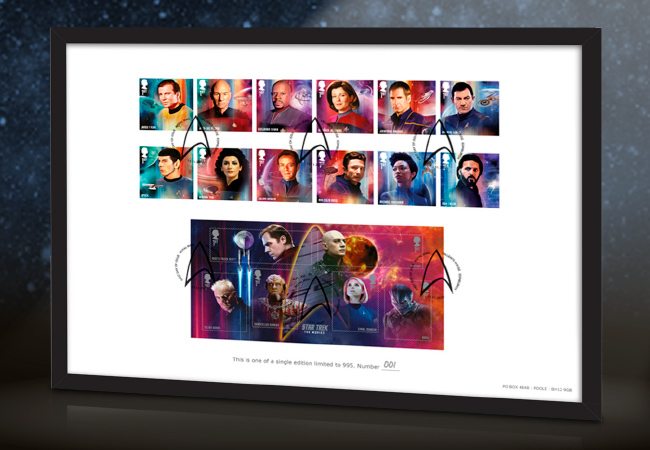 These 12 brand new stamps feature every captain, alongside other famous crew members from across the six principal TV series. Each character is set against a themed backdrop inspired by the series they are from.
As well as these new issue stamps, The Star Trek Definitive Frame also includes the Movie Stamp Miniature Sheet, which showcases British stars from the Star Trek movie series.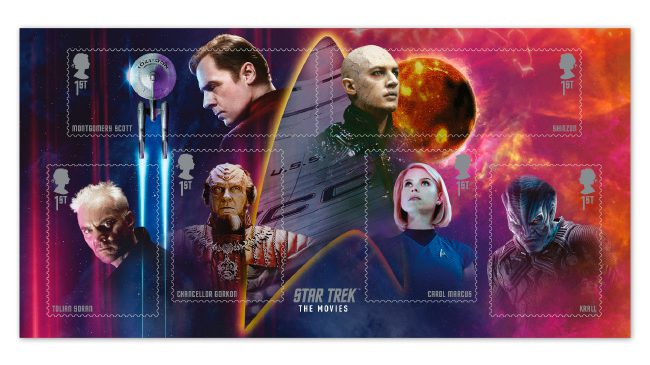 Your frame is A4 in size and ready to display. But with only 995 available worldwide, you'll have to be quick to snap this up for your collection.
Click here to pre-order one of the 995 Star Trek Definitive Frames now >>>
---
The Star Trek Ultimate Frame
While this is the first time Star Trek has featured on any UK stamp issue, it's not the first time the franchise has been celebrated on commemorative stamps! To honour the 50th anniversary in 2016, a range of Star Trek stamps was issued in the United States.
As of last year, the stamps are no longer available to buy from the US Postal Service, but you can find a selection of these stamps within The Star Trek Ultimate Frame.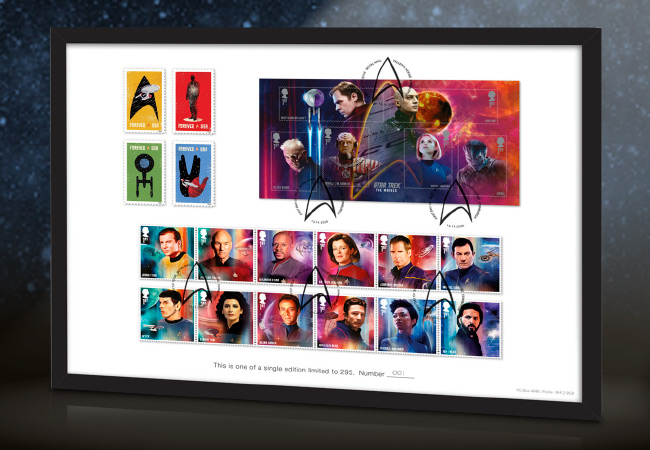 This really is the ultimate Star Trek stamp presentation, featuring every UK stamp issue alongside the no longer available US Star Trek Forever stamps.
Available in an A4 frame, there are only 295 of this very special stamp presentation available worldwide.
Click here to pre-order one of the 295 Star Trek Ultimate Frames now >>>
---
Remember, all framed editions of the Star Trek stamps are strictly limited. Shop the full range here to pre-order and secure yours ahead of their official release on November 13th.
Royal Mail have just announced the release of BRAND NEW Sherlock stamps, to celebrate the 10th anniversary of the popular BBC TV Series.
The stamps will be officially released on 18th August 2020 and feature the most iconic and best-loved characters including Holmes, Watson, and Moriarty – whilst the exclusive 'Mysteries of Sir Arthur Conan Doyle' Miniature Sheet features four of the author's favourite Sherlock Holmes stories.
Here's your guide to the most collectable versions of the new Sherlock stamps…
The UK 50p Coin Cover
This UK 50p Coin Cover perfectly combines the complete set of BRAND NEW Sherlock Stamps and Miniature Sheet with The Royal Mint's UK Sherlock Holmes™ 50p Coin.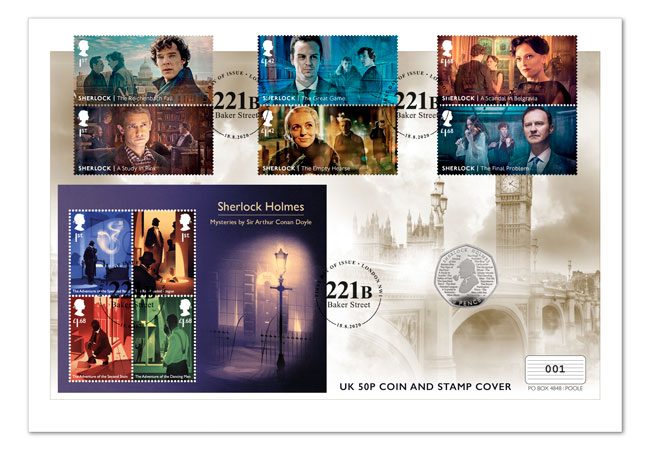 Significantly, JUST 1,000 Sherlock Holmes UK 50p Coin Covers are being released nationwide, making this one of the most limited ways to own these sought-after stamps and 50p coin.
The Framed Edition
The Framed Edition of the NEW Sherlock stamps features Royal Mail's official Collector Sheet, and is one of just 2,995 that will ever be issued.
The Framed Edition includes all six new characters stamps, as well as ten EXCLUSIVE Philatelic Labels featuring iconic scenes from the show.
The Definitive Edition
What sets the Definitive Edition apart from all other issues, are the stamps. You see, this edition comprises EVERY official Royal Mail Sherlock stamp ever released, from the complete set of ten NEW Sherlock Stamps, to the extremely sought-after 1993 issue.
The Definitive Edition is strictly limited to JUST 495 and will come professionally mounted and framed, ready to display in your home or office.
The Ultimate Edition
What makes the Ultimate Edition 'ultimate' is the fact that is comprises BOTH official Royal Mail First Day Covers alongside the stamps' official release notes – and has been professionally mounted and framed, ready for you display in your home or office.
A MUST-HAVE piece of memorabilia for any fan, the Ultimate Edition is strictly limited to JUST 495 sets worldwide…
---
If you're interested…
You can own one of the special Sherlock Holmes Stamps Editions today, click here to view the full range.