Queen Elizabeth II is Britain's longest reigning monarch, and that means that she has adorned the obverse of our coinage since 1953 when the first coins were issued with her portrait. Her reign has seen five different portraits on our coinage and one of the biggest changes to our currency – decimalisation.
And as this month marks the 50th anniversary since the day that Britain officially went decimal, we've been taking a look back at British coins and how their stories have changed over time. And there's one icon that stands out above the rest, one that has featured on coins for far longer than Queen Elizabeth II's impressive 68 years. I am of course referring to Britannia.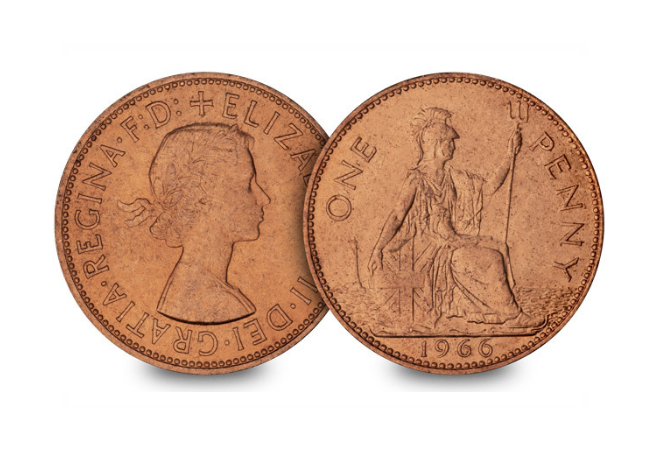 Over 2000 years old!
It's thought that Britannia first featured on coins in Britain when the Romans arrived under Julius Caesar, but the depiction is wildly different to that which we recognize today. The coins showed a figure, neither male nor female, as a warrior with an inscription along the lines of "DE BRITANNIS".
It wasn't until Hadrian arrived in the second century AD that the coins started to feature a female figure with the inscription "BRITANNIA". These Roman coins are always difficult to find, and many remain buried away even today.
A 1400 year hiatus…
This female figure disappeared from coins, and culture, for over a thousand years, not reappearing until the Tudor period. And even then it wasn't until Charles II that she finally made her reappearance onto coinage. It's thought that the rise of Britain as a naval power was the inspiration to include Britannia on coinage again.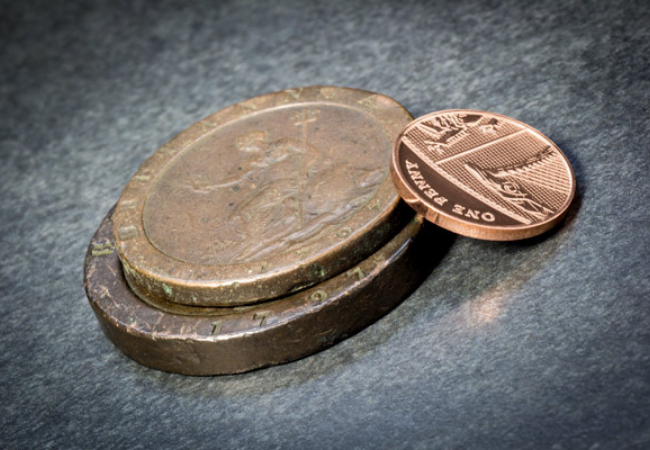 Britain's largest penny
Under George III a one penny and two penny coin were introduced in an attempt to restore confidence in British currency. The intrinsic value of the metal plus an allowance for the cost of production was made equal to the nominal value of the coin. This made them very heavy and a lot larger than other coins in circulation – giving them the nickname 'Cartwheels'.
Importantly though, as Britannia had become more and more associated with the sea, these were the first coins to depict her holding a trident rather than a spear.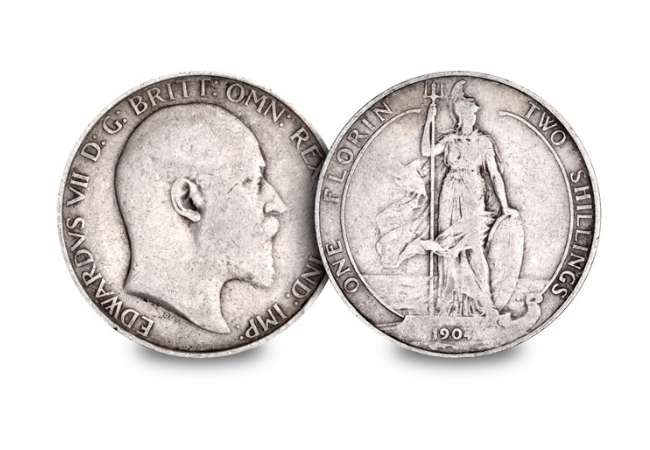 The Standing Britannia
Throughout history Britannia has been depicted on several denominations of coins, usually pennies or half pennies. Often she was shown seated with the sea in the background, and never before had she been issued on a Florin. After the long Victorian tradition of a crowned cruciform shield for the reverse, a new Britannia design was issued as King Edward VII took to the throne. A truly beautiful design, it shows Britannia with her trident, shield, and stood powerfully against the sea. Only issued during King Edward VII's short reign, this coin has become incredibly popular for its iconic design and impressive story.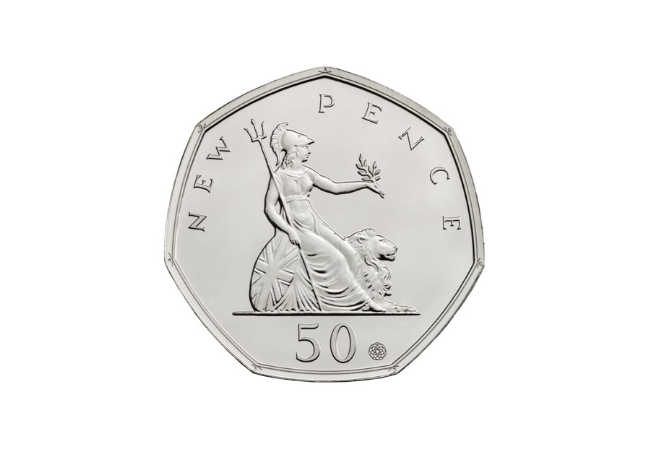 Of course the Britannia has featured and continues to feature on Britain's coinage, with new depictions on annual releases and even special releases such as the 2019 commemorative 50p. It certainly looks like she'll continue to have a long reign on our coinage.
---
If you're interested:
Secure your very own Silver Standing Britannia Florin. At over 100 years old and with a unique design, they're in high demand with collectors. Click here to order yours now with a deposit of JUST £13!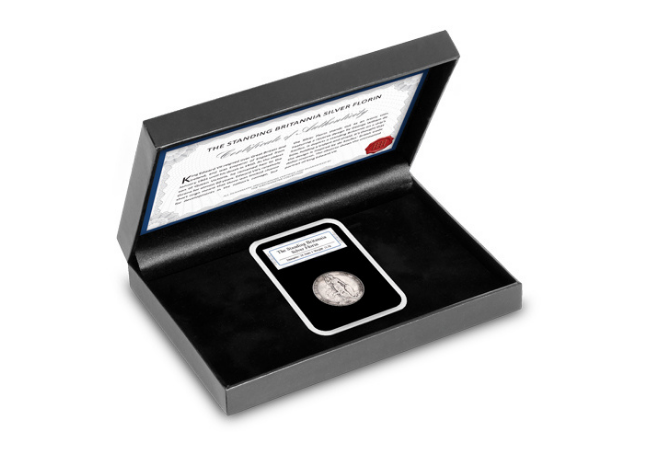 Bullion coins are some of the most sought-after coins in the world, often selling out and causing stock shortages at major national mints. So what do you get for your money? And why should you buy one?
Well the key reason most people purchase a bullion coin is the precious metal content. For example, the UK £2 Britannia coin contains an ounce of pure 999/1000 silver. Soon enough one coin turns into many and you can find yourself owning a sizeable amount of silver.
But these coins are not just lumps of metal. The silver Britannia is also a real piece of craftsmanship, with a beautifully evocative design struck with all the expertise of the Royal Mint.
Combine this craftsmanship with the silver content and you start to see just why this coin is so collectable.
But why is this any different from a silver bar, or a silver round?
UK bullion coins carry the authority and security of being a government issued coin. There is never any debate about their purity or integrity. In fact they are checked every year at a 734 year old ceremony called the Trial of the Pyx. You can buy one safely in the knowledge that you are getting what you pay for.
This also explains why bullion coins sometimes appear to have a 'misleading' face value. The Britannia is a £2 coin, but the silver content is worth much more than that. The truth is the face value is really there to legitimise the coin and prove that it is an official state-authorised issue.
And legal tender British bullion coins have a final bonus – they will never incur any Capital Gains Tax. This makes them the perfect way to pass down silver through the generations.
But you will have to pay VAT. And as with any struck coin, you will have to pay a small premium over the raw metal value to cover production costs. At the time of writing, raw silver is trading at around £10.50 an ounce, but you'd be hard pressed to find a way of buying a single ounce at that price.
Bullion coins facilitate an easy entry into the world of owning silver and coins. They are not about face value or edition limit, but you can still have the satisfaction of securing a collection of genuine, bona fide UK coins – at as close to the raw silver price as you are likely to get.
Top Tips for buying silver bullion coins:
Pick a country with a strong tradition of issuing bullion coins
Expect to pay a small premium over the intrinsic silver value
Remember the face value of your chosen coin is not related to its value
Buy British silver bullion coins and there's no Capital Gains Tax to pay
Just 15 days since it went on sale, the complete 495 edition of DateStamp™ "958" and "999" Silver Britannia Set has been fully reserved by collectors looking to capture an unprecedented, never-to-be-repeated moment in the history of this most iconic of British coins.
Here's the background. For the last quarter of a century, the 1oz Britannia Silver has been struck in, not surprisingly, 'Britannia Silver' with a purity of 95.8% silver – or more commonly 958/1000. Out of its total 32.45 gram weight, 31 grams was pure silver (1 troy ounce), the rest an alloy.
New year, new Britannia
Until recently that is. Other silver 1oz classics have always been struck in 999/1000 silver, the trademark standard of silver bullion coins the world over. Britannia at 958/1000 was the odd one out.
And so, from 1st January 2013, we waved goodbye to the old '958' Britannia and for the first time ever, welcomed in the new '999' silver 1oz coin – bringing her in line with the US Eagle and Canadian Maple Leaf but also securing Britannia's status as Britain's purest silver coin.
The end of one era – the beginning of another
Specification changes like this one don't come along very often. And when they do, collectors look for something very special to remember it by.
The limited edition Silver Britannia 'DateStamp™' Set pairs up one of the last 2012 strikes of the 'old' 958 Britannia with one of the very first brand new 2013 versions minted in the purest 999 silver.
A moment captured in time
To mark this unprecedented change in Britannia's history, each of the two 'DateStamp™' Set coins is presented in a tamper-proof capsule alongside a gold 1st class stamp, postmarked on the first or last day of issue – 31st December 2012 for the '958' coin and 1st January 2013 for the new '999' coin. The perfect way to capture and preserve a real piece of coinage history.

Also adding extra value, each set also has its own unique serial number guaranteeing its authenticity and limited edition status.
Missed out on owning one of the 495 sets? Other DateStamp™ coins are available, click here to see the full range.