Posts Tagged 'cartwheel coins'
Queen Elizabeth II is Britain's longest reigning monarch, and that means that she has adorned the obverse of our coinage since 1953 when the first coins were issued with her portrait. Her reign has seen five different portraits on our coinage and one of the biggest changes to our currency – decimalisation.
And as this month marks the 50th anniversary since the day that Britain officially went decimal, we've been taking a look back at British coins and how their stories have changed over time. And there's one icon that stands out above the rest, one that has featured on coins for far longer than Queen Elizabeth II's impressive 68 years. I am of course referring to Britannia.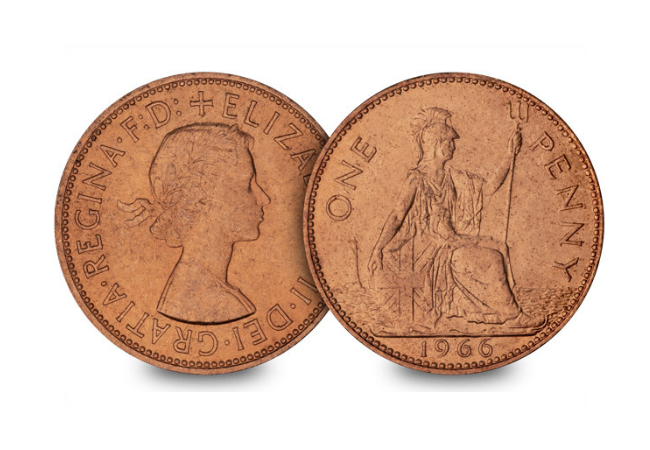 Over 2000 years old!
It's thought that Britannia first featured on coins in Britain when the Romans arrived under Julius Caesar, but the depiction is wildly different to that which we recognize today. The coins showed a figure, neither male nor female, as a warrior with an inscription along the lines of "DE BRITANNIS".
It wasn't until Hadrian arrived in the second century AD that the coins started to feature a female figure with the inscription "BRITANNIA". These Roman coins are always difficult to find, and many remain buried away even today.
A 1400 year hiatus…
This female figure disappeared from coins, and culture, for over a thousand years, not reappearing until the Tudor period. And even then it wasn't until Charles II that she finally made her reappearance onto coinage. It's thought that the rise of Britain as a naval power was the inspiration to include Britannia on coinage again.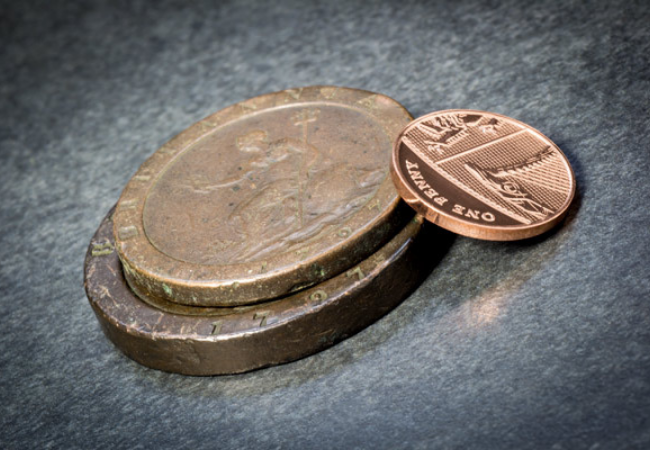 Britain's largest penny
Under George III a one penny and two penny coin were introduced in an attempt to restore confidence in British currency. The intrinsic value of the metal plus an allowance for the cost of production was made equal to the nominal value of the coin. This made them very heavy and a lot larger than other coins in circulation – giving them the nickname 'Cartwheels'.
Importantly though, as Britannia had become more and more associated with the sea, these were the first coins to depict her holding a trident rather than a spear.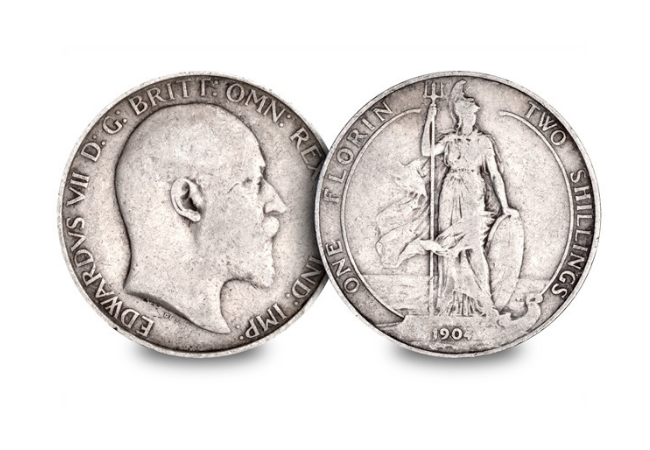 The Standing Britannia
Throughout history Britannia has been depicted on several denominations of coins, usually pennies or half pennies. Often she was shown seated with the sea in the background, and never before had she been issued on a Florin. After the long Victorian tradition of a crowned cruciform shield for the reverse, a new Britannia design was issued as King Edward VII took to the throne. A truly beautiful design, it shows Britannia with her trident, shield, and stood powerfully against the sea. Only issued during King Edward VII's short reign, this coin has become incredibly popular for its iconic design and impressive story.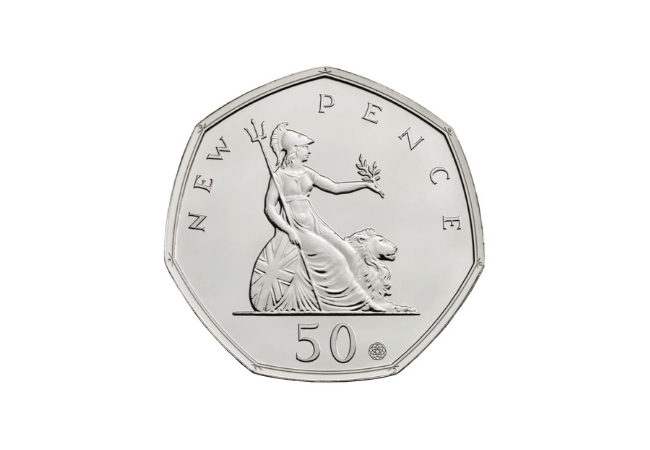 Of course the Britannia has featured and continues to feature on Britain's coinage, with new depictions on annual releases and even special releases such as the 2019 commemorative 50p. It certainly looks like she'll continue to have a long reign on our coinage.
---
If you're interested:
Secure your very own Silver Standing Britannia Florin. At over 100 years old and with a unique design, they're in high demand with collectors. Click here to order yours now with a deposit of JUST £13!
In today's video we're taking you back to the 18th century – or 1797 to be more precise.
Of course, this was the year of the Cartwheel Pennies. The largest and heaviest coins to ever have been issued for circulation and they really were HUGE.
The story behind how these coins came about is honestly fascinating making them one of the most sought-after coins in British coin collections.
So buckle up as today I'm taking you back in time for a history lesson in British coinage…
---
If you're interested…
Click here to add the 1797 George III 'Cartwheel' Coin Set to your collection>>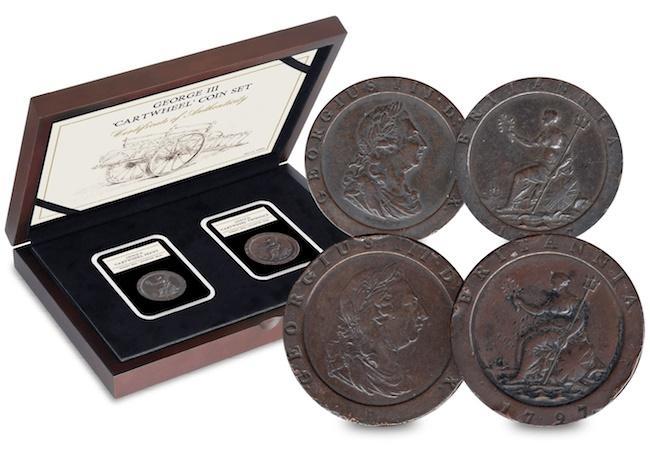 Today I'd like to tell you the story behind my all-time favourite British coins – the Cartwheel Pennies. Not only are they the heaviest and largest coins ever issued for circulation, they were also issued for ONE-YEAR-ONLY. Here's the story…
Throughout the 18th century silver prices increased, which resulted in a substantial decrease in the amount of silver pennies that were being minted. This led to a lack of small change and businesses were finding it difficult to pay their employees with the current coinage.
Subsequently, a trend began where independent Mints started striking copper half penny and penny tokens. Most of these tokens were being minted at the 'Soho Mint' in Birmingham, which was actually the very first Mint to be powered by Steam.
Whilst this was not legitimate money it solved the issue and it took off – companies all over Britain were ordering personalised tokens.
However, the 'solution' meant there was a problem…
The British Government had lost control of the coinage. In an attempt to regain control, they instructed Soho Mint to strike 480 tonnes of copper pennies and 20 tonnes of copper twopences. These were to be the first regal British coins of the denominations to be made of copper, and the very first official British coins to be struck using steam power.
8 times heavier than today's 1p and 2p coins
The coins were large! In fact, the 1 pence weighed an incredible 1oz and the 2 pence weighed 2oz – that's the same weight as a Mars Bar and almost 8 times heavier than the current 1p and 2p coins. At that size, it's hard to believe these ever jangled in the pocket of our ancestors!

The coins weighed so much becauses they were struck in pure copper and their intrinsic value corresponded to their actual face value. Their design was simple – a portrait of the monarch at the time, King George III on the obverse and Britannia on the reverse.
The dramatic size of these coins and their unusually wide raised rim is why they became known as 'Cartwheel' pennies.
Issued for one-year-only
The 'Cartwheel' pennies were designed this way to prevent counterfeiting, but their size and weight made them cumbersome and unwieldy. They were immediately unpopular with the public as people didn't like carrying them around – the two-pence was an INCH and three-quarters in diameter and a quarter inch thick. There were soon calls for them to be discontinued and shortly after, the coins were redesigned.
Due to the rise in the price of copper, the intrinsic value of the coins soon exceeded their face value and subsequently the majority of these coins were melted down.
This meant, the coins were issued for one-year-only, which automatically makes them two of the must-have modern coins and key coins in any British collection.
---
If you're interested…
We have been able to source a small number of sets containing the original 200 year old 'Cartwheel' coins – the two pence and the penny. They come presented in a deluxe presentation case with an accompanying Certificate of Authenticity. They really are key must-have coins in any British collection.