In today's video I unbox the perfect tribute to Prince Philip.
As the longest serving consort of a British Monarch, his 70 years of public service was full of incredible achievements.
And it's those achievements that have been captured in the Historic Coin and Stamp Collection that I take a closer look at in my latest video.
Whether you're a collector, Royalty enthusiast OR both, with only 295 collections available worldwide this is a video that you can't afford to miss.
---
If you're interested…
Click here to be one of JUST 295 collectors to own this MUST-HAVE collection >>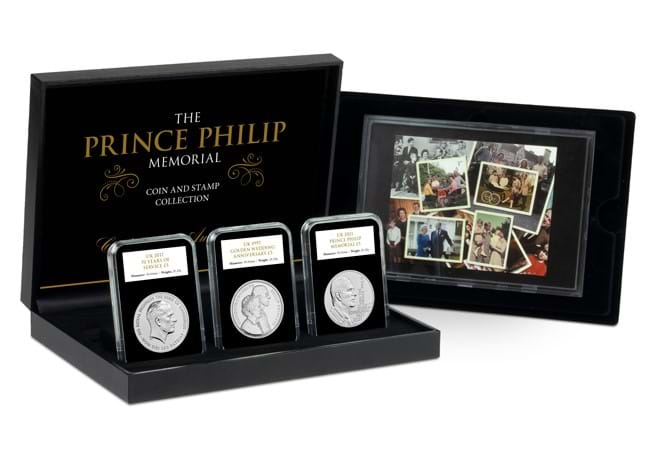 Today marks what would have been the late Princess Diana's 60th Birthday.
And in my latest unboxing video I take a closer look at the limited edition coin and stamp collection that pays tribute to the incredible life and legacy of the People's Princess.
But only 195 will EVER be released worldwide.
Why so few?
Well it pairs a 1999 UK £5 coin that's scarcely available on the secondary market, with five historic Royal mail stamps that were issued for ONE YEAR only.
And to find just one stamp, let alone all FIVE in good condition over 20 years later is incredibly rare.
So if you'd like to be one of the 195 collectors to own this must have coin and stamp collection, don't delay…
---
If you're interested…
To mark the life and achievements of the late Duke of Edinburgh, HRH Prince Philip, The Royal Mint has just released a brand new UK £5 coin.
The Duke of Edinburgh committed himself to a life of royal duty, having served the nation for 70 years, earning the affection of generations here in the UK and around the world.
His Royal Navy career, contributions to charity, and his pioneering of the Duke of Edinburgh scheme made him one of the most accomplished and dedicated senior Royals in history. We will remember him for many things, and this poignant new UK £5 release will surely play a part in that…
Never before seen portrait
This new commemorative features a never before seen portrait of Prince Philip by renowned engraver Ian Rank-Broadley FRBS. Significantly, the Duke of Edinburgh himself played a key role in the design of this coin and approved the portrait.
It is understood that the memorial portrait was selected by the Duke of Edinburgh in 2008. It is customary for the obverse designer of the current UK coins to also design the reverse of memorial coins, hence why Ian Rank-Broadley undertook this portrait of Prince Philip.
This new commemorative has been issued in a range of specifications. Below you'll see that I've put together a helpful guide so you can choose the perfect way to memorialise Prince Philip in your collection…
Continue reading, or click here to view the full range >>
---
UK 2021 Prince Philip CERTIFIED BU £5
As Britain's longest serving Consort – the Queen's "strength and stay" – and as former President of the Royal Mint Advisory Committee, it is only fitting that this new UK coin should be issued in Prince Philip's honour and made available to collect in superior Brilliant Uncirculated quality. What's more, it has been protectively encapsulated in official Change Checker packaging to preserve for generations to come. Click here to find out more >>
---
UK 2021 Prince Philip £5 BU Pack
To give as many collectors as possible the chance to pay tribute to Prince Philip, The Royal Mint has issued this coin in Brilliant Uncirculated quality. Brilliant uncirculated coins are specially struck and carefully handled to avoid the scratches and chips found amongst their circulating counterparts.
Each one is protectively encapsulated in a stylish presentation pack from The Royal Mint to preserve its quality for years to come. Click here to find out more >>
---
Prince Philip Memorial Stamp and BU £5 Coin Collection
This limited edition coin and stamp collection features the four official Royal Mail In Memoriam Prince Philip Stamps alongside the brand new official UK £5 struck to a Brilliant Uncirculated quality. Hundreds of thousands of Brilliant Uncirculated £5 coins will be issued in memory of Prince Philip, but we have hand-selected just 995 coins to feature in this special memorial collection. This collection is exclusive to The Westminster Collection. Click here to find out more >>
---
Prince Philip Historic Coin and Stamp Collection
Paired alongside the 2021 Prince Philip BU £5 are two back issue UK coins released to mark two significant moments in Prince Philip's life – the UK 1997 Golden Wedding £5 and the UK 2017 Retirement £5. Each one has been hand-sourced on the secondary coin markets specially for this limited edition collection but due to this difficulty in sourcing these coins, only 295 collections have been put together. What's more, this trio of coins has been set alongside the GB 2007 Diamond Wedding Anniversary Miniature Stamp Sheets in perfect tribute to the Prince. Click here find out more >>
---
UK Prince Philip CERTIFIED BU £5 Set
As the perfect Prince Philip Set, this collection features three remarkable coins issued in celebration of HRH, including the 2017 70 Years of Service £5, the 2017 Platinum Wedding £5 and the brand new 2021 Prince Philip £5 – all available in superior Brilliant Uncirculated quality. A real collector's set, these coins pay a special tribute to the Prince who will forever be remembered as a treasured member of British royal history. Click here to find out more >>
---
UK 2021 Prince Philip Silver Proof £5
You can own the UK Prince Philip UK £5 in superior silver proof quality – but this opportunity is strictly limited to JUST 6,000 collectors worldwide. This coin has been expertly struck from superior .925 sterling silver to a flawless proof finish and features the new portrait of the late Duke of Edinburgh. Click here to find out more >>
---
Prince Philip BU £5 Historic Collection
The new Prince Philip BU £5 commemorative coin has been paired with a complete collection of 1921 dated coins. Each one was issued during the year that Prince Philip was born and, at 100 years old, they are in high demand with collectors right now. That means that they're incredibly difficult to source – so much so that only 295 collections have been put together. Click here to find out more >>
---
UK 2021 Prince Philip Silver Piedfort £5
However, you can own this stand-alone coin in an even more limited way – so limited that JUST 1,750 collectors worldwide will ever be able to own it.
Piedfort coins are prestige pieces, reserved strictly for the most important and royal occasions. These coins are amongst the most collectible coins around. They're struck to a perfect proof finish, twice the weight and thickness of a regular coin, and contain double the amount of .925 silver. Plus, their incredibly low mintages result in rapid sell-outs. Click here to find out more >>
---
Prince Philip Memorial Stamp and Silver Coin Collection
This collection is strictly limited to just 495 worldwide and is exclusive to The Westminster Collection. It features the four official Royal Mail In Memoriam Prince Philip Stamps alongside the brand new official UK £5 struck in superior .925 silver to a flawless proof quality. Thousands of Silver Proof £5 coins will be issued in memory of Prince Philip, so this is one of the most limited ways to own it. Click here to find out more >>
---
Prince Philip Silver £5 Historic Collection
Of the 6,000 Silver Proof Prince Philip £5 Coins that have been authorised, just 99 have been set aside to be included in this brand new Prince Philip Silver £5 Historic Collection. Each one has been struck to a superior proof finish with a frosted design showing the coin in beautiful detail. What's more, each coin has been set alongside a complete collection of 1921 dated coins issued during the year of Prince Philip's birth. Surely the perfect tribute to the Prince and his colourful life of achievements. Click here to find out more >>
---
UK 2021 Prince Philip 5oz Silver Proof Coin
This coin is available in a prestigious 5oz silver proof specification and has an edition limit of 750. It has been expertly struck by The Royal Mint from five full ounces of pure 99.9% silver to a flawless proof finish. What's more, the large 65mm diameter of the coin allows you to truly appreciate every minute detail of the new portrait of Prince Philip. Click here to find out more >>
---
UK 2021 Prince Philip Gold Proof £5
One of the rarest coin specifications issued in the Prince Philip range is the Gold Proof £5 coin. This coin has been expertly struck from superior 22 Carat Red Gold to a flawless proof finish and only 500 collectors worldwide will ever be able to own it, thanks to the low edition limit. Click here to find out more >>