Posts Tagged 'British history'
I am sure we have all dreamt of stumbling across a dusty old stamp collection or long forgotten silver coin secretly worth a small fortune hiding somewhere in the house.
Unfortunately I am yet to stumble across my fortune in the attic, but this dream recently came true for a grandmother from Hull when she found a 1644 Oxford Crown in her late grandfather's coin collection.
While clearing out her attic she found a shoebox of coins she had inherited from her grandfather decades ago. She initially offered the collection to her children, who rejected what they saw as 'worthless junk'.
She then considered binning her collection of relics, before making the decision to have the coins valued along with a number of other family heirlooms.
That's when she discovered that amongst her collection was the incredibly rare 1644 Charles I Oxford Silver Crown. This coin was struck for just one year and is considered by many numismatic experts to be one of the most beautiful British coins ever produced.
Struck in 1644, this crown was minted while the country was in the midst of a Civil War. The coin features a portrait of King Charles I on horseback placed against a fantastic rendition of the City of Oxford which was his headquarters during the English Civil War.
It is no wonder that this coin is so highly valued. It is incredibly rare, the design is one of the most intricate ever struck on a British coin and it marks one of the most significant moments in our nation's history – the English Civil War.
The historic coin is expected to reach in excess of £100,000 at auction and the owner plans to use the money to help her granddaughter, currently expecting her first child, to fund a house deposit.
I think it's time for me to have another dig around in the attic!
_______________________________________________________________________________________
If you're interested…
For those not planning on bidding in the auction for this exceptionally rare coin, we have a limited stock of just 36 Silver-plated replicas available of the beautiful 1644 Oxford Crown. Click here to find out more >>>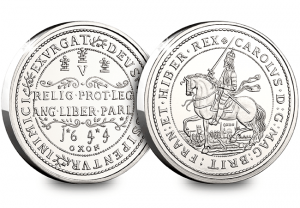 Get yours today –

personally signed by Private Pike actor, Ian Lavender.
Royal Mail has just revealed a new set of special stamps, which will feature beloved characters from classic British sitcom, Dad's Army.
Scheduled for release on 26 June 2018, the new stamps will feature eight best loved characters – the seven original members of the Walmington-on-Sea Home Guard, Captain Mainwaring, Sergeant Wilson, Lance Corporal Jones, Private Walker, Private Fraser, Private Godfrey and Private Pike, as well as lovable antagonist Chief Warden Hodges.
The stamps are Royal Mail's first ever dedicated British sitcom stamp issue – and on the 50th anniversary of the airing of the first episode, they couldn't have picked a more deserving programme.
Dad's Army is one of select group of shows that fully deserves its classic status. The comedy focused on a Home Guard platoon commanded by pompous bank manager Captain Mainwaring and his mild-mannered chief clerk, Sergeant Wilson, as they provide Walmington-on-Sea's last line of defence against the imminent Nazi invasion.
Drawn from their own wartime memories, writers Jimmy Perry and David Croft based the series partly on Perry's experiences in the Local Defence Volunteers at the age of 17 during the Second World War. His mother objected to him being out at night, which inspired the character of Pike.
And so when the actor who played Private Pike, Ian Lavender, agreed to sign 500 framed Dad's Army stamps, we were absolutely delighted.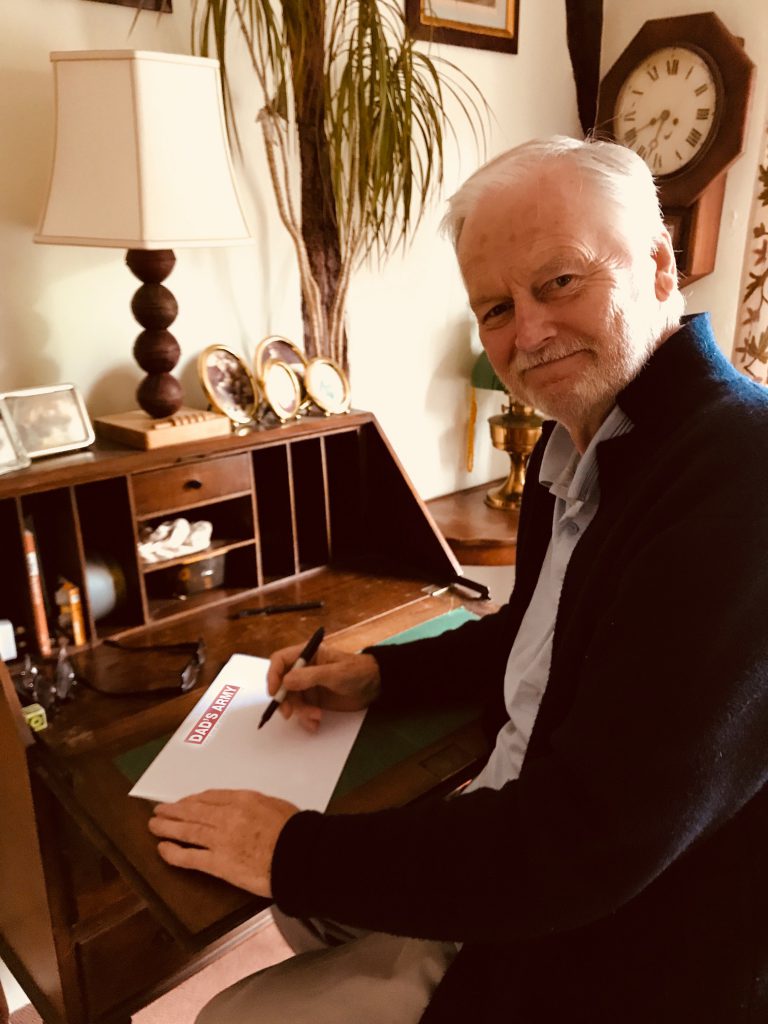 In 1968, aged just 22, Ian was cast as Private Frank Pike, the youngest member of the platoon. He appeared in the entire run of the series, and in the spinoff film released in 1971.
He revived the role of Private Pike in the 1983 BBC Radio sitcom It Sticks Out Half a Mile. The show was a radio sequel to Dad's Army, running for just one series. Ian has continued to be associated with Dad's Army, and even made a cameo appearance as Brigadier Pritchard in the 2016 Dad's Army film.
Here's your first look at the new stamps alongside some details about each one…
CAPTAIN MAINWARING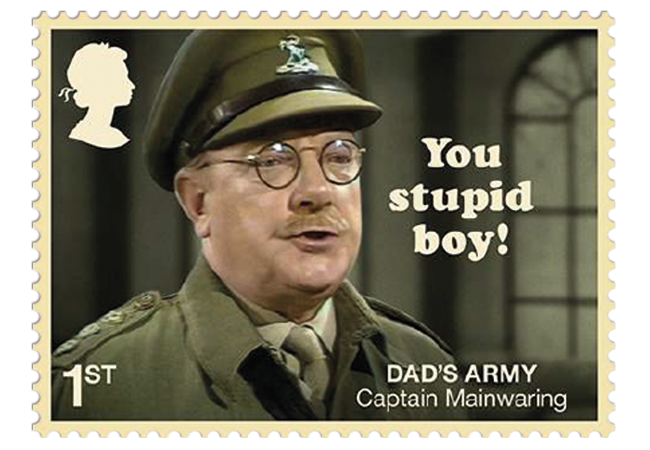 Played by Arthur Lowe. The pompous, if essentially brave and unerringly patriotic local bank manager, Mainwaring appointed himself leader of his town's contingent of Local Defence Volunteers. He had been a lieutenant in the First World War, but is embarrassed by the fact that he never saw combat, being sent to France only in 1919 after the Armistice and then part of the Army of Occupation in Germany.
SERGEANT WILSON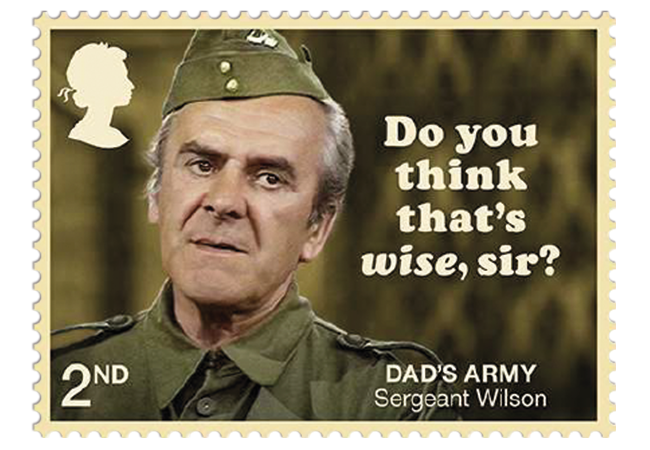 Played by John Le Mesurier, a diffident, upper-class chief bank clerk who would quietly question Mainwaring's judgement ("Do you think that's wise, Sir?"). Wilson actually had served as a Captain during the First World War, but he only reveals this in the final episode. He does not live with the Pike family but is implied to be in a relationship with the widowed Mrs Pike (and sometimes hinted to be Private Pike's father) although this is never explicitly stated.
LANCE CORPORAL JONES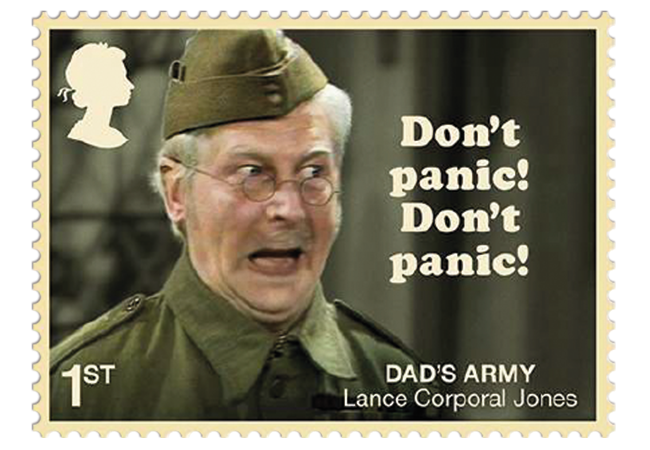 Played by Clive Dunn. The local butcher, born in 1870. Jones was an old campaigner who enlisted as a drummer boy at age 14 and participated, as a boy soldier, in the Gordon Relief Expedition of 1884–85 and, as a man soldier, in Kitchener's campaign in the Sudan in 1896–98. Jones also served during the Boer War and the Great War. He often suffers from the effects of malaria caught during one of his campaigns, and has to be calmed during his 'shudders'. Often seen as fastidious and old, he is the world's worst worrier and has a catch phrase of 'They don't like it up 'em!' when referencing any potential Nazi attack. Dunn was considerably younger than his character, being only 48 at the start of filming. This allowed him to take part in some of the more physical comedy of the show.
PRIVATE FRASER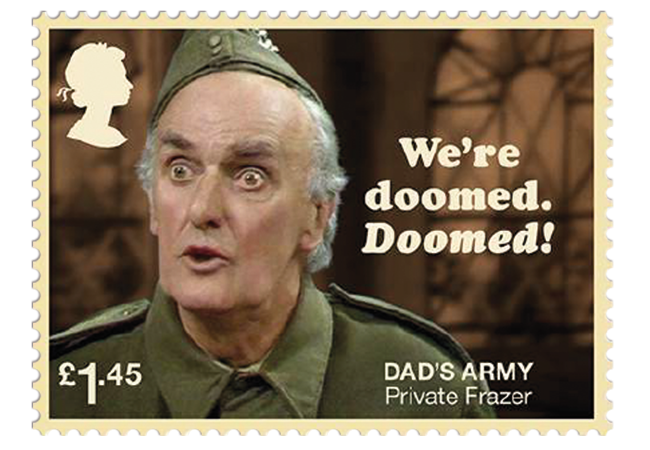 Played by John Laurie. A dour Scottish undertaker and a former Chief Petty Officer on HMS Defiant in the Royal Navy. He served at the Battle of Jutland as a ship's cook and also has a medal for having served on Shackleton's Antarctic expedition. Fraser Lived on the Isle of Mingulay. His catchphrase was "We're doomed. Doomed!"
PRIVATE WALKER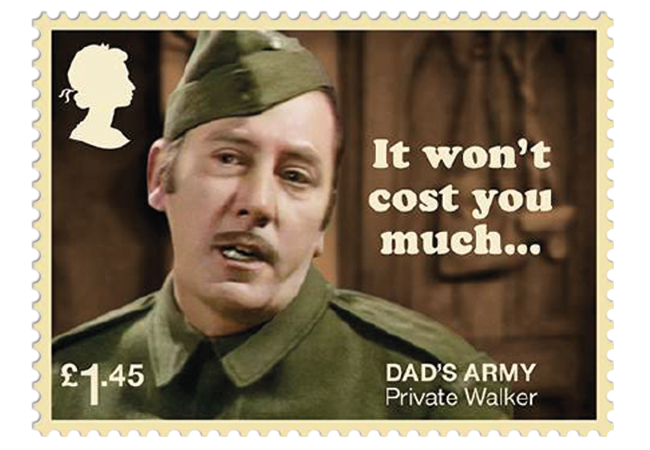 Played by James Beck. A black market spiv, Walker was one of only two able-bodied men of military age in Walmington-on-Sea's Home Guard (the other was Private Pike). Walker was not called up to the regular army because of an allergy to corned beef. Following Beck's death in 1973 Walker was cut out of the series.
PRIVATE GODFREY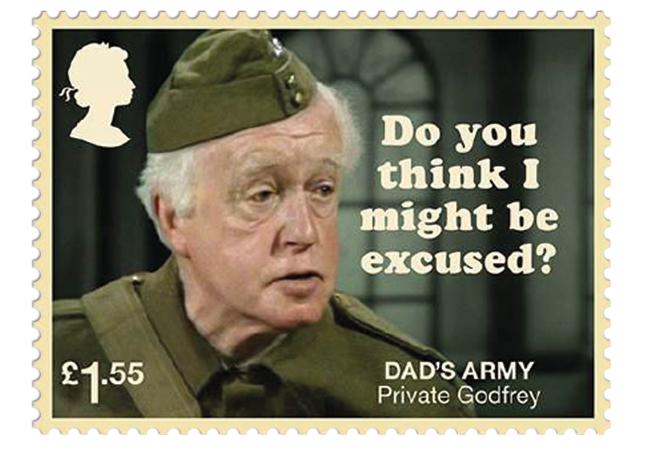 Played by Arnold Ridley. A retired shop assistant, Godfrey had worked at the Army & Navy Store in London. He lives in Walmington with his elderly sisters and serves as the platoon's medical orderly. He often gets "caught short" and needs to "be excused". A conscientious objector during the First World War, he was nevertheless awarded the Military Medal for heroic actions as a combat medic during the Battle of the Somme.
PRIVATE PIKE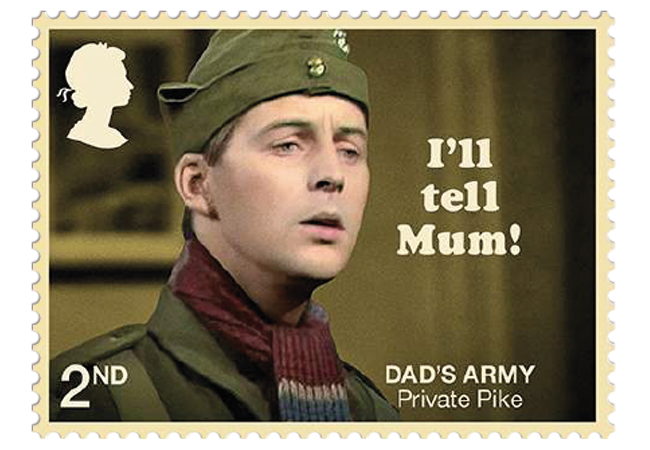 Played by Ian Lavender. The youngest of the platoon, a cosseted mother's boy, often wearing a thick scarf over his uniform to prevent illness and a frequent target for Mainwaring's derision ("You stupid boy!"). Pike is not called up to the regular army due to his rare blood group. He works for Mainwaring in his day job as an assistant bank clerk. He frequently addresses Sgt. Wilson as "Uncle Arthur".
CHIEF WARDEN HODGES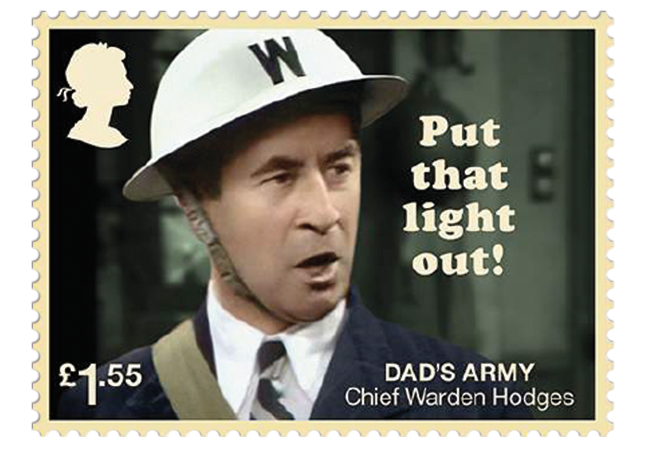 Played by Bill Pertwee. The platoon's major rival and nemesis, Mainwaring looks down on him as the local greengrocer and dislikes that Hodges saw active service in the Great War. As an Air Raid Precautions (ARP) Warden, he is always demanding that people "put that light out".
---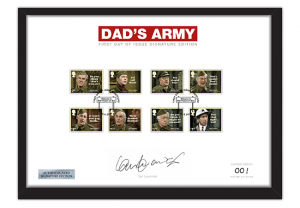 If you're interested…
You can reserve all of the new Dad's Army stamps now on a limited edition Framed Collector Card – hand-signed by actor Ian Lavender – Private Frank Pike himself!
While I was watching "Civilisations" on the Beeb last week they mentioned how the introduction of the Trade Dollar was the first step in globalisation – this got me thinking, so I made a cup of tea and looked into the history of the Trade Dollar and it truly is a fascinating tale.
Way back in the 16th Century, the first trading currency came to be because of the popularity of the silver Spanish dollar (better known as pieces of eight – yes those!) in China and they created the "Dragon Dollar" or "Silver Dragon" which were not only used in China, but also became the preferred currency for trade with their neighbours.
In the 19th Century, the Chinese were defeated in the First Opium War and forced to open their ports to foreign trade. The British merchants from The East India Company were now able to take advantage of the silk, porcelain spice and tea trade in the Orient.
The Rise of the British Trade Dollar
Now, with so many routes to trade it made sense for each country's traders to mint their own coins, from their own supplies of silver. BUT these new silver trade coins all had to be minted to the same specification as the famous Spanish Dollar weighing in at approximately 27g and minted in 0.900 silver. The trade dollar was truly born and trading was made easier for the world – hence the movement of goods (and people) became more prevalent and "globalisation" started.
Our British Trade Dollar was first minted from 1895 and designed by George William De Saulles – a British coin with an eastern feel, it was exclusively for use in the Far East. For the first time on a coin, it showed a helmet-wearing Britannia holding a trident and the British shield with a merchant ship in the background.
Although The East India Company had been trading since the early 1600s, the introduction of the British Trade Dollar secured them as the single most powerful economic force of its time – tea, silks, spices and so much more travelling across the world on their ships not only for Britain, but also the rest of the Empire and Commonwealth. Without the original version of this coin we would be waiting for a cup of tea for a very long time!
A 21st Century spin on a 19th Century coin
This year, The East India Company is launching a coin that has been faithfully inspired by the original British Trade Dollar – The East India Company 2018 Trade Dollar 1oz Silver Proof Coin features Britannia surrounded by an oriental pattern. The obverse for the first time, displays the Ian Rank-Broadley effigy of Her Majesty Queen Elizabeth II surrounded by an arabesque cartouche.
A Faithful nod in these modern times to the coin that started it all.
_____________________________________________________________________________________________________
If you're interested:
You can own the 2018 East India Company 1oz Silver Proof Trade Dollar, but you'll have to be quick as just 2,500 have been issued worldwide! Click here to secure yours now >>