Posts Tagged 'commemoraticve medal'
Commemorating Concorde's Final Flight
Have you ever dreamt of stepping into the world of supersonic aviation history? Well, I recently had the chance to turn that dream into reality as I embarked on a thrilling adventure to the Bristol Aerospace Museum. This journey wasn't just about wandering through exhibits, it was about commemorating the 20th anniversary of the final flight of the world-famous supersonic aircraft, Concorde.
I jumped at the opportunity to take our brand new Concorde commemoratives on board Concorde Alpha Foxtrot 216 G-BOAF.
On Board Concorde G-BOAF
As I set foot on the Concorde, I couldn't help but feel the weight of a lifelong dream coming true. The sleek lines, the aviation marvel that once ruled the skies—it was all there beneath my feet. But this adventure wasn't just about being on board; it was about delving into the heart of Concorde's legacy.
The highlight of my day? An exclusive interview with none other than Concorde's Chief Engineer, John Britton. Imagine having the opportunity to pick the brain of the mastermind behind this supersonic aircraft.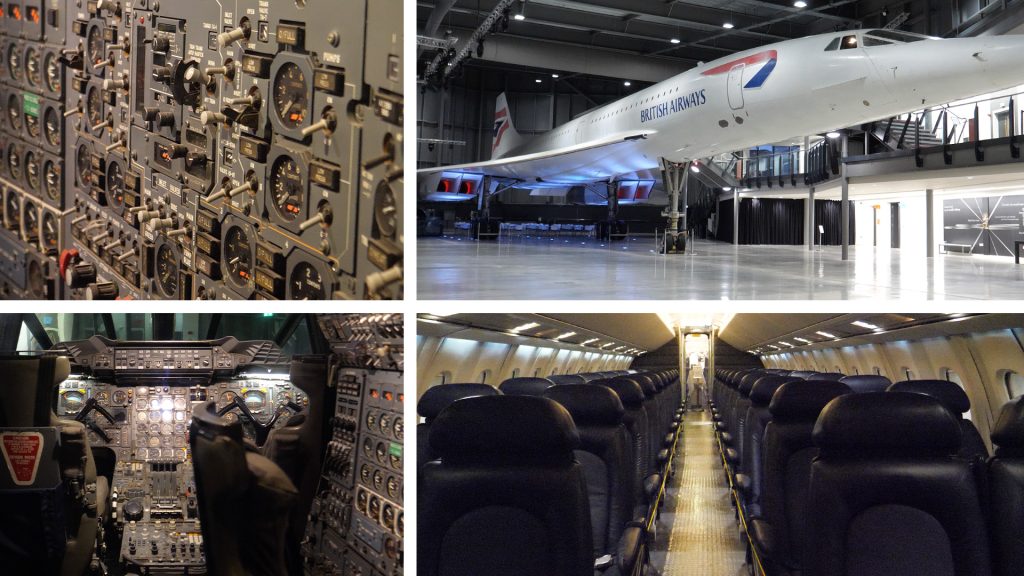 Behind the Scenes: Exclusive Interview with Chief Engineer John Britton
The stories, the facts, and the rich history he shared with me were nothing short of awe-inspiring. Britton's insights transported me back in time, painting a vivid picture of Concorde's glory days. From the engineering marvels that defined its success to the intricate details of its final flight.
As I listened to Britton, I couldn't help but marvel at John's passion and engineering brilliance that helped bring Concorde to life.
Leaving the museum that day, I carried with me not just the commemoratives that had traveled on Concorde's final journey but a newfound appreciation for the legacy of supersonic travel. The Bristol Aerospace Museum had transformed a casual visit into a journey through time.
I urge you to step into the world of Bristol Aerospace Museum and witness this iconic aircraft for yourself.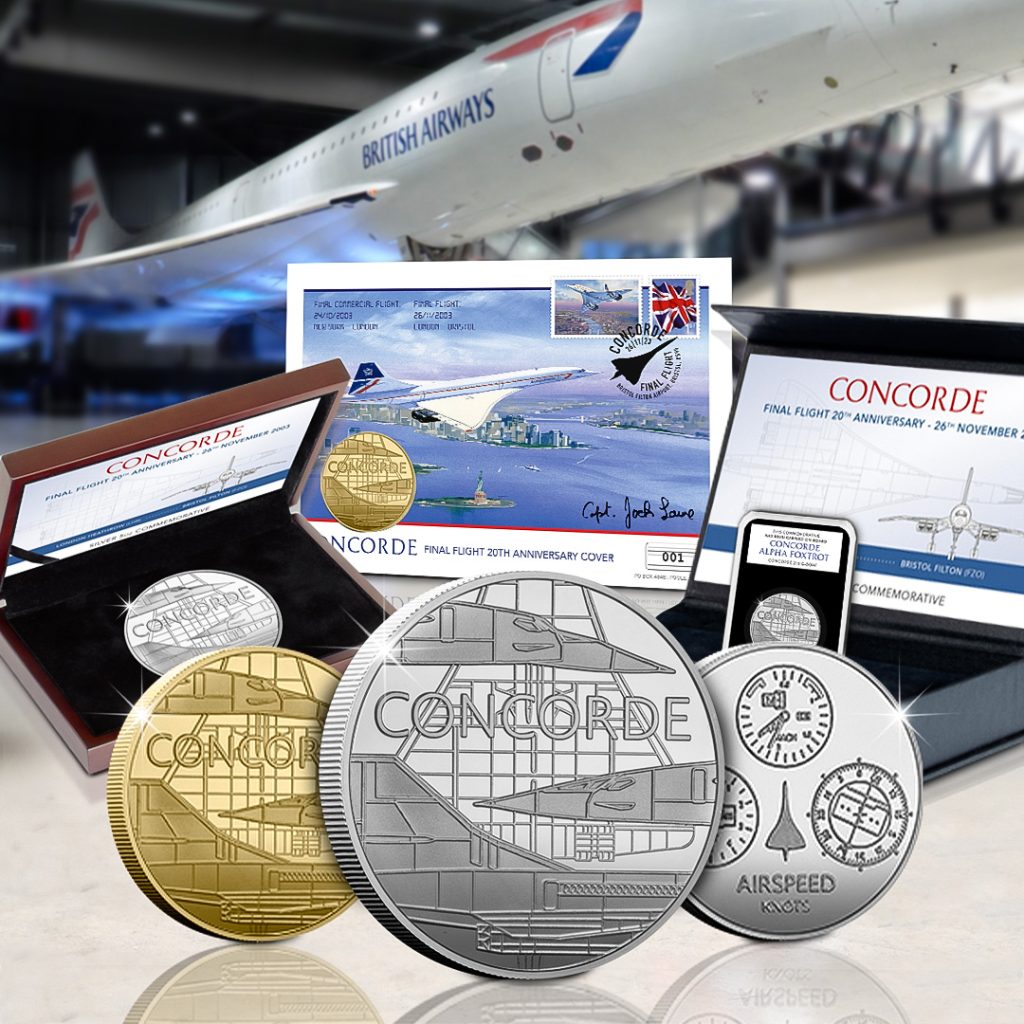 Click here to view the commemoratives I took on board Concorde Alpha Foxtrot 216 G-BOAF and other commemoratives celebrating Concorde >>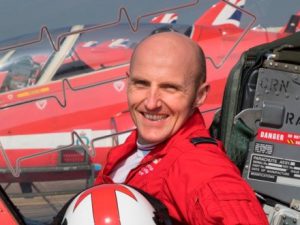 This year, the Red Arrows will embark on a special display season – not only wowing crowds up and down the UK with their dynamic displays, but also painting the skies of North America red, white, and blue during their largest EVER tour of the US and Canada.
And in the run up to the first display over the pond,we wanted to find out all things Red Arrows from the team themselves and Squadron Leader Steve Morris, aka. Red 5, was only too happy to give us an extensive interview. Currently in his first season on his return to the team, Red 5 has told us how to become a Red Arrows pilot and what it's really like to be part of the world renowned Red Arrows…
---
How long does it take to prepare the display and train to public display level?
We start our winter training in October, and the team's development is like building blocks – we don't display as a 9 straight away. We practice as 3 aircraft together, and then build up to 4, and then 5 – that's 'Enid'. Reds 6 through 9, the back 4, will be doing the same. It's only in February that we'll put the 2 sections together. So it takes 4 to 5 months before we're there as a 9, and then another 2 and a bit months of us flying as 9 until we get up to the standard that we would expect to be for the display season.
What happens if one pilot is unable to take part in the display? Do you have reserve pilots?
We would display as an 8. The only caveat is if the Team Leader (Red 1) is unavailable, we can't display. At some sites, Red 6, 7, 8 and 9 (the back 4) might go and do their second half performance where they do their hide speed passes, but we wouldn't display as a 9. We practice as an 8 in case anyone is ever missing, and we try and keep it as symmetrical as possible.

'we get to meet so many extraordinary people'

What's the best thing about being a Red Arrow?
For me, it's the ground interactions that you have with people. Earlier this year, when we were operating from Farnborough, we bumped into a 90-year old Dakota pilot who was there to be with his grandson, who is now a fast jet pilot, and he came over to us and had a cup of tea and a chat – we get to meet so many extraordinary people that you would never meet if you weren't doing this job.
How does the Hawk T1 compare to other fast jets you've flown?
It's a bit like a sports car, but think track-day kit car. There isn't much on the inside in terms of modern technology, but let's not forget the jet's 40 years old! There aren't things like a moving map, synthetic weapons and head-up display, so if you compare it to the difference between an Aston Martin and a Westfield Kit Car, it's probably actually more fun flying the Hawk, but there isn't as much avionics inside the cockpit.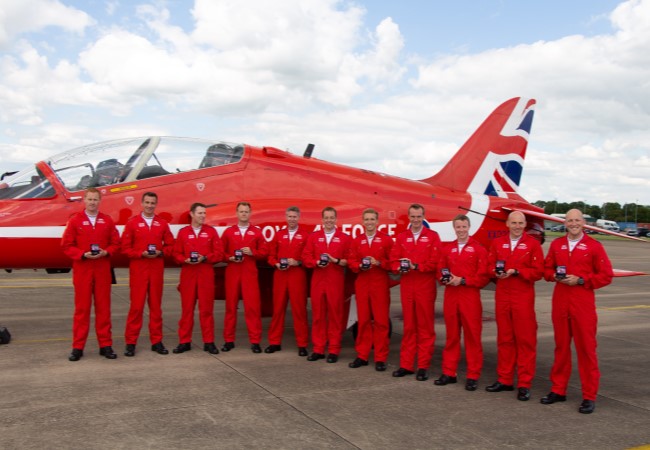 What is the first manoeuvre you learn as a Red Arrows?
You start with what are our 'basics' of flying. I know it sounds odd, but as everything is called by the Team Leader, you need to work on everything, so start with left and right bends. Then you progress to do a standard loop, in one of our formation references which is called 'Battle', but you're a little bit further away from the nearest airplane than what the public will see when we display – which is a good thing when you start practicing! Then you'll move on to more challenging loops and rolls, and then you start to build it up, getting closer adding more airplanes on. Then, finally, you start to change shapes, moving from one formation to another.
What is the Red Arrows selection process like, and how were you selected?
Everyone who's on the team has to apply to be on the team, so we're all volunteers. In order to apply you have to have 1500 fast jet hours, you have to have been assessed as 'above-average', and you have to have done an operational tour. We get about 30 applicants each year, shortlisted down to about 9 – based on a flying record that we all have as pilots – and then for a week-long period the 9 shortlisted candidates come and spend a week with us, normally out in Cyprus or Greece where they are asked to perform a flying test, which includes loops and rolls. There's also a formal interview, and a PR interview – where you're put in front of a camera. But the biggest thing by far is peer assessment – how do you fit in? – not just with the 9 display pilots, but we have 130 engineers and display staff. You need to fit in with everyone. You could be the best pilot in the world but if you're going to upset the team dynamic slightly, you're not right for the Red Arrows.
---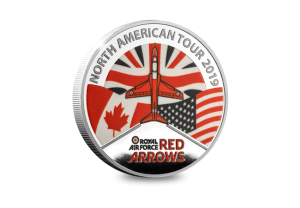 If you are interested…
You can now own the Official Red Arrows North America Tour Medal, the very same that the Red Arrows own themselves! Click here to find out more >>
With the Battle of Waterloo reaching its 200th Anniversary this year, I have come across some fascinating commemoratives which have been issued to mark the historic event. However, there was one in particular that really caught my eye and has an intriguing story behind it…
It all started in 1815 when The Royal Mint was commissioned by the Duke of Wellington to strike a medal honouring the leaders of the allied nations following the Battle of Waterloo.
The medal was to be of the grandest scale, finished with outstanding detail – a task perfectly suited to Royal Mint Chief Medalist Bendetto Pistrucci – whose proposed design was chosen from a shortlist.
Pistrucci was a masterful engraver with a mercurial personality. He had already completed a stunning design of St George and the Dragon (which famously still graces the Sovereign today). His design for the medal looked set to be one of the greatest ever undertaken…
But, there was a problem
Pistrucci was under the impression that Master of the Mint, William Wellsley-Pole, had promised him the position of Chief Engraver at the Royal Mint. However, as a result of politics and infighting at the Mint, it became apparent his ambitions would never be fulfilled.
In fact he soon recognised that once he had completed the Waterloo medal, The Royal Mint was sure to cut all ties with him. Determined not to let this happen, Pistrucci took his time, and prolonged the project – by 30 years.
By the time the dies were completed, all the intended recipients were dead, except for Wellington himself.
The end result was one of the most magnificent pieces of medallic art ever seen, but this wasn't the end of the story. Pistrucci's dies were so large and complicated that they proved impossible to harden and the medal that had taken three decades to complete was never even struck.
So the ill-fated Waterloo medal remains one of the most fascinating chapters in the history of The Royal Mint, and is still talked about to this day – despite the fact it never even made it to production!
---
Now the medal has been made…


Using the latest minting technology, a small batch of just 495 replica medals have been made for the anniversary year of The Battle of Waterloo. We still have some available if you're interested, click here for details.