Posts Tagged 'Silver-plated medal'

The Beano turns 80 this year. I'll just let that sink in.
I still remember running down to my old corner shop every Wednesday after school to pick up the brand new Beano comic for 2p (the mind boggles!), then running home to try and get a read of the first few pages before mum cleared the table for dinner.
Of all the Beano characters, there was one character I looked forward to reading about more than any other – my favourite mischief maker – Dennis the Menace.
And that's why I have been so excited over the last few months to be able to work personally on an exclusive and highly collectable Beano Commemorative – especially as this year the comic turns 80.
Brand new never before seen Dennis illustration
As a special privilege for their 80th birthday, Beano have given us unparalleled permission to create some brand new Beano artwork.
That's because, for the very first time, Dennis the Menace has been brought to life on a brand new and exclusive Silver-Plated Commemorative by actual Beano artist – Wayne Thompson.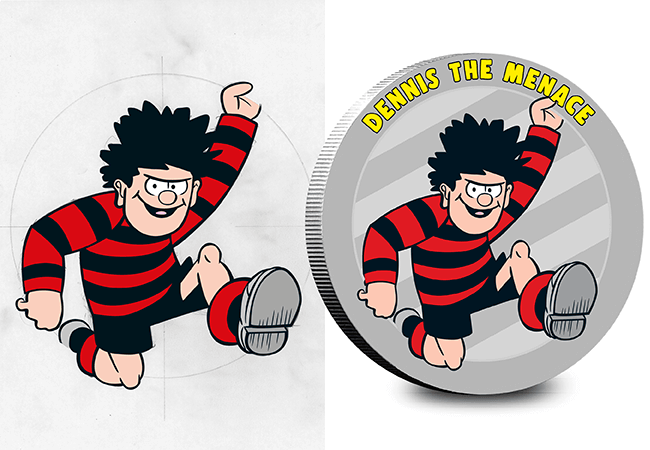 As you can see, the medal is a perfect limited edition tribute to Dennis in his classic red and black sweater that you, I, and many generations of children have grown up to love.
And as I mentioned, the Dennis the Menace illustration has been specially commissioned exclusively for Mint Editions. No one has ever seen it before and it has come straight from The Beano studios, direct to us from their artist – Wayne Thompson.
A whole collection of beloved Beano favourites
Just as in the comics, Dennis is never far from his trusted companion Gnasher, who is also part of the collection of new medals featuring beloved Beano favourites.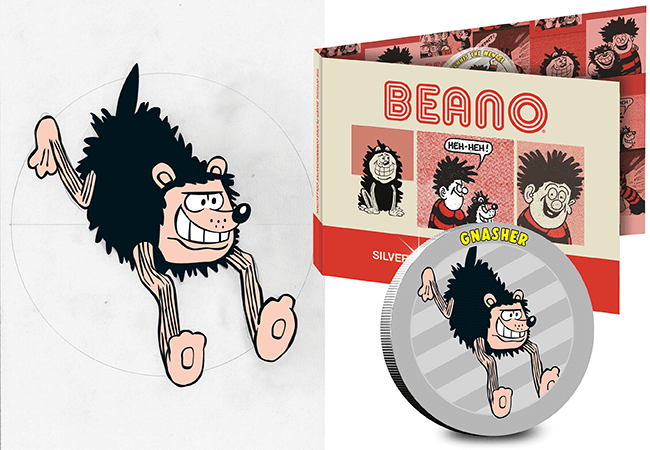 The complete collection of eight medals also includes Bananaman, Plug, Minnie the Minx, Roger the Dodger, Danny and Pieface – and each Silver-Plated Medals all feature brand new never-before-seen illustrations from Wayne.
---
Your invitation to SAVE £10.00 when you order today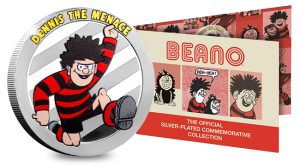 Today, I would like to personally invite you to start your collection with the Dennis the Menace Silver-Plated Medal – for JUST £14.99… that's an exclusive £10.00 SAVING. What's more, alongside your second delivery you'll also receive a free collecting pack to house and protect each Silver-Plated Medal.


Last month I had the honour of meeting all 9 Red Arrows pilots at the Bournemouth Air Festival to present them with a very special gift…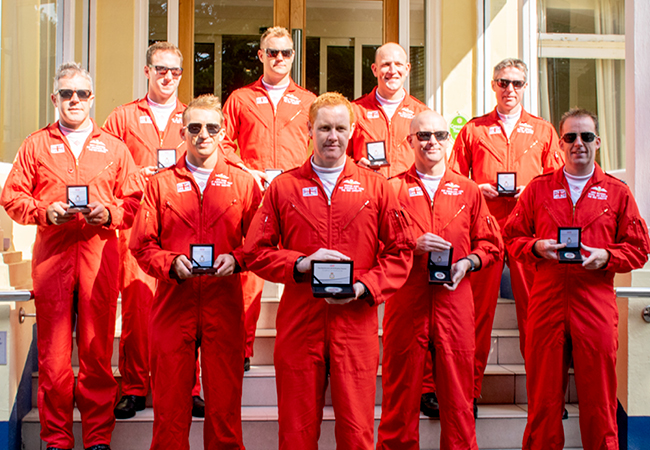 A lifelong fan of the Reds, I was delighted to be given the chance of personally presenting them with the Official 2018 Red Arrows Signature Medal.
Struck in 5oz of Pure 999/1000 Silver, the medal features the intricate engravings of all 9 Red Arrows pilots' signatures, and has been fully endorsed by the team.
What's more, their medal is one of JUST 450 that have been issued for worldwide distribution, with the last number in that edition being presented to the Reds.
And so they didn't have to share, I also brought along an extra 9 Official 2018 Red Arrows Silver 1oz Medals, for each of the team to take home.
Each signature on the 5oz Silver Medal is meticulously engraved above their team number. To complete the piece, each member's iconic Hawk jet with the RAF roundel at the centre is highlighted in vivid colour, surrounded by an altimeter inspired pattern – the most fitting piece to present to the Reds today.
---
If you're interested…
You have the opportunity to own the Official Red Arrows Signature 5oz Silver Medal. This is a rare chance to own an item so closely and personally linked to the Red Arrows themselves and we only have a few remaining so you'll have to act quickly to secure yours. Click here for more information and to order yours now >>>