The Avro Lancaster is one of the most well-known heavy bombers that participated in the Second World War, and is iconic when thinking about the contribution it had towards the Allies achieving victory over tyranny and persecution.
Out of the thousands that were built during wartime, only two Avro Lancaster's exist today that are still airworthy – one of which is the Avro Lancaster PA474.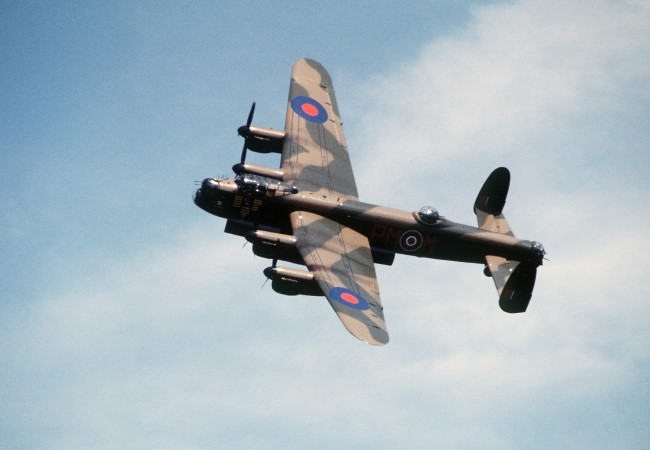 The Avro Lancaster PA474 was built in 1945 at the Vickers Armstrong Factory at Harwarden Airfield in Chester, and was originally used for strategic bombings in the Far East. After the war ended when Japan surrendered, the Lancaster PA474 was assigned to Photographic Reconnaissance duties in Africa, before being used as a pilotless drone, and even appeared in two iconic films – The Guns of Navarone and Operation Crossbow.
In 1973, this Lancaster was restored back to wartime standard and joined the Battle of Britain Memorial Flight at RAF Coningsby (BBMF). The BBMF's main purpose is to maintain the priceless artefacts of our national heritage in airworthy condition, in order to promote the modern day Air Force and to inspire future generations.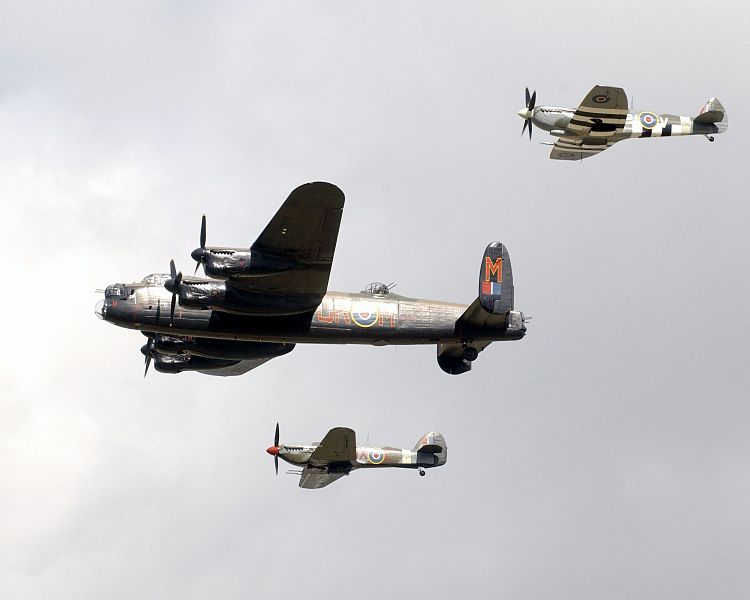 In 2015, the Avro Lancaster PA474 had an in-flight engine fire. The aluminium engine casing from this was then melted down, and sculpted into models of Lancaster planes, which you can now own in this historic commemorative…
The BRAND NEW Avro Lancaster Provenance Medal
Today, a small number of collectors have the chance to own a BRAND NEW Commemorative featuring an ACTUAL piece of the Avro Lancaster PA474 that flew during the war.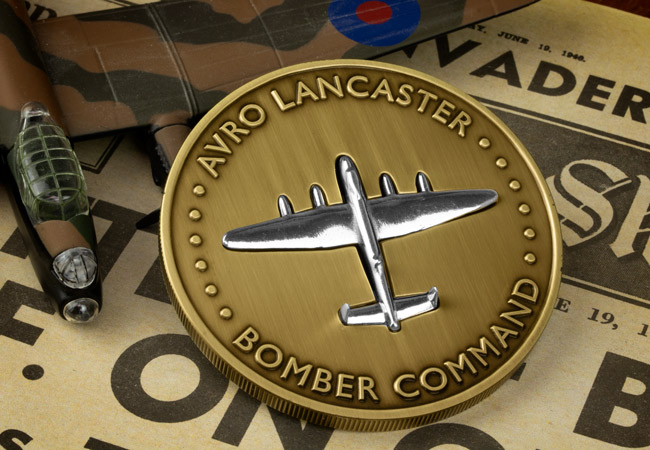 This incredible commemorative features an original piece of Avro Lancaster, hand-sculpted into the shape of a Lancaster and precision set into the deluxe SUPERSIZE 70mm Medal.
Just 250 lucky collectors will have the chance to own this special commemorative. The last Provenance medal featuring a piece of Hurricane SOLD OUT in a matter of weeks.
Click here to secure your Lancaster Commemorative while you still can!
***UPDATE***
Following the Royal Proclamations on the 8th November 2019, The Royal Mint have now confirmed there will be a Music Legends coin series!
This is exciting news for music fans and collectors alike. It's safe to assume stage legends Queen will be part of this series, but who else would you like to see on a Music Legends coin?
Let us know in the comments below and sign up for updates at the bottom of the blog!
By signing up we'll make sure you're the first know any updates about these new coins, including when they're being launched. So what are you waiting for?
---
Royal Proclamations issued on 8th November 2019 confirm that two icons of British culture will be honoured next year on UK coins – rock legends of the stage, Queen, and spy of the silver screen, James Bond.
It is unknown yet exactly when we will be able to snap up these new issues, but we do know the coins will be 2020 dated so we will be on the lookout from the New Year…
"I won't be a rock star. I will be a legend" – Freddie Mercury
And legends they did become. It's safe to say renowned rock band Queen have been inspiring millions across the globe since they exploded on to the British music scene in 1970 – you'd be hard-pressed to find someone who doesn't recognise the opening rift of Another One Bites the Dust.
Known for hits such as We Will Rock You, Bohemian Rhapsody and Don't Stop Me Now, Queen's pioneering, creative and alternative approaches to music making proved to the world that music has no bounds.
Their status as icons in the British music industry was sealed in 1990 when they received the Brit Award for Outstanding Contribution to British Music. Following this they were then inducted into the Rock and Roll Hall of Fame in 2001 and in 2018 were presented with the Grammy Lifetime Achievement Award.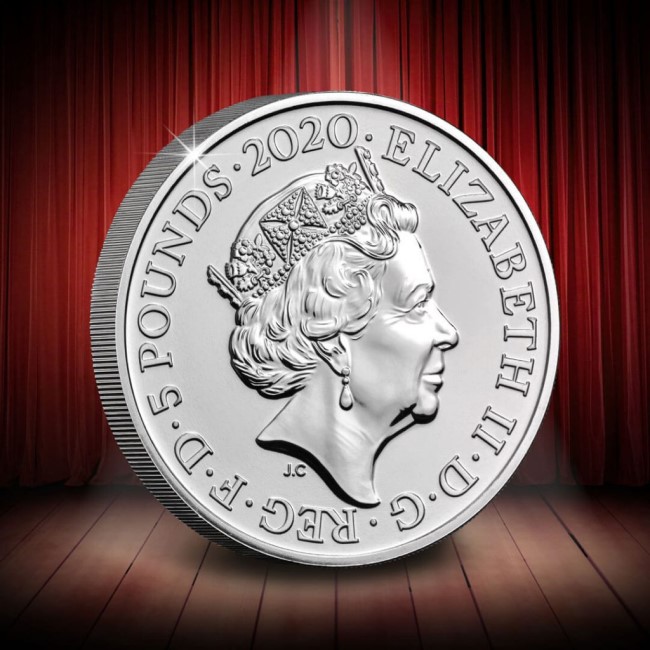 And now, their lasting legacy is going to be captured on a commemorative UK coin – the first band to ever feature on a UK coin!
The Royal Proclamation confirms there will be various specifications available, including a £5 base metal coin and a variety of precious metal versions. All coins will bear a design depicting a keyboard, drum, bass and electric guitar accompanied by a microphone and the inscription "QUEEN". What's more, a special two pound denomination silver coin will feature the edge inscription "MERCURY · MAY · TAYLOR · DEACON ·"
Bond, James Bond
Created by Ian Fleming in 1953, James Bond – or better known by his MI6 codename 007 – will be returning in the hotly-anticipated 25th Bond film that was revealed recently to be called No Time To Die.
The Bond franchise is the longest running film series of all time, grossing nearly $7 billion to date for its production company, Eon. Overall it has grown to become the fourth-highest-grossing film series ever, and has amassed five Academy Awards along the way too.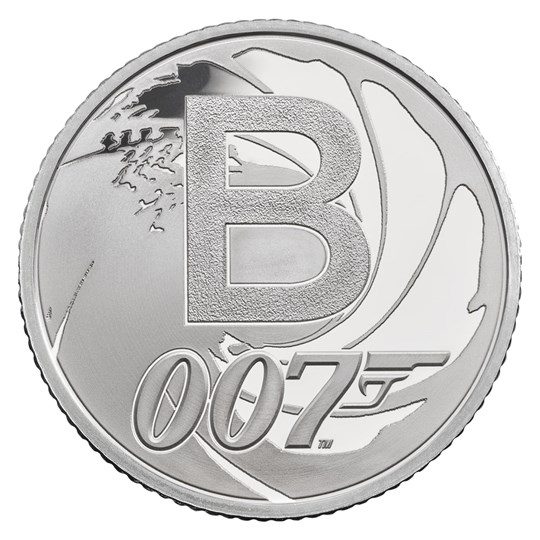 The secret agent has been portrayed by seven actors, and is perhaps best known for his suave manner, his penchant for martinis (shaken, not stirred) and the gadgets and cars supplied by Q branch.
Speaking of cars, the Royal Proclamation confirms the design of the Bond coin will feature the 007 logo and a depiction of his car – fingers crossed for a classic Aston Martin!
It also looks like this commemorative Bond coin will be issued in a variety of precious metal specifications. The smallest denomination will be a ten pound silver coin, with an impressive diameter of 65mm to truly appreciate what is sure to be a spectacular design.
---
Register your interest
Both Queen and Bond have an unrivalled cult following with leagues of fans worldwide. So, I expect these new commemorative issues to be amongst the most anticipated new issues in 2020, and as such will be in high demand!
If you want to be kept up to date and be the first to know when these coins are available then simply register your interest below and we'll email you as soon as we have more information.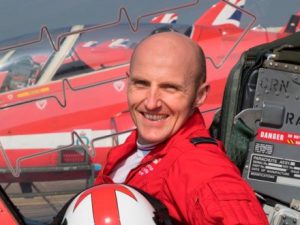 This year, the Red Arrows will embark on a special display season – not only wowing crowds up and down the UK with their dynamic displays, but also painting the skies of North America red, white, and blue during their largest EVER tour of the US and Canada.
And in the run up to the first display over the pond,we wanted to find out all things Red Arrows from the team themselves and Squadron Leader Steve Morris, aka. Red 5, was only too happy to give us an extensive interview. Currently in his first season on his return to the team, Red 5 has told us how to become a Red Arrows pilot and what it's really like to be part of the world renowned Red Arrows…
---
How long does it take to prepare the display and train to public display level?
We start our winter training in October, and the team's development is like building blocks – we don't display as a 9 straight away. We practice as 3 aircraft together, and then build up to 4, and then 5 – that's 'Enid'. Reds 6 through 9, the back 4, will be doing the same. It's only in February that we'll put the 2 sections together. So it takes 4 to 5 months before we're there as a 9, and then another 2 and a bit months of us flying as 9 until we get up to the standard that we would expect to be for the display season.
What happens if one pilot is unable to take part in the display? Do you have reserve pilots?
We would display as an 8. The only caveat is if the Team Leader (Red 1) is unavailable, we can't display. At some sites, Red 6, 7, 8 and 9 (the back 4) might go and do their second half performance where they do their hide speed passes, but we wouldn't display as a 9. We practice as an 8 in case anyone is ever missing, and we try and keep it as symmetrical as possible.

'we get to meet so many extraordinary people'

What's the best thing about being a Red Arrow?
For me, it's the ground interactions that you have with people. Earlier this year, when we were operating from Farnborough, we bumped into a 90-year old Dakota pilot who was there to be with his grandson, who is now a fast jet pilot, and he came over to us and had a cup of tea and a chat – we get to meet so many extraordinary people that you would never meet if you weren't doing this job.
How does the Hawk T1 compare to other fast jets you've flown?
It's a bit like a sports car, but think track-day kit car. There isn't much on the inside in terms of modern technology, but let's not forget the jet's 40 years old! There aren't things like a moving map, synthetic weapons and head-up display, so if you compare it to the difference between an Aston Martin and a Westfield Kit Car, it's probably actually more fun flying the Hawk, but there isn't as much avionics inside the cockpit.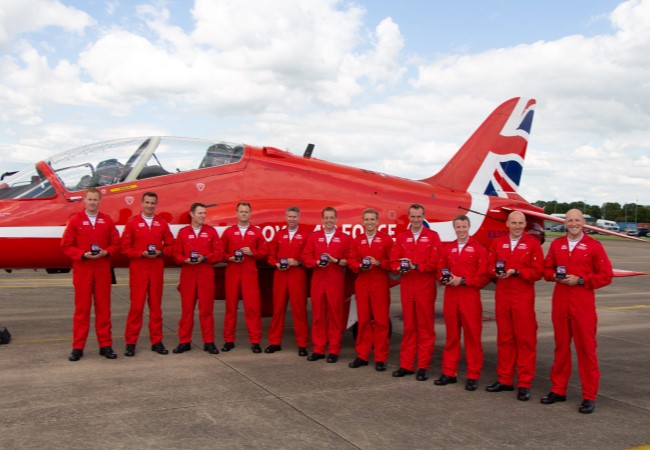 What is the first manoeuvre you learn as a Red Arrows?
You start with what are our 'basics' of flying. I know it sounds odd, but as everything is called by the Team Leader, you need to work on everything, so start with left and right bends. Then you progress to do a standard loop, in one of our formation references which is called 'Battle', but you're a little bit further away from the nearest airplane than what the public will see when we display – which is a good thing when you start practicing! Then you'll move on to more challenging loops and rolls, and then you start to build it up, getting closer adding more airplanes on. Then, finally, you start to change shapes, moving from one formation to another.
What is the Red Arrows selection process like, and how were you selected?
Everyone who's on the team has to apply to be on the team, so we're all volunteers. In order to apply you have to have 1500 fast jet hours, you have to have been assessed as 'above-average', and you have to have done an operational tour. We get about 30 applicants each year, shortlisted down to about 9 – based on a flying record that we all have as pilots – and then for a week-long period the 9 shortlisted candidates come and spend a week with us, normally out in Cyprus or Greece where they are asked to perform a flying test, which includes loops and rolls. There's also a formal interview, and a PR interview – where you're put in front of a camera. But the biggest thing by far is peer assessment – how do you fit in? – not just with the 9 display pilots, but we have 130 engineers and display staff. You need to fit in with everyone. You could be the best pilot in the world but if you're going to upset the team dynamic slightly, you're not right for the Red Arrows.
---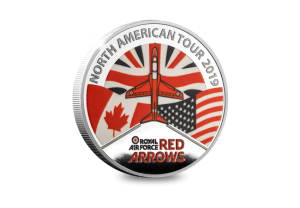 If you are interested…
You can now own the Official Red Arrows North America Tour Medal, the very same that the Red Arrows own themselves! Click here to find out more >>