Posts Tagged 'Commemorative Medals'
On the 8th September 1981 over 9 million people sat down at their televisions to watch a brand new show called 'Only Fools and Horses'. Little did we know that this show would one day become one of the top British television programmes of all-time.
Over a total of 10 years, 7 series, 64 episodes and 16 Christmas specials we followed the trials and tribulations of ambitious market trader Derek 'Del Boy' Trotter (played by David Jason) and his idealistic younger brother Rodney Trotter (played by Nicholas Lyndhurst) in their attempts to get rich! Supported by a cast of colourful characters including Grandad, Trigger, Boycie and Uncle Albert.
This time next year we'll be millionaires…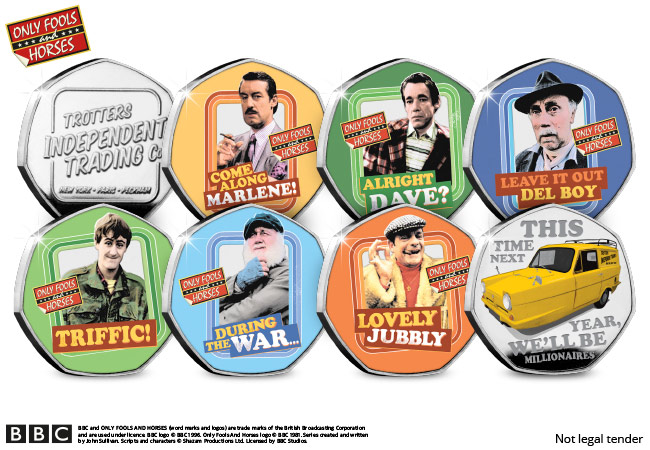 No other TV show has influenced British culture as much. Critically and popularly acclaimed, the series received numerous awards. It was voted Britain's Best Sitcom in 2004 and in a BBC poll Del Boy was ranked fourth on their list of the 100 Greatest TV Characters.
Its success spawned a successful spin-off series, 'The Green Green Grass,' a Sport Relief special episode guest starring David Beckham, and even a musical adaptation of the show was created which launched at the Theatre Royal Haymarket in London's West End!
The final episode in which the Trotters finally became millionaires was watched by 24.3 million viewers and holds the record for the highest UK audience for a sitcom episode.
So to celebrate the 40th anniversary of one of Britain's greatest TV shows a number of brand new officially licensed Only Fools and Horses Commemoratives have been released… 'lovely jubbly'!
---
'Triffic' BRAND NEW Only Fools and Horses Commemorative Set
Officially licensed by the BBC each commemorative in this set has been struck to a proof-like finish and features a design of some of the most popular characters from the programme; including, Del Boy, Rodney Trotter, Boycie, Trigger, Grandad and Uncle Albert.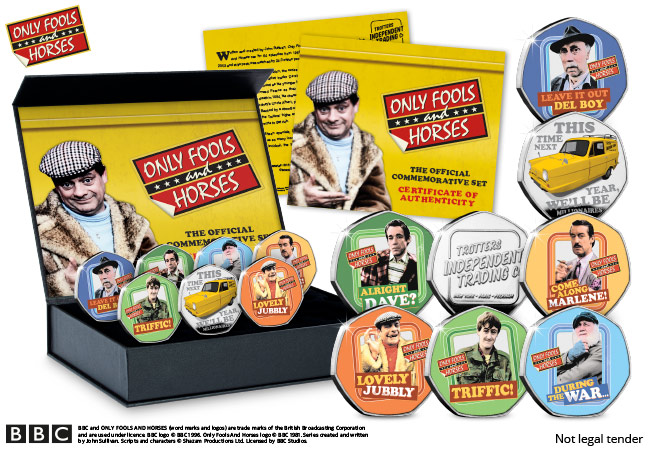 Limited to just 9,995 collectors worldwide, this is one of the only ways you can own all 7 commemoratives. They will arrive protectively sealed in an official presentation pack.
This complete set is a MUST-HAVE for any Only Fools and Horses Fan and is available for your collection today for JUST £39.99 (+p&p). Click here to secure yours >>
---
The Only Fools and Horses SUPERSIZE Commemorative!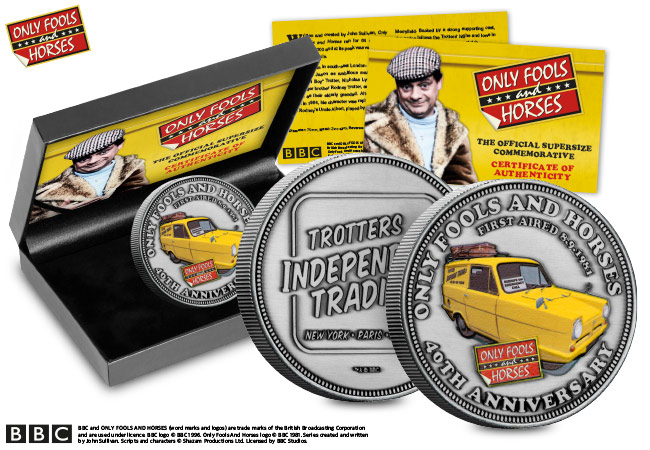 This NEW Supersize Only Fools and Horses Commemorative has been expertly finished in antique silver and features a most intricate design of Britain's most beloved three-wheel car – the Reliant Regal! It has then been carefully finished with the addition of vivid colour – to really bring the 'Trotters Independent Trading Co.' car to life!
But, JUST 995 will be released for collectors worldwide! That makes it 10 TIMES more limited than the complete commemorative set and therefore one of the most limited ways in which you can own a commemorative for the 40th Anniversary.
Arriving in a Deluxe Presentation Case with a Certificate of Authenticity, uniquely numbered with your place in the edition limit, this is the perfect way to remember such an iconic show. Click here to secure your SUPERSIZE Only Fools and Horses Commemorative now >>
---
Don't miss out. As Del Boy would say, 'He who dares, wins! He who hesitates…don't.'
'Bonjour.'

2018 marks 100 years since the day the Allies of World War I and Germany signed an armistice for the cessation of all hostilities on the Western Front. This took effect on the eleventh hour of the eleventh day of the eleventh month of 1918.
For this special centenary year we have worked closely with The Royal British Legion, including five veterans from Bravo 22 Company, as well as numismatic artist Michael Guilfoyle, to design a poignant Armistice Commemorative Medal for the Centenary.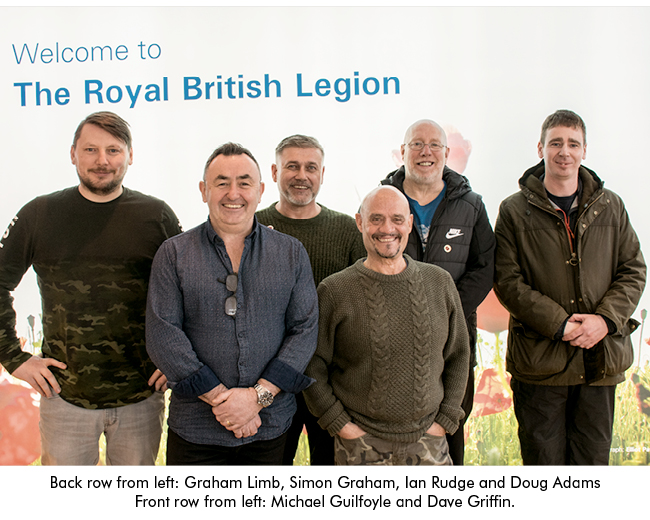 ---
Bravo 22 Company
Bravo 22 Company, which is made possible by The Royal British Legion and The Drive Project, has been successfully running theatre and art projects across the UK since 2011.
The projects are open to all members of the Armed Forces Community, including serving personnel, veterans and their family members and are designed to improve self-esteem, confidence and motivation, as well as help individuals along their paths to recovery.
---
The design process
The design process began with a creative workshop led by numismatic artist Michael Guilfoyle, at the Legion's Pop In centre in Bristol. Five alumni from Bravo 22 Company were invited to join the workshop, all of whom have served in the Armed Forces. The participants were encouraged to draw on their experiences in the military to create a fitting tribute for the Armistice 100 year centenary anniversary.
Mike started the session with an introduction to medal design and explained the process from the initial ideas stage through to final production. Coins and medals generally offer a relatively small canvas to the artist, so Mike explained the importance of using a simple composition to create a strong and impactful design.
To generate some key themes, Mike had everyone write down words they associated with the First World War and Armistice. These were then used to inspire the visual design stage, where everyone began to sketch ideas.
The rest of the workshop was spent developing the rough sketches into more refined ideas.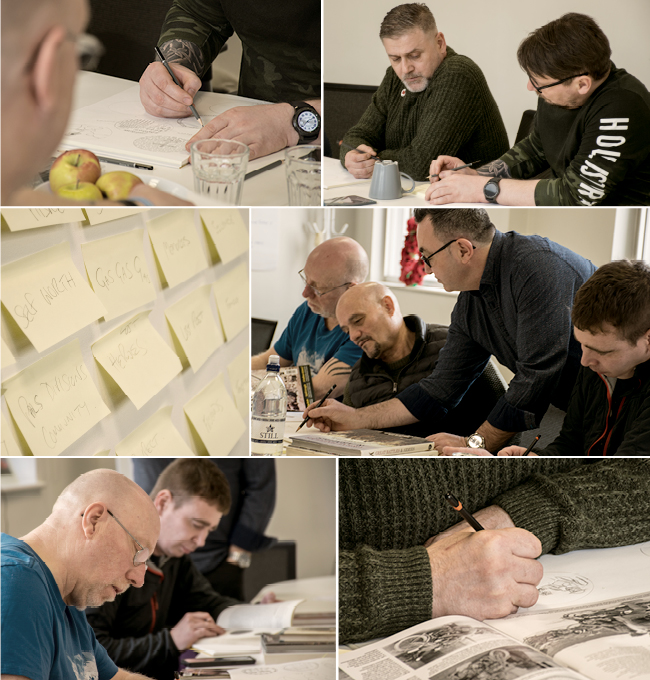 ---
The finished design
Taking inspiration from the original designs of the veterans, Mike was able to create the striking and poignant designs that feature on the medal.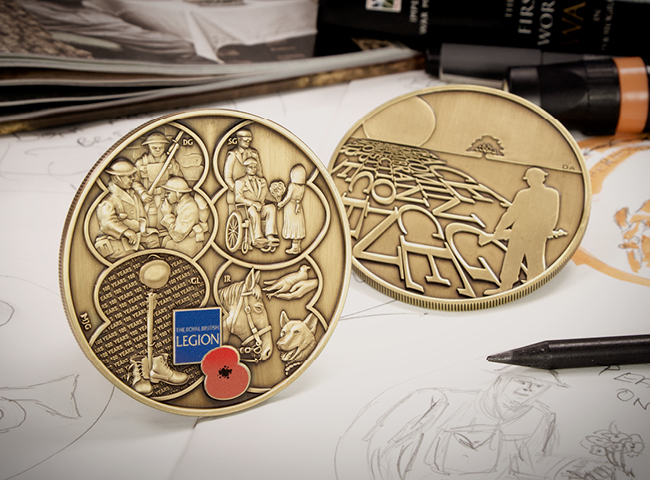 ---
If you're interested:
The Royal British Legion 2018 Armistice Medal is available to own today. Due to its significance, the medal has been issued in partnership with The Royal British Legion and Bravo 22 Company. If you choose to own one, we will ensure a donation is made to them on your behalf.