Posts Tagged 'Commemorative'
As they left for war in Autumn 1914, the soldiers, and the country, believed that it would all be over by Christmas of that year. We know now that the brutal conflict was to drag on for another 4 years, but Christmas 1914 became famous for being the first respite from the war.
Many felt the need to show give a small token of appreciation to those who had put their lives on the line. And so, on 30th October 1914, Princess Mary launched her Christmas Gift fund. She asked the public:

"I want you now to help me send a Christmas present from the whole nation to every sailor afloat and every soldier at the front."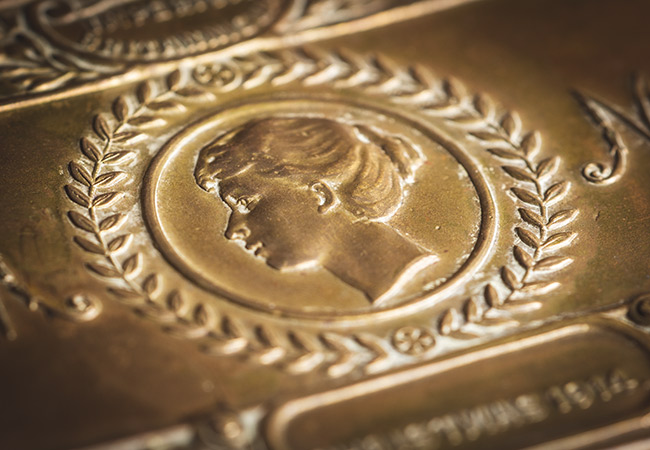 And they did. Her appeal was met with an enthusiastic response, eventually raising over £162,000 (an incredible sum at the time). This led to the memorable Princess Mary's Gift Box. It was a beautiful embossed brass box, 128 x 84 x 30mm (5 x 3.3 x 1.2 inches), containing one ounce of pipe tobacco, 20 cigarettes, pipe, a tinder lighter, a Christmas card and a photo of Princess Mary.
On Christmas Day 1914 alone, almost 500,000 Christmas tins were distributed to British service personnel. The boxes were sent to "every sailor afloat and every soldier at the front" in accordance with Princess Mary's wishes.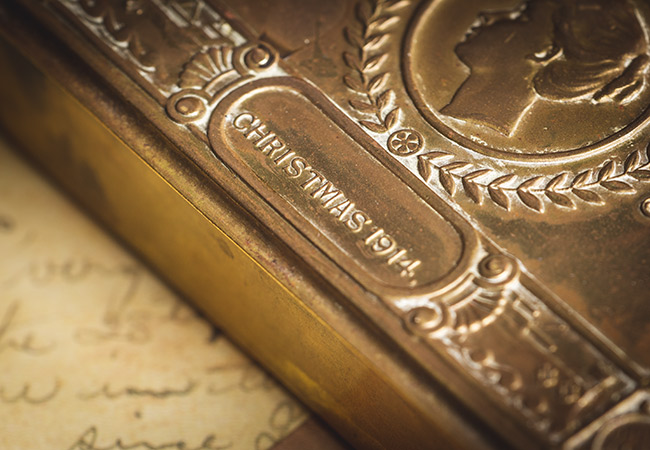 A large number of these tins were subsequently damaged in the war, with many being blown apart by shells or rusting away in the wet conditions in the trench. However, the boxes that have survived are now distinctive mementoes of the war's first Christmas.

They are also absolutely fascinating historic artefacts – each tin is totally unique and may have even been there in the trenches 100 years ago protecting a young tommy's keepsakes. They each tell their own story, and just looking at them you can see the small bits of damage, the smells and stains that tell the story of how they survived 100 years to remind us of the soldiers who suffered the extreme conditions of the Great War.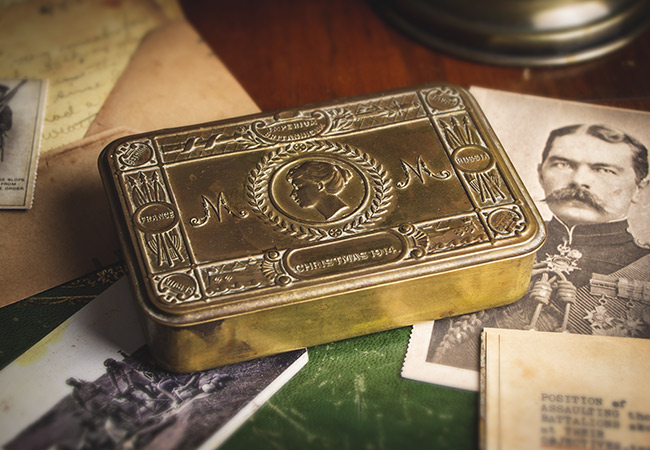 As the end of the First World War Armistice Centenary year approaches, it is especially important to remember those soldiers who would have received one of these tins. It's hard not to think about a young tommy, sitting in his trench on Christmas Day, opening his Princess Mary Christmas tin as carols drifted across No-Man's Land.
---
If you're interested…
We have 50 genuine Christmas Tins available and ready to deliver for Christmas, with 5 coins all from 1918. But with such a limited number available you will need to be quick to own this ultimate Armistice Christmas gift…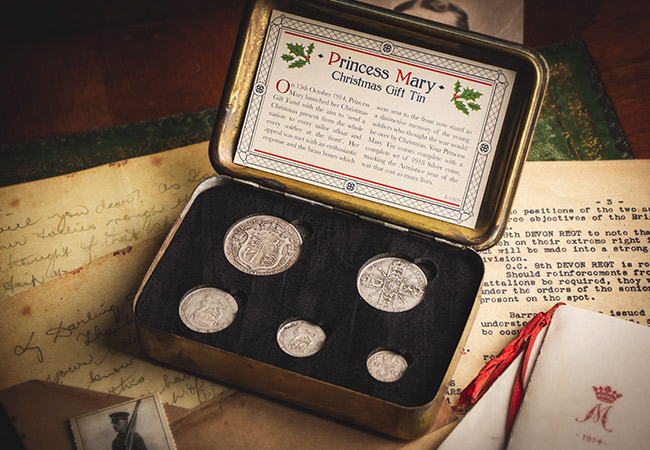 This year will mark the bi-centennial anniversary of the Battle of Waterloo in 1815. But, despite Napoleon's defeat taking place a distant 200 years ago, it seems that it is still a delicate subject for the French… or is it?
In March, Belgium planned to issue a €2 commemorative Waterloo coin in honour of the historic event. However, after 180,000 coins were minted with the design, France voiced such objection that Belgium destroyed the coins to avoid upsetting their neighboring country.
But earlier this week Belgium crushed the French resistance by invoking a little-known European Union rule. It allows countries to issue euro coins of their choice, provided they are in an irregular denomination – cue a new €2.50 coin – a first in Belgium.
The coin displays the Lion Hill memorial that marks the battle, with dotted-lines indicating the position of the troops when forces led by Britain and Prussia defeated Napoleon in the countryside near Brussels.
But, ironically, it was the French who issued one of the first Waterloo Commemoratives…
Remarkably, the French State Mint issued a Battle of Waterloo Medal after Napoleon's defeat in 1815. It was designed for sale in the British market by renowned French sculptor Emile Rogat, depicting a fallen eagle on the reverse, symbolising the French Army.
The eagle is encircled by four vultures to represent the victorious British, Prussians, Austrians and Dutch and the obverse features an official effigy of Napoleon. It became a piece of history, stored in the British Museum.
It's a great time for collectors during huge anniversaries such as this, as there are so many fascinating coins and commemoratives issued. But perhaps it's time France looked back at their own history before they complain again!
---
If you're interested…


You can actually own a replica of the 1815 French Medal now in the British Museum, reproduced using the original dies.