Posts Tagged 'Commemorative'
On the 8th September 1981 over 9 million people sat down at their televisions to watch a brand new show called 'Only Fools and Horses'. Little did we know that this show would one day become one of the top British television programmes of all-time.
Over a total of 10 years, 7 series, 64 episodes and 16 Christmas specials we followed the trials and tribulations of ambitious market trader Derek 'Del Boy' Trotter (played by David Jason) and his idealistic younger brother Rodney Trotter (played by Nicholas Lyndhurst) in their attempts to get rich! Supported by a cast of colourful characters including Grandad, Trigger, Boycie and Uncle Albert.
This time next year we'll be millionaires…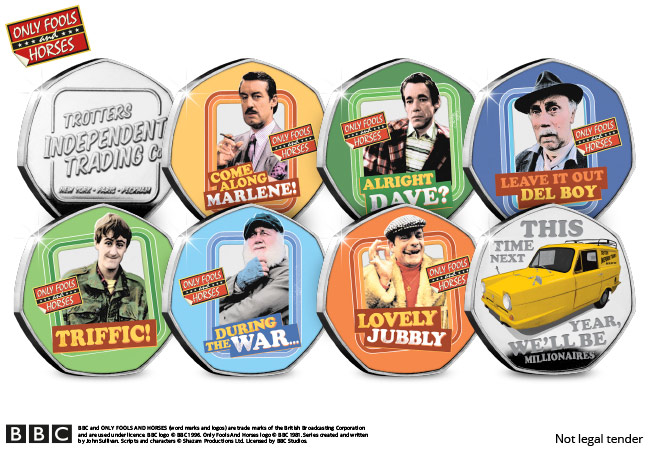 No other TV show has influenced British culture as much. Critically and popularly acclaimed, the series received numerous awards. It was voted Britain's Best Sitcom in 2004 and in a BBC poll Del Boy was ranked fourth on their list of the 100 Greatest TV Characters.
Its success spawned a successful spin-off series, 'The Green Green Grass,' a Sport Relief special episode guest starring David Beckham, and even a musical adaptation of the show was created which launched at the Theatre Royal Haymarket in London's West End!
The final episode in which the Trotters finally became millionaires was watched by 24.3 million viewers and holds the record for the highest UK audience for a sitcom episode.
So to celebrate the 40th anniversary of one of Britain's greatest TV shows a number of brand new officially licensed Only Fools and Horses Commemoratives have been released… 'lovely jubbly'!
---
'Triffic' BRAND NEW Only Fools and Horses Commemorative Set
Officially licensed by the BBC each commemorative in this set has been struck to a proof-like finish and features a design of some of the most popular characters from the programme; including, Del Boy, Rodney Trotter, Boycie, Trigger, Grandad and Uncle Albert.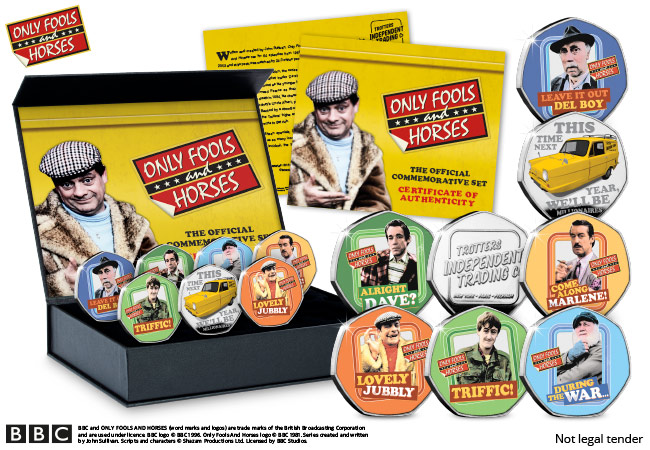 Limited to just 9,995 collectors worldwide, this is one of the only ways you can own all 7 commemoratives. They will arrive protectively sealed in an official presentation pack.
This complete set is a MUST-HAVE for any Only Fools and Horses Fan and is available for your collection today for JUST £39.99 (+p&p). Click here to secure yours >>
---
The Only Fools and Horses SUPERSIZE Commemorative!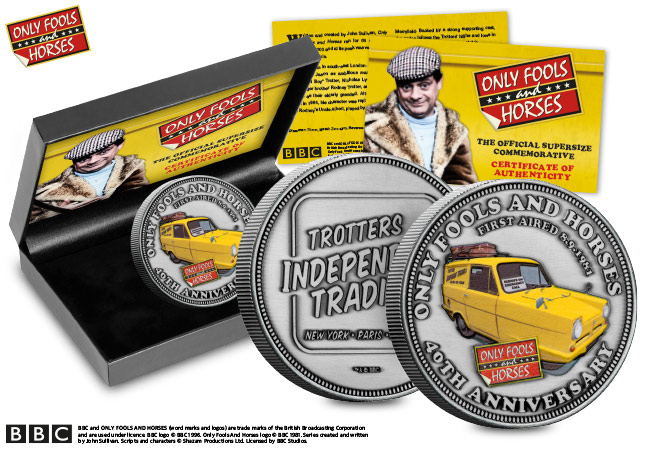 This NEW Supersize Only Fools and Horses Commemorative has been expertly finished in antique silver and features a most intricate design of Britain's most beloved three-wheel car – the Reliant Regal! It has then been carefully finished with the addition of vivid colour – to really bring the 'Trotters Independent Trading Co.' car to life!
But, JUST 995 will be released for collectors worldwide! That makes it 10 TIMES more limited than the complete commemorative set and therefore one of the most limited ways in which you can own a commemorative for the 40th Anniversary.
Arriving in a Deluxe Presentation Case with a Certificate of Authenticity, uniquely numbered with your place in the edition limit, this is the perfect way to remember such an iconic show. Click here to secure your SUPERSIZE Only Fools and Horses Commemorative now >>
---
Don't miss out. As Del Boy would say, 'He who dares, wins! He who hesitates…don't.'
'Bonjour.'
As they left for war in Autumn 1914, the soldiers, and the country, believed that it would all be over by Christmas of that year. We know now that the brutal conflict was to drag on for another 4 years, but Christmas 1914 became famous for being the first respite from the war.
Many felt the need to show give a small token of appreciation to those who had put their lives on the line. And so, on 30th October 1914, Princess Mary launched her Christmas Gift fund. She asked the public:

"I want you now to help me send a Christmas present from the whole nation to every sailor afloat and every soldier at the front."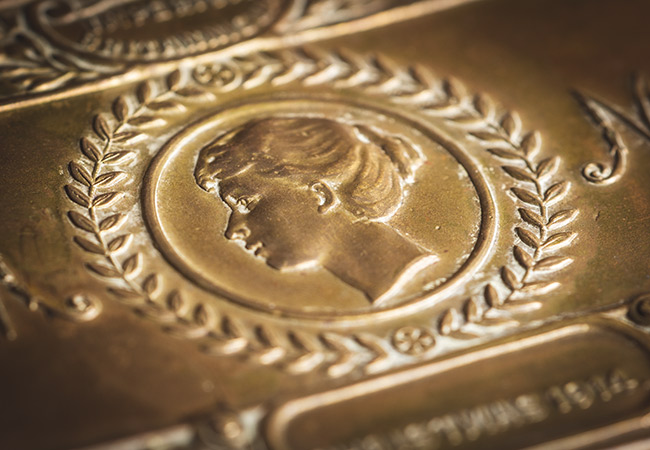 And they did. Her appeal was met with an enthusiastic response, eventually raising over £162,000 (an incredible sum at the time). This led to the memorable Princess Mary's Gift Box. It was a beautiful embossed brass box, 128 x 84 x 30mm (5 x 3.3 x 1.2 inches), containing one ounce of pipe tobacco, 20 cigarettes, pipe, a tinder lighter, a Christmas card and a photo of Princess Mary.
On Christmas Day 1914 alone, almost 500,000 Christmas tins were distributed to British service personnel. The boxes were sent to "every sailor afloat and every soldier at the front" in accordance with Princess Mary's wishes.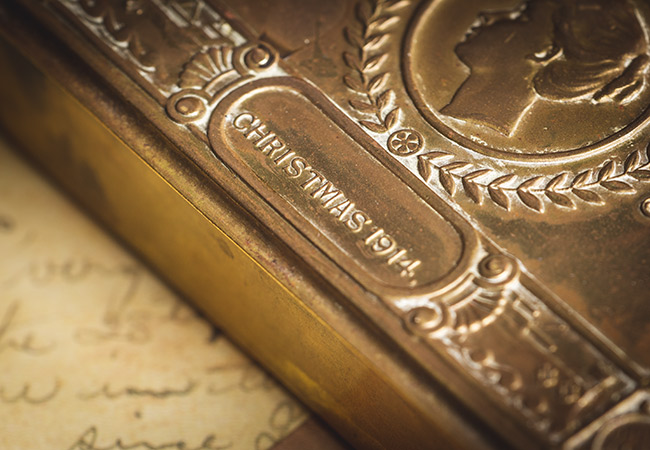 A large number of these tins were subsequently damaged in the war, with many being blown apart by shells or corroded in the wet conditions in the trench. However, the boxes that have survived are now distinctive mementoes of the war's first Christmas.

They are also absolutely fascinating historic artefacts – each tin is totally unique and may have even been there in the trenches 100 years ago protecting a young tommy's keepsakes. They each tell their own story, and just looking at them you can see the small bits of damage, the smells and stains that tell the story of how they survived 100 years to remind us of the soldiers who suffered the extreme conditions of the Great War.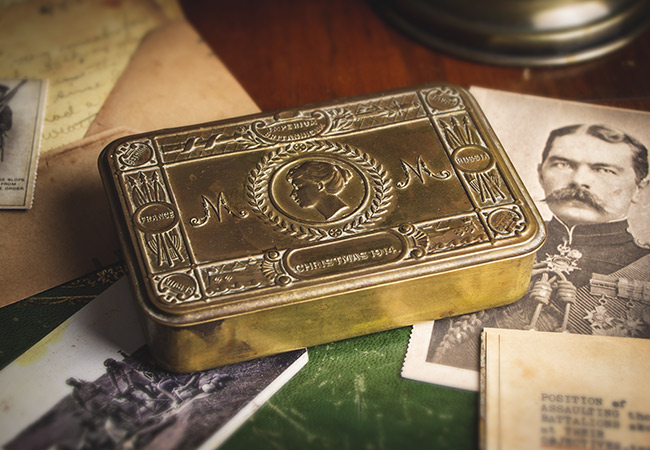 With the festive season approaching, it is especially important to remember those soldiers who would have received one of these tins. It's hard not to think about a young tommy, sitting in his trench on Christmas Day, opening his Princess Mary Christmas tin as carols drifted across No-Man's Land.
---
If you're interested…
We have a limited number of genuine Christmas Tins available and ready to deliver for Christmas, with 5 coins all from 1918. But with such a limited number available you will need to be quick to own this ultimate Christmas gift… Check out the video to see Adam explain what makes this tin so special or click here to order yours now >>>
We've all heard of the zodiac, and have probably on more than one occasion checked our daily horoscope in the hope it will reveal what the future holds. When I sat down to write this blog I was buoyant in the revelation that my day was going to be "filled with love and joy".
But perhaps lesser known in Western culture is the Chinese Lunar Calendar and the 12 animals that represent it.
The Chinese Lunar Calendar
More commonly known as the Chinese Zodiac, it is believed the Chinese Lunar Calendar begun around 2600 B.C. and is related to the worship of animals in Chinese culture. Legend has it before departing to the next life, Buddha asked every animal on the planet to comfort him and the twelve animals (including the dragon, tiger and rat) that responded are now honoured in the lunar calendar that spans 12 years – one animal for every year.
Much like the Western Zodiac, your lunar animal sign depends when you're born. And people born in specific lunar years are believed to have certain personality traits and characteristics related to their animal.
Turns out I was born in the Year of the Sheep – so I'm creative, compassionate and friendly. I'd say that's fairly accurate, though I'm not sure I agree that I like to spend my money on fashionable things… you win some you lose some!
The incredible popularity of Lunar Coins
For over 40 years mints from around the world have celebrated Chinese New Year with Lunar Coins. These issues have turned in to something of an international phenomenon, to the point where the lunar theme is the largest ongoing coin programme on the planet.
Most prestigious mints have a lunar series, including Australia, Canada, and of course our own Royal Mint. With each selling millions of ounces of gold and silver coins each year inscribed with the year's relevant lunar animal.
Collectors will snap these coins up for a variety of reasons. Some collect their own lunar animal, because they like the personal connection, others will collect a particular specification because it's especially limited. Personally, I find they also make great birthday gifts for obvious reasons – my friends love them.
The Year of the Rat
The 25th January 2020 will mark the Chinese New Year, and with it the next lunar animal will be celebrated – the Rat.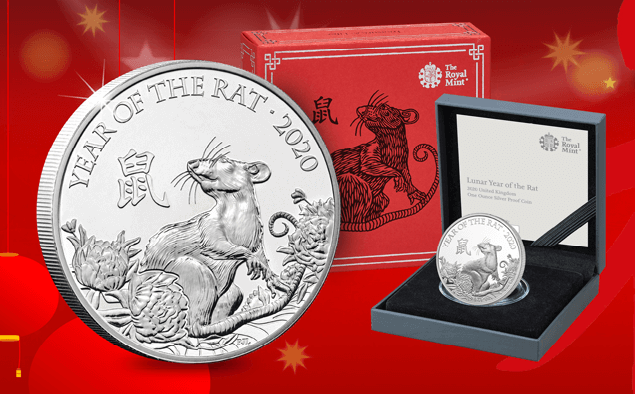 The Rat is in fact the first animal in the Chinese Zodiac, and people who are born under the sign of the Rat are thought to be intelligent and quick-witted with rich imaginations.
If this sounds like you the odds are you're born under the sign of the Rat. And this year your lunar animal will be celebrated on lunar coins around the world.
What's more, The Royal Mint has just released their brand new Year of the Rat range, including what's perhaps the most sought-after specification of all – the 1oz Silver Proof Coin.
Apparently Rats are known for taking good advantage of opportunities presented to them – so what are you waiting for, make sure you snap up your lunar coin today!
If you're interested…
You can own the BRAND NEW Royal Mint Lunar Coin TODAY – the 1oz Silver Proof Year of the Rat coin.
This coin is sure to be the most sought-after yet because not only is the 1oz Silver Proof a key specification for collectors, it's also got the lowest edition limit yet!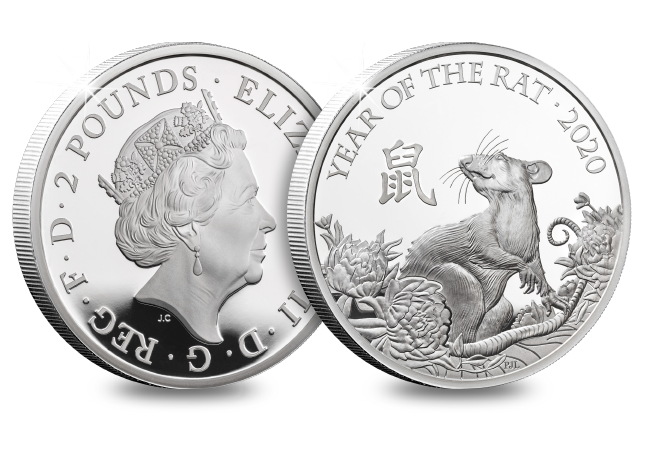 Click here to find out more and secure one for your collection today >>>