Posts Tagged 'Royal Family'
As the United Kingdom prepares for King Charles III's coronation this year, we can expect worldwide mints to issue coins marking the historic event. But how sought-after will they be?
Well, when you look to recent royalty coins, including those featuring His Majesty's portrait, there's sure to be sell-outs.
FIRST UK King Charles III Coins Sell-Out in HOURS
Following Queen Elizabeth II's sad passing in September 2022, a new UK 50p and £5 coin were issued to commemorate her incredible life and legacy.
These were the first ever UK coins to feature King Charles III's portrait on the obverse, and the first time we'd seen a new obverse portrait on coins in 70 years.
And, these coins were in such high demand that all premium limited specifications sold out at The Royal Mint within JUST HOURS of release.
This isn't surprising considering The Royal Mint had queues of over 66,000 collectors on their website, each wanting to secure these coins for their collections.
The First King Charles III Sovereign
The Queen Elizabeth II Memorial Sovereign was the first ever UK Sovereign to feature King Charles III's portrait on the obverse. It was also the first time a memorial sovereign had been issued.
These factors made an already popular coin extremely sought-after by collectors.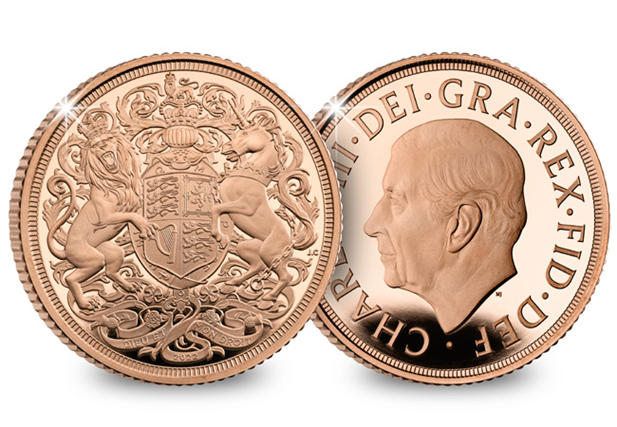 It proved so popular with collectors that the Gold Proof, Gold Proof Quarter-Sovereign and Gold Proof Half-Sovereigns all becoming best sellers at The Royal Mint.
Prince Charles 70th Birthday £5
In 2018, The Royal Mint issued a £5 coin to celebrate King Charles III's 70th birthday. What makes this coin unique is that it was the last UK coin to feature the portrait of His Majesty as 'Prince' before he became King.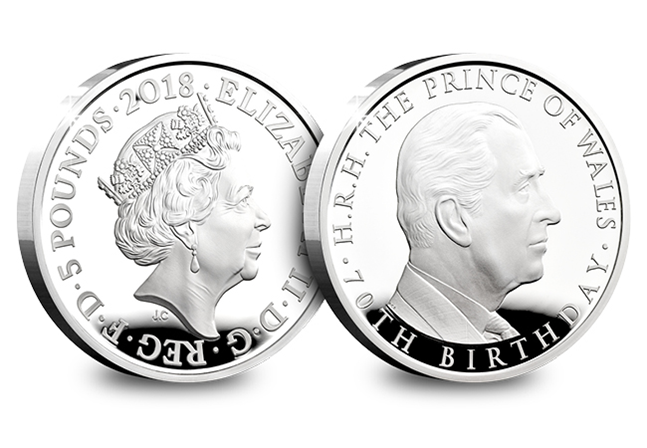 Since the passing of Queen Elizabeth II, we've seen demand for this coin increase as collectors look to build their King Charles III collections.
The Brilliant Uncirculated version has been listed on eBay for nearly 10 times its face value, whilst the silver proof version is being listed for more than £249.


Dual-Plated National Anthem Platinum Jubilee 50ps
Prior to Charles' accession to the throne, Queen Elizabeth II's Platinum Jubilee was the most significant royal event in history.
To commemorate Queen Elizabeth II's Platinum Jubilee in 2022, the Isle of Man issued a set of National Anthem Platinum Jubilee 50ps.
The National Anthem collection included a dual reverse design, featuring the words of the iconic National Anthem on the left, and the Queen's heraldic Beasts on the right.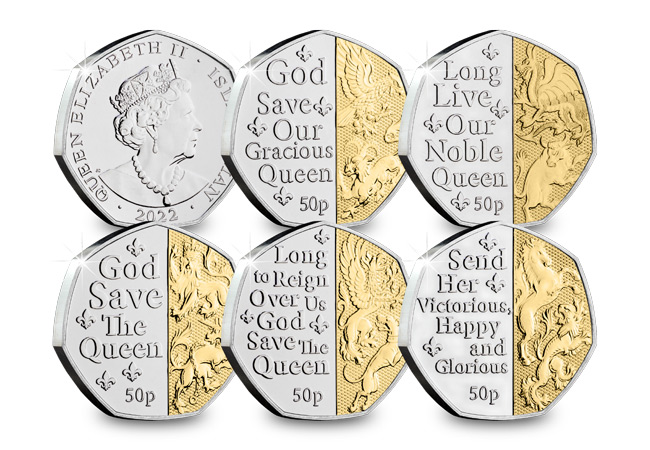 These coins proved extremely popular with collectors – the initial release of 2,000 dual-plated National Anthem 50ps selling out in less than 2 hours.
Sign-up for the latest news about King Charles III Coronation coins
Avoid disappointment by signing up for all the latest news about King Charles III coronation coins. You'll be contacted as soon as we have any information.
We will only use your details to contact you about King Charles III Coronation products.
Privacy Policy.
Buckingham Palace has announced that the coronation of King Charles III will take place on Saturday 6th May, 2023 at Westminster Abbey.
The Archbishop of Canterbury will preside over the anointing in a service that Buckingham Palace have said will be a mix of ancient and modern traditions to "reflect the monarch's role today and look towards the future".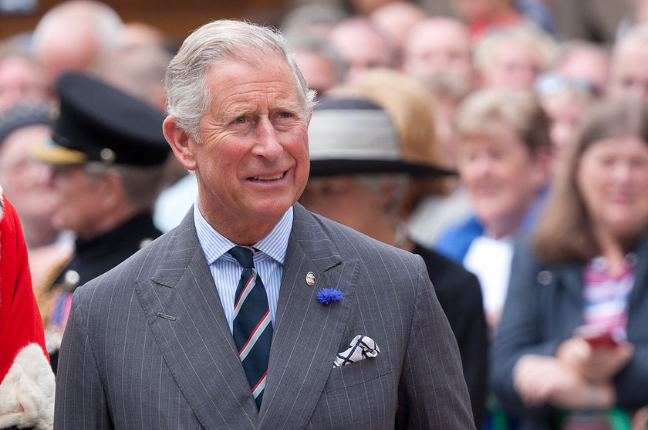 King Charles will be 74 at the time of his coronation – making him the eldest new monarch to be crowned.
Camilla, the Queen Consort, will also be crowned as part of the service in a shorter ceremony. She will become the thirtieth consort to be crowned since the Norman Conquest.
What will happen at the Coronation of King Charles III?
This will mark the first coronation in the United Kingdom for nearly 70 years. A young Prince Charles attended the coronation of his mother, Queen Elizabeth II, on 2nd June 1953 and it is believed that the new monarch has made adaptations to the ceremony for his own coronation.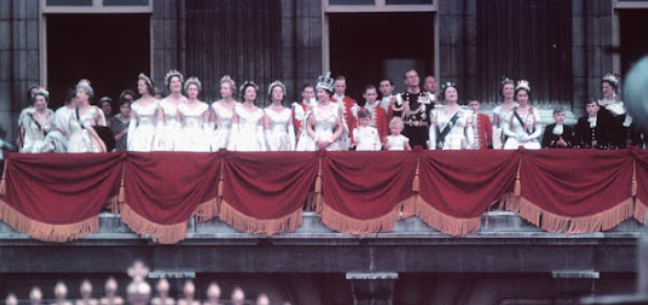 Lots of the pageantry and ritual is expected to be retained. Monarchs traditionally sit on a 14th century coronation chair and are officially crowned with St Edward's solid gold crown.
There is likely to be a procession through London, featuring a Gold State Coach.
And it is expected that the celebration will come to an end with a Buckingham Palace balcony appearance.
How will the world celebrate King Charles' Coronation?
The coronation will be televised and a potential worldwide television audience of hundreds of millions has been predicted.
It has been confirmed that there will be an extra UK bank holiday to mark the coronation. This is scheduled for Monday 8th May 2023, two days after the service.
---
If you're interested…
The King Charles III Coronation Commemorative
Today you can own the BRAND NEW King Charles III Coronation Commemorative for FREE (you'll only pay postage!) with this introductory offer.
Featuring specially commissioned full-colour artwork, this BRAND NEW King Charles III Commemorative is the perfect way to chronicle His Majesty's first year as King.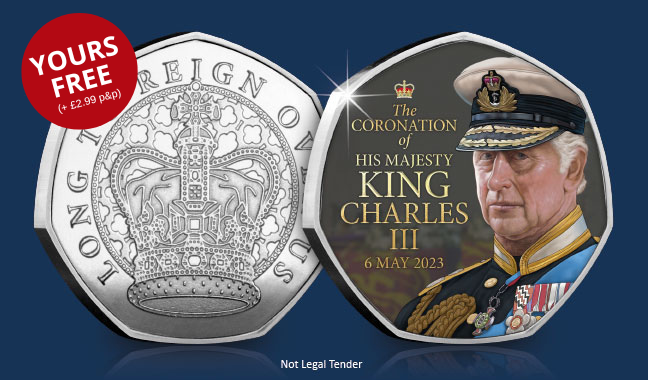 And what's more, you will gain exclusive access to the Long To Reign Over Us Collection.
THIS FREE TO THE NATION OFFER MAY BE WITHDRAWN AT ANY TIME.
Click here for your FREE King Charles III Commemorative >>
Introductory Offer
The King Charles III Coronation Commemorative is an Introductory Offer for the Long To Reign Over Us Collection. Each month, you'll receive four commemoratives for £25.00 (+p&p). You'll also receive your FREE Presentation Album to house your collection. You can cancel your subscription at anytime. Click here to secure yours >>
Click here to purchase the King Charles III Coronation Commemorative with no subscription for the full price of £6.99 (+p&p) >>
There's no doubt that Her Majesty's Platinum Jubilee is going to be the most collectable Royal theme for many years to come…
And today, a BRAND NEW range of Precious Metal 50p coins have been released to mark this once in a lifetime event.
With tiny edition limits across the range, collectors will be rushing to secure these brand new issues. With the standout being the WORLD'S FIRST Double Diameter Gold Proof 1oz 50p Coin!
Never before have collectors seen this, which is why this issue is sure to be in extremely high demand…
Just watch the video below to find out everything you need to know about these brand new releases…
---
If you're interested…

Click here to view the full range of Platinum Jubilee Precious Metal 50ps >>