Posts Tagged 'Official Red Arrows Signature 5oz Silver Medal'
The Red Arrows are back!
And to celebrate their long awaited return to the UK, two officially licensed commemoratives have been issued!
And in my latest video I tell you all about them.
With edition limits as low as 495 and prices starting from JUST £50, if you're a fan of the Red Arrows, this is a collecting opportunity you can't afford to miss!
---
If you're interested…



Last month I had the honour of meeting all 9 Red Arrows pilots at the Bournemouth Air Festival to present them with a very special gift…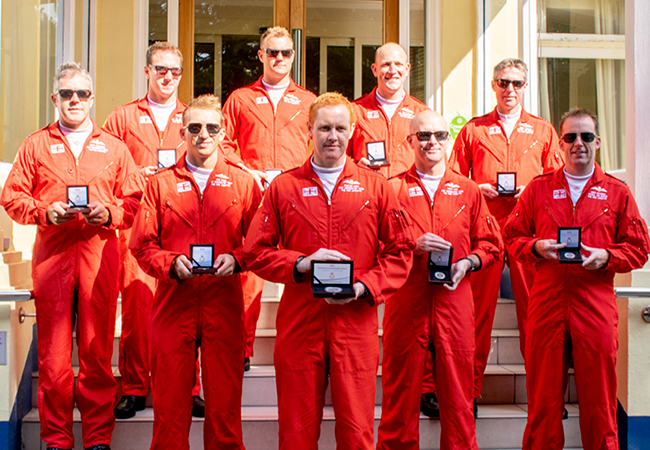 A lifelong fan of the Reds, I was delighted to be given the chance of personally presenting them with the Official 2018 Red Arrows Signature Medal.
Struck in 5oz of Pure 999/1000 Silver, the medal features the intricate engravings of all 9 Red Arrows pilots' signatures, and has been fully endorsed by the team.
What's more, their medal is one of JUST 450 that have been issued for worldwide distribution, with the last number in that edition being presented to the Reds.
And so they didn't have to share, I also brought along an extra 9 Official 2018 Red Arrows Silver 1oz Medals, for each of the team to take home.
Each signature on the 5oz Silver Medal is meticulously engraved above their team number. To complete the piece, each member's iconic Hawk jet with the RAF roundel at the centre is highlighted in vivid colour, surrounded by an altimeter inspired pattern – the most fitting piece to present to the Reds today.
---
If you're interested…
You have the opportunity to own the Official Red Arrows Signature 5oz Silver Medal. This is a rare chance to own an item so closely and personally linked to the Red Arrows themselves and we only have a few remaining so you'll have to act quickly to secure yours. Click here for more information and to order yours now >>>