Posts Tagged 'Commemorative Coin'
Each year, The Royal Mint marks important British anniversaries, events or accomplishments on our coins and today I'm delighted to reveal the UK's new coin designs for 2020.
What's more, you have the opportunity today to secure them in a variety of different presentations or specifications – I'm sure there is something for everyone.
Simply read on to discover how you can be one of the first UK collectors to add these coins to your collection…
FIVE new UK commemorative coins
The Royal Mint has just announced the five new commemorative coins for 2020, issued to mark a variety of occasions and landmark anniversaries that we'll see over the coming year:
King George III £5 – marking the 200th anniversary of the end of King George III's reign
VE Day £2 – commemorating the 75th anniversary of VE day, signalling the end of WWII
Agatha Christie £2 – celebrating "100 years of Mystery", the centenary of her debut mystery novel
Mayflower £2 – marking the 400th anniversary of the Mayflower's maiden voyage to The New World
Team GB 50p – a tribute to Team GB ahead of the 2020 Olympic Games due to be held in Tokyo
UK 2020 Annual Coin Set BU Pack
To give as many collectors as possible the chance to own these highly sought-after coins, The Royal Mint has issued them in Brilliant Uncirculated quality, which is coveted by collectors as it means each coin is free from any marks you would find on circulated coins.
In this BU Pack you'll find the five brand new commemorative coins alongside the eight definitive coins from the 1p to the £2, all newly dated for 2020.
Each one is protectively encapsulated in its attractive original Royal Mint packaging to preserve its quality for generations to come. What's more, you can secure this BU Pack at the Royal Mint issue price of just £55 (+p&p). Click here to find out more >>
This set of coins is also available as a CERTIFIED BU Commemorative Coin Set for £40 (+p&p). Click here to find out more >>
UK 2020 Annual Collector Proof Coin Set
Whilst being struck from base metal, the coins in this set have been struck to a stunning superior Proof finish. This set also includes the five new commemorative coins alongside the eight definitive coins from the 1p to the £2, all newly dated for 2020.
Just 7,000 sets have been released worldwide in this limited edition presentation – that's under half the edition limit of previous issues that have completely sold out. So, it's expected this set will be extremely sought-after.
You can order the UK 2020 Annual Collector Proof Coin Set here with a down payment of just £31 (+p&p) followed by 4 further interest-free instalments – that's the Royal Mint issue price. Click here to find out more >>
UK 2020 DateStamp™ Specimen Set
The most limited way to own the five new 2020 commemorative coins is by securing the UK 2020 DateStamp™ Specimen Set. In fact, JUST 995 collectors worldwide can own this unique set.
What truly sets the 2020 Specimen Year Set apart from all other 2020 Annual Sets is the fact that it is forever set in time by the official Royal Mail postmark that marks the coins' first day of release – 1st January 2020.
Each coin is struck to the highly desirable Brilliant Uncirculated quality, and come individually presented in tamper-proof capsules. What's more, each set has a unique serial number, confirming its place in the tiny edition limit, and you can even register your set online to guarantee its provenance!
This annual set has a track record of completely selling out within a matter of days, so if you want to secure a set for yourself you'll need to be quick. You can reserve yours with a deposit of just £22. Click here to find out more >>
This year marks the 90th anniversary since Peter Pan author, JM Barrie, gifted his rights in Peter Pan to Great Ormond Street Hospital.
To commemorate this generous gift, earlier this year we launched a range of Peter Pan 50p coins in partnership with Great Ormond Street Hospital Charity, the Isle of Man Treasury and Tower Mint.
These magical 50p's really captured the imagination of collectors and the demand experienced since their release has been unprecedented.
Incredibly this has meant in just a matter of months, through the sales of these Peter Pan 50p coins, that collectors have helped raise over £250,000 for Great Ormond Street Hospital Children's Charity!
This is an achievement that everyone is immensely proud of, and we are hugely thankful to collectors for helping raise such an amazing amount to support Great Ormond Street Hospital Charity and the seriously ill children from across the UK who are cared for there.
To celebrate this important occasion, Managing Director, Ian Glen, and Karen Brooks, Head of Product Development, went along to Great Ormond Street Hospital to present them with the £250,000 cheque!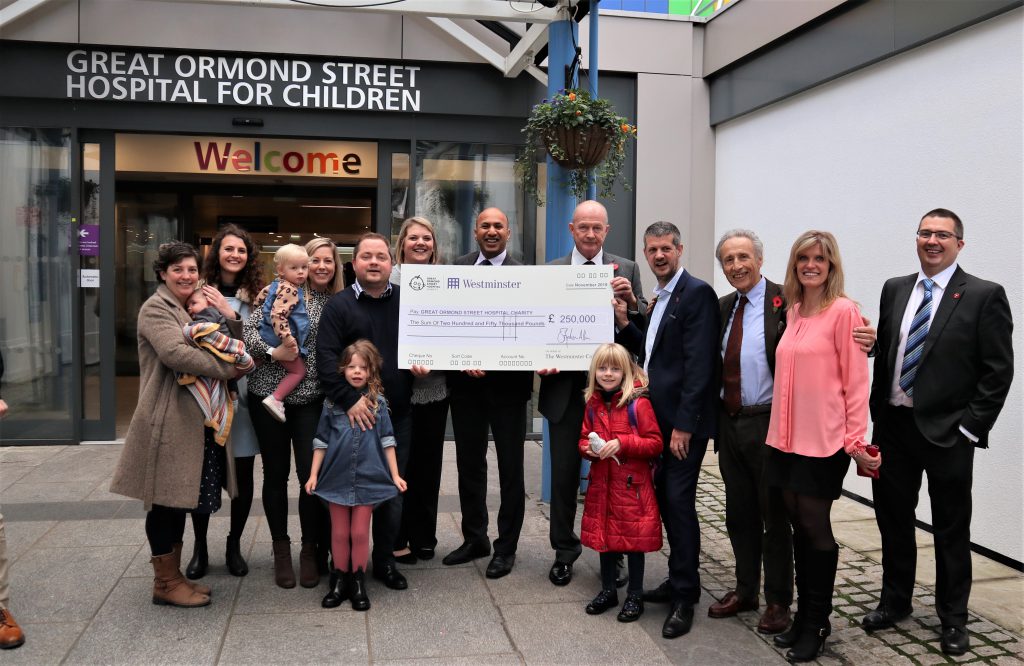 "We would like to thank all of the collectors who have raised such a considerable amount of money for Great Ormond Street Hospital. It has been a real privilege to work alongside the Great Ormond Street Hospital Charity, the Isle of Man Treasury and Tower Mint in such a worthwhile coin issue."

Ian Glen – Managing Director, The Westminster Collection
"Everyone at Great Ormond Street Hospital Children's Charity is thrilled and incredibly grateful that The Westminster Collection, The Tower Mint and the Isle of Man Government chose to celebrate the 90th anniversary of JM Barrie's gift of the rights of Peter Pan to Great Ormond Street Hospital by issuing a special Peter Pan collection. It's wonderful to see how much the general public and avid collectors have come together in support of this special collection. The funds raised will have a huge impact on the lives of seriously ill children from across the United Kingdom."

Amit Aggarwal – Director, Great Ormond Street Hospital Charity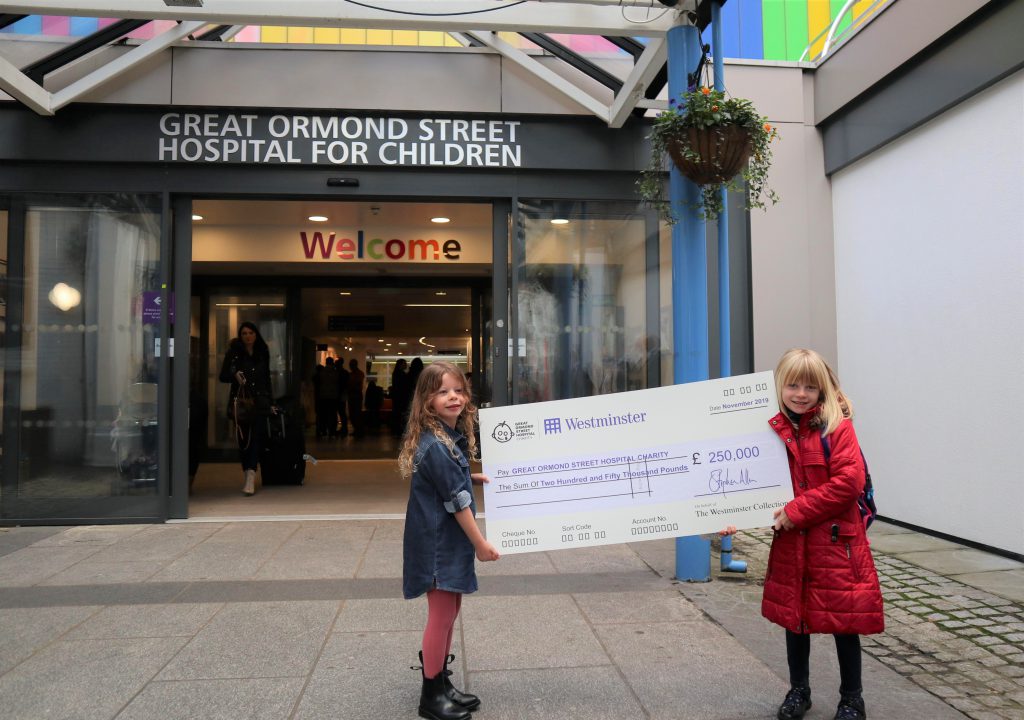 "I work in such a special industry, and I get see so much and meet so many people, but I never thought I would be able to connect my daughters syndrome to such a great cause, as well as contribute such an amazing amount to Great Ormond Street Hospital which will support all of the incredible work they do. The Westminster Collection and the Isle of Man have achieved so much for all involved, and I am a very proud dad!"

Elliot Dawson – Director at Tower Mint & Dad of Olivia Dawson (pictured above)
---
We are delighted to see our range of Peter Pan commemoratives grow in recent months and expand the opportunities for collectors to support Great Ormond Street Hospital Children's Charity. If you'd like to take a look at the full range, you can do so by clicking here.
To find out more about Great Ormond Street Hospital and the fantastic work they do, click here.
***UPDATE***
Following the Royal Proclamations on the 8th November 2019, The Royal Mint have now confirmed there will be a Music Legends coin series!
This is exciting news for music fans and collectors alike. It's safe to assume stage legends Queen will be part of this series, but who else would you like to see on a Music Legends coin?
Let us know in the comments below and sign up for updates at the bottom of the blog!
By signing up we'll make sure you're the first know any updates about these new coins, including when they're being launched. So what are you waiting for?
---
Royal Proclamations issued on 8th November 2019 confirm that two icons of British culture will be honoured next year on UK coins – rock legends of the stage, Queen, and spy of the silver screen, James Bond.
It is unknown yet exactly when we will be able to snap up these new issues, but we do know the coins will be 2020 dated so we will be on the lookout from the New Year…
"I won't be a rock star. I will be a legend" – Freddie Mercury
And legends they did become. It's safe to say renowned rock band Queen have been inspiring millions across the globe since they exploded on to the British music scene in 1970 – you'd be hard-pressed to find someone who doesn't recognise the opening rift of Another One Bites the Dust.
Known for hits such as We Will Rock You, Bohemian Rhapsody and Don't Stop Me Now, Queen's pioneering, creative and alternative approaches to music making proved to the world that music has no bounds.
Their status as icons in the British music industry was sealed in 1990 when they received the Brit Award for Outstanding Contribution to British Music. Following this they were then inducted into the Rock and Roll Hall of Fame in 2001 and in 2018 were presented with the Grammy Lifetime Achievement Award.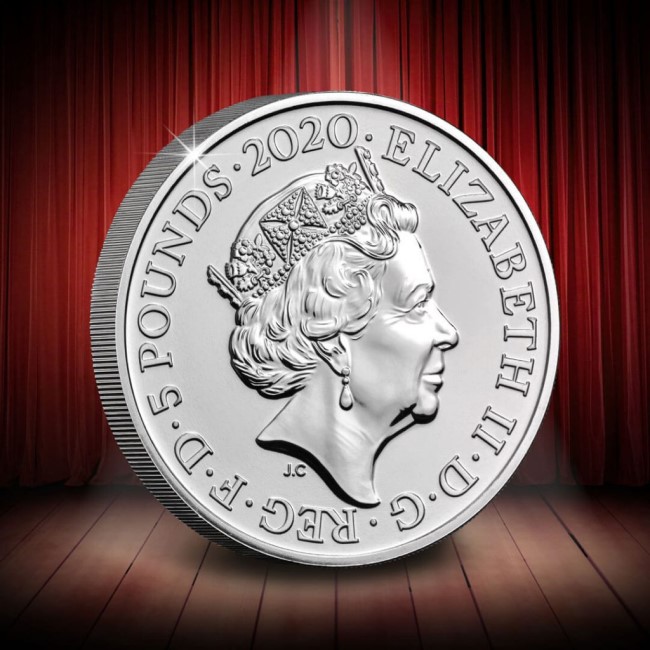 And now, their lasting legacy is going to be captured on a commemorative UK coin – the first band to ever feature on a UK coin!
The Royal Proclamation confirms there will be various specifications available, including a £5 base metal coin and a variety of precious metal versions. All coins will bear a design depicting a keyboard, drum, bass and electric guitar accompanied by a microphone and the inscription "QUEEN". What's more, a special two pound denomination silver coin will feature the edge inscription "MERCURY · MAY · TAYLOR · DEACON ·"
Bond, James Bond
Created by Ian Fleming in 1953, James Bond – or better known by his MI6 codename 007 – will be returning in the hotly-anticipated 25th Bond film that was revealed recently to be called No Time To Die.
The Bond franchise is the longest running film series of all time, grossing nearly $7 billion to date for its production company, Eon. Overall it has grown to become the fourth-highest-grossing film series ever, and has amassed five Academy Awards along the way too.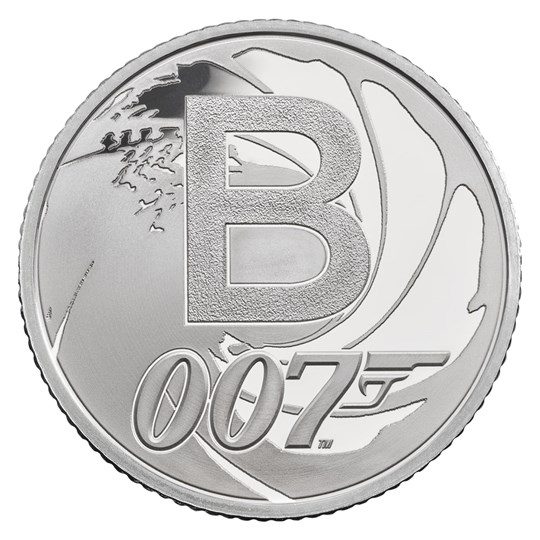 The secret agent has been portrayed by seven actors, and is perhaps best known for his suave manner, his penchant for martinis (shaken, not stirred) and the gadgets and cars supplied by Q branch.
Speaking of cars, the Royal Proclamation confirms the design of the Bond coin will feature the 007 logo and a depiction of his car – fingers crossed for a classic Aston Martin!
It also looks like this commemorative Bond coin will be issued in a variety of precious metal specifications. The smallest denomination will be a ten pound silver coin, with an impressive diameter of 65mm to truly appreciate what is sure to be a spectacular design.
---
Register your interest
Both Queen and Bond have an unrivalled cult following with leagues of fans worldwide. So, I expect these new commemorative issues to be amongst the most anticipated new issues in 2020, and as such will be in high demand!
If you want to be kept up to date and be the first to know when these coins are available then simply register your interest below and we'll email you as soon as we have more information.