PHONE HOME! E.T. The Extra-Terrestrial brought to life on FIVE Brand New Coins
40 years ago, in 1982, an unprecedented cinematic event took place that stirred the souls and captured the imagination of countless generations.
When "E.T. The Extra-Terrestrial" landed in theatres, the heartwarming story of a young boy who befriends a stranded alien quickly broke all box office records to become an instant classic.
More than just a marvel of visual effects, E.T. embraced our hearts, let us believe in the impossible, and most importantly, encouraged us to keep reaching for the stars.
Celebrations around the world have already started to mark the 40th anniversary. We are also excited for the IMAX re-release that came out in August!
And now, Steven Spielberg's unforgettable masterpiece has been brought to life on FIVE Brand New Coins to celebrate the 40th Anniversary of "E.T. The Extra-Terrestrial"!
Keep on reading to find out more…
---
The E.T. 40th Anniversary BU Colour Coin Set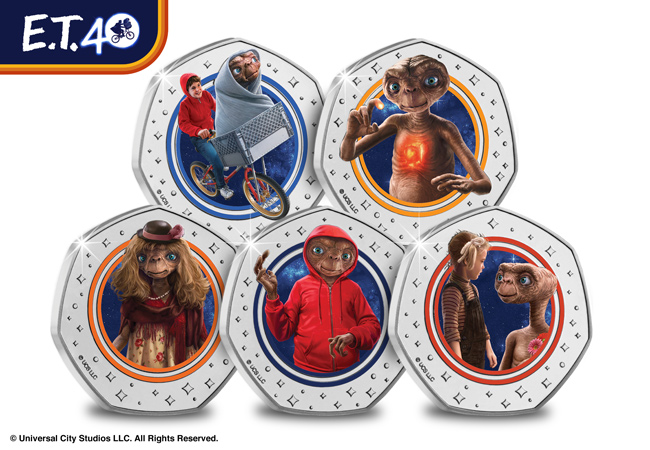 This 50 Cent set has been released in an extremely limited specification – Coloured Brilliant Uncirculated. Reserved for the most important releases, only very limited numbers of BU colour coins are ever released.
Given the rare specification, very few are being made available for collectors. In fact, just 995 will be released worldwide, and this will be the only way you can own all five 50 cent coins in the exclusive colour Brilliant Uncirculated specification.
Each set will come in a Presentation Box along with the Certificate of Authenticity, confirming its strict 995 edition limit.
Secure yours today for just £62.50 (+p&p) >>
---
The E.T. 40th Anniversary Silver Proof Coin Set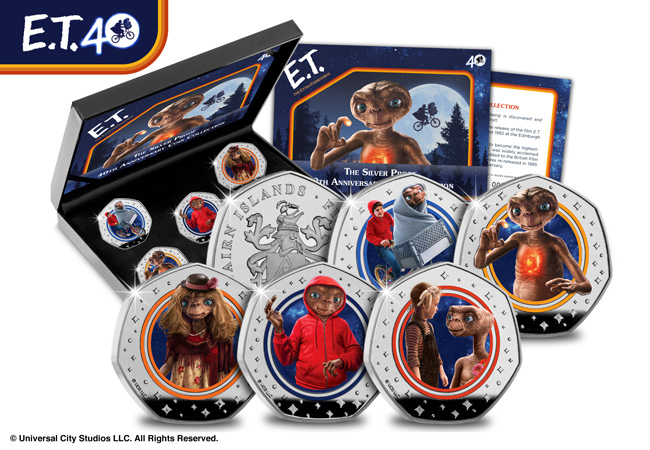 Of course, you can own ALL 5 of the new E.T. coins in stunning Silver Proof quality too!
Limited to JUST 500 sets worldwide, your FIVE Silver Proof coins will arrive presented in a deluxe presentation box, ready to display in your home with pride.
Again, we expect the full edition to be to be snapped up in the UK – before it's offered further afield…
Click here to find out more >>
---
E.T. The Extra-Terrestrial Ultimate Coin Cover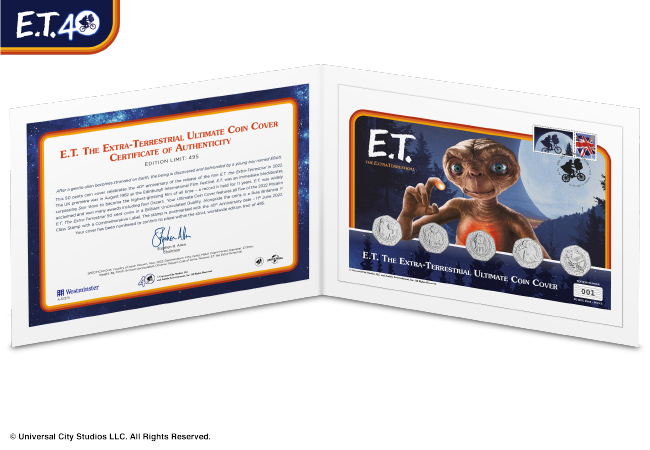 All five BU coins have also been included in this special coin cover – easily the ultimate way to own and present this set.
Paired alongside your coins is a specially commissioned "E.T. The Extra-Terrestrial 40th Anniversary" philatelic label. As well as this, the presentation cover has also been officially postmarked by Royal Mail on the 40th anniversary of the movie release date – 11th June 2022.
This one-day-only postmarking means that no more can ever be produced.
Its edition limit of JUST 495 is confirmed on the accompanying Certificate of Authenticity which sits inside the Presentation Folder.
The collectability and strict edition limit of this Ultimate Cover is sure to attract the attention of collectors – so you'll need to act quickly.
Click here to own one today >>
---
The E.T. 40th Anniversary Silver Proof 5oz Commemorative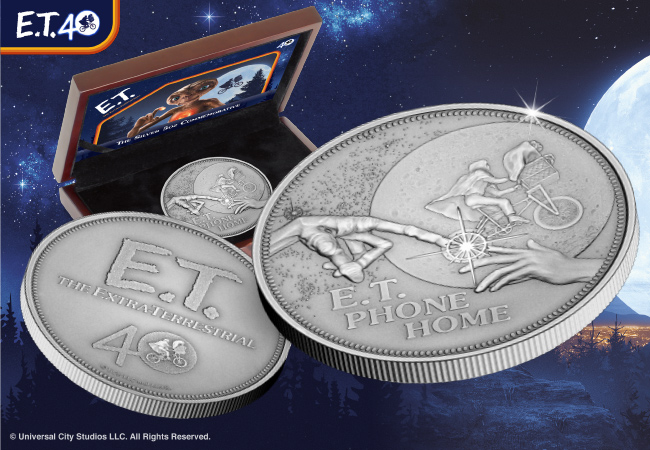 And we're not done there…
Because you can also celebrate this 40th anniversary with this stunning Silver 5oz Commemorative.
Words really do not do this commemorative justice; the craftsmanship is truly impeccable.
Struck from 5oz of .999 Fine Silver, Steven Spielberg's unforgettable masterpiece has been brought to life on the design, featuring the famous bike scene on a moon backdrop, and the inscription 'E.T. PHONE HOME'.
With high-demand expected and such a small edition limit, you'll have to act quickly to secure one for your collection.
It will arrive protected in a Presentation Box alongside a Certificate of Authenticity confirming the tiny edition limit.
Click here to find out more >>
---
With prices starting from JUST £6.99, you can discover all the brand new products in the E.T. 40th anniversary range here. Including the BU coin, the BU Coin set, Silver Proof Coin and the Silver Proof Coin Cover, there really is something for every collector on this significant anniversary.
There's never been a better time to bring back those nostalgic memories. And with E.T. carrying a worldwide fanbase, reservations are now being taken on a first come first served basis – we would advise acting now!
Click here to browse the full range of E.T. 40th Anniversary releases starting from JUST £6.99 >>