On 1st June 1969 room 1742 of The Queen Elizabeth Hotel in Montreal, Canada, became a recording studio.
It is there that John Lennon, alongside Yoko Ono, debuted his powerful anti-war anthem Give Peace a Chance. Written in protest against the Vietnam War and as a promotion of peace, the song was the pinnacle of the newlywed's infamous protest "Bed In for Peace".
It was a moment that has forever cemented a bond between John Lennon and Canada. A bond that is now marked by the release of an exclusive new limited edition coin by the Royal Canadian Mint, issued in celebration of the 50th Anniversary of Give Peace a Chance.
It was unveiled yesterday by Ian Graham, International Sales Director of the Royal Canadian Mint, in front of the John Lennon Peace Monument in Lennon's hometown – Liverpool. We were lucky enough to attend this special launch event and captured all the details as they unfolded for you.
Check out our exclusive footage below:
The Royal Canadian Mint are renowned for their innovative coins and eye catching designs but their latest coin release holds a more poignant message.
Struck from one once of .9999 or 'four nines' silver to a perfect proof finish, the coin features a photographic image of John Lennon and Yoko Ono during their Montreal "Bed-in for Peace".
As one of the most famous anti-war anthems of all time, this powerful song has remained in the hearts of generations of pacifists and music fans around the world for 50 years.
Remarkably, there are just 9,999 of these special coins being released for worldwide distribution. That's almost certainly not enough for Canadian fans, let alone collectors across the globe.
In fact, I haven't seen John Lennon officially portrayed on a coin since 2010. And guess what… that one sold out in a few days.
So if you'd like to GIVE PEACE A CHANCE and secure one of these for your collection then you'll need to be quick.
In 1971 the UK switched to a decimal currency, leaving the old £sd (pounds, shillings and pence) behind and introducing the decimalised coins we know today. You might even remember decimal day yourself, or using conversion charts and rhymes to learn the new currency. And if you're like me, then you'll probably remember the excitement of seeing the new coins in your change.
But decimalisation actually started under Queen Victoria, when two new decimal denominations were introduced. These were coins that were blamed for sickness, famine, and the unemployment of barmaids. In fact, they were so controversial that decimalisation had to be delayed for over a century!
The Godless Florin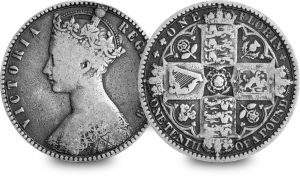 The florin first appeared in 1849 with a value of 1/10th of a pound, or 24 pence. It was rumoured to have borrowed its name from a similar shaped coin from the Netherlands and was issued as a test to help the public warm to decimalised currency. However, its introduction didn't go as well as hoped.
The Gothic Head portrait of Victoria was used on the first florins that were issued, and it featured the monarch wearing a crown for the first time in over 200 years. Another unusual design change was the exclusion of the abbreviation "D.G", meaning "by the grace of God". In a society where religion was important, the coin was thought to have angered God, so it became known as the 'Godless Florin' and was reportedly blamed for Cholera outbreaks and famine at the time.
The Godless Florin was quickly withdrawn from circulation in 1851 and was replaced by a Gothic florin, which had the same design, but included the "D.G" inscription in an attempt to appease the public.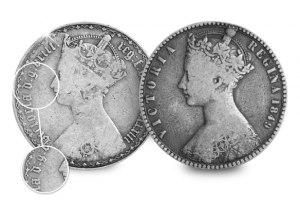 The Barmaid's Ruin
Attempt number two at decimalisation came in the form of a double florin, equivalent to 1/5th of a pound. It was introduced in 1887 and featured the new Jubilee Head portrait of Queen Victoria, but it was withdrawn by the end of 1890 making it one of the shortest circulating denominations in British history.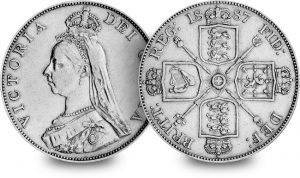 One of the features that makes the double florin stand out in history is that it was almost indistinguishable from the crown coin. Neither carried the denomination and the only difference between the two, apart from the value, was that the double florin was 2mm smaller – not something that was easy to spot by eye.
This meant that the coins were easily confused, and the story goes that crafty patrons would trick barmaids into accepting the double florin as a crown. The double florin then became known as the 'barmaid's ruin', because this act resulted in barmaids losing their jobs.
The first attempts at decimalisation happened over 170 years ago, and although the double florin was withdrawn from circulation after just four mint years , the florin was much more successful, surviving until 1993 before it was demonetised. It circulated alongside the 10p coin, which was introduced in 1968 to try and help the public warm to decimalisation – this time it was finally successful!
The Victorians experienced monumental changes in culture, industry, technology, and empire in their time, but it seems they just weren't ready for the change of their currency.
---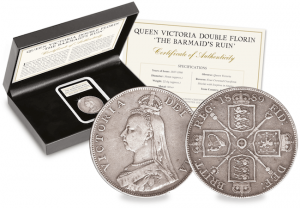 If you're interested…
Own a piece of history with the 'Barmaid's ruin', the coin that caused barmaid's to lose their jobs. Click here to order it today>>>

I expect like me, you get all misty eyed and nostalgic when you think about the memories of owning your first car. What was yours? Mine was a magnificent brown Mini no less! The dream of re-creating the Italian Job was never far away from mine and my teenage mates' minds!
And again, if you're like me, a tinkerer, almost certainly there was only one thing you HAD to buy next. The Haynes Manual for your car. It was the home mechanic's Bible.
The Haynes Manual – British Classics in their own right
Their attention to detail was second to none. Complete with hundreds of accompanying photos in every new edition, the "Haynes" for your car was an absolute must-have.
Fast forward 40+ years, and like many of the cars they featured, the Manuals THEMSELVES have become widely known as British design classics. Renowned for their classic cover designs, and iconic cut-away illustrations.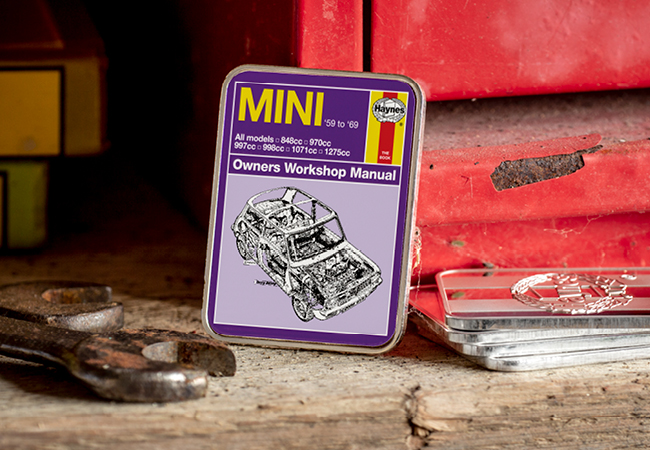 Today I'm announcing a collecting first
So, over the last few months, I'm delighted to announce that we have been working directly with Haynes to bring you a new and exclusive edition of the Haynes Manual – the FIRST EVER Haynes Manual Collector Ingot.
That's right, for the FIRST TIME EVER, the classic Haynes Manual covers are being faithfully reproduced in miniature on a series of Limited Edition Silver-Plated Ingots – created using the prized and sought-after ORIGINAL artwork provided by Haynes themselves!
And as you can see from the enclosed photographs, the first Ingot is a perfect limited edition recreation of the Haynes Manual book cover in miniature, including the instantly recognisable strip-down of the iconic (and my first car!) Mini.
---
Your invitation to SAVE £10.00 when you order today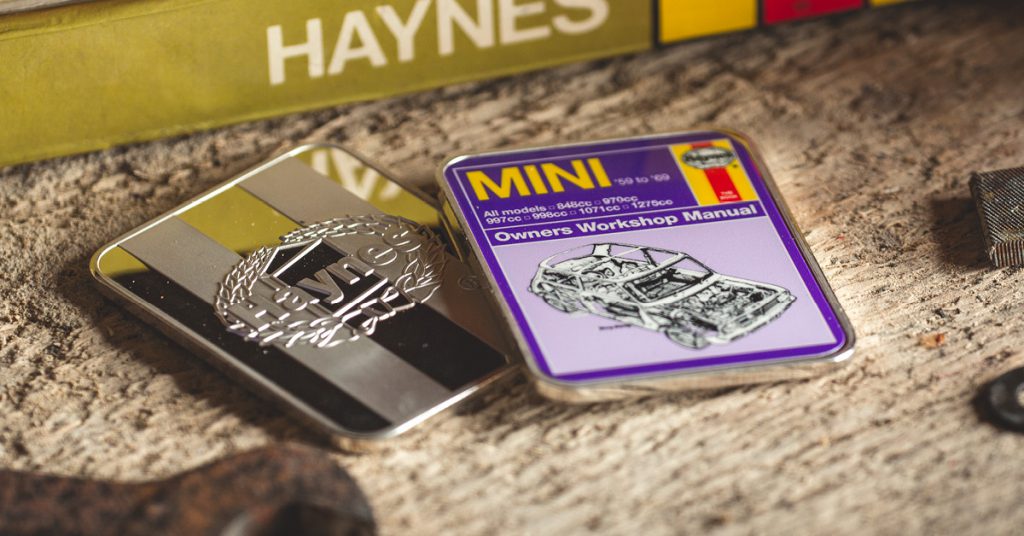 Today, I would like to personally invite you to own this FIRST EVER Haynes Manual Silver-Plated Ingot for JUST £9.99 – an exclusive £10.00 SAVING. Importantly, each Ingot has been struck to the very highest mirror-shine Proof finish. What's more, your Ingot has also been plated in 999/1000 Fine Silver. Since the first Manual was published in 1966, over 150 million Haynes Manuals have been sold globally. And that's when you realise where the collectible significance of this newly released Silver-Plated Ingot lies. Because only 9,995 Ingots have been authorised. Almost certainly, that's far from enough for all the car enthusiasts and collectors in Britain, let alone the rest of the world.