As they left for war in Autumn 1914, the soldiers, and the country, believed that it would all be over by Christmas of that year. We know now that the brutal conflict was to drag on for another 4 years, but Christmas 1914 became famous for being the first respite from the war.
Many felt the need to show give a small token of appreciation to those who had put their lives on the line. And so, on 30th October 1914, Princess Mary launched her Christmas Gift fund. She asked the public:

"I want you now to help me send a Christmas present from the whole nation to every sailor afloat and every soldier at the front."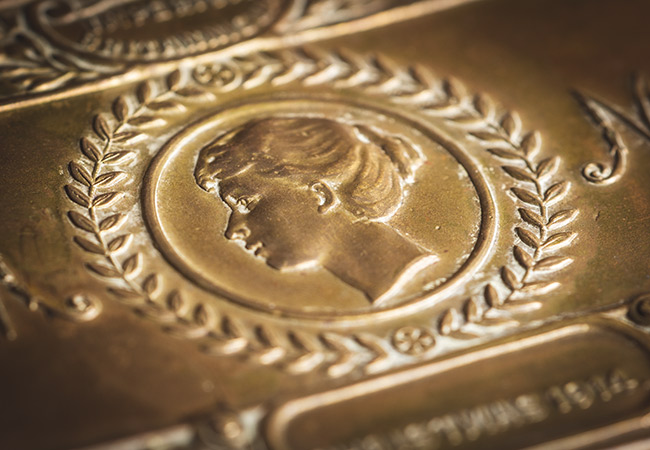 And they did. Her appeal was met with an enthusiastic response, eventually raising over £162,000 (an incredible sum at the time). This led to the memorable Princess Mary's Gift Box. It was a beautiful embossed brass box, 128 x 84 x 30mm (5 x 3.3 x 1.2 inches), containing one ounce of pipe tobacco, 20 cigarettes, pipe, a tinder lighter, a Christmas card and a photo of Princess Mary.
On Christmas Day 1914 alone, almost 500,000 Christmas tins were distributed to British service personnel. The boxes were sent to "every sailor afloat and every soldier at the front" in accordance with Princess Mary's wishes.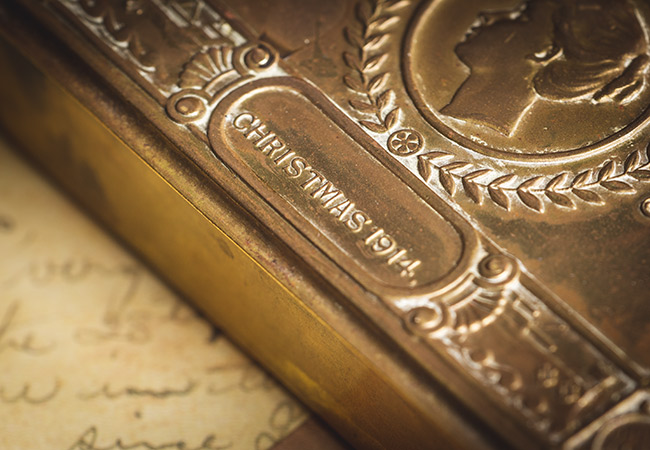 A large number of these tins were subsequently damaged in the war, with many being blown apart by shells or rusting away in the wet conditions in the trench. However, the boxes that have survived are now distinctive mementoes of the war's first Christmas.

They are also absolutely fascinating historic artefacts – each tin is totally unique and may have even been there in the trenches 100 years ago protecting a young tommy's keepsakes. They each tell their own story, and just looking at them you can see the small bits of damage, the smells and stains that tell the story of how they survived 100 years to remind us of the soldiers who suffered the extreme conditions of the Great War.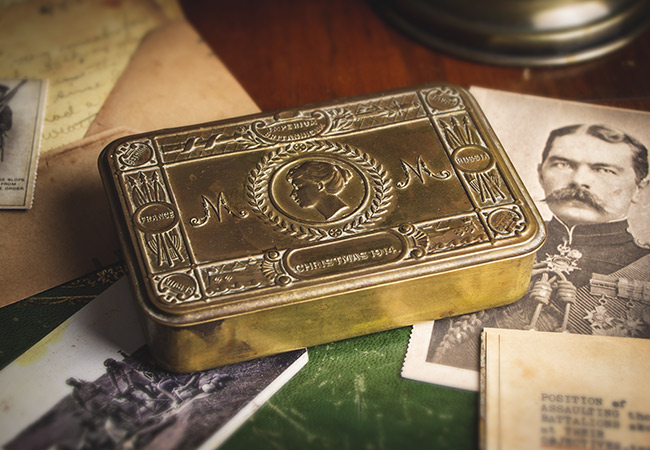 As the end of the First World War Armistice Centenary year approaches, it is especially important to remember those soldiers who would have received one of these tins. It's hard not to think about a young tommy, sitting in his trench on Christmas Day, opening his Princess Mary Christmas tin as carols drifted across No-Man's Land.
---
If you're interested…
We have 50 genuine Christmas Tins available and ready to deliver for Christmas, with 5 coins all from 1918. But with such a limited number available you will need to be quick to own this ultimate Armistice Christmas gift…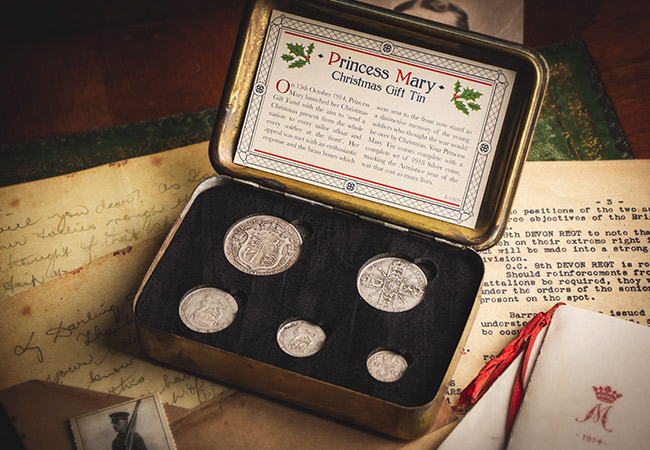 The Beano turns 80 this year. I'll just let that sink in.
I still remember running down to my old corner shop every Wednesday after school to pick up the brand new Beano comic for 2p (the mind boggles!), then running home to try and get a read of the first few pages before mum cleared the table for dinner.
Of all the Beano characters, there was one character I looked forward to reading about more than any other – my favourite mischief maker – Dennis the Menace.
And that's why I have been so excited over the last few months to be able to work personally on an exclusive and highly collectable Beano Commemorative – especially as this year the comic turns 80.
Brand new never before seen Dennis illustration
As a special privilege for their 80th birthday, Beano have given us unparalleled permission to create some brand new Beano artwork.
That's because, for the very first time, Dennis the Menace has been brought to life on a brand new and exclusive Silver-Plated Commemorative by actual Beano artist – Wayne Thompson.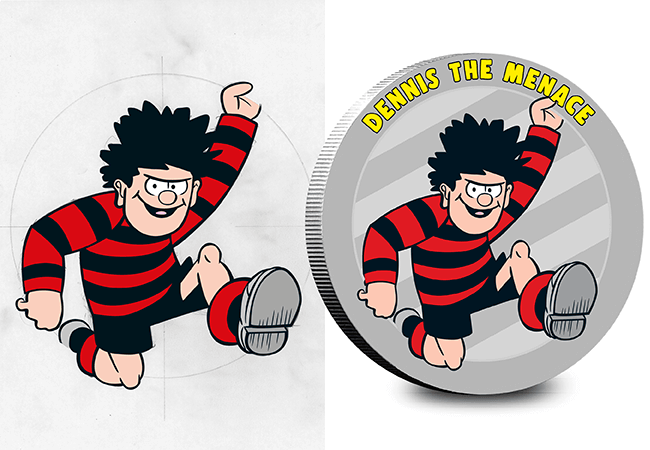 As you can see, the medal is a perfect limited edition tribute to Dennis in his classic red and black sweater that you, I, and many generations of children have grown up to love.
And as I mentioned, the Dennis the Menace illustration has been specially commissioned exclusively for Mint Editions. No one has ever seen it before and it has come straight from The Beano studios, direct to us from their artist – Wayne Thompson.
A whole collection of beloved Beano favourites
Just as in the comics, Dennis is never far from his trusted companion Gnasher, who is also part of the collection of new medals featuring beloved Beano favourites.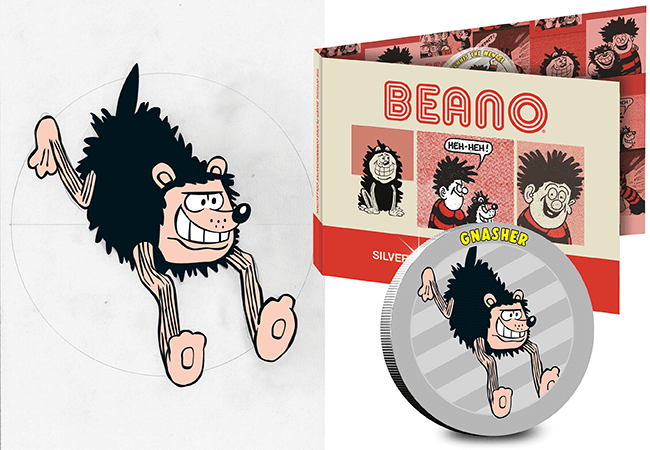 The complete collection of eight medals also includes Bananaman, Plug, Minnie the Minx, Roger the Dodger, Danny and Pieface – and each Silver-Plated Medals all feature brand new never-before-seen illustrations from Wayne.
---
Your invitation to SAVE £10.00 when you order today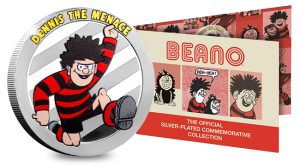 Today, I would like to personally invite you to start your collection with the Dennis the Menace Silver-Plated Medal – for JUST £14.99… that's an exclusive £10.00 SAVING. What's more, alongside your second delivery you'll also receive a free collecting pack to house and protect each Silver-Plated Medal.
100 years ago this year, at 11 o'clock on 11th of November, the guns of war finally fell silent. The First World War was over.
While many fathers, sons, uncles and brothers came home, millions lay where they fell, on the Battlefields of Europe. Those who were lucky enough to be identified were placed in makeshift graves, often only identified by a rifle placed in the earth with his steel helmet placed on top as a final memorial.
To commemorate the Armistice Centenary, The Royal Canadian Mint have issued a remarkable new coin that honours each and every fallen soldier.
Struck in the shape of a WWI Brodie Helmet, it is more deeply curved surface than any other concave or convex-shaped coin I've seen before. The design is so unique in fact, that the Mint have kept the minting technique a closely guarded secret.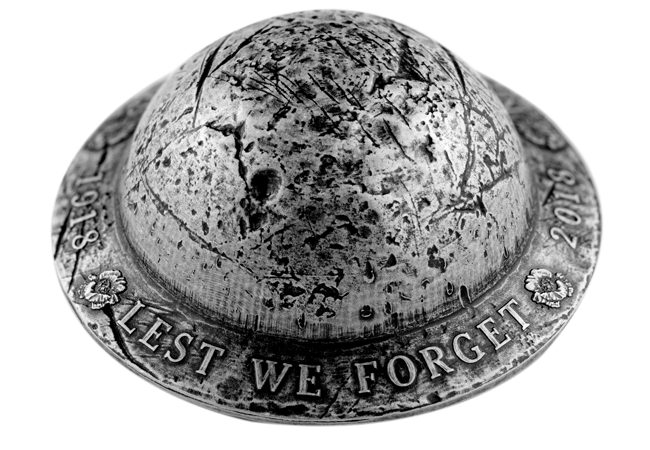 Although the original helmet would have been cast from Steel, this coin has been struck in the very finest .9999 or "four nines" silver, this is the purest grade of silver available. The Royal Canadian Mint is one of the very few Mints in the world with enough minting expertise able to strike coins with this incredible high relief finish. It's an exceptional feat of craftsmanship.
What's more the attention to detail is outstanding, each coin has been given a final antique finish and there are even engraved cracks and markings which complete the helmet's battle-worn appearance. A reminder of the hardships endured by those who fought.
The amount of 2018 Silver 'Helmet-Shaped' coins available is very low. A worldwide edition limit of just 6,500 has been set by the Mint, but of course many of these won't even make it out of Canada. Without any doubt, this has to be one of the most collectable issues ever struck.
The First World War will always be known as one of Man Kind's darkest hours but poignant issues like this one allow us to remember those who have made the ultimate sacrifice.
---
If you're interested…
We have just 500 WWI Lest We Forget Silver 'Helmet-Shaped' coins available for UK collectors, but to get one you'll have to act quickly.
Click here for more details >>