Posts Tagged 'royal mint 50p'
The Royal Proclamation confirming the new coin has been passed, and that means production can officially begin.
Plans to release special Brexit coins was first announced by former chancellor Philip Hammond in last year's Budget. But this is the first confirmation from The Royal Mint that the coin is indeed going ahead.
I don't know about you, but this coin story is one I've been watching for a while. And as such, I suspect it will be one of the most eagerly anticipated issues we've seen for a while!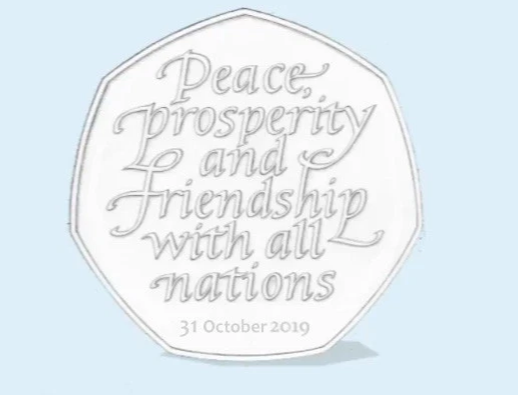 Few details are known about the design of the coin, but we do know that it will feature the inscription: "Peace, prosperity and friendship with all nations", as well as the historic date the UK is due to leave the EU – 31 October 2019.
A 50p coin was struck when the UK joined the European Economic Community in 1973 and when the UK held the presidency of the EU in 1998. So it only seems fitting one is released to also mark the UK's departure from the EU. And by marking such a pivotal event in our history, this coin will surely be sought-after by collectors in years to come.
Whilst not many details have been released by The Royal Mint, there are rumours that up to 10 million coins will be struck and put into circulation, 3 million of which will be ready for 31st October – news that will surely delight collectors, who could be finding these coins in their change as early as Halloween.
We do not yet know whether special collector versions of this coin will be available. Though we have our fingers crossed that there will be!
If you want to be kept up to date with news of the Brexit coin as we approach 31st October, then register your interest below. We'll then contact you as soon as we know more, and let you know how you can get your hands on one.
As you may know, this year we're celebrating a numismatic milestone: the 50th anniversary of the 50p!
And as the collector's favourite 7-sided coin turns 50 years old we've seen many commemoratives marking the occasion, which have proved immensely popular with collectors.
And a brand new UK 50p has been released today by The Royal Mint to mark the actual anniversary of the 50p – 14th October 2019.
This new coin is sure to see an overwhelming response from collectors. That's because the new coin has THREE unique features that alone make this commemorative this year's must have 50p release…
TWO special privy marks and a minting first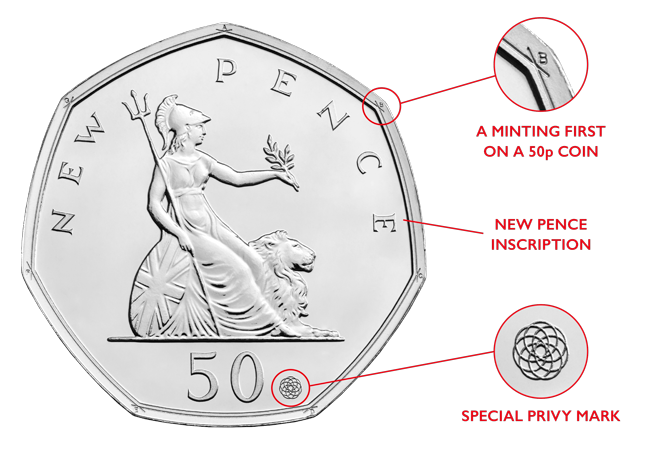 The reverse features Christopher Ironside's iconic Britannia design, inscribed with 'New Pence'. This was the first design to ever feature on the 7-sided 50p, released in 1969.
But what truly sets this issue apart from all other 50years of the 50p commemoratives is the inclusion of THREE special hidden features:
Exclusive never-before-seen privy mark, designed especially for the occasion. A Spirograph-type design drawn from an extension of lines forming the 50p shape creates this unique mark. If you look in the centre you'll see the 7-sided 50p shape we're used to today.
Innovative privy mark around the reverse rim of the coin. The letters A to G are inscribed on each point and are joined by arced crossing lines. It shows the science behind how the iconic 50p shape was created. Importantly, this is a minting first on a 50p coin.
The denomination in 'NEW PENCE' – not seen since 1981.
These three features make this issue highly collectable and will surely be sought-after by collectors in years to come.
50th Anniversary of the 50p Commemorative 50p BU Pack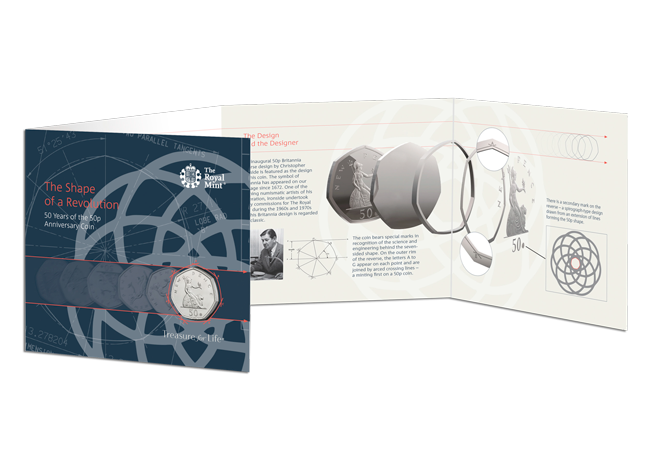 To give as many collectors as possible the chance to own this coin, The Royal Mint has issued it in Brilliant Uncirculated quality, which is coveted by collectors as it means each coin is free from any marks you would find on circulated coins.
Each one is protectively encapsulated in its attractive original Royal Mint packaging to preserve its quality for generations to come. What's more, you can secure this BU Pack at the Royal Mint issue price of just £10 (+p&p). Click here to find out more >>>
50th Anniversary of the 50p Commemorative 50p Silver Proof Coin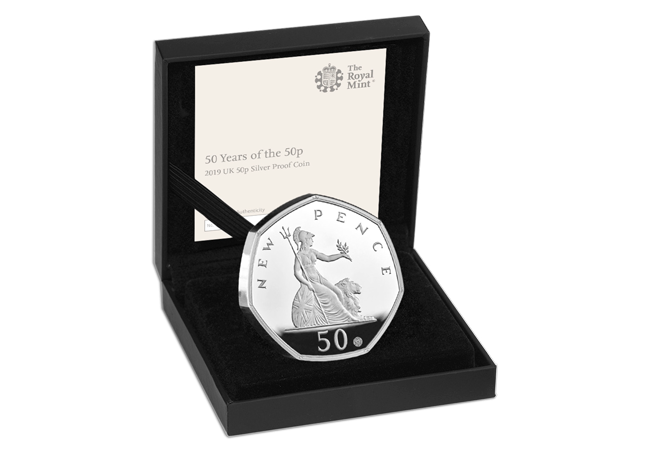 However, you can own the special commemorative 50p in an even more exclusive way – so exclusive just 3,500 collectors worldwide can own it.
This version is sure to sell incredibly quickly. Remember when The Royal Mint re-issued for 2019 some of the most iconic 50ps, to celebrate the anniversary, in Silver Proof quality the popularity was unprecedented. In fact the full allocation of 3,500 COMPLETELY SOLD OUT within two hours.
That's the same edition limit as this single coin.
The coin has the same design, but comes presented in a bespoke Royal Mint presentation box and is struck in superior .925 Sterling Silver to a perfect proof finish. Given how popular commemorative 50ps are, this exclusive precious metal version is sure to be an even bigger hit.
You can secure this limited edition coin for your collection now for just £55 (+p&p) – that's the Royal Mint issue price. Click here to find out more >>>
50th Anniversary of the 50p Commemorative 50p Silver Piedfort Coin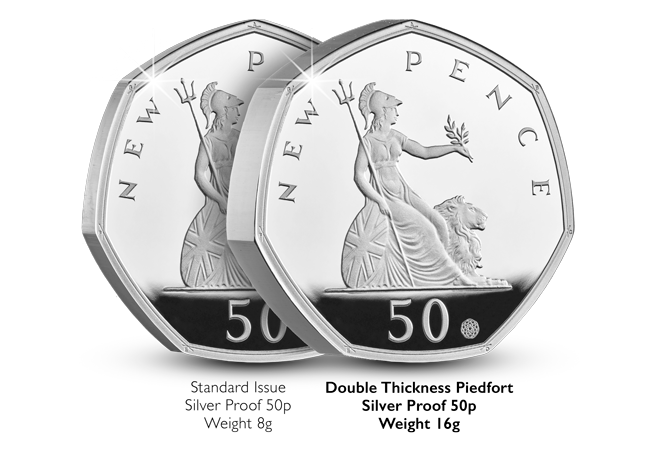 But, there is an even more limited way to own this coin – as a Silver Proof Piedfort. Limited to just 1,969 collectors across the globe, this coin is nearly twice as rare as the regular Silver Proof version.
Piedforts are the pinnacle of Royal Mint craftsmanship. They are highly-sought after amongst collectors and stand out for many reasons:
Twice the weight and thickness of a regular Silver Proof coin
Double the amount of Silver
Low edition limits
Fast sell-out rates
What's more, 50p Piedforts are extremely rare. To my knowledge only about 20 or so have ever been minted and as such are always highly sought-after.
In fact, they are so in demand that the 2019 UK Stephen Hawking 50p Silver Proof Piedfort, with a higher edition limit of 2,500, COMPLETELY SOLD OUT at The Royal Mint within two hours.
You can secure this limited edition coin for your collection now for just £19 (+p&p), followed by 4 further equal interest-free instalments. Click here to find out more >>>
Following the release of the brand new Paddington at the Tower of London Silver Proof 50p, we wanted to know what the public thought!
So, we went out and asked for your opinions on the release of this eagerly awaited 50p… you won't believe some of the responses!
---
If you're interested
Check out our complete Paddington range by clicking here >>