Posts by Matthew Sotheran
Each year Remembrance Sunday provides an opportunity for the nation to reflect on those brave men and women who gave their lives fighting for our freedom. But this year will be especially poignant. As we also commemorate the 80th Anniversary of one of the truly remarkable chapters in our nation's history – the Battle of Britain.
Introducing the official 2020 Remembrance Masterpiece Silver 5oz Poppy Coin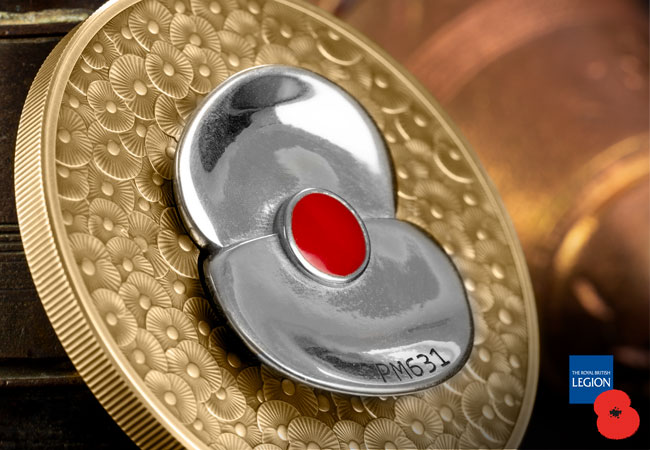 There is one coin that avid collectors await the release of – the "Masterpiece Poppy Coin". The name says it all. Cutting edge minting techniques and materials, representing the pinnacle of craftsmanship. But let me explain what makes this year's Masterpiece Poppy so special…
This year marks the 80th anniversary of the Battle of Britain. Take a look at the images and you'll see that a single stylised Royal British Legion poppy, proudly sits on top of this coin. Multiple poppies have then been engraved into the surface of the coin, resulting in an exceptional 3 dimensional effect.
But the incredibly rare facet of this year's poppy coin is that it's been crafted from a genuine piece of Spitfire.
Expertly crafted from a Spitfire with a remarkable story to tell
Incredibly, this year, the silver poppy that adorns the reverse of each of these coins has been made from a piece of Spitfire PM631 – ensuring each coin is uniquely different and features a piece of tangible aerial history.
Originally built in late 1945, the Spitfire PM631 saw service with the Battle of Britain memorial flight for nearly FIFTY years between 1957 and 2006. You may also remember that it had a starring role in a famous WWII Movie – Battle of Britain, made in 1969.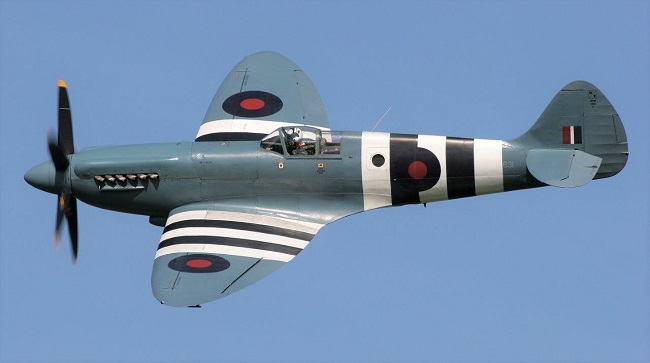 Once the Spitfire piece has been melted down and poured into a shaped mould, it is cooled and cleaned to create the high-relief poppy. After this, it is laser engraved with the official Spitfire plane from which the metal was taken – PM631. Check out the images below to see the process the Spitfire metal goes through to come a Masterpiece poppy…
But even then, it is important to remember, this is NOT a cast piece. The surface of the coin has actually been struck in sterling silver and has then expertly plated in 24ct gold. The finish is a stunning matte appearance achieved using a technique called 'Sandblasting'. This means it has all of the detail that you expect from a commemorative coin but allows you to touch the coin and hold a genuine, iconic piece of history in the palm of your hand.
As I am sure you can appreciate, given all of the individual elements that have to be carefully curated for each individual coin, the edition limit as a consequence is incredibly low. In fact, only 300 of these coins have been produced, with number one fittingly being donated to The Royal British Legion themselves. Which means only 299 coins remain for collectors.
We do not expect these coins to be around for long. And remember, for each coin sold a donation will go straight to The Royal British Legion in support of all their work.
Available now – with a donation to The Royal British Legion
The 2020 Masterpiece 5oz Silver Proof Poppy Coin is available to own right now from The Westminster Collection, although they are expected to sell out quickly.
To further support the work of The Royal British Legion, a donation of £59.50 from the sale of each coin will go directly to the charity, helping them to continue to provide financial, social and life-long support to the Armed Forces community.
£1,100,000 Milestone
What's more, since our partnership began and through the sales of commemorative Remembrance and Poppy-themed coins, collectors have helped raise an incredible £1.1 Million for The Royal British Legion!
This is an achievement that everyone is immensely proud of, and we are hugely thankful to collectors for helping raise such an amazing amount.
If you'd like to find out more about the fantastic work that The Royal British Legion do and why we are so proud of this milestone £1.1 Million that has been raised for the charity, then click here to read more…
Click here to view the complete range of 2020 Remembrance Poppy coins issued in support of the Royal British Legion >>
The Gold Sovereign is undoubtedly one of the most famous gold coins in the world. It's a classic piece of coinage that is coveted the world over and is highly sought after every year by thousands of collectors.
But have you heard of a Piedfort Sovereign? They're incredibly rare and are some of the most highly sought-after issues I've ever seen – demand for the first UK Piedfort Sovereign was so high that it sold out within 24 hours!
Now, in its 165th year, the Perth Mint has created numismatic history by releasing the first ever Australian Piedfort Sovereign.
Crucially, there are three key reasons why this limited edition coin is set to be the most collectable and sought-after Sovereign ever issued…
1. It's a piece of numismatic history
The Australian Sovereign is as close to a well-kept coin secret as you're going to find. It's been struck every year since 1855 to the same exact specification as the UK Sovereign.
Importantly, this is the very first time the Australian Sovereign has been struck to a Piedfort specification. This makes it a significant piece of numismatic history, as it is the first-of-its-kind to ever be struck.
But it's not only the Piedfort specification that makes this coin historically significant. The classic Australian Sovereign design features a special one-year-only "165" privy mark, to mark the 165th anniversary of the first Australian Sovereign. The Sovereign is the 'King of Coins' so this superior issue couldn't be a more fitting tribute.
These two facts alone make this issue incredibly desirable and will make it a priority for collectors in the future.
2. Superior, highly collectable specification
In the 12th century Piedforts were considered prestige pieces and ownership was often used to signify a person's wealth and power. Today, Piedforts continue to be limited issues and striking of such pieces is reserved strictly for the most important events.
Struck on double thickness blanks, Piedforts are twice the weight and contain twice the amount of precious metal as their standard coin counterparts. They're some of the finest examples of coin craftsmanship you'll ever see.
What's more, they have tiny edition limits and consequently fast sell-out rates. This makes them some of the most collectable coins around.
3. Sell-out all but guaranteed
I saved the most significant point for last. You see, when the very first UK Piedfort Sovereign was released in 2017, with an edition limit of 3,500, it completely sold out within 24 hours at the Mint.
Compare this to the very first Australian Piedfort Sovereign, with a worldwide edition limit of 350 coins. Yes, you read that correctly, JUST 350 single Australian Piedfort Sovereigns have been issued – that's a mere TENTH of the number of UK Piedfort Sovereigns that sold out in 24 hours.
The high demand of Piedfort Sovereigns suggests that we are looking at a record-breaking sell-out.
---
If you're interested…
As official Perth Mint distributors we have been fortunate to secure a limited number of these limited edition Sovereigns for UK collectors. Just 350 have been issued worldwide, making it ten times rarer than the first ever UK Piedfort Sovereign that sold out within 24 hours of release.
Considering that this coin is a numismatic 'first' very few will make their way out of Australia, meaning your chances of owning one are very limited. Don't hesitate, click here for more information >>
Everyday we're inundated with symbols and logos, and many of them pass us by. Be it on an advert at a bus stop, on our favourite brand of coffee, or even the Westminster Collection logo that was at the top of this blog. They're everywhere. And even if we do pay attention to them, we don't necessarily stop and think what it symbolises – I know I'm certainly guilty of this.
But there's perhaps nothing quite as symbolic as a nation's Great Seal – and they're fascinating to boot! Great seals have been around since the Middle Ages, and typically feature a nation's coat of arms or an allegorical image, as was common practice during this era to embody political entities like countries or provinces as a Grecian-style female figure.
In centuries when few people could read or write, the seal provided a pictorial expression of state approval which all could understand. They're used as a guarantee of the most important and solemn records and documents, such as laws and treaties.
Generally speaking, the design of a Great Seal rarely changes, only after the ascension of a monarch. It is the one thing that connects all heads of state to their predecessors and those yet to come; an eternal bond.
But a delve into the Canadian archives shows us that the Great Seal of Canada has had several incarnations, and not just to mark a new head of state. Instead, each one marks a significant moment in Canadian history.
One of the most important iterations of the seal is the Great Seal of the Province that was used from 1841 to 1867. This seal is seen to mark one of the most important changes in Canada's history – let's take a look…
The Great Seal of the Province of Canada
In 1841 the two major British colonies of Lower and Upper Canada, now Quebec and Ontario respectively, were brought together under a single government and economy for the first time.
It was Canada's first move toward responsible government and, according to the Canadian Encyclopaedia, was a "26-year experiment in Anglophone-Francophone political cooperation."
Before the merger, Lower and Upper Canada had their own individual seals. To solidify the merge a new seal was created by placing the two existing seals side by side, held together by two allegorical figures with their arms around each other's shoulders marking the unity of the two colonies.
To complete the design, the Royal Arms of the ruling monarch of the time, Queen Victoria, was incorporated over the top of the entire scene.
Steeped in symbolism
Importantly, every element in the detailed design was symbolic. Representing unity and Canada's ties to Great Britain, some of the key elements include:
Lower Canada seal: engraved by Thomas Major in 1793, it depicts a graceful oak tree on the bank of a river overlooking several ships at anchor, with a typical Quebecois town featuring a church steeple in the background.
Upper Canada seal: originally designed in 1792 it features a peace-pipe crossed with a sword and an anchor, bound by an olive crown. The Union Jack is visible in the upper right-hand corner, alongside the royal crown.
The royal arms of Queen Victoria: Victoria's shield, held up by the lion (England) and the unicorn (Scotland).
Two allegorical figures: two figures embrace each other with one hand while holding up the seals of Upper and Lower Canada with the other, symbolising the coming together of the colonies.
Floral ornamentations: the seal is decorated throughout with the Scottish thistle, English rose, and Irish shamrock.
If there was any doubt as to how important this seal is and what it represents to Canada in terms of its history and heritage, then look no further than Canadian Parliament. Here you'll find two original limestone carvings of the Great Seal of Province – a permanent reminder of the historic union of Lower and Upper Canada.
---
If you're interested…
The Royal Canadian Mint is known for being fiercely proud of their country's history, consequently their most significant issue of 2019 featured the Great Seal of the Province of Canada.
Expertly struck from ten full ounces of the finest .9999 silver with gold plating to a flawless proof finish this coin really has to be seen to be believed. And because of the impressive 76mm diameter you can appreciate every minute detail of the faithful reproduction of the Great Seal.
Just 900 coins were issued worldwide and it completely sold out at the Mint. We have a few of these masterful coins remaining, click here for more information >>