Posts Tagged 'Queen 95th Birthday'

Marking her Platinum Jubilee in 2022, today she also celebrates her 96th birthday.
Her Majesty ascended to the throne on 6th February 1952 and has since reigned as a constitutional monarch through years of significant change. She sees public and voluntary service as one of the most important elements of her work, having links with over 600 charities, military associations, professional bodies and public service organisations.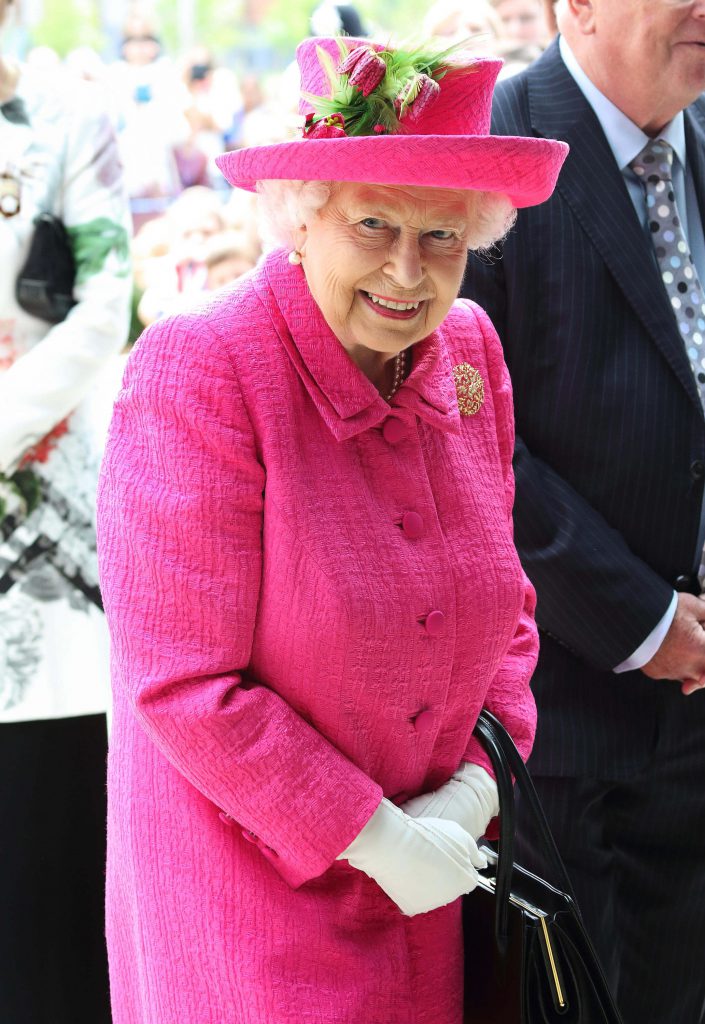 During her lifetime many coins have been issued in celebration of her birthday, of which she has two — her actual birthday on 21st April and her official birthday on (usually) the second Saturday in June.
Let's take a look at some of the different coins released over the years in celebration of Her Majesty's birthdays below.
2021 UK Queen Elizabeth II 95th Birthday BU £5
Her Majesty Queen Elizabeth II celebrated her 95th birthday in 2021. This major event, making her the first ever ruling monarch in British history to reach this milestone, was commemorated on a UK £5 coin.
The extraordinary 95th anniversary year is highlighted on this detailed £5 coin, designed by heraldic artist Timothy Noad. It features the date of the Queen's birth and the year 2021 visible on the reverse. The Royal Cypher takes centre stage, with the quote "MY HEART AND MY DEVOTION" surrounding it along the edge. Ninety-five mills are found on this coin's 'waved' milled edge, celebrating one for each year of the Queen's life.
Traditionally, UK £5 coins are reserved for the most important Royal and Historical anniversaries, and there are few Royal events which are as important as Her Majesty's birthday.
QEII 95th Birthday BU 50p
In 2021, 10,000 of these 95th Birthday 50ps were released into circulation on the Isle of Man. Fully approved by Buckingham Palace, this design features specially commissioned artwork by sculptor Luigi Badia.
Badia has impressively created over twenty-five portraits of the Queen and this QEII 95th Birthday Brilliant Uncirculated 50p features a recently designed portrait of Her Majesty. His process of sketching a new portrait of the Queen starts with collecting lots of reliable references, combining them to make a unique portrait.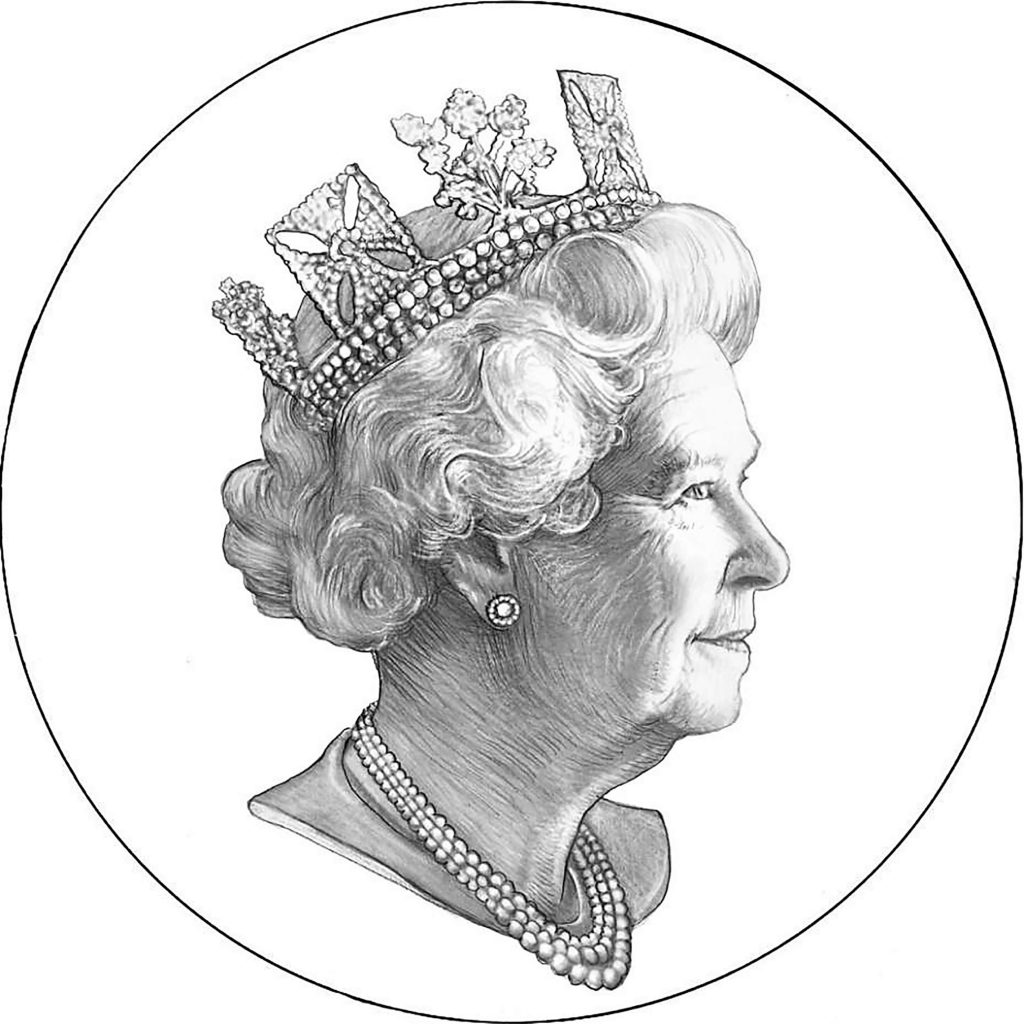 When Badia sketches a portrait to feature specifically on a coin, he usually chooses a profile portrait for a more traditional design. He uses the sketch just as a guide for then producing the plaster model, which he crafts himself over a few weeks to ensure the final coins depict his version exactly.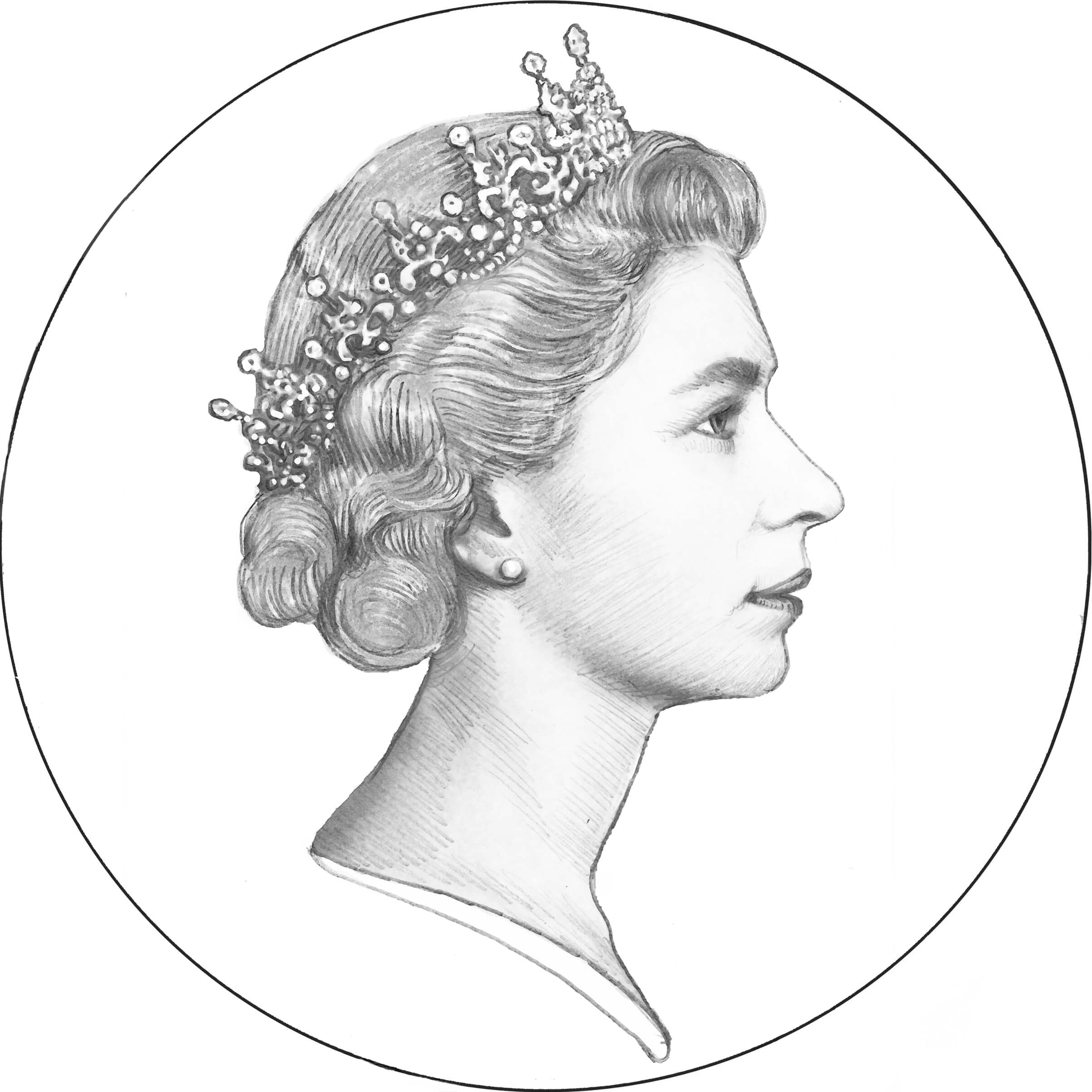 British Isles 50p coins like this rarely turn up in your change in the UK, making these 50p coins some of the most sought-after circulating coins around.
UK 2021 Queen Elizabeth II's Official Birthday Silver
DateStamp™ Issue
This special DateStamp™ issue features JUST 500 hand-selected UK 2021 Royal Coat of Arms 1oz Silver Coins, protectively encapsulated and stamped with the official Royal Mail one-day-only postmark of 12th June 2021 – the official date of Her Majesty's 95th birthday.
This 1oz coin is impeccably struck from 99.9% Pure Silver to The Royal Mint's Bullion finish. The reverse design by Timothy Noad depicts the official Coat of Arms of HRH Queen Elizabeth II, with the historic design celebrating centuries of British Royal lineage — The Royal Arms is the official coat of Arms of the ruling monarch.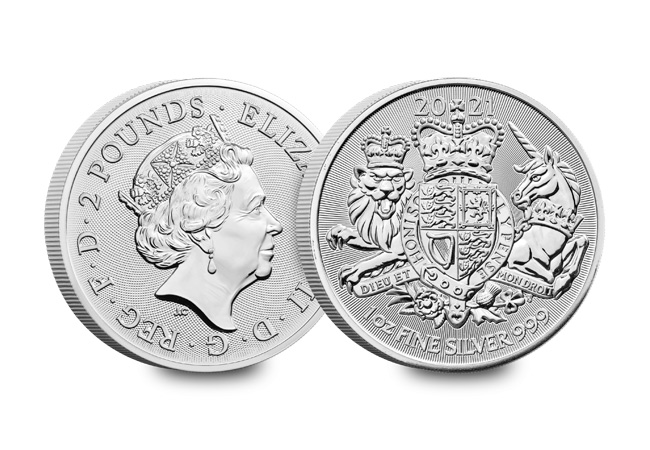 The UK Royal Coat of Arms 1oz Silver Coin has a maximum mintage of 100,000 coins but considering JUST 500 of these limited DateStamp™ issues were available upon initial release, it makes this particular presentation incredibly sought-after.
Visible within the reverse design are the national flowers for each country within the UK: the Tudor rose of England, the Leek for Wales, the Shamrock for Northern Ireland, and the Thistle for Scotland. Featuring on the obverse is Jody Clark's definitive coinage portrait of Her Majesty the Queen.
2006 UK 80th Birthday £5 Coin
In 2006 a special £5 coin was released, which has since been announced as the fourth rarest £5 coin issued (as of the latest mintage update in 2013)! This £5 coin celebrates the Queen's 80th birthday, with the dates 1926 and 2006 inscribed as Her Majesty was born in 1926.
This £5 coin is very popular with collectors, which is not surprising when you see its beautiful design. Three trumpets with trumpet banners display on the reverse, accompanied by the inscription "VIVAT REGINA", the Latin phrase for 'long live the Queen'. Danuta Solowiej-Wedderburn designed the reverse whilst the obverse features Ian Rank-Broadley's (FRBS) portrait of HRH Queen Elizabeth II.
One such event that took place for Her Majesty's 80th birthday included an informal walkabout in which the Queen spent roughly forty-five minutes interacting with more than 20,000 well-wishers who lined the streets outside Windsor Castle. She was accompanied by The Duke of Edinburgh and crowds waved Union flags, as well as carried colourful celebratory bouquets.
---
Did you know that due to the Coronavirus Pandemic, the Trooping the Colour ceremony which traditionally marks Her Majesty's official birthday, could not follow its long-established format in 2021.
Coins that have an interesting back-story, such as these, can be particularly sought-after with collectors!
Explore our range of coins in celebration of the Queen's previous birthday's by clicking here >>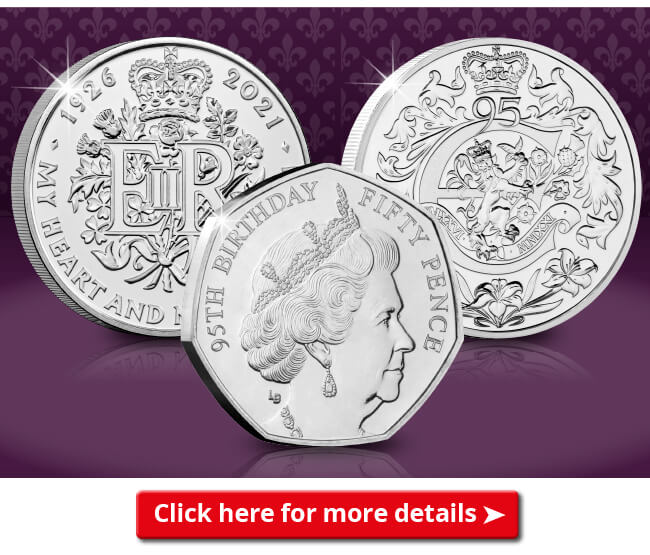 In today's video Adam takes a closer look at the ULTIMATE Royalty 50p Coin Cover Collection that ONLY 995 collectors can own worldwide.
It's been issued to honour the Queen's milestone 95th birthday! Not only is this yet another milestone for our Queen, but it is a crucial moment for the country and collectors.
So if you're interested you'd best be quick! Watch our latest video to find out more…
---
If you're interested…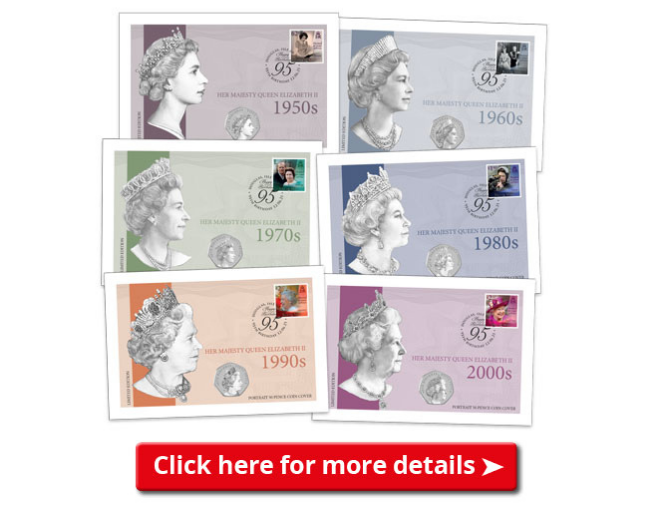 As I'm sure you already know, this year Her Majesty marks her 95th Birthday. This is an incredible milestone and an important moment in British history that has been rightfully remembered on some fantastic commemoratives.
But there's one particular issue that, for me, stands heads and shoulders above the rest…
Introducing the Diamond Masterpiece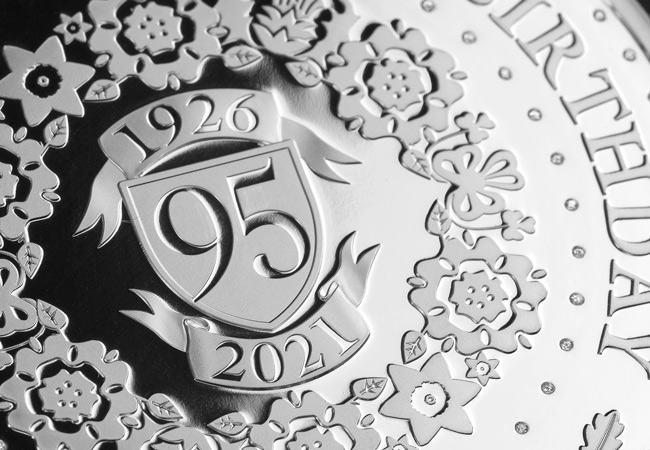 The name 'Masterpiece' really is appropriate for this coin, and I would almost say that it hardly does justice to this incredible release which is the pinnacle of craftsmanship. Cutting edge minting techniques and materials have been used to create this special commemorative.
Containing NINETY FIVE Actual Diamonds – one for each year of Her Majesty's life
The coin itself has been struck to an incredible 65mm from FIVE OUNCES of .999 PURE SILVER. The coin is fully approved by Buckingham Palace and the Queen and is the perfect heirloom for you and your family to commemorate the occasion.
And around the outside of the designs are 95 diamonds representing the years of Her Majesty's life. This is an incredible feature and a real feat of numismatic innovation.
As I am sure you can appreciate, given all of the individual elements that have to be carefully curated for each individual coin, the edition limit as a consequence is incredibly low. In fact, only 195 of these coins have been produced.
JUST 195 AVAILABLE – secure yours while you can!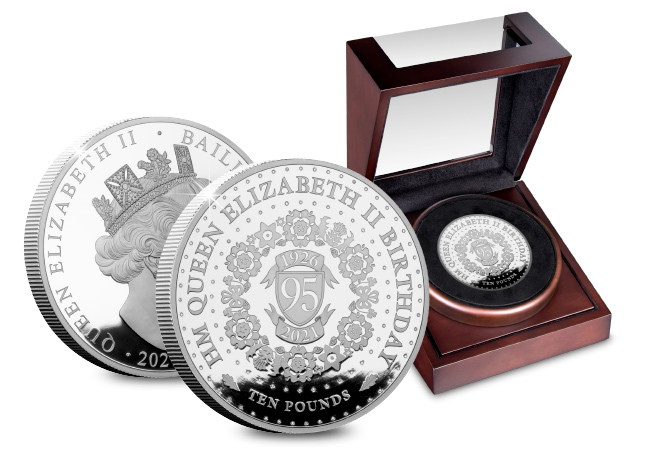 The Queen's 95th Birthday Diamond Masterpiece Coin is available to own right now from The Westminster Collection, although these numismatic masterpieces are expected to sell out quickly.