Posts Tagged 'Princess Diana'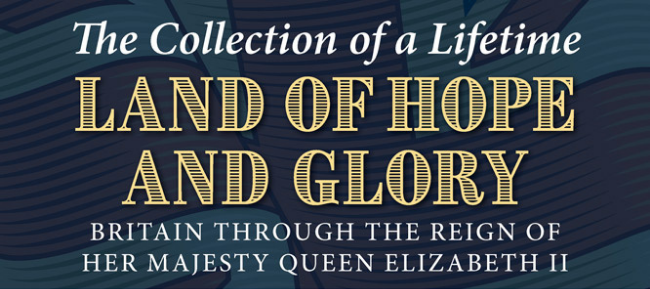 The Land of Hope and Glory Collection tells the story of Britain through the reign of Her Majesty Queen Elizabeth II.
Britain goes Decimal…
On the morning of the 15th February 1971, Britons woke up with a brand new currency following increasing global pressure to go Decimal. In one of the biggest changes to our currency in 1000 years, we left behind the old Pounds (£), Shillings (/-) and Pence (d) system and introduced the decimalised coins that we know today.
Under the new system, the Pound was retained, but was divided into 100 new pence rather than 20 shillings (or 240 pence). And to help the public get used to this major change, new Decimal coins, training stamps and conversions charts were all made available to the public ahead of Decimal Day.
Do you still have any of the old pre-Decimal coins? Let us know in the comments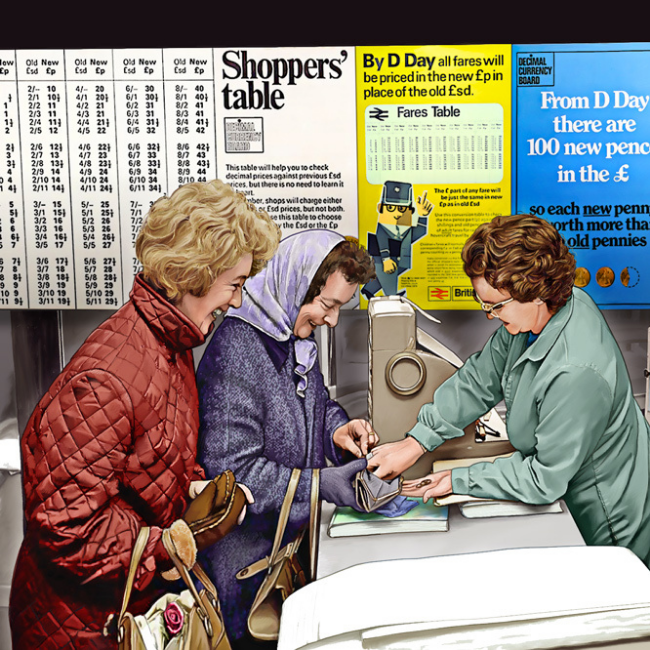 First Test Tube Baby
On 25th July 1978, a five-pound baby girl named Louise Joy Brown was born in Lancashire. As the first baby to be conceived through in vitro fertilisation (IVF), Louise's birth made headlines and she became known around the world as the first "test tube baby". A few years later, Louise's younger sister Natalie was born, also via IVF. And in 1999, Natalie became the first mother born through IVF to give birth – without IVF.
Patrick Steptoe, Robert Edwards and Jean Purdy, the pioneering medical professionals who were involved in Louise's birth were awarded a Nobel Prize in Medicine for their life-changing work. As of 2022, it has been estimated that over eight million babies worldwide have been conceived via IVF
The Home Computing Boom
1980s Britain saw a boom in home computing and a drastic change in public opinion towards the technology. Once seen as complex machinery used only by scientists and large organisations, computers were rare and most people would have never seen a computer in real life…
Fantastic machines like the Acorn Electron, Commodore 64 and Sinclair ZX Spectrum were developed to make computing user-friendly for the first time and to bring the wonders of information technology into homes, schools and workplaces.
Technology would continue to advance throughout the decade, as the home computing boom caused an unexpected growth in video gaming and by 1989 a British scientist, Tim Berners Lee, conceived and developed the World Wide Web.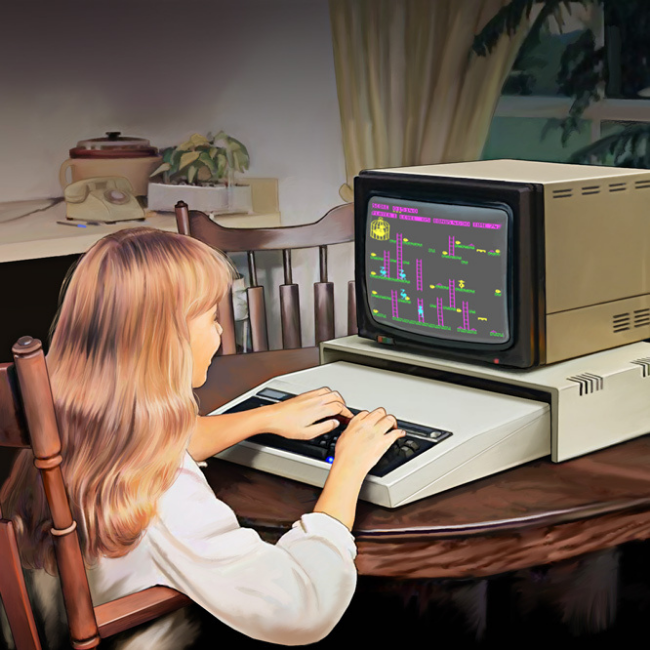 The Wedding of Prince Charles and Lady Diana Spencer
Described at the time as a "fairytale wedding", Prince Charles and Lady Diana Spencer were married at St Paul's Cathedral on 29th July 1981. The event was watched by a record-setting global television audience of 750 million, all eager to see Diana's wedding dress which was one of the best kept secrets of the fashion industry at the time.
Were you one of the 750 million to watch?
The wedding broke royal protocols and created traditions that we still see during Royal Weddings today. Diana was the first Royal bride to omit the words "obey" from her vows and after forgetting to kiss after their vows, the couple shared a romantic kiss on the balcony of Buckingham Palace. Today, the 'balcony kiss' is one of the most iconic moments to take place during a Royal wedding.
The Raising of the Mary Rose
The Mary Rose was lost for over 400 years. She was one of Henry VIII's warships and a huge team of divers, archaeologists and scientists were involved in her recovery and raising.
The search for the Mary Rose began in 1965, when Alexander McKee began investigating wrecks in the Solent and discovered a strange shape underneath the seabed via sonar scans. Teams of amateur and professional divers explored the area and on 5th May 1971, Percy Ackland found three of the port frames of the Mary Rose.
Nearly 11 years of excavation and careful planning followed and finally, on 11th October 1982, the world watched the raising of the historic Mary Rose…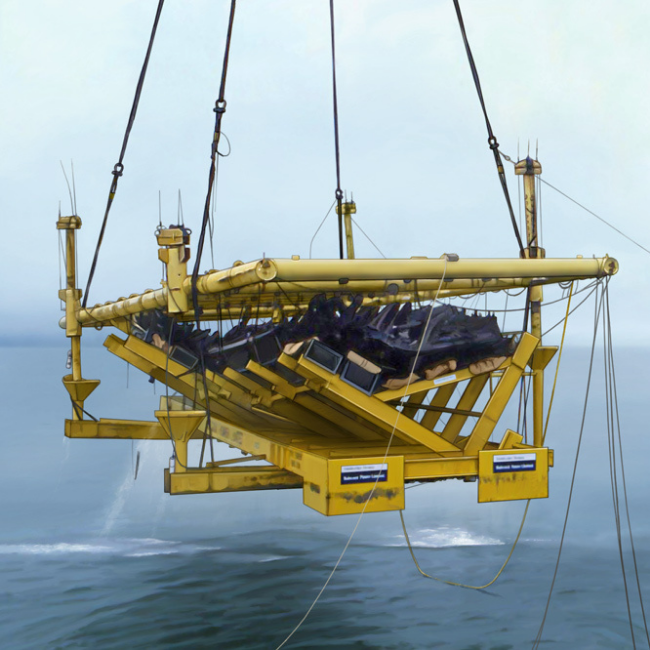 ---
If you're interested…
The Land of Hope and Glory Collection celebrates Britain through the reign of Her Majesty Queen Elizabeth II. And today, you can start the Collection of a Lifetime. Click here to secure the Coronation Medal for FREE >>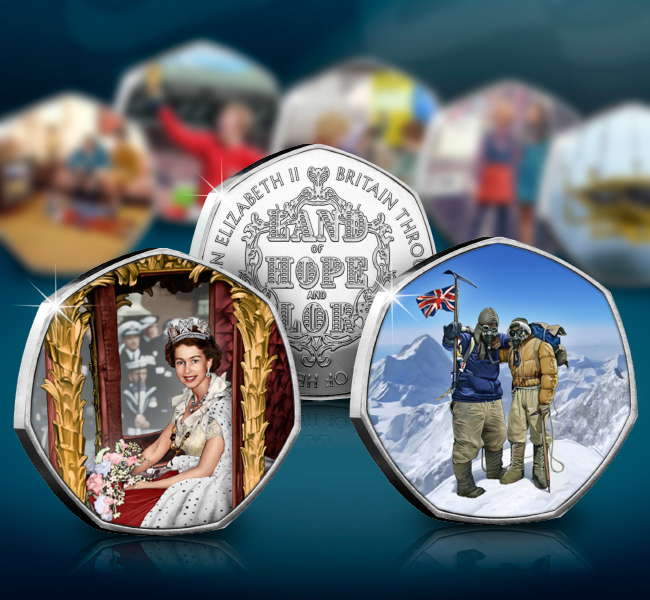 Revisit the historic moments that have shaped Britain through the reign of Queen Elizabeth II with our Land of Hope and Glory blog series:
It's hard to believe that almost 25 years ago the nation lost its People's Princess. Diana, Princess of Wales, was famously known for her compassion and commitment to good causes. Many of her patronages included children's and cancer charities, and her work advocating for mental health and HIV became world famous.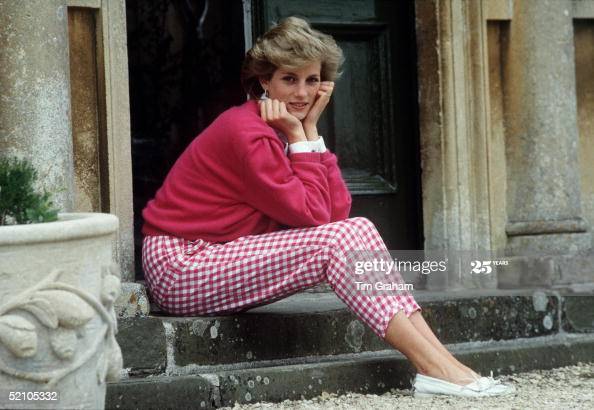 Diana's ability to touch the hearts of everyone is remembered by millions around the world. Today, Thursday 1st July 2021, on what would have been Princess Diana's 60th Birthday a special statue is due to be unveiled.
And it's causing quite the excitement in the collecting community…
Commissioned by both the Princes
In 2017, Princes William and Harry announced they were commissioning a statue for their late mother to 'help all those who visit Kensington Palace to reflect on their mother's life and legacy…and recognise their mother's positive impact' [1].
Both Princes have signed off and approved the design together.
Placed in Diana's favourite spot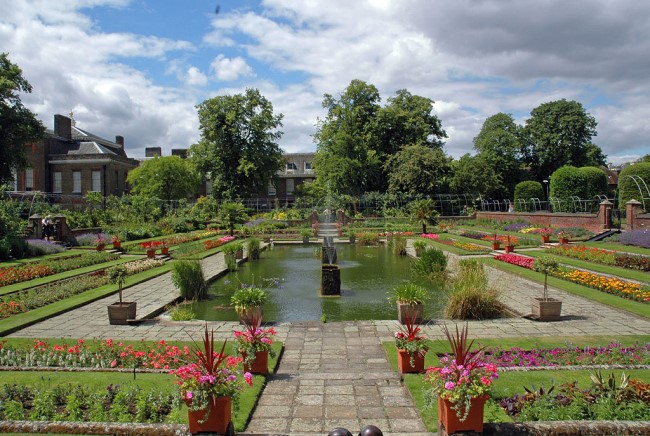 The statue will be unveiled in the Sunken Garden at Kensington Palace, which is said to have been Diana's favourite spot. In fact, in 2017 for the 20th anniversary of her death, the garden was transformed into a beautiful tribute to her. Featuring displays of forget-me-nots, white lilies, white roses, tulips, and Cosmo daisies. The white and cream hues were a nod to Diana's love for lighter shades.
And importantly for collectors
The statue itself has been designed by Ian Rank-Broadley FRBS, who has a glittering history of commissioned work for The Royal Mint. Most notably are his portrait design of Queen Elizabeth II featured on all UK coins between 1998 and 2015, and the recent UK Prince Philip memorial coin. His work has also featured on many medals and commemorative coins, including the UK 2012 Diamond Jubilee £5 Coin, the 2002 Golden Jubilee Crown, and the Queen Mother Centenary Crown.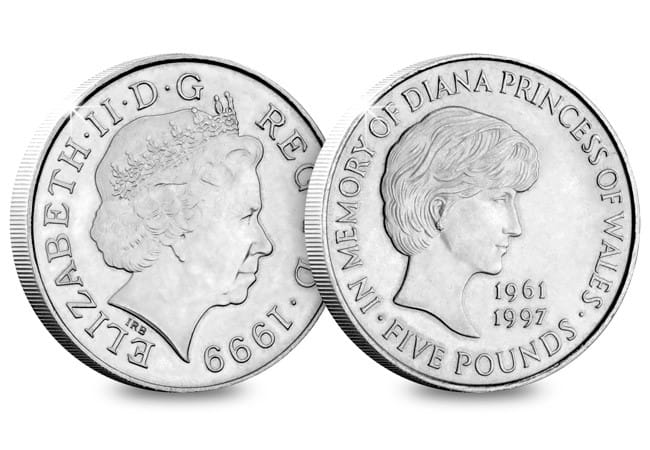 With such an established career, it's safe to say that many collectors are excited to see the result of Rank-Broadley's latest work for this special statue.
And as this year marks what would have been Diana's 60th birthday, alongside the new statue unveiling multiple commemoratives have been issued to pay tribute to the People's Princess. If you'd like to pay tribute to the late Princess, you can see the full range available by clicking here.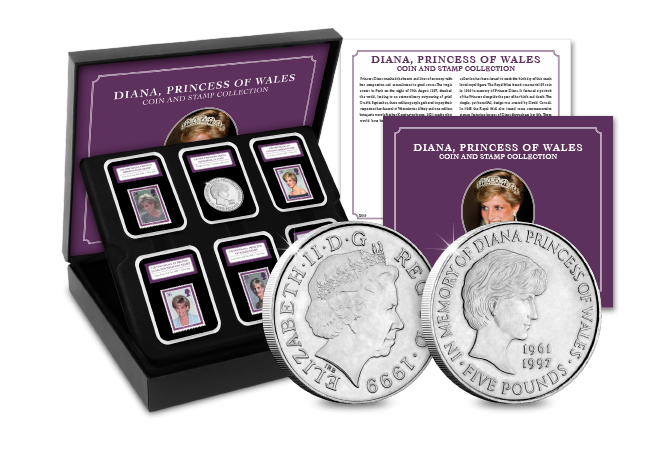 ---
If you're interested:
You can pay tribute to Princess Diana with a limited edition 60th Birthday Frame – hand stamped on the 1st July 2021 on what would have been Diana's birthday. Just 495 collectors can own one, so you'll need to act today to secure yours. Click here to find out more >>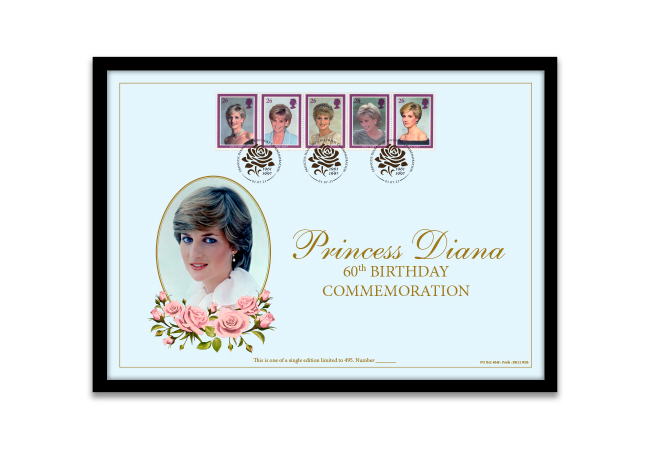 ---
References
[1] https://www.dw.com/en/princess-diana-statue-to-be-unveiled/a-58017359
Today marks what would have been the late Princess Diana's 60th Birthday.
And in my latest unboxing video I take a closer look at the limited edition coin and stamp collection that pays tribute to the incredible life and legacy of the People's Princess.
But only 195 will EVER be released worldwide.
Why so few?
Well it pairs a 1999 UK £5 coin that's scarcely available on the secondary market, with five historic Royal mail stamps that were issued for ONE YEAR only.
And to find just one stamp, let alone all FIVE in good condition over 20 years later is incredibly rare.
So if you'd like to be one of the 195 collectors to own this must have coin and stamp collection, don't delay…
---
If you're interested…