Posts Tagged 'Princess Diana'
It's hard to believe that almost 25 years ago the nation lost its People's Princess. Diana, Princess of Wales, was famously known for her compassion and commitment to good causes. Many of her patronages included children's and cancer charities, and her work advocating for mental health and HIV became world famous.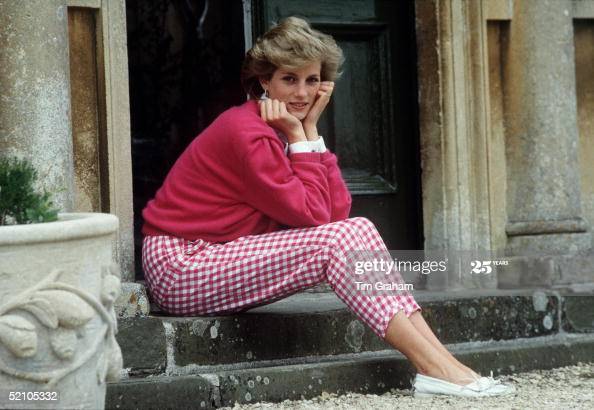 Diana's ability to touch the hearts of everyone is remembered by millions around the world. Today, Thursday 1st July 2021, on what would have been Princess Diana's 60th Birthday a special statue is due to be unveiled.
And it's causing quite the excitement in the collecting community…
Commissioned by both the Princes
In 2017, Princes William and Harry announced they were commissioning a statue for their late mother to 'help all those who visit Kensington Palace to reflect on their mother's life and legacy…and recognise their mother's positive impact' [1].
Both Princes have signed off and approved the design together.
Placed in Diana's favourite spot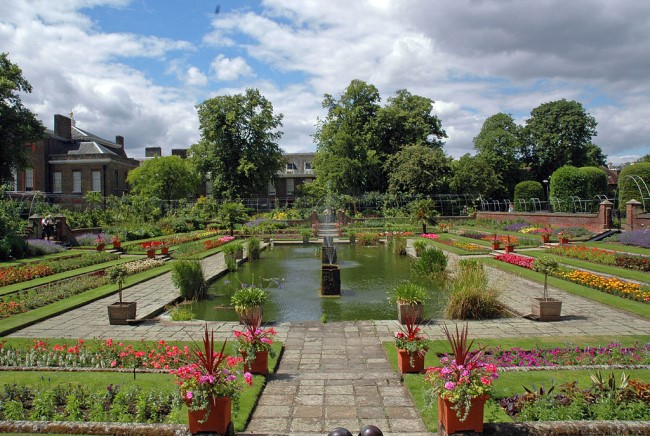 The statue will be unveiled in the Sunken Garden at Kensington Palace, which is said to have been Diana's favourite spot. In fact, in 2017 for the 20th anniversary of her death, the garden was transformed into a beautiful tribute to her. Featuring displays of forget-me-nots, white lilies, white roses, tulips, and Cosmo daisies. The white and cream hues were a nod to Diana's love for lighter shades.
And importantly for collectors
The statue itself has been designed by Ian Rank-Broadley FRBS, who has a glittering history of commissioned work for The Royal Mint. Most notably are his portrait design of Queen Elizabeth II featured on all UK coins between 1998 and 2015, and the recent UK Prince Philip memorial coin. His work has also featured on many medals and commemorative coins, including the UK 2012 Diamond Jubilee £5 Coin, the 2002 Golden Jubilee Crown, and the Queen Mother Centenary Crown.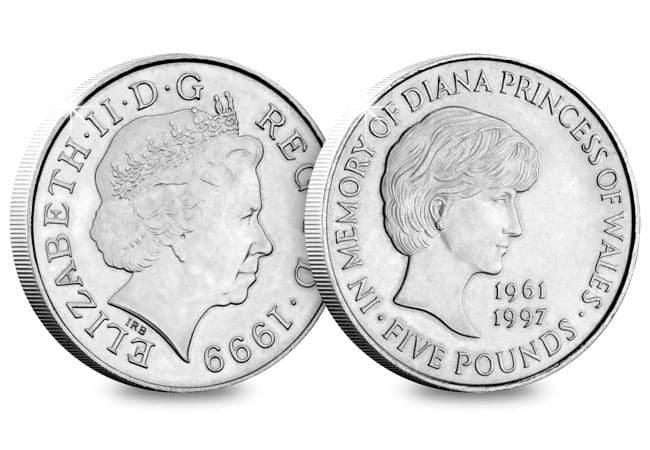 With such an established career, it's safe to say that many collectors are excited to see the result of Rank-Broadley's latest work for this special statue.
And as this year marks what would have been Diana's 60th birthday, alongside the new statue unveiling multiple commemoratives have been issued to pay tribute to the People's Princess. If you'd like to pay tribute to the late Princess, you can see the full range available by clicking here.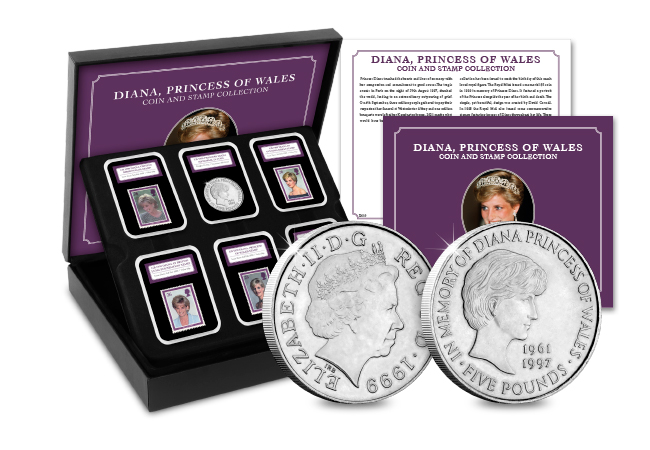 ---
If you're interested:
You can pay tribute to Princess Diana with a limited edition 60th Birthday Frame – hand stamped on the 1st July 2021 on what would have been Diana's birthday. Just 495 collectors can own one, so you'll need to act today to secure yours. Click here to find out more >>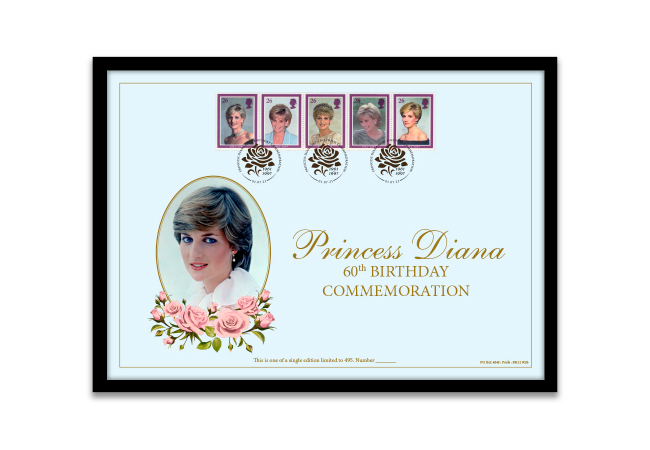 ---
References
[1] https://www.dw.com/en/princess-diana-statue-to-be-unveiled/a-58017359
Today marks what would have been the late Princess Diana's 60th Birthday.
And in my latest unboxing video I take a closer look at the limited edition coin and stamp collection that pays tribute to the incredible life and legacy of the People's Princess.
But only 195 will EVER be released worldwide.
Why so few?
Well it pairs a 1999 UK £5 coin that's scarcely available on the secondary market, with five historic Royal mail stamps that were issued for ONE YEAR only.
And to find just one stamp, let alone all FIVE in good condition over 20 years later is incredibly rare.
So if you'd like to be one of the 195 collectors to own this must have coin and stamp collection, don't delay…
---
If you're interested…
Births, deaths, weddings, christenings, jubilees, anniversaries and birthdays – The Royal Family have had commemorative coins issued to mark them all.
But which Royal coins are really worth adding to your collection? With so many out there it can be difficult to know where to start. That's why I've put together this guide to nine of my favourite coins, each representing a member of the modern Royal family. Without further ado, in no particular order…
1. Princess Diana
No royal collection would be complete without a Princess Diana coin.
The most poignant issue was struck by The Royal Mint in 1999 following the tragic death of 'the people's princess'. Diana touched the hearts and lives of thousands across the globe and this coin commemorates her life – with a beautifully engraved portrait by David Cornell. Such an important member of the Royal family should forever be remembered and this is the perfect way in which to pay tribute to her life.
2. Prince Charles
The Prince Charles 50th Birthday coin holds the distinction of being the rarest UK Gold £5 coin to be issued. Just 773 were struck and it also features the most words of any British coin within its design.
Prince Charles founded the Princes Trust in 1976 – a charity which was created in order to help the lives of disadvantaged young people. The coin was issued to celebrate his 50th birthday and honour his charity. As the longest serving heir in British history, Prince Charles is certainly a Royal figure that is certainly deserving of a commemorative coin.
3. The Duke and Duchess of Cambridge
The Royal Wedding of the Duke and Duchess of Cambridge was viewed by an estimated 2 billion people around the world.
The most iconic photograph of the whole ceremony was undoubtedly The Balcony Kiss – and this was captured perfectly on this Cook Islands $1 coin. Plated in 24 carat gold the Royal Wedding Photographic coin had an edition limit of just 24,500 – which isn't many considering the number of people who tuned in to watch the ceremony. In years to come when William is King, those who have this coin will own a lasting memory of the day he married his Queen.
4. Prince George
Born 22nd July, 2013, the arrival of the young Prince George stirred global interest – especially from the USA. As the first son of the Duke and Duchess of Cambridge, Prince George became third in line to the throne and is our future King.

The Perth Mint issued a Royal commemorative coin which really stood out. Depicting William and Kate with the new-born Prince this was the first official coin from a major nation to feature an engraving of Prince George.
5. Princess Charlotte
On 2nd May this year, the Duke and Duchess of Cambridge welcomed their second child into the world – Princess Charlotte Elizabeth Diana. The Royal christening took place on 5th July at St Mary Magdalene church on the Sandringham estate.
With a design inspired by the stunning Lily Font which is used for Royal christenings, the Silver Proof £5 Coin issued by Guernsey captured the moment perfectly. The elaborate one-off design makes this one of the premier commemoratives celebrating the young Princess.
6. Queen Elizabeth II
In 2012 Her Majesty Queen Elizabeth II celebrated her Diamond Jubilee. It was a multinational celebration that marked the 60th anniversary of the her accession in 1952.
To celebrate, an exceptional 'double obverse' coin was issued. The coin is the first ever UK crown to feature the Queen's full profile on both sides. With such a rare design, the Diamond Jubilee coin is certainly one which adds another dimension to any Royal collection.
7. Prince Philip
Prince Philip's life of Royal service began at Queen Elizabeth II's accession in 1952 when he was promoted to Commander after a distinguished career in the Royal Navy.
To mark his 90th birthday in 2011, a specially commissioned portrait was struck on a £5 coin issued by the Royal Mint. This was the first coin in British history to feature both a Monarch and a Consort on opposite sides.

8. Queen Elizabeth the Queen Mother
The 1980 UK 25p Coin was issued in celebration of the Queen Mother's 80th birthday. The design features the effigy of the Queen Mother surrounded by bows and lions – which is a pun on her family name 'Bowes-Lyon'
This was the penultimate 25p crown issued in the UK and was the first ever British coin to feature a living person other than the reigning monarch.
Special mention…
A special mention goes to the Canada 2014 $20 'Royal Generations' Silver Proof Coin. This coin was issued to commemorate the birth of Prince George and pictures three generations of heirs.

I think it's particularly special as Prince George's birth marks only the second time in history that Britain has had three living male heirs to the throne from separate generations – and this coin captures them all.
So if you're looking to put together a Royal collection, these coins are my personal recommendations, each with a story to tell. If you own some already, let me know in the comments…