Posts Tagged 'canadian coins'
Now home to around 30,500,the picturesque port of Dieppe on the Normandy coast of France was once the site of what's perhaps the most conflicting military operation of WWII.
Some hail it as an essential lesson, to help future troops and pave the way for victory on D-Day. Whilst others see it as the most ill-fated and disastrous military effort of The War.
A test of Hitler's "Fortress Europe"
The year is 1942, and on the morning of 19th August, alongside 1,000 British troops and 50 American Rangers, 5,000 Canadian troops began their assault on the small French port town of Dieppe. This was Canada's first army offensive in Europe, and the results left many thinking it could well be their last.
Ultimately, the raid was strategically designed to test the Allies' ability to launch amphibious assaults against Adolf Hitler's "Fortress Europe". This would inform future plans to bring about an end to the conflict.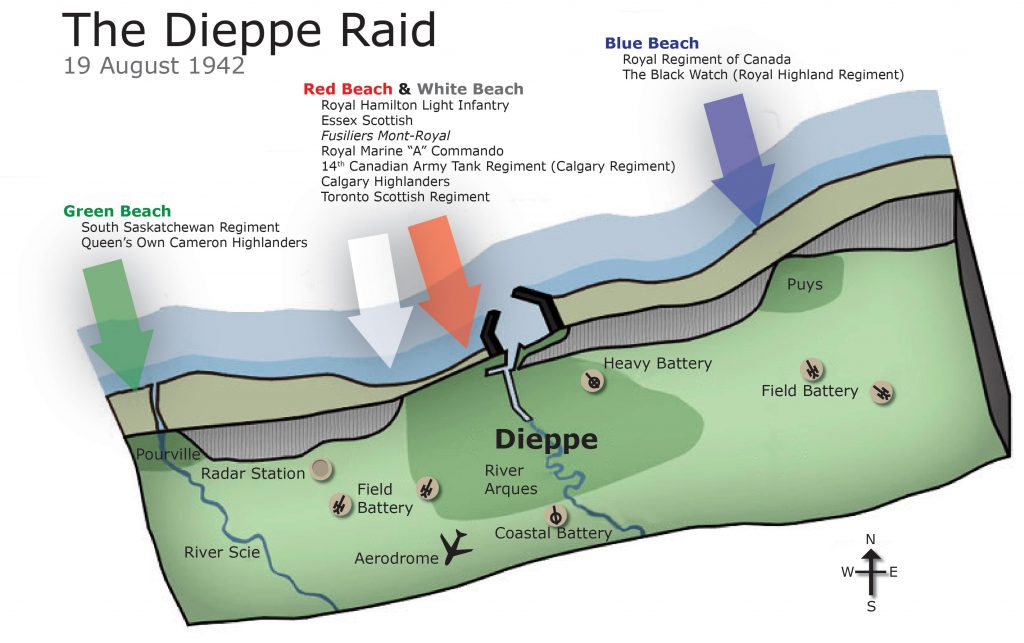 The co-ordinated air, land and sea assault was codenamed Operation Jubilee. Allied forces landed on the shores of Dieppe with the intention of occupying the town for a brief period of time in which they would gain intelligence and entice the Luftwaffe – German Air Force – in to open battle to wear them down.
But from the beginning, nothing went as planned. Less than six hours in the commanders called a retreat.
High costs
The troops arriving via the sea unexpectedly encountered a German fleet, and the ensuing battle at sea robbed the Allies of their element of surprise. This was what they were hoping would give them the upper hand. Out of the four beaches targeted, none of the attacks were classed as successful, resulting in severe loss of life and assets. With the element of surprise lost, the Allies and their armoured support were late to arrive at their designated attack points meaning many were slaughtered with little preparation to defend themselves.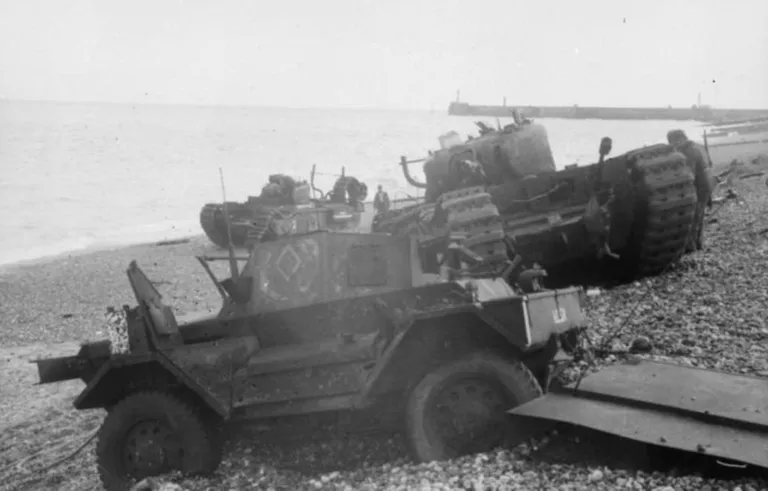 The Calgary Tanks that did make it ashore were poorly equipped for the terrain and struggled to move across the pebbled beaches. Those that did make it across the beach were unable to destroy the enemy's concrete barriers blocking their path, their guns were not strong enough. Eventually these tanks provided covering fire for the force's evacuation.
German casualties were light. In comparison the Allies suffered, especially the Canadians: over 900 were killed, 2,400 wounded and a further 1,900 taken prisoner. Fewer than half the Canadians who departed for Dieppe returned.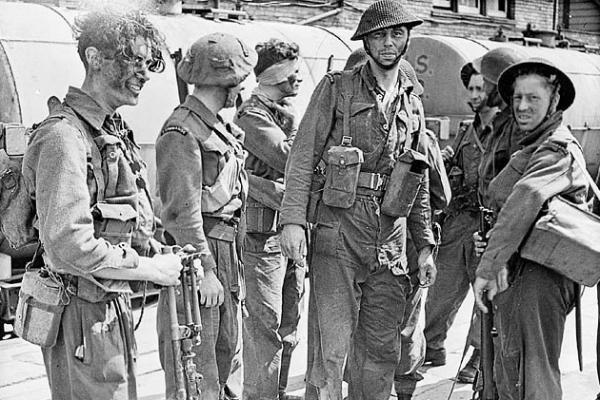 Lessons learned
Allied commanders knew the raid was risky. But none imagined it would be such a terrible failure, with so much loss of life. It was believed the element of surprise would be their greatest weapon, allowing landing troops to overcome German defenders and occupy the town. But little thought was given to the importance of air superiority and the need for overwhelming firepower.
Despite its failure, the raid was a pivotal moment in WWII and provided invaluable lessons for the Allies. It made clear the difficulties of assaulting a well-defended port and the need for better intelligence on conditions and communication amongst the troops – they could not rely solely on the element of surprise.
Two years later, the D-Day landings would be backed up by massive naval artillery support, dominance over the skies, and heavy firepower — three essential factors missing at Dieppe. Finally, following D-Day success, on 1st September 1944, Dieppe was liberated.
---
If you're interested…
The Royal Canadian Mint issued a 1oz Silver Proof coin to commemorate the 75th anniversary of the Dieppe raid. It's been specially designed as a powerful tribute to the brave soldiers who sacrificed their lives.
Unsurprisingly this coin is completely sold out at the mint. But we have a limited number available for UK collectors.
Click here to secure one for your collection >>
When I think of Canada several things spring to mind: the iconic maple leaf, the caribou and beaver, ice hockey and Celine Dion, just to name a few. But at the top of my list is without a doubt the Royal Canadian Mint.
As one of the three 'Royal' Mints in the world – alongside The Royal Mint here in the UK and the Royal Australian Mint – they are known for their innovation and impressive minting techniques, resulting in some of the most magnificent issues I've ever seen.
So to celebrate Canada Day, I've rounded-up my top five favorite Canadian releases, each demonstrating why they are one of the most prestigious mints in the world. Believe me, some of these issues are truly incredible!
Take a look for yourself…
The R&D Security Test Token Set
It will come as no surprise to know that the Royal Canadian Mint is the market leader in numismatic security.
The R&D Test Token set offers us a glimpse at never-before-seen minting techniques which will shape our future coins, and are sure to impress even the most seasoned coin collectors.
Included are six specimen tokens with high-tech design elements showcasing fascinating examples of tri-metal technology and micro-text. What's more, each token included in the set is a real life trial piece which has been used in laboratory testing. So each set is completely unique – no two will be the same! Click here to find out more >>
Lest We Forget Silver Helmet-Shaped Coin
This issue truly is one of a kind. The minting expertise required to strike such an impressive coin is astounding – I've never seen a coin like it.
Not only is it struck from the Mint's signature .9999 Pure Silver, but it's an incredible miniature replica of the steel Brodie helmets worn by British and Commonwealth forces during the First World War.
How the Mint achieved this result I will never know – it remains a closely guarded secret. There are even engraved cracks and markings you would find on an original helmet. The final antique finish gives an authentic distressed look, the fine detail is incredible. Click here to find out more >>
Pure Silver D-Day Coin
The first step in to battle takes incredible courage, and this year to mark the landmark 75th anniversary of D-Day the Royal Canadian Mint issued perhaps the most poignant D-Day commemorative yet.
This stunning issue perfectly captures the moment Canadian soldiers set foot on Juno Beach. It is expertly struck from a quarter ounce of .9999 Pure Silver – or "four nines Silver", the purest grade available for which the Mint is known – and has an innovative reverse proof finish which replicates the texture of the sand. Click here to find out more >>
3D Monarch Caterpillar Coin
Some of nature's most beautiful things come in small packages. And this remarkable issue is no different.
The Monarch Caterpillar Pure 1oz Silver Coin is a perfect combination of Italian craftsmanship and Canadian design. It features a stunning 3D Monarch Caterpillar handcrafted from Murano glass, poised upon the selectively coloured design of a swamp milkweed plant leaf.
The combined traditional engraving, colour and Murano glass creates a truly unforgettable piece. Click here to find out more >>
John Lennon Silver 1oz Coin
It's hard to believe that just 50 years ago, John Lennon and Yoko Ono conducted their "Bed-in for Peace" protest against the Vietnam War and debuted the most famous anti-war anthem of all time – Give Peace a Chance.
It was a moment that has forever cemented a bond between John Lennon and Canada. A bond that is marked by the release of this limited edition John Lennon commemorative.
Using bespoke printing technology the coin features a photographic image of John and Yoko during their protest and is struck from 1oz Pure Silver to a mirror-like proof finish.
Considering the worldwide popularity of John Lennon and the legacy of Give Peace a Chance, it comes as no surprise that this coin has been incredibly popular. Click here to find out more >>
---
But that's not all! There's plenty of other fantastic coins that have been issued by the Royal Canadian Mint. You can take a look at the full range by clicking here >>
When it comes to identifying the very finest quality silver coins, few, if any, can match an Australian 'Kangaroo'. Precision made, eye-catching and struck from 999/1000 Pure Silver, they're usually snapped up on sight. And now three of the most exciting new issues have been brought together in an exclusive limited edition set…
Why has the Kangaroo become such an important design?
When the famous marsupial is engraved onto an Australian legal tender coin it becomes a hallmark of quality. Rather like the British Sovereign is a benchmark for gold coins, the Kangaroo signifies that your coin is from a trusted source and has been produced to an exceptional standard.
Because of this, the 'Kangaroo' has such an international following, and has become one of the most prominent and internationally respected names on the market. Collectors worldwide buy these Australian coins for their quality, design and craftsmanship.
Three unique finishes brought together in one exclusive limited edition set
Now, three of the most exciting examples of the 'Kangaroo' you can buy have been brought together in one limited edition set.
The 2017 Australian Kangaroo Numismatic Set brings together the traditional bullion silver coin with the extremely sought-after high relief proof issue and the unusual gilded proof edition. Each coin boasts a full ounce of fine silver and demonstrate some of the finest minting techniques in the market.
Here's a bit more about what makes each coin in the set so special:
The first coin in the set is the traditional bullion coin, struck by The Perth Mint to a frosted finish, it contrasts superbly with the reflective and raised parts of the design, giving an unusual three tone relief.
Then second coin is The Perth Mint's high-relief proof finish $1 coin. This remarkable technique strikes the design onto a concave blank, allowing for the engraving to stand tall – more like a sculpture than a coin.
The final coin is the stunning gilded silver proof coin that features the Australian kangaroo carefully picked out in brilliant 24 carat gold.
All three coins share a similar heritage, but demonstrate distinctive approaches to coin design.
---
If you're interested…
You can be one of just 250 collectors to own The Australian Kangaroo Set.
The coins will come complete in a Deluxe Wooden Presentation Case, ready to display, with a Certificate of Authenticity, attesting to its precious metal content and edition limit.
Each is individually encapsulated, perfect to keep them in pristine condition for your future generations to enjoy and appreciate. These coins are extremely popular, and with an edition limit of just 250, stock won't last for long.