Today marks Her Majesty Queen Elizabeth II's Platinum Jubilee, commemorating 70 years on the throne. Ruling for longer than any other British Monarch, Her Majesty becomes the first ever Sovereign to reach this incredible milestone.
She has become a constant and reassuring figure for the UK and Commonwealth, and her devotion to the throne is something we can all commend.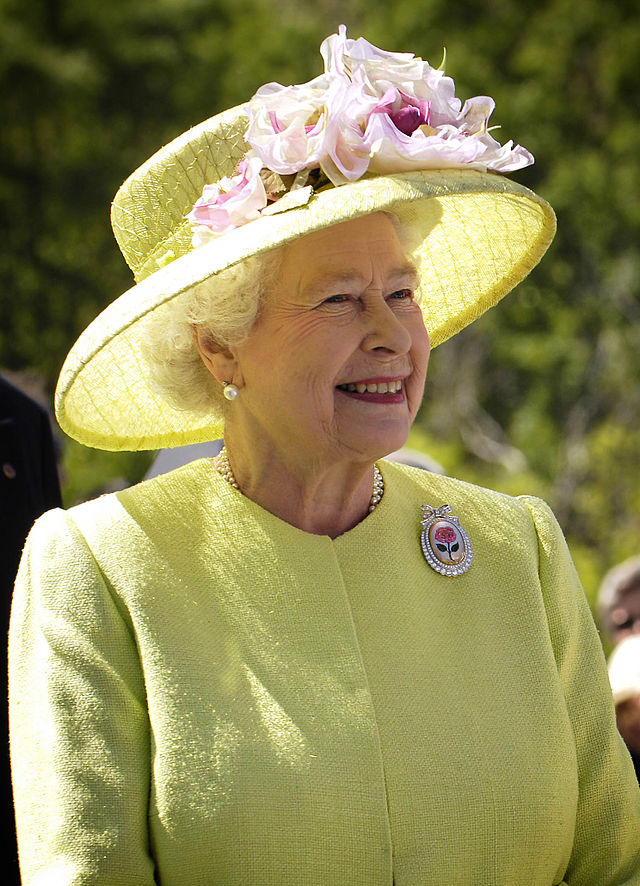 On the 6th February 1952, the Queen's father, King George VI, sadly passed away. He became King unexpectedly in December 1936, after his brother's abdication.
He served 16 years on the throne before his weakening health and failure to recover from a lung operation saw his passing at the age of 56.
At the time of his death, the Queen was in Kenya on a tour of the Commonwealth. Her trip was cut short and she returned to Britain with husband, Philip. Overnight, Her Majesty Queen Elizabeth II, aged 25, became the first Sovereign in more than 200 years to accede to the throne whilst abroad. Since then, Her Majesty has ruled for an inspirational 70 years.
In recognition of this poignant anniversary year, I have gathered some fascinating facts about Her Majesty which I am excited to share with you.
Continue reading to discover more…
1. Her Majesty has the final say over new bills made in the Act of Parliament.
By royal assent, the Queen formally agrees to make a bill into an Act of Parliament once it has completed all the necessary parliamentary stages. Since her accession in 1952, over 3000 Acts of Parliament have been given Royal assent by the Queen.
2. Queen Elizabeth II owns the rarest Pink Diamond in the world.
Given to her as a wedding present in the 1950's, the Williamson Pink Diamond weighs a mighty 54.50 Carats. The diamond was set into a flower brooch by Cartier jewellers and was completed the same year that Her Majesty became Queen.
3. Doesn't need a passport or driving licence.
All driving licences and passports in the UK are issued in the name of Her Majesty Queen Elizabeth II, meaning that she doesn't actually need either one herself. When she worked within the Auxiliary Territorial Service in World War Two, the Queen learnt to drive but never needed to take a test legally!
4. The Queen cannot be prosecuted!
The Queen, as the Sovereign, is free from all and any legal proceedings taken against her. Having said this, Her Majesty still follows the law carefully.
5. The Queen always pours her tea before her milk
It is known that the Queen has a cup of tea every morning before her breakfast. But did you know that it's believed she pours her boiling hot water into the cup before her milk?
Historically, it was believed that only teacups made from fine bone China could sustain the heat of boiling water without cracking. For teacups made from arguably cheaper material, it was recommended that you pour milk in first, to reduce the temperature.
Therefore, the type of teacup you owned, would determine the method in which you made your cup of tea!
Do you pour the brewed water or milk first? Let us know in the comments!
6. Her Majesty is believed to have owned over 30 Corgi dogs!
Over the years, The Queen is believed to have owned over 30 dogs of the Corgi breed. Her first puppy, Susan, was considered to have kick-started Her Majesty's love for dogs.
As of today, she remains the patron of the Dogs Trust Dog Welfare organisation!
7. The Queen has visited over 265 overseas territories during her reign!
Although Queen Victoria ruled over 70 territories, she never left Europe! In contrast, Queen Elizabeth II owns the title of the most-well travelled monarch in history.
Having travelled to over 265 official overseas territories during her reign, it's fair to describe Her Majesty as a bit of a jetsetter!
8. The Queen 'owns' a Marks & Spencer's (M&S) and a McDonalds?
In 2015, the Banbury Gateway Shopping Park opened, built on a piece of land belonging to the Crown Estate.
For the duration of the reigning monarch, ownership of the Crown Estate falls to them, meaning Queen Elizabeth II technically owns all that is built on the land. Which means the M&S and McDonalds, amongst other buildings in the park, is technically owned by her.
Have you learnt anything new today? I certainly have!
From a young girl who didn't expect to become Queen, Her Majesty's 70-year reign is very impressive, and she is an awe-inspiring figure across the world.
If you're interested…
To mark Her Majesty's Platinum Jubilee, we are giving three lucky collectors the chance to win one of the BRAND NEW British Isles Platinum Jubilee BU 50p Sets.
Watch the video below to find out how to enter!
---
Or if you just can't wait, all three British Isles Platinum Jubilee BU 50p Sets are available to purchase here >>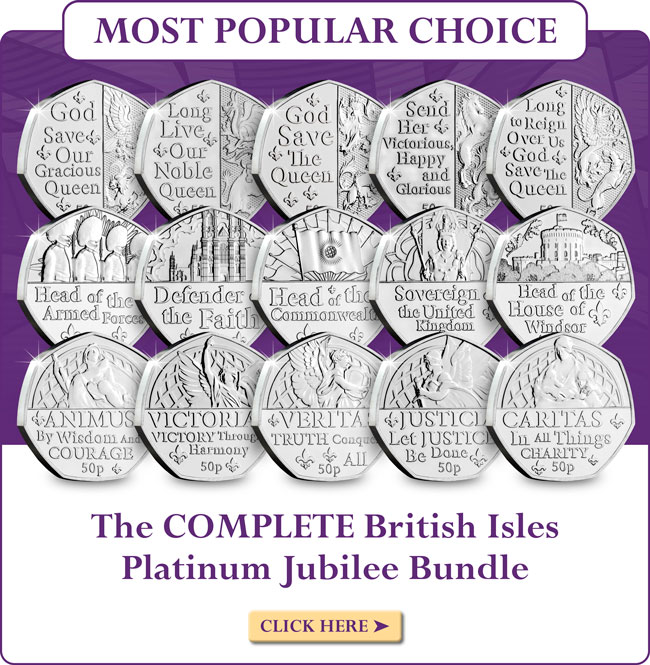 Royal Mail has entered a 'new digital era' with the introduction of barcodes to 'everyday' definitive stamps.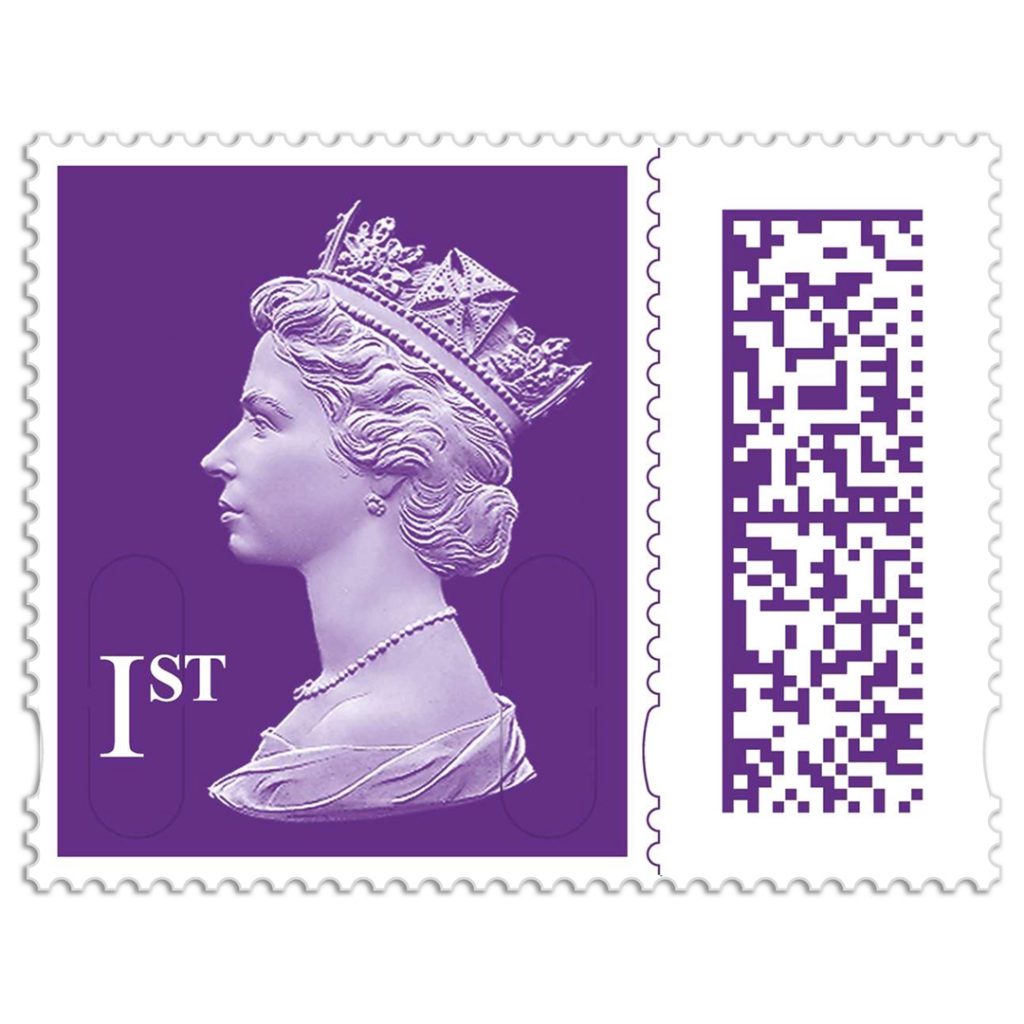 Customers can now scan a barcode that sits beside the portrait of HM The Queen using the Royal Mail app. Currently, it shows you a video of Shaun the Sheep that Aardman have created especially for Royal Mail, but the capabilities of this feature are endless.
The barcodes will eventually provide information about services, further exclusive videos and even greetings for occasions such as birthdays. When sending mail, you will be able to choose what the recipient of the stamped item can see from these options.
But don't worry, the barcode won't stick out like a sore thumb on your letter, as it will remain the same colour as the rest of your stamp.
However, you'll need to bear in mind that the barcode must not be removed. Like previous definitive stamps, a mail item may be liable to a surcharge if not all of the stamp is intact.
For those of us who still have non-barcoded or Christmas stamps, Royal Mail have created a 'Swap Out' scheme that will come into play from the 31st March 2022. Otherwise, they will be valid until January 2023.
This new feature hasn't quite made it to Special Stamps yet, but it seems as though it will only be a matter of time before more of Royal Mail's services will follow this digital step.
Are you excited for this new upgrade to our stamps? Let us know in the comments below!