To honour the life and achievements of Queen Elizabeth II, The Royal Mail has issued four commemorative stamps, featuring portraits of Her Late Majesty.
They feature beautiful black & white images of the Queen throughout her life, taken between 1952 and 1996.
The Queen Elizabeth II stamps are also the first to be approved by King Charles III, which is sure to increase collector demand.
The Westminster Collection have issued a limited set of these stamps, postmarked on their first day of issue – 10th November 2022.
New Royal Mail Stamps: Queen Elizabeth II Memorial Cover
Featured alongside the stamps is one of the most sought-after coins of recent years, the UK Platinum Jubilee £5 coin.
Just 2,022 of these covers are available to mark this important moment in history. And remember, the one-day-only postmark means no more can ever be produced.
Pay tribute to the incredible life of Queen Elizabeth II. Pre-order this special cover today for just £39.99 (+p&p) by clicking here >>
Queen Elizabeth II Stamp & Coin Memorial Set
As well as the Queen Elizabeth II Memorial Cover, The Westminster Collection has an extremely limited collection of coins from the 1953 Coronation year, issued alongside these brand new stamps.
This memorial collection includes a complete collection of eight coins, each one struck by The Royal Mint in the year of Queen Elizabeth II's Coronation in 1953.
At nearly 70 years old, these coins are difficult to find and incredibly sought-after on the secondary market.
JUST 495 issued
With brand new Royal Mail stamps, postmarked on their issue date, and alongside the 1953 circulating coinage, the edition limit of 495 isn't likely to be enough.
Click here to secure your Queen Elizabeth II Stamp & Coin Memorial Set >>
---
Let us know in the comments below what you think of these brand new Queen Elizabeth II Royal Mail stamps.
---
Demand for Queen Elizabeth II coins has been felt at Mints around the world, following the sad news of her passing on 8th September.
Collectors heading to The Royal Mint and The Royal Australian Mint websites have been faced with long queues.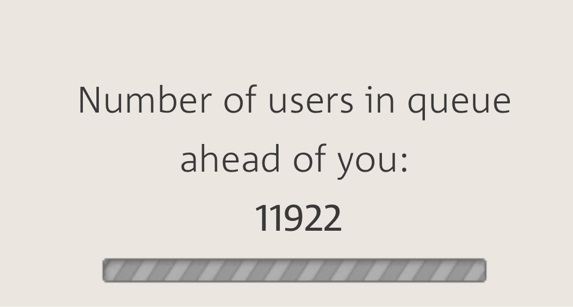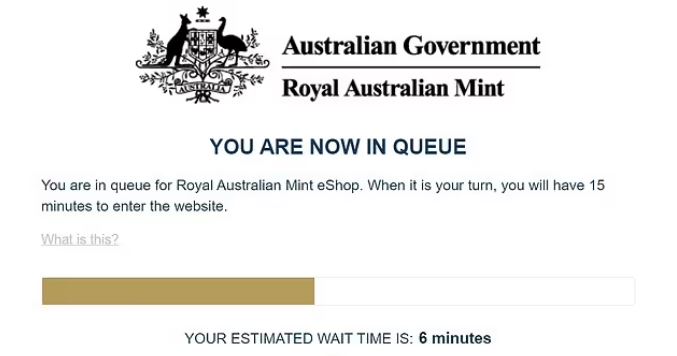 Coins issued within this year, particularly those issued in recent weeks, were in high demand.
The Royal Mint's website indicated high interest in royalty themed coins – most notably, coins issued to celebrate Queen Elizabeth II's varying Jubilees.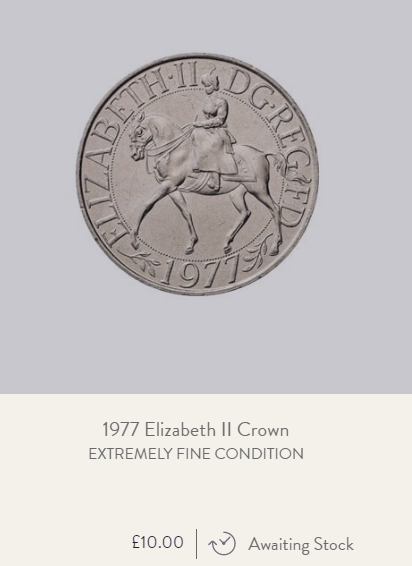 Just one of the many coins awaiting stock was the 1977 Elizabeth II Crown, issued to celebrate the Queen's Silver Jubilee.
The 2022 UK Annual Coin Set, featuring both Platinum Jubilee 50p and £5 coins, is currently unavailable at The Royal Mint. However, these coins are fetching around £170 on the secondary market sites.

As The Royal Mint works hard to meet demand for Queen Elizabeth II coinage, secondary market sites have also been bombarded with new listings.
How much is my Queen Elizabeth II coin worth?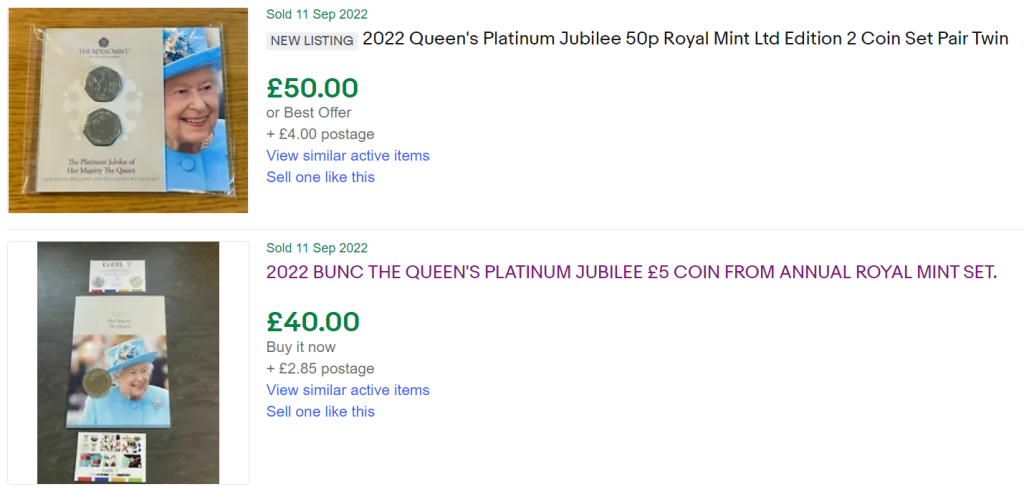 Both the Platinum Jubilee 50p and £5 coins have been fetching well over their original retail prices.
Despite still being available at the The Royal Mint for £10 (+p&p), the 2022 UK Platinum Jubilee £5 coin recently sold for £40 on eBay.co.uk.
There's no doubt demand for collectables celebrating Queen Elizabeth II's remarkable 70 year reign will continue to surge as the nation welcomes a new monarch – his majesty King Charles III.
Whether you want to hold onto your Queen Elizabeth II coins, or look to sell them, there has never been a more prominent time to check your collections.
Which Queen Elizabeth II coins do you have in your collection? Will you hold onto them? Let us know in the comments below.
---
Queen Elizabeth II In Memoriam Range

The final coin in the Winnie the Pooh 50p series has been issued today, marking an end to one of the biggest sell-out stories of recent years. Secure yours here in .925 Sterling Silver >>
And, considering the drastic edition limit cuts to the 2022 coins, THOUSANDS of collectors are set to miss out on completing their collection…
Celebrating 95 years of fun-filled adventure, these charming 50p coins each feature designs of the best-loved characters from A. A. Milne's original stories, with original illustrations from E. H. Shepard.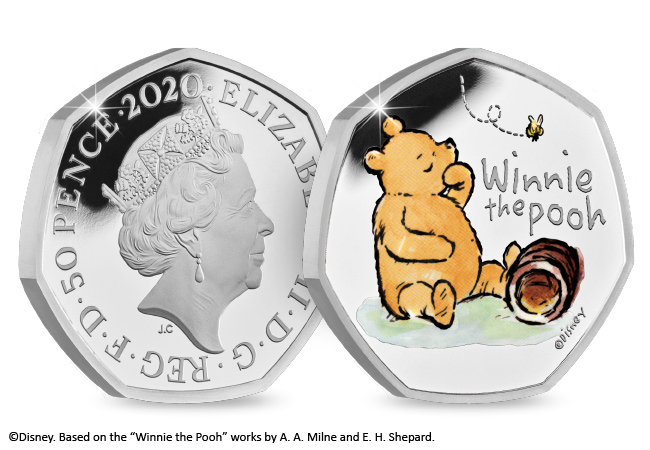 When the first three coins were issued in 2020, they took the collecting world by storm. They were so popular that the very first Silver Proof 50p featuring Winnie the Pooh himself – SOLD-OUT in LESS THAN 24 HOURS!
Tigger 50p sells out
Collector demand continued into 2021 with the second series of Winnie the Pooh 50p coins.
Featuring some of Winnie the Pooh's most trusted companions, these coins each had an edition limit of JUST 18,000 for their Silver Proof specification.
In fact, so popular were these coins that the Tigger 50p is no longer available at The Royal Mint.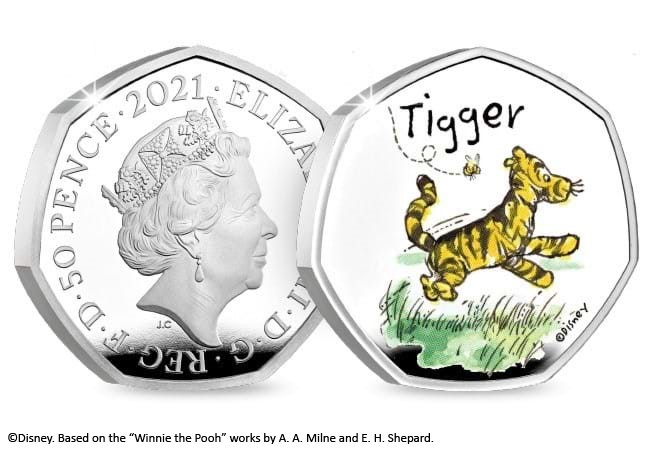 As collectors anticipated the issue of the final three coins in the series in 2022, at The Westminster Collection, we were already expecting demand to outweigh supply.
JUST 6,000 ISSUED WORLDWIDE
That's because JUST 6,000 of each of the Silver Proof 50p coins have been issued worldwide – one third of the edition limit of the sell-out 2020 and 2021 coins!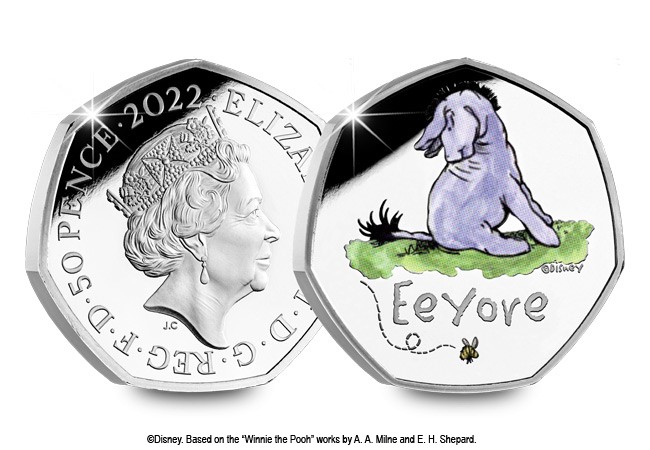 12,000 collectors missed out on the Eeyore Silver Proof 50p as it sold-out in a matter of hours at The Royal Mint.
Undoubtedly, this final 50p, which features a design of the most popular Winnie the Pooh characters, will be just as popular. Unfortunately, this means many will likely miss out on securing it for their collection.
How much is the Winnie the Pooh 50p worth?
The first and last issues in any coin series are hugely popular with collectors.
When a theme is as universally popular as Winnie the Pooh, there are no surprises collectors rushed to get their hands on the UK's first Winnie the Pooh 50p.
Much like first editions of best-selling books, or the first run of banknotes, UK-first coin issues can sell for well over their retail price on secondary market sites.
And, with edition limits as low as this, we knew the sell-out potential for this coin was high, and collectors knew it too.
Don't miss out on the Winnie the Pooh and Friends 50p!
If you want to be one of JUST 6,000 lucky collectors to own this BRAND-NEW coin in .925 Sterling Silver, you'll need to act extremely fast.
Click here to secure yours for the Royal Mint issue price of JUST £67.50 (+p&p) >>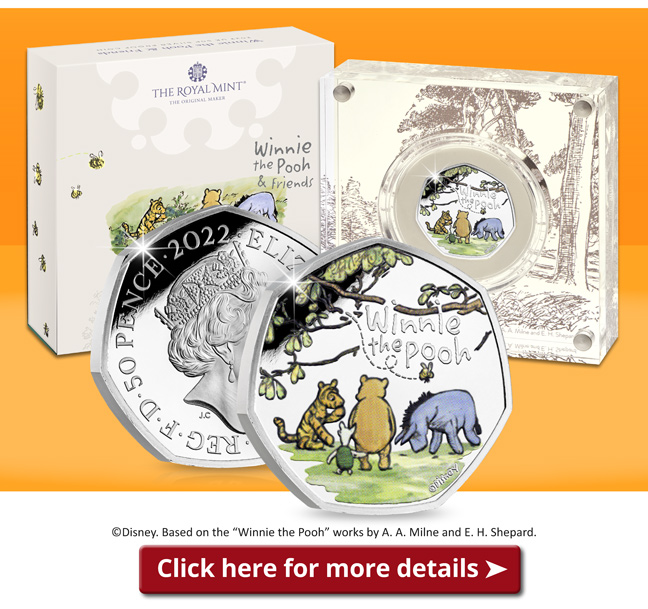 ---
If you're interested…