Posts Tagged 'Peter Rabbit'
When it comes to coin series', very few are as popular as the Beatrix Potter 50ps.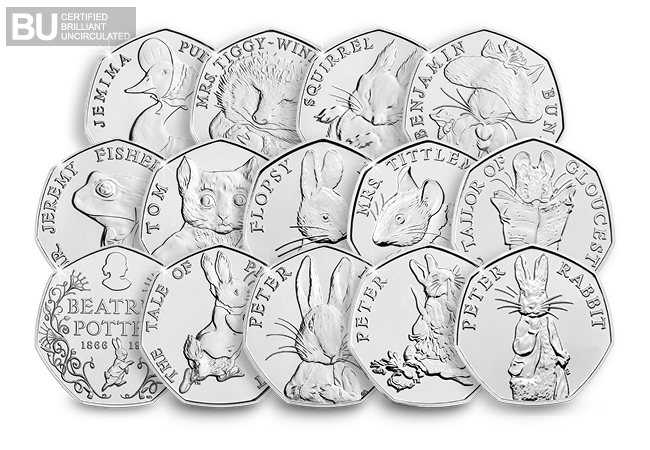 Since they were issued back in 2016, each release has continued to be incredibly sought-after by collectors.
And understandably, collectors have A LOT of questions about this hugely popular series.
Questions that we wanted to answer.
So in our latest video Rachel and I do just that.
Whether you want to know how rare the Beatrix Potter coins really are or if there will be any more Beatrix Potter coins released this year, make sure you watch our latest video to find out.
---
If you're interested:
You can secure all 14 Beatrix Potter coins today, including the highly sought after Jemima Puddle Duck. All you have to do is click here >>

Britain showed itself as a nation of nostalgic coin lovers as the release of the new Peter Rabbit Silver Proof 50p brought the numismatic net to a standstill.
At one point The Royal Mint had over 50,000 people in a queue to access its website and The Westminster Collection also saw record traffic – with all hands on deck to keep the servers running.
All available Peter Rabbit coins were sold out before the newspapers even ran a story – and collectors who got in early were left feeling like they won the lottery.
30,000 coins gone in just a few hours
The pandemonium echoed the release of the 2016 Peter Rabbit 50p, which also caused a collecting frenzy but was limited to 15,000 coins. This year's issue has an edition limit of 30,000 but the demand was also amplified.
The coin was fully allocated across the board by 4pm, but the queues were still long as collectors changed their focus to the Brilliant Uncirculated editions of the coin. Savvy buyers were desperate to bag what will go down in history as one of the UK's most sought-after coins.
Beatrix Potter coins are big news
The lucky few that secured the 2016 coin for £55 now own a coin that changes hands for up to £400 on Ebay. This year's coin has already started appearing in auctions, and whatever happens it looks like the £60 retail price will turn out to be a bargain.
Undoubtedly a few speculators got in there but with demand so high it was literally first come, first served – leveling the playing field and making getting a coin a real achievement for anyone.
Did you manage to secure a 2017 Peter Rabbit Silver Proof 50p? If you were one of the lucky ones, let us know in the comments!
---
We still have stock of the collector edition Certified Brilliant Uncirculated 2017 Peter Rabbit 50p available. Click here now to secure yours – you will also have the chance to pre-order the other three coins in the series.