Posts Tagged 'commemorative coins'
This year marks the 90th anniversary since Peter Pan author, JM Barrie, gifted his rights in Peter Pan to Great Ormond Street Hospital.
To commemorate this generous gift, earlier this year we launched a range of Peter Pan 50p coins in partnership with Great Ormond Street Hospital Charity, the Isle of Man Treasury and Tower Mint.
These magical 50p's really captured the imagination of collectors and the demand experienced since their release has been unprecedented.
Incredibly this has meant in just a matter of months, through the sales of these Peter Pan 50p coins, that collectors have helped raise over £250,000 for Great Ormond Street Hospital Children's Charity!
This is an achievement that everyone is immensely proud of, and we are hugely thankful to collectors for helping raise such an amazing amount to support Great Ormond Street Hospital Charity and the seriously ill children from across the UK who are cared for there.
To celebrate this important occasion, Managing Director, Ian Glen, and Karen Brooks, Head of Product Development, went along to Great Ormond Street Hospital to present them with the £250,000 cheque!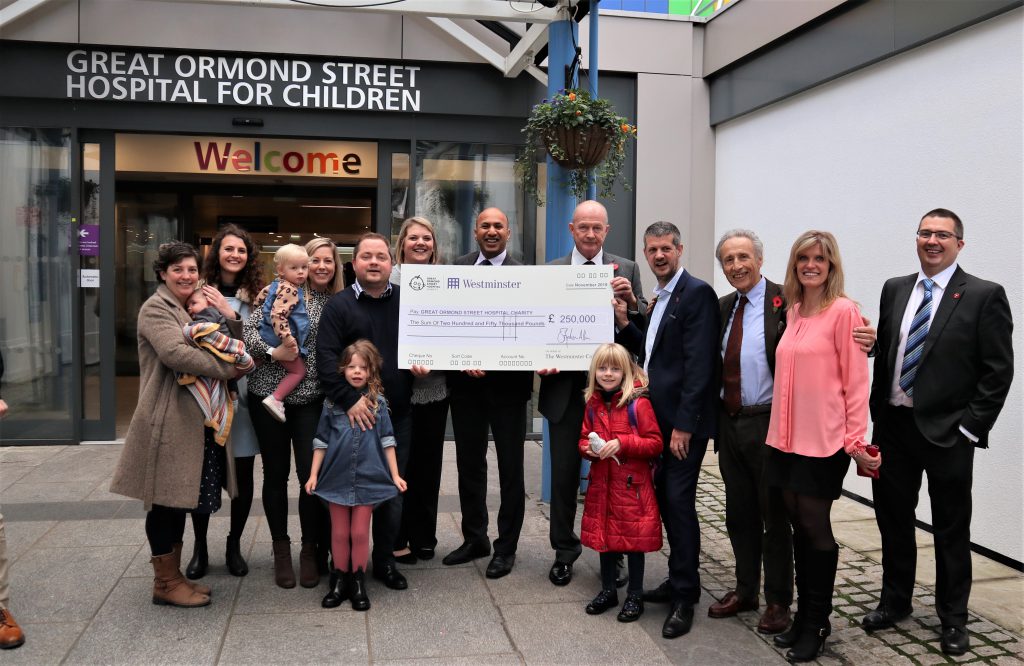 "We would like to thank all of the collectors who have raised such a considerable amount of money for Great Ormond Street Hospital. It has been a real privilege to work alongside the Great Ormond Street Hospital Charity, the Isle of Man Treasury and Tower Mint in such a worthwhile coin issue."

Ian Glen – Managing Director, The Westminster Collection
"Everyone at Great Ormond Street Hospital Children's Charity is thrilled and incredibly grateful that The Westminster Collection, The Tower Mint and the Isle of Man Government chose to celebrate the 90th anniversary of JM Barrie's gift of the rights of Peter Pan to Great Ormond Street Hospital by issuing a special Peter Pan collection. It's wonderful to see how much the general public and avid collectors have come together in support of this special collection. The funds raised will have a huge impact on the lives of seriously ill children from across the United Kingdom."

Amit Aggarwal – Director, Great Ormond Street Hospital Charity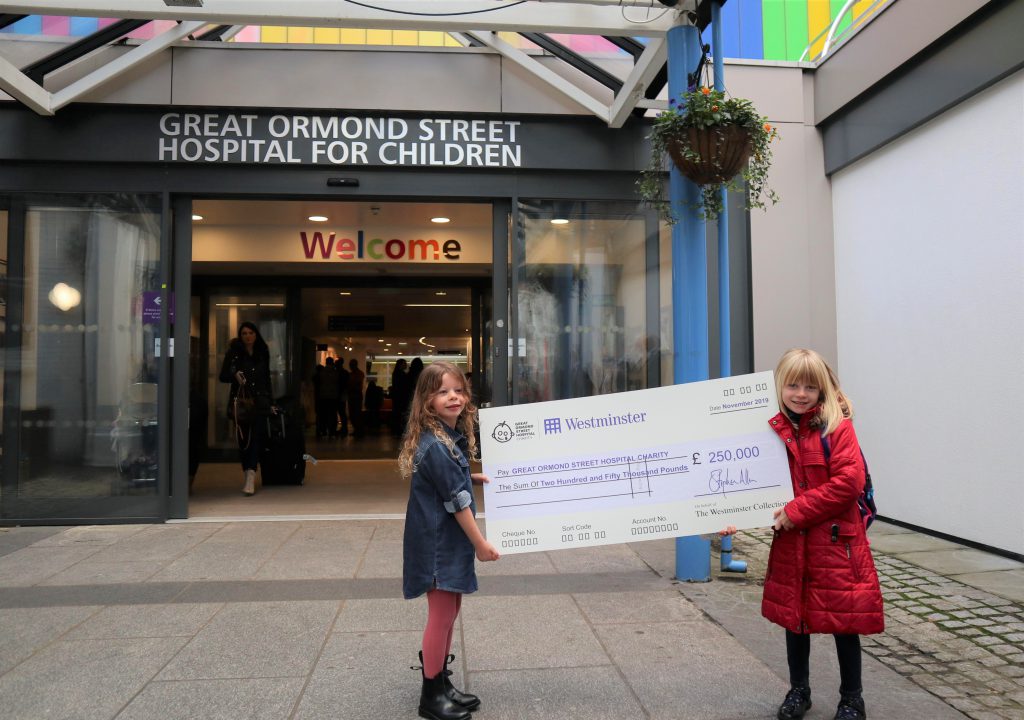 "I work in such a special industry, and I get see so much and meet so many people, but I never thought I would be able to connect my daughters syndrome to such a great cause, as well as contribute such an amazing amount to Great Ormond Street Hospital which will support all of the incredible work they do. The Westminster Collection and the Isle of Man have achieved so much for all involved, and I am a very proud dad!"

Elliot Dawson – Director at Tower Mint & Dad of Olivia Dawson (pictured above)
---
We are delighted to see our range of Peter Pan commemoratives grow in recent months and expand the opportunities for collectors to support Great Ormond Street Hospital Children's Charity. If you'd like to take a look at the full range, you can do so by clicking here.
To find out more about Great Ormond Street Hospital and the fantastic work they do, click here.
We've all heard of the zodiac, and have probably on more than one occasion checked our daily horoscope in the hope it will reveal what the future holds. When I sat down to write this blog I was buoyant in the revelation that my day was going to be "filled with love and joy".
But perhaps lesser known in Western culture is the Chinese Lunar Calendar and the 12 animals that represent it.
The Chinese Lunar Calendar
More commonly known as the Chinese Zodiac, it is believed the Chinese Lunar Calendar begun around 2600 B.C. and is related to the worship of animals in Chinese culture. Legend has it before departing to the next life, Buddha asked every animal on the planet to comfort him and the twelve animals (including the dragon, tiger and rat) that responded are now honoured in the lunar calendar that spans 12 years – one animal for every year.
Much like the Western Zodiac, your lunar animal sign depends when you're born. And people born in specific lunar years are believed to have certain personality traits and characteristics related to their animal.
Turns out I was born in the Year of the Sheep – so I'm creative, compassionate and friendly. I'd say that's fairly accurate, though I'm not sure I agree that I like to spend my money on fashionable things… you win some you lose some!
The incredible popularity of Lunar Coins
For over 40 years mints from around the world have celebrated Chinese New Year with Lunar Coins. These issues have turned in to something of an international phenomenon, to the point where the lunar theme is the largest ongoing coin programme on the planet.
Most prestigious mints have a lunar series, including Australia, Canada, and of course our own Royal Mint. With each selling millions of ounces of gold and silver coins each year inscribed with the year's relevant lunar animal.
Collectors will snap these coins up for a variety of reasons. Some collect their own lunar animal, because they like the personal connection, others will collect a particular specification because it's especially limited. Personally, I find they also make great birthday gifts for obvious reasons – my friends love them.
The Year of the Rat
The 25th January 2020 will mark the Chinese New Year, and with it the next lunar animal will be celebrated – the Rat.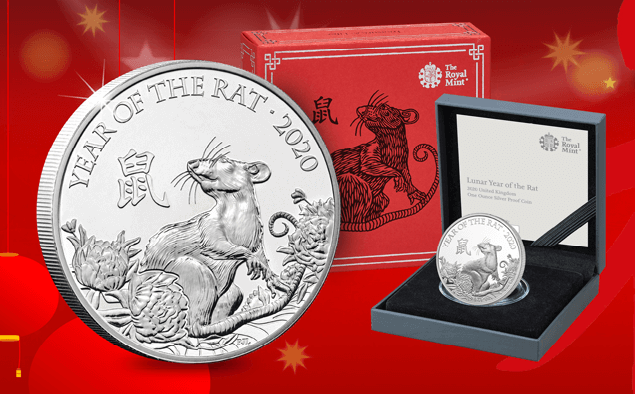 The Rat is in fact the first animal in the Chinese Zodiac, and people who are born under the sign of the Rat are thought to be intelligent and quick-witted with rich imaginations.
If this sounds like you the odds are you're born under the sign of the Rat. And this year your lunar animal will be celebrated on lunar coins around the world.
What's more, The Royal Mint has just released their brand new Year of the Rat range, including what's perhaps the most sought-after specification of all – the 1oz Silver Proof Coin.
Apparently Rats are known for taking good advantage of opportunities presented to them – so what are you waiting for, make sure you snap up your lunar coin today!
If you're interested…
You can own the BRAND NEW Royal Mint Lunar Coin TODAY – the 1oz Silver Proof Year of the Rat coin.
This coin is sure to be the most sought-after yet because not only is the 1oz Silver Proof a key specification for collectors, it's also got the lowest edition limit yet!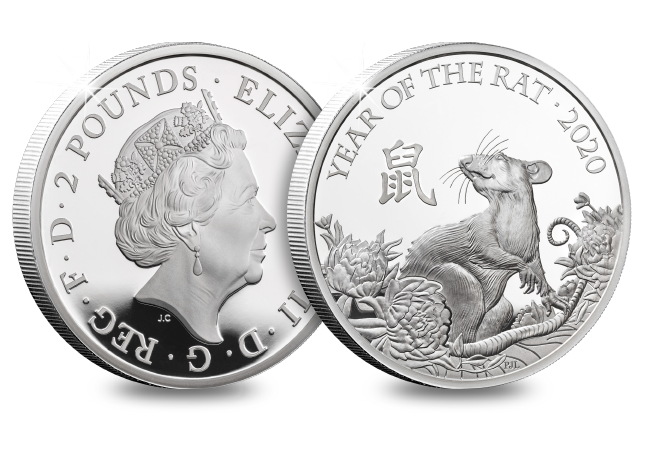 Click here to find out more and secure one for your collection today >>>
Each year, The Royal Mint marks important British anniversaries, events or accomplishments on our coins and today we are pleased to reveal UK's new coin designs for 2017.
Scroll down and I'm sure you'll agree 2017 is set to be another significant year for coin collectors, with some exceptional designs that are sure to look resplendent when struck to the 'collector's favourite' Proof finish…
The Sir Isaac Newton 50p
The 50p coin commemorates the revolutionary scientific and mathematical genius, Sir Isaac Newton and his remarkable legacy. He discovered the laws of gravity and motion and remains one of the most famous men in history. This coin really needs to be seen in real life as the concentric design cleverly catches the light differently from every angle.
The Jane Austen £2 Coin
2017 sees the 200th anniversary of Jane Austen's death – and this £2 has been specially designed to commemorate one of the most famous authors of all time. Featuring an unusual 'cameo' design and Austen's signature, this coin is sure to be highly sought-after.
The First World War Aviation £2 Coin
The latest in The Royal Mint's series of two pound coins commemorating World War I, this particular issue pays tribute to the role of the air force in the conflict. Designed by tangerine the striking aerial perspective is a first for a UK £2 coin.
The House of Windsor £5 Coin
100 years of Royal tradition are honoured with this exceptional £5 coin – commemorating the Centenary of the House of Windsor. In 1917 King George V changed the name of the British Royal Family from Saxe-Coburg and Gotha to the now familiar Windsor. The coin's pleasingly traditional design features Windsor Castle.
The King Canute £5 Coin
In a nod to Britain's storied history, the second 2017 £5 coin marks the 1,000th anniversary of King Canute's accession to the throne. Most famous for his attempts to prove his power by turning back the tide, Canute is also hailed as the first 'king of all England.'
Some of these designs are really exceptional, and they are certain to become more sought-after in years to come. Which is your favourite? Let us know in the comments!
---
If you're interested…
You can now own all the new 2017 coins in the DateStamp™ UK Specimen Year Set. Each coin has been struck to Brilliant Uncirculated quality and encapsulated alongside a 1st Class Stamp officially postmarked by Royal Mail with the issue date – 1/1/2017. Click here for more details…