*** The UK's FIRST Dinosaur 50p coins are on sale now. Click here to order yours >> ***
When I was growing up I was fascinated by dinosaurs. In fact, I still am. And I expect you'd be hard pressed to find someone who wasn't even just a little bit curious about the giant reptiles who walked the earth nearly 250 million years ago.
So, I'm sure you can understand my near-childlike excitement when the Royal Proclamation issued on 8th November 2019 confirmed that a brand new series of dinosaur-themed 50p coins will be released this year!
Read on to find out these rorarsome new releases and how you can become one of the first collectors to own one…
Three themed dinosaur 50ps released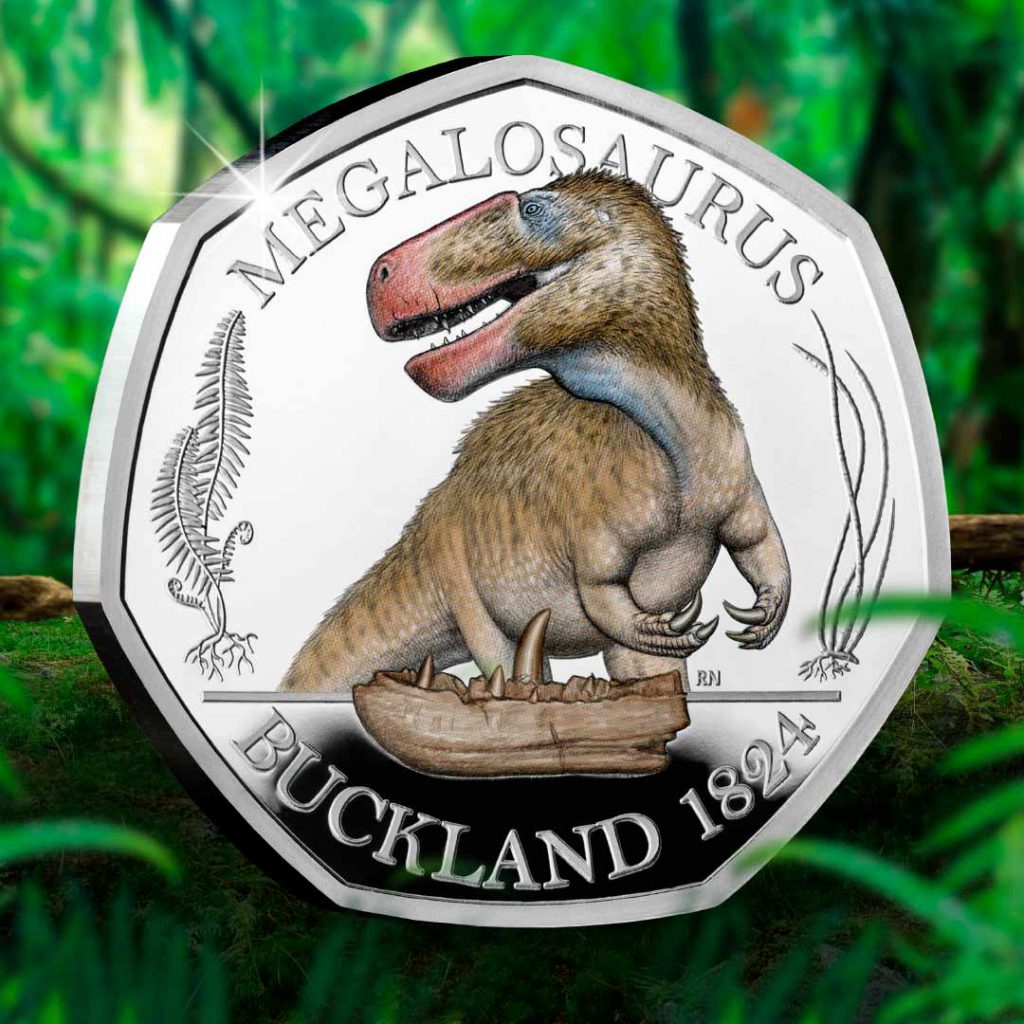 Three designs have been confirmed for release in 2020 – we don't know if there will be more, but at the moment it's looking like a 3-coin series. The dinosaurs featured include:
Megalosaurus – Greek for 'great lizard' and at seven to eight metres long it certainly lives up to its name! In 1676 the first Megalosurus bone was discovered in Oxfordshire and publication of the find is thought to make this dinosaur the very first to be described in scientific literature.
Iguanodon – large herbivores with distinctive spike-like thumbs. After Megalosaurus, these were the second type of dinosaur to be formally recognised. Their name comes from its teeth which are similar to modern iguanas, and gave palaeontologists the first clue that dinosaurs had been reptiles.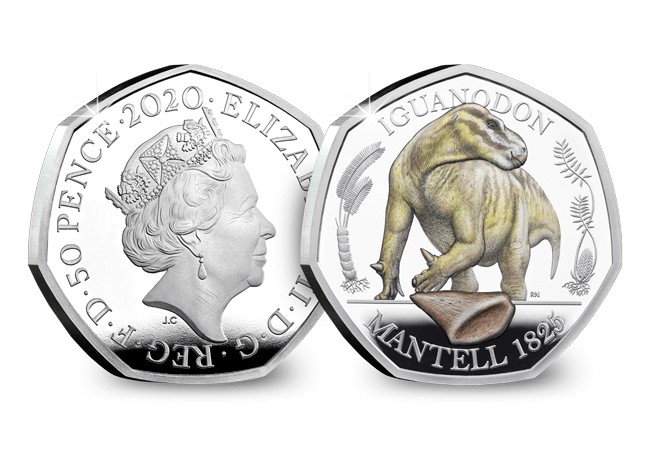 Hylaeosaurus – an armoured dinosaur with at least three long spines along its shoulders. However, much of the anatomy of this dinosaur is still unknown due to the fact that very limited remains have been found.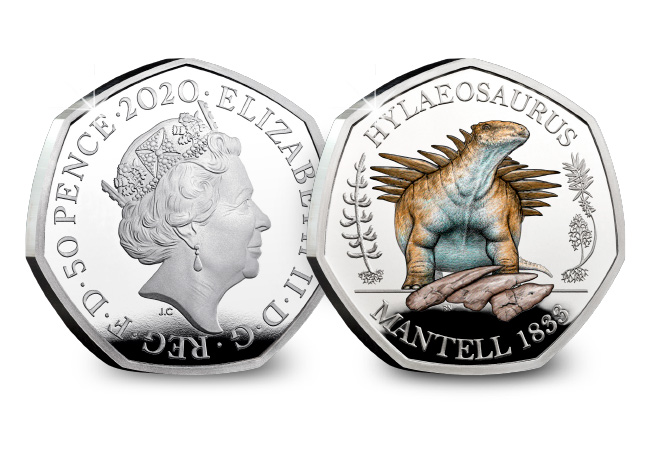 The UK's first ever dinosaur coins
Significantly this is the first time dinosaurs will have ever featured on a UK coin! This fact alone will make them highly collectable and I'm sure dinosaur fans young and old will be eager to get their hands on one. I for one can't wait for these roarsome coins to be let loose!
---
Stay up to date with all the latest 2020 Dinosaur 50p news…
Simply fill in your details below to be kept up to date with all the latest news about the 2020 Dinosaur coins. We'll be in touch as soon as we know any more!
Each year, The Royal Mint marks important British anniversaries, events or accomplishments on our coins and today I'm delighted to reveal the UK's new coin designs for 2020.
What's more, you have the opportunity today to secure them in a variety of different presentations or specifications – I'm sure there is something for everyone.
Simply read on to discover how you can be one of the first UK collectors to add these coins to your collection…
FIVE new UK commemorative coins
The Royal Mint has just announced the five new commemorative coins for 2020, issued to mark a variety of occasions and landmark anniversaries that we'll see over the coming year:
King George III £5 – marking the 200th anniversary of the end of King George III's reign
VE Day £2 – commemorating the 75th anniversary of VE day, signalling the end of WWII
Agatha Christie £2 – celebrating "100 years of Mystery", the centenary of her debut mystery novel
Mayflower £2 – marking the 400th anniversary of the Mayflower's maiden voyage to The New World
Team GB 50p – a tribute to Team GB ahead of the 2020 Olympic Games due to be held in Tokyo
UK 2020 Annual Coin Set BU Pack
To give as many collectors as possible the chance to own these highly sought-after coins, The Royal Mint has issued them in Brilliant Uncirculated quality, which is coveted by collectors as it means each coin is free from any marks you would find on circulated coins.
In this BU Pack you'll find the five brand new commemorative coins alongside the eight definitive coins from the 1p to the £2, all newly dated for 2020.
Each one is protectively encapsulated in its attractive original Royal Mint packaging to preserve its quality for generations to come. What's more, you can secure this BU Pack at the Royal Mint issue price of just £55 (+p&p). Click here to find out more >>
This set of coins is also available as a CERTIFIED BU Commemorative Coin Set for £40 (+p&p). Click here to find out more >>
UK 2020 Annual Collector Proof Coin Set
Whilst being struck from base metal, the coins in this set have been struck to a stunning superior Proof finish. This set also includes the five new commemorative coins alongside the eight definitive coins from the 1p to the £2, all newly dated for 2020.
Just 7,000 sets have been released worldwide in this limited edition presentation – that's under half the edition limit of previous issues that have completely sold out. So, it's expected this set will be extremely sought-after.
You can order the UK 2020 Annual Collector Proof Coin Set here with a down payment of just £31 (+p&p) followed by 4 further interest-free instalments – that's the Royal Mint issue price. Click here to find out more >>
UK 2020 DateStamp™ Specimen Set
The most limited way to own the five new 2020 commemorative coins is by securing the UK 2020 DateStamp™ Specimen Set. In fact, JUST 995 collectors worldwide can own this unique set.
What truly sets the 2020 Specimen Year Set apart from all other 2020 Annual Sets is the fact that it is forever set in time by the official Royal Mail postmark that marks the coins' first day of release – 1st January 2020.
Each coin is struck to the highly desirable Brilliant Uncirculated quality, and come individually presented in tamper-proof capsules. What's more, each set has a unique serial number, confirming its place in the tiny edition limit, and you can even register your set online to guarantee its provenance!
This annual set has a track record of completely selling out within a matter of days, so if you want to secure a set for yourself you'll need to be quick. You can reserve yours with a deposit of just £22. Click here to find out more >>
The wait is finally over and it is with great excitement that we can reveal our brand new Christmas Pantomime 50p Coins with you all.
These amazing new 50p coins celebrate some of the most popular Christmas Pantomimes of all time, including: Cinderella, Snow White, Jack and the Beanstalk, Aladdin and Dick Whittington.
And what's not to love! With Christmas just around the corner, young or old, is there anything more traditionally British than a family trip to the local panto?
Oh no there isn't…
These are the first festive-themed coins to be authorised for release by the Guernsey Treasury and each has been fully approved by Her Majesty the Queen.
Whether you're looking for the new centrepiece for your collection, you're an avid 50p collector, a Panto fan, or looking for the perfect Christmas gift for a loved on – I'm certain you'll love these as much as we do!
Get your sweets, take your seat, and let us tell you more about each of the specially commissioned designs featured on the WORLD'S FIRST Pantomime 50p coins. We hope you enjoy the show!
Bibbidi-bobbidi-boo… it's Cinderella!
What could be more quintessentially Cinderella than a glass slipper? Encased in stars, this stunning design tells the story of how the Fairy God Mother makes Cinderella's dreams come true – turning a pumpkin and mouse into grand stage coach and driver with a tap of her wand!
One of Aladdin's 3 wishes should have been for this amazing new 50p!
This Aladdin 50p coin is guaranteed to transport you to a whole new world. And, if you rub the coin perhaps the Genie will appear out of the magic lamp that takes centre stage within the design. Featured on a floating magic carpet amongst the stars and Genie smoke, it captures the magic of Pantomime perfectly!
Fee fi fo fum… do I smell a Jack and the Beanstalk 50p coin?
This Jack and the Bean Stalk 50p takes coin designs to whole new heights! On here you can see Jack climbing up the giant beanstalk which sprouted after he managed to obtain magic beans from selling his beloved cow. Who knows what adventures greet him at the top…
Mirror, mirror on the wall is this Snow White & the Seven Dwarfs 50p the fairest of them all?
Mirror, mirror on the wall, which coin is the fairest of them all? I'd say this is a definite contender. The intricacies on this 50p are incredible, with the Snow White and the Seven Dwarfs text seamlessly intertwining into the vines that surround that ever so fateful apple. This is one that definitely has to be seen to be fully appreciated.
He's behind you! It's the Dick Whittington 50p coin…
Did you know that Dick Whittington has been a favourite subject of British pantomime since the pre-Victorian era? The coin depicts Dick Whittington as he begins his travels to London with his cat, Tommy Tittlemouse, in search of fame and fortune. This is guaranteed to be a hit with the more traditional Panto goers.
---
Importantly, these FIVE brand new 50p coins are only available to own as a complete set. None will be released individually. Interested? Well, you have two fantastic options…
First is as a complete set of Silver Proof 50p Coins, featuring the vibrant colour designs you've seen above. This set is strictly limited to just 2,019 and given the sell-out history of Silver 50p's, they're unlikely to be around for long. Find out more about these and secure yours today by clicking here >>
Then you also have the set available in superior Brilliant Uncirculated quality. The coins come presented in a full colour Presentation Pack, and would make the perfect Christmas gift for a loved one. Click here to find out more and order yours today for JUST £30.00 (+p&p) >>
Please note, demand for these brand new 50p collections has already been extremely high. Whether for yourself or as a Christmas gift for a loved one, if you'd like to secure one it is advised that you act quickly.
---