Posts Tagged 'British Coins'
This year the 50p turns 50 years old. And to mark the occasion The Royal Mint re-issued for 2019 some of the most popular 50ps to have ever been issued – including the rare Kew Gardens 50p which is the pinnacle for most collectors.
Unsurprisingly, the limited edition proof sets sold out in record time – just 2 hours!
Now, to continue the celebrations of the 50th year of the 50p, The Royal Mint has released a second set of iconic 50ps, this time celebrating British military history. It is no coincidence this collection has been released on the 75th Anniversary of D-Day.
The collection has been officially released today, in a number of precious metal versions and we're delighted to provide you with all the details you need to know about this latest edition to the 50p family…
Five iconic designs celebrating British military history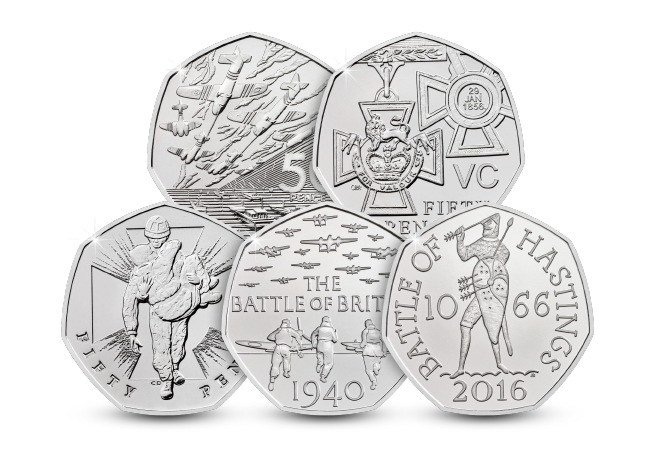 Each set includes five popular 50p designs which are a true tribute to British military history, including:
50th Anniversary of D-Day – originally issued in 1994, the design depicts the D-Day landings of the Allied forces as they head for Normandy by air and sea.
Victoria Cross Heroics Acts – released in 2006, this 50p commemorates the 150th Anniversary of the Victoria Cross and is one of two designs issued to honour award. This one features a design of a soldier carrying an injured comrade.
150th Anniversary of the Victoria Cross Award – the second 50p issued in 2006 to mark the 150th Anniversary of the Victoria Cross, featuring an image of the medal itself.
75th Anniversary of the Battle of Britain – first issued in 2015, this 50p features three airmen running to their planes with enemy aircraft overhead.
950th Anniversary of the Battle of Hastings – showing the scene from the Bayeux tapestry depicting King Harold with an arrow in his eye, this coin was originally released in 2016.
Demand for military commemoratives is at an all-time high, especially this year when we mark the 75th Anniversary of D-Day, and as such it is expected these sets will attract a lot of interest from collectors.
50th Anniversary of the 50p Military Brilliant Uncirculated Pack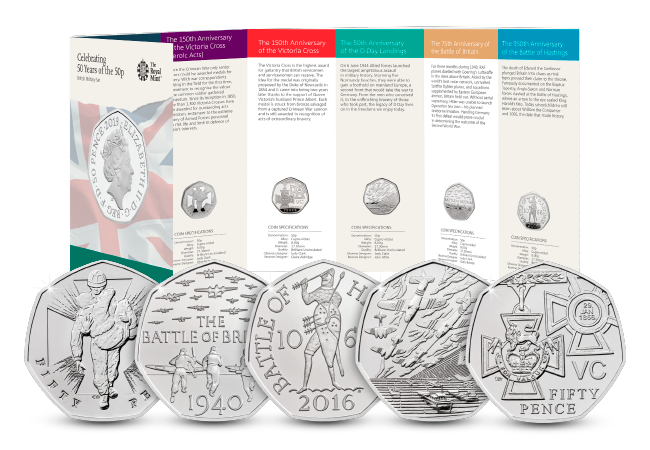 To give as many collectors as possible the chance to own these highly sought-after coins, The Royal Mint has issued them in Brilliant Uncirculated quality, which is coveted by collectors as it means each coin is free from any marks you would find on circulated coins.
Each one is protectively encapsulated in its attractive original Royal Mint packaging to preserve its quality for generations to come. What's more, you can secure this BU Pack at the Royal Mint issue price of just £45 (+p&p). Click here to find out more>>>
50th Anniversary of the 50p Military Base Proof Set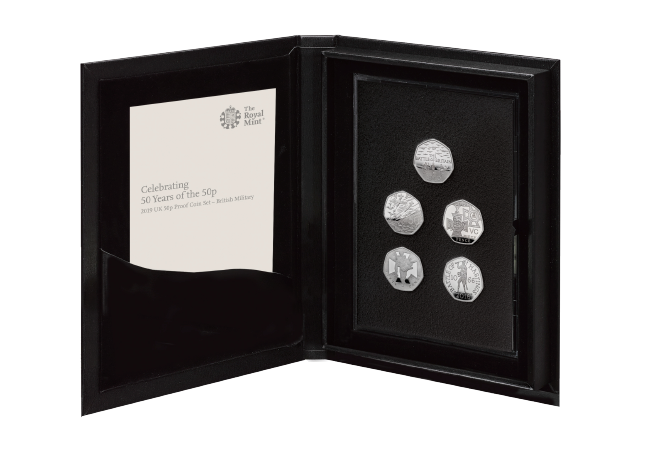 Whilst being struck from base metal, the coins in this set have been struck to a stunning superior proof finish. Just 3,500 50th Anniversary of the 50p Military Base Proof Sets have been released worldwide, making this set extremely sought after.
You can order the new 50th Anniversary of the 50p Military Base Proof Set here with a down payment of just £19.80 (+p&p) followed by 4 further interest-free instalments. Click here to find out more>>>
50th Anniversary of the 50p Silver Proof Set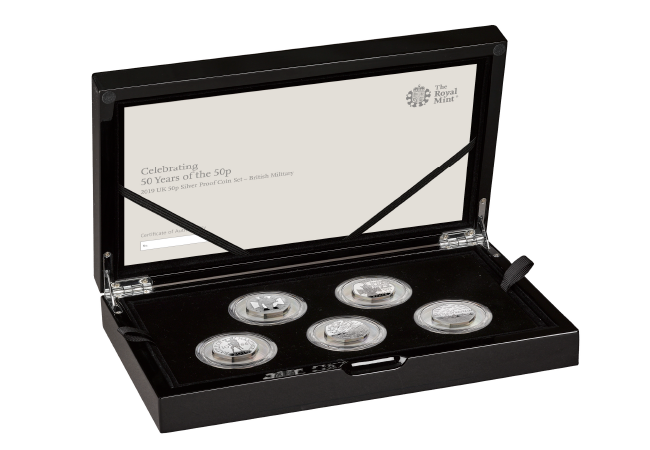 However, you can own the 50th Anniversary of the 50p Military Set in an even more limited way – so limited just 1,969 collectors worldwide can own it.
Each set contains the same five iconic 50p designs, but these have been struck in superior .925 Sterling Silver to a perfect proof finish. Given how popular commemorative 50ps are, this ultimate set is sure to be an even bigger hit.
You can secure this extremely limited set for your collection now for just £29.50 (+p&p), followed by just 9 further equal interest-free monthly instalments. Click here to find out more>>>
50th Anniversary of the 50p Gold Set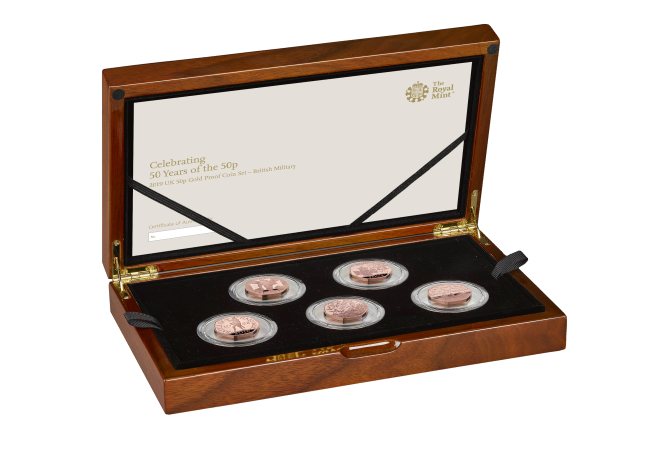 Finally, the rarest set of all. Just 75 collectors worldwide will be able to own the 50th Anniversary of the 50p Military Set impeccably struck from 22 Carat Gold to a proof finish.
Today I'd like to tell you the story behind my all-time favourite British coins – the Cartwheel Pennies. Not only are they the heaviest and largest coins ever issued for circulation, they were also issued for ONE-YEAR-ONLY. Here's the story…
Throughout the 18th century silver prices increased, which resulted in a substantial decrease in the amount of silver pennies that were being minted. This led to a lack of small change and businesses were finding it difficult to pay their employees with the current coinage.
Subsequently, a trend began where independent Mints started striking copper half penny and penny tokens. Most of these tokens were being minted at the 'Soho Mint' in Birmingham, which was actually the very first Mint to be powered by Steam.
Whilst this was not legitimate money it solved the issue and it took off – companies all over Britain were ordering personalised tokens.
However, the 'solution' meant there was a problem…
The British Government had lost control of the coinage. In an attempt to regain control, they instructed Soho Mint to strike 480 tonnes of copper pennies and 20 tonnes of copper twopences. These were to be the first regal British coins of the denominations to be made of copper, and the very first official British coins to be struck using steam power.
8 times heavier than today's 1p and 2p coins
The coins were large! In fact, the 1 pence weighed an incredible 1oz and the 2 pence weighed 2oz – that's the same weight as a Mars Bar and almost 8 times heavier than the current 1p and 2p coins. At that size, it's hard to believe these ever jangled in the pocket of our ancestors!

The coins weighed so much becauses they were struck in pure copper and their intrinsic value corresponded to their actual face value. Their design was simple – a portrait of the monarch at the time, King George III on the obverse and Britannia on the reverse.
The dramatic size of these coins and their unusually wide raised rim is why they became known as 'Cartwheel' pennies.
Issued for one-year-only
The 'Cartwheel' pennies were designed this way to prevent counterfeiting, but their size and weight made them cumbersome and unwieldy. They were immediately unpopular with the public as people didn't like carrying them around – the two-pence was an INCH and three-quarters in diameter and a quarter inch thick. There were soon calls for them to be discontinued and shortly after, the coins were redesigned.
Due to the rise in the price of copper, the intrinsic value of the coins soon exceeded their face value and subsequently the majority of these coins were melted down.
This meant, the coins were issued for one-year-only, which automatically makes them two of the must-have modern coins and key coins in any British collection.
---
If you're interested…
We have been able to source a small number of sets containing the original 200 year old 'Cartwheel' coins – the two pence and the penny. They come presented in a deluxe presentation case with an accompanying Certificate of Authenticity. They really are key must-have coins in any British collection.
Four new Beatrix Potter 50p silver coins have been revealed by The Royal Mint. Benjamin Bunny, Mr. Jeremy Fisher, and Tom Kitten all feature for the first time on UK coinage – whilst Peter Rabbit scampers back onto our currency for the second year in a row.
The four coins issued in 2016 created a collecting frenzy, crashing The Royal Mint's website and selling out within days. And these new character coins are just as cute, just as evocative, and importantly – just as collectable.
Here's a first look at the new silver coins, with details of when they are available…
2017 Peter Rabbit 50p
Everyone's favourite mischievous bunny is back – pictured in a familiar pose dashing away… presumably from Mr McGregor's garden.
Probably Beatrix Potter's most familiar character, the coin is bound to be sought-after.
Last year's Silver Proof Peter Rabbit coloured coin now changes hands on Ebay for up to £400, underlining its collectability.
2017 Mr. Jeremy Fisher 50p
This silver 50p, due to be released in June, pictures the unlucky frog Mr. Jeremy Fisher – who only wanted to catch some fish for dinner for his friends but ends up almost being eaten by a trout.
Each of the Silver Proof editions is limited to just 30,000 coins. Given the level of demand for last year's series this may well not be enough for everyone that wants one.
2017 Tom Kitten 50p
Available late July, the Tom Kitten Silver 50p features the original illustration from the front cover of Beatrix Potter's book. The naughty kitten appeals to children everywhere with his antics and is another favourite character from the series.
All four coins have been struck to a fine 'proof finish.' It really brings the designs to life – and is often referred to as 'the collector's favourite' due the high level of craftmanship required to achieve the result.
2017 Benjamin Bunny 50p
The last coin to be made available (slated for September) introduces another of the Rabbit family. Benjamin Bunny is Peter's Cousin and leads him on another jaunt into Mr. McGregor's garden. The illustration featured on the coin is taken from the original front cover.
I'm sure you'll agree, these four coins are the perfect continuation of the series, and really capture the nostalgic charm of Beatrix Potter's original stories.
But if there's one lesson you can take from last year, make sure you get yours early – before they sell out!
---