Posts Tagged 'Silver Coins'
We've all heard of the zodiac, and have probably on more than one occasion checked our daily horoscope in the hope it will reveal what the future holds. When I sat down to write this blog I was buoyant in the revelation that my day was going to be "filled with love and joy".
But perhaps lesser known in Western culture is the Chinese Lunar Calendar and the 12 animals that represent it.
The Chinese Lunar Calendar
More commonly known as the Chinese Zodiac, it is believed the Chinese Lunar Calendar begun around 2600 B.C. and is related to the worship of animals in Chinese culture. Legend has it before departing to the next life, Buddha asked every animal on the planet to comfort him and the twelve animals (including the dragon, tiger and rat) that responded are now honoured in the lunar calendar that spans 12 years – one animal for every year.
Much like the Western Zodiac, your lunar animal sign depends when you're born. And people born in specific lunar years are believed to have certain personality traits and characteristics related to their animal.
Turns out I was born in the Year of the Sheep – so I'm creative, compassionate and friendly. I'd say that's fairly accurate, though I'm not sure I agree that I like to spend my money on fashionable things… you win some you lose some!
The incredible popularity of Lunar Coins
For over 40 years mints from around the world have celebrated Chinese New Year with Lunar Coins. These issues have turned in to something of an international phenomenon, to the point where the lunar theme is the largest ongoing coin programme on the planet.
Most prestigious mints have a lunar series, including Australia, Canada, and of course our own Royal Mint. With each selling millions of ounces of gold and silver coins each year inscribed with the year's relevant lunar animal.
Collectors will snap these coins up for a variety of reasons. Some collect their own lunar animal, because they like the personal connection, others will collect a particular specification because it's especially limited. Personally, I find they also make great birthday gifts for obvious reasons – my friends love them.
The Year of the Rat
The 25th January 2020 will mark the Chinese New Year, and with it the next lunar animal will be celebrated – the Rat.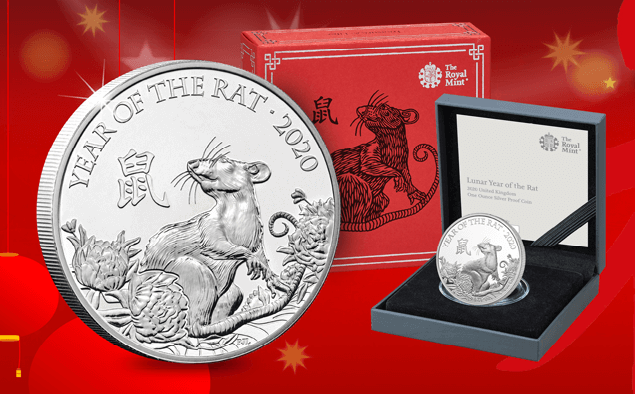 The Rat is in fact the first animal in the Chinese Zodiac, and people who are born under the sign of the Rat are thought to be intelligent and quick-witted with rich imaginations.
If this sounds like you the odds are you're born under the sign of the Rat. And this year your lunar animal will be celebrated on lunar coins around the world.
What's more, The Royal Mint has just released their brand new Year of the Rat range, including what's perhaps the most sought-after specification of all – the 1oz Silver Proof Coin.
Apparently Rats are known for taking good advantage of opportunities presented to them – so what are you waiting for, make sure you snap up your lunar coin today!
If you're interested…
You can own the BRAND NEW Royal Mint Lunar Coin TODAY – the 1oz Silver Proof Year of the Rat coin.
This coin is sure to be the most sought-after yet because not only is the 1oz Silver Proof a key specification for collectors, it's also got the lowest edition limit yet!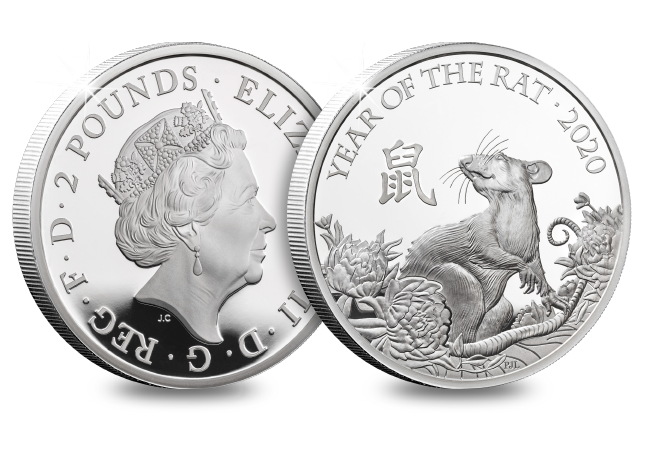 Click here to find out more and secure one for your collection today >>>
Last month we heard through the whispers of the forest that the UK's favourite orange-eyed and purple-prickled creature is returning!
And now the critters have informed us that he will be emerging from the deep dark wood on 17th October!
Our woodland sources also confirm he will be proudly featuring on a BRAND NEW 50p coin.
So if you want to be kept up to date, and be the first to know when the new Gruffalo 50p is available on 17th October, and what coins are available, just register your interest below.
Whilst we're counting down til' launch, let's have a look at what happened the last time The Gruffalo was spotted in the wild…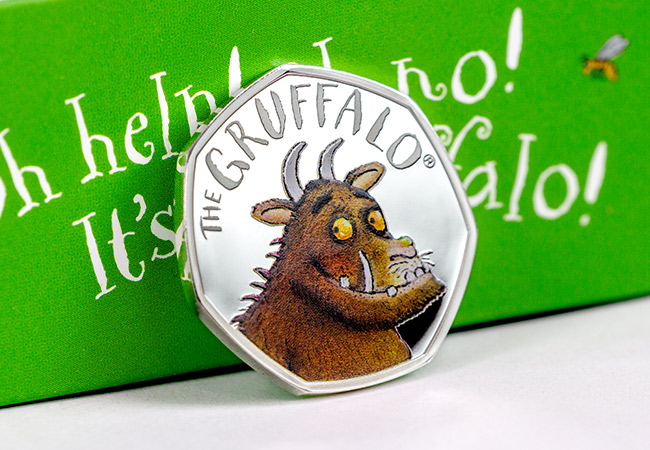 On the 23rd March The Gruffalo celebrated its 20th birthday, and to mark this landmark publication anniversary a brand new UK 50p was released. This was the first time ever the popular children's book character had appeared on UK coinage.
Since its first publication in 1999 Julia Donaldson's famous monster has become a firm family favourite. Alongside the charming illustrations by Axel Scheffler, the now iconic story has been translated into 76 languages, sold over 13 million copies and graced TV screens in 2009 as an animation, the same year it was voted the UK's favourite bedtime story.
To say the release was popular is an understatement, as fans and collectors alike were quick to snap up the coin. Collectors were so quick in fact that the silver and gold proof versions – with edition limits of 25,000 and 600 respectively – completely sold out at The Royal Mint within 12 hours of release.
This made it the fastest selling 50p to date!
No doubt the question on everyone's lips now is what will happen when The Gruffalo returns? Will we see history repeat itself?
There's only one way to find out – register your interest below!
Can you believe that this year marks the 50th anniversary since the very FIRST Moon Landing?
50 years since Neil Armstrong took the first ever steps on the Moon's surface and spoke those famous words: "That's one small step for a man, one giant leap for mankind"
To this day, it is not only considered as one of mankind's greatest ever achievements but also one of the most important moments in history.
There have been a number of incredible coins released across the world to celebrate this 50th anniversary and unsurprisingly collector demand has been extremely high.
If you're yet to secure the perfect piece to commemorate the occasion then I have some good news! As I've spent some time looking through the new releases and have handpicked my top 5 Moon Landing 50th Anniversary coins. Read on to find out why each of them would make a great addition to any collection…
The FIRST EVER British Isles Black Proof £5 Coin
Now what makes this coin particularly special, is the fact that it is the FIRST EVER Black Proof British Isles coin to be issued. This is an extremely rare finish to feature on any coins and it has as such proven a hit with collectors.
Adding to this is the selective colouring that has been used to highlight the design which contrasts magnificently against the black proof finish. Images really don't do it justice! Only 995 coins have been issued worldwide, a significantly low amount given the occasion. Order yours today to avoid missing out >>
The Silver Proof £5 Coin with one of the most striking designs ever seen…
This new Isle of Man Silver Proof £5 Coin has just been authorised for release by the Palace and features one of the most striking designs I've ever seen.
Struck to the official UK £5 Silver specification, the reverse features an Astronaut with a reflection of planet Earth in the visor which is brought to life in full colour detail. It is coin craftsmanship at its very best. Find out more about this official release here >>
Introducing the FIRST EVER Plateau Minted Coin
This is an opportunity to own a collecting first – the Moon Landing 50th Anniversary Plateau Minting Coin. If you're wondering what plateau minting is, let me explain. Domed coins have been around for some time now, but never before has a Mint succeeded in successfully striking a plateau area on the peak of the dome. That is until now!
But that's not all. As the coin has been struck with a variation of sophisticated techniques and finishes, in particular the skilful alignment of both Proof and Matt finishes. You really have to see this coin to fully appreciate it. Take a more detailed look by clicking here >>
The ULTIMATE Space Collection – featuring EIGHT Moon Landing coins!
If one single coin is not enough, then I have the perfect solution for you. This is perhaps the ULTIMATE Space collection, featuring eight commemorative coins that have been issued from across the world.
It's difficult to not be instantly impressed when you open the deluxe wooden presentation case. As you'll find a mix of modern coins with special minting techniques, historic coins and even some intriguing designs like you've never seen before. This is certainly one not to miss, especially as it comes complete with an Apollo 11 commemorative plaque! Click here to find out more about this incredible collection >>
Chance to own the WORLD'S FIRST domed coin presented in a Silver Bar
Much like Apollo 11, this new commemorative is a WORLD FIRST. As this is the first time a domed coin has been set into a solid 2oz Silver Bar – the combination of different minting techniques on display is out of this world.
Not only that, but the US Silver Proof Moon Landing Dollar featured in the Silver Bar is the second ever in the Mint's history to be curved – one side is domed, the other concave. The first commemorative curved coins to be minted by the US completely sold out in less than two weeks – and all signs suggest this will prove just as popular.
There's so much more to tell about this incredible piece so click here to find out all about it. But please note, we have just 50 available exclusively for our UK collectors so you'll need to be quick if you'd like to secure one for your collection.
---
But that is by no means all. We have a whole range of incredible coins and commemoratives that have been issued to celebrate this important 50th anniversary. You can take a sneak peek at some of the pieces below or check out the full range by clicking here >>