Posts Tagged 'alexander graham bell'
I've been sourcing special coins for collectors for years and innovation is something I'm always on the lookout for. Whether it be a unique shape, size or never before-seen technology, new coins that push the limits on what can be achieved next in the minting world is one sure-fire way to make your collection stand out.
And over the last few years, I've been lucky enough to see first-hand some of the world's most stunning, technologically advanced coins, with sell-outs almost guaranteed.
So you can imagine my excitement when I found out about this brand new interactive 3oz silver coin!
Introducing the Alexander Graham Bell Telephone Shaped Silver 3oz Coin
Alexander Graham Bell revolutionised communication as we know it and held more than 18 patents for his inventions and ground-breaking work in communications. And this year, a Brand New interactive 3oz Silver Coin has been issued in his honour to commemorate 100 years since his death.
This stunning release features something that has been highly revered by collectors since it was first seen back in 2018…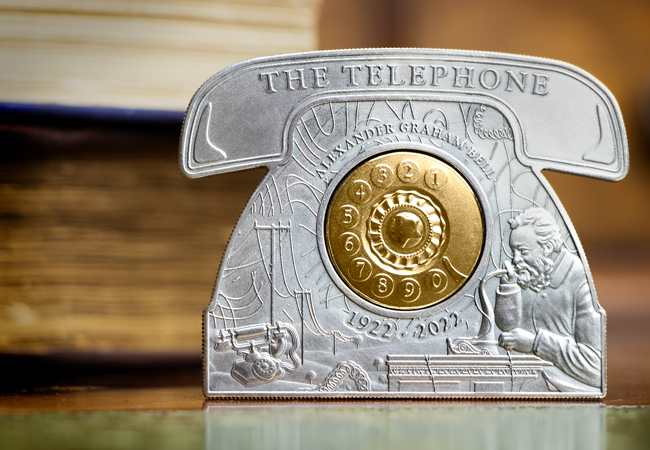 The cutting edge technology used to bring this coin to life truly is outstanding as it has allowed the coin to become interactive. Struck with an Antique finish, unlike with a Proof coin you can handle it without fear of damaging – you can even spin the dial as if making a call, as a protective finish has also been applied to the Gold-Plated inlay.
Unfortunately, images can only go some way towards showing the glory of this coin. Let's take a look at that unique rotating feature below to truly appreciate its beauty:

It is so visually impressive that words will never be able to do it justice. Nothing can compare to holding the coin struck from a full 3oz of Silver in your hand and being able to elegantly move the 24ct Gold-plated moveable inlay around the centre.
Many commemoratives have been issued this year to commemorate the famous inventor although none quite as unique as this. Shaped just like an old-fashioned rotary telephone, you'll also notice those classic curves created using advanced minting techniques. And let's not forget about the microscopic details of Alexander Graham Bell himself surrounding the gold-plated centerpiece…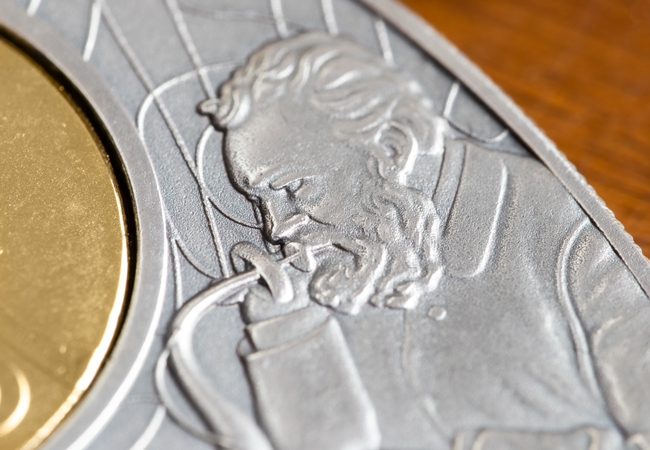 In 2018, The Royal Canadian Mint released an interactive coin featuring a Bumblebee hovering around a flower, it was voted Collector's Gallery favourite coin of the year! It was a world FIRST and completely SOLD-OUT within a matter of weeks at the Mint.
And the same can be said for the second coin in the series, the Christmas Tree and Train, which featured a classic train running the circumference of a Christmas Tree that also SOLD-OUT before the official release date..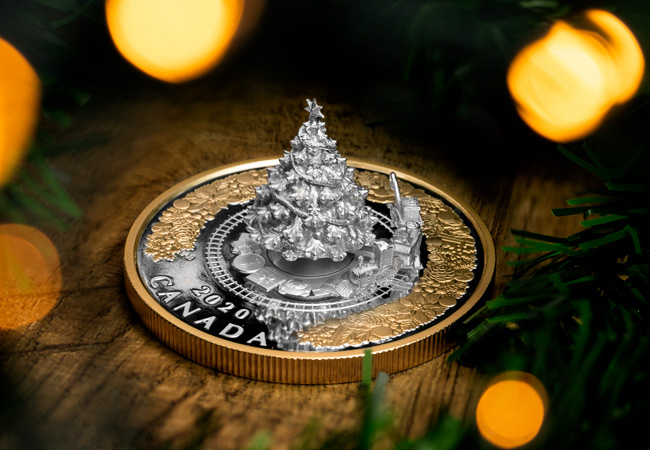 Not only are these sell-outs attributed to the quality, craftsmanship and uniqueness of these coins, but also to the extremely low edition limits.
So it's safe to say that interactive coins are incredibly sought-after by collectors looking to build a meaningful collection. This Alexander Graham Bell Silver 3oz Coin is strictly limited to just 999 collectors worldwide, and JUST 50 are currently available for Westminster collectors. When you consider the sell-out successes of the previous coins with higher edition limits and the collectors who will want to be at the forefront in owning this innovative new coin, demand is almost guaranteed to exceed the availability.
This Alexander Graham Bell Telephone Shaped Silver 3oz Coin magnificently merges art and technology; engraving and casting; silver and gold. You really do need to see it first-hand to fully appreciate all the stand-out features. It's an outstanding work of art that is visually spectacular, words will never be able to do it justice.
It is safe to say, we don't expect these coins to be around for long and if the past is anything to go by, it's virtually guaranteed that our tiny allocation of 50 will be snapped up by collectors.
---
If you wish to secure The Alexander Graham Bell Telephone Shaped Silver 3oz Coin, please click here >>>